Clinton, Tenn., Jan. 18, 2016 – ITP today announced the release of its all-new Cryptid tire, a super-aggressive and purpose-built mud slinger for all-terrain vehicles and side-by-sides.
Named after the mythical swamp monster, the Cryptid is built with a bevy of innovative features to help mud-riding enthusiasts conquer the deepest and nastiest muck.
It starts with the Cryptid tire's proven "chevron" style tread pattern, designed to deliver unparalleled forward traction. Lug height is graduated, starting at 1.5 inches at center, growing to 2 inches at the tire's shoulder. The resulting paddle-like shoulder configuration provides maximum side bite for climbing in and out of the mud without compromising ride comfort on trails and hard pack.
ITP engineers also equipped the Cryptid tread with grooved center lugs to channel away mud and debris, as well as enhance predictability in deeply rutted areas.
"The Cryptid is loaded with mud-mastering attributes to give consumers a leg up on both muddy terrain and the competition," notes Rhett Turpin, Head of ITP Sales. "We're using a super-durable rubber compound and computer-aided tread design to offer the most complete, all-around mud tire on the market today."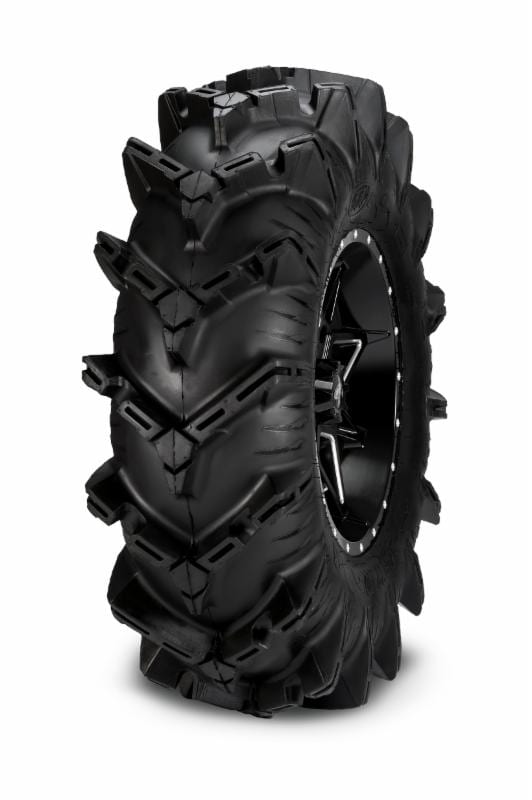 Turpin says ITP chose a 6-ply rated carcass for added durability, which he believes is "imperative for riding in unpredictable muck" where hidden debris and obstacles can lay in wait for unsuspecting riders. "The Cryptid uses a proprietary rubber compound to protect against abrasions, chips and cuts," he adds.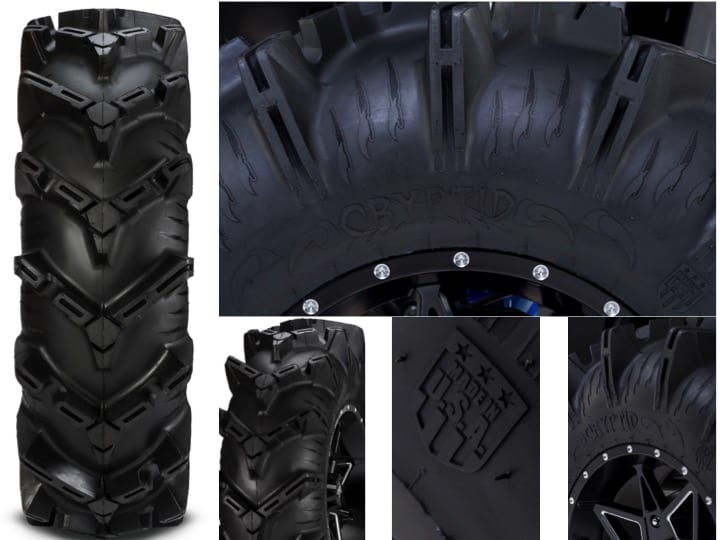 Much like the swamp monster it's named after, the Cryptid tire's gigantic foot print and monstrous claws (lugs) make it ideal for conquering most challenging muddy trails and bogs. However, unlike the fabled beast, the Cryptid is very real, very aggressive and made to master any kind of mud.
The Cryptid also boasts the largest (by both height and width) footprint of any previous ITP mud tire, according to Turpin, literally taking side-by-side vehicles to new heights. The new tire is available in four sizes, including the massive 36-inch diameter Cryptid version that fits a 17-inch wheel.
"We are excited to launch the new, confidence-inspiring Cryptid mud tire. Its unsurpassed fit-and-finish, made in the USA stamp, aggressive styling and engineered competence will not only help owner's vehicles stand out in a crowd, it will also help them remain confident that they will make it through any mud scenario they dare to try," says Turpin.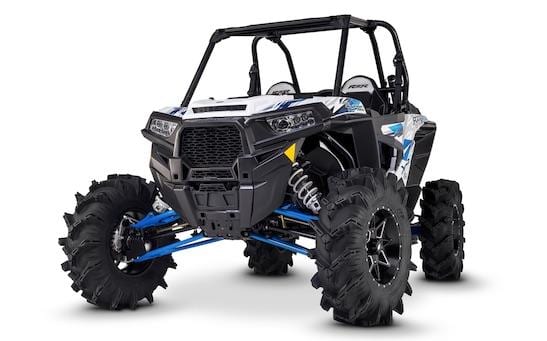 The new ITP Cryptid mud tire is scheduled to arrive to distributors in March of 2016. MSRP ranges from $215 to $295 per tire.
ITP CRYPTID TIRE SIZES
(diameter x width-wheel size; in inches)
30 x 10-14
32 x 10-15
34 x 10-17
36 x 10-17
About ITP
In business for more than 35 years, ITP has become the world's #1 ATV/UTV aftermarket tire and wheel source. ITP utilizes its experienced staff of engineers, designers and technicians at its two American tire facilities in Clinton, Tenn., and Jackson, Tenn., to develop award-winning tire-and-wheel designs for virtually all ATVs and side-by-side vehicles. Numerous outlets distribute ITP tires across the United States and in more than 25 countries worldwide. For a full-color ITP catalog, call toll-free: 1-800-889-7367. Tech questions call: 1-909-390-1905 www.itptires.com
About The Carlstar Group
The Carlstar Group is headquartered in Franklin, Tennessee and is a global manufacturer of original equipment and aftermarket specialty tires and wheels for the agriculture, construction, outdoor power equipment, powersports, and high speed trailer markets. The diverse portfolio of solutions are offered under several leading brands including Carlisle® tires and wheels, ITP® tires and wheels, as well as Cragar®, Black Rock® and Unique® wheels. The Carlstar Group employs 4000 associates in 22 facilities located in 5 countries. Since 1917, a culture of converting great ideas into advanced products has created a legacy of excellence in product innovation, quality, and customer service. For more about The Carlstar Group, visit www.carlstargroup.com
FACEBOOK COMMENTS