WHO MAKES UP MURRAY RACING AND HOW DID YOU GET STARTED?
Murray Racing was started back in 2009 by Derek and Jason Murray. We started with a recreational Rhino that we built up ourselves. Jason wanted to try and run a race for his birthday, as he always wanted to try desert racing. After doing a few mods to meet the minimum safety regulations and a few sleepless nights after work, we found ourselves loading and in route to our very first BITD race. It was the Henderson 250. We thought we were so ready and had every base covered, but boy were we wrong. It was sure a learning experience for us. We barely made it through, and had to add a few items to the car in order to race the next morning at 7am. That night we worked until the sun came up but we were determined to race. We were exhausted and had not even started…. When the green flag dropped we were off and running and having a blast. We ran as hard as we could, and when the race was over we somehow managed to pull a podium finish. We were hooked and decided to continue. Since then we have come a long way. We have managed to build the team, and now race in several different series, from BITD (Best in the Desert), SCORE International, and have Dave Martinez run WORCS for us.
IN DESERT RACING THERE ARE MANY CLASSES TO RACE IN. WHY DID YOU CHOOSE TO RACE IN A UTV?
In desert racing there are many classes that we could have choose to race. Some faster and some slower. The reason we chose to run a UTV is because we feel it's one of the most universal off road vehicles out there. Modern UTVs can compete in a vast array of styles of terrain from desert, short track with jumps to rock crawling. The suspension capabilities, speed and 4×4 power allow these units to be virtually unstoppable. For example there are times when we are down in Baja, and there will be several other "faster" classes that are stuck buried deep in soft silt and we can easily rip right through the same section with confidence. We feel that this class is growing at such a pace that in the coming years we will be one of the faster and most competitive classes out there. We saw the future potential of this class and wanted to be a part of its growth.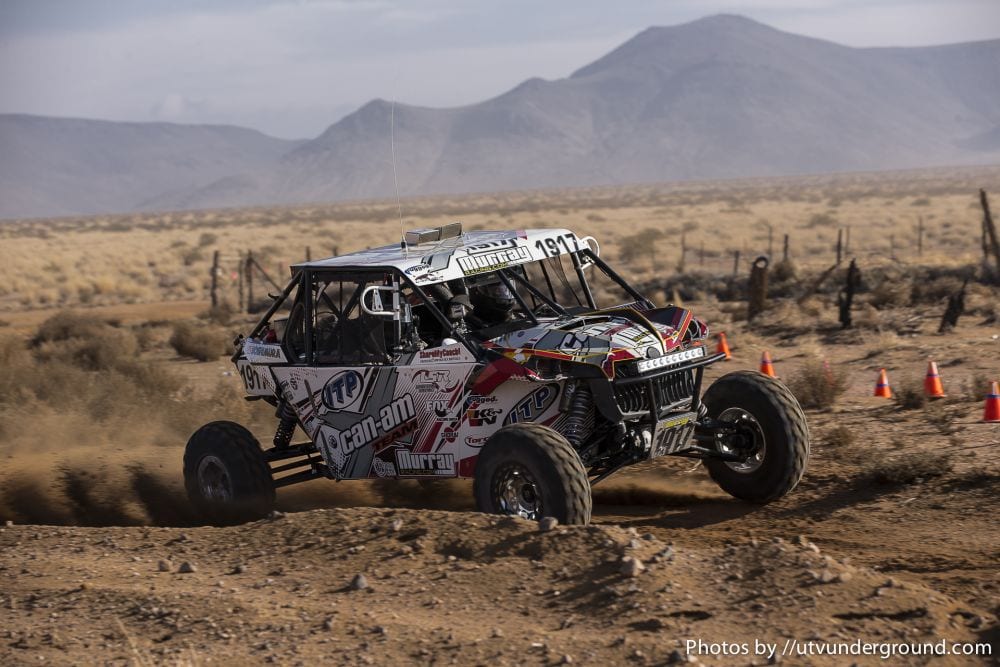 WHY DID YOU CHOOSE TO RACE WITH CAN-AM VS OTHER MANUFACTURES?
For us it was a no brainer. We grew up owning and riding Sea-Doos which are under the BRP umbrella. We knew how fast and reliable they had always been for us and knew that would translate over to the off-road division. From our past experiences we knew that BRP always strives to be the best. We figured that would be no different in the desert. The first time we tested the Commander which was Can-Am's first product in the UTV market we were greatly impressed with its power and overall quality. With a few mods we knew we could make the Commander a winner. And sure enough we did. Within the first 12 months of racing our Can Am Commander won the Henderson 250, and was the first UTV ever to win the Mint 400. These wins only fueled our passion and confirmed that Can Am has what it takes to be the best.
YOU ARE THE ONLY TEAM WHO HAS WON AT LEAST 1 RACE IN EVERY CAN AM SIDE BY SIDE PLATFORM THEY HAVE MADE. DO YOU HAVE THE CONFIDENCE THAT YOU WILL HAVE THE SAME SUCCESS WITH THE NEW DS, AND WHAT IS THE KEY TO BEING SO CONSISTENT?
Murray Racing has run 3 different Can Am platforms to date. First was the Commander, then we ran the Maverick XRS, and currently the Maverick Max. We have been able to get the win in several big events. For us the Mint 400 and Vegas to Reno are two of the biggest to date. Each of these is known to be both long and rough. Vegas to Reno is over 550 miles long and is the longest desert race in the USA. We are pushing the limiter on our Mavericks for the whole race. Driving our Can Am to the limit and consistently finishing shows how reliable of a product these things really are. Now that the new Maverick DS Turbo has been released, we are very confident that with the increased power and past reliability we will only be that much stronger and faster vs the competition. For us lots of hard work and attention to details have been the key to success. We always say the difference from first to last is one nut or one bolt. So we push to make sure that we are 100% ready for every race.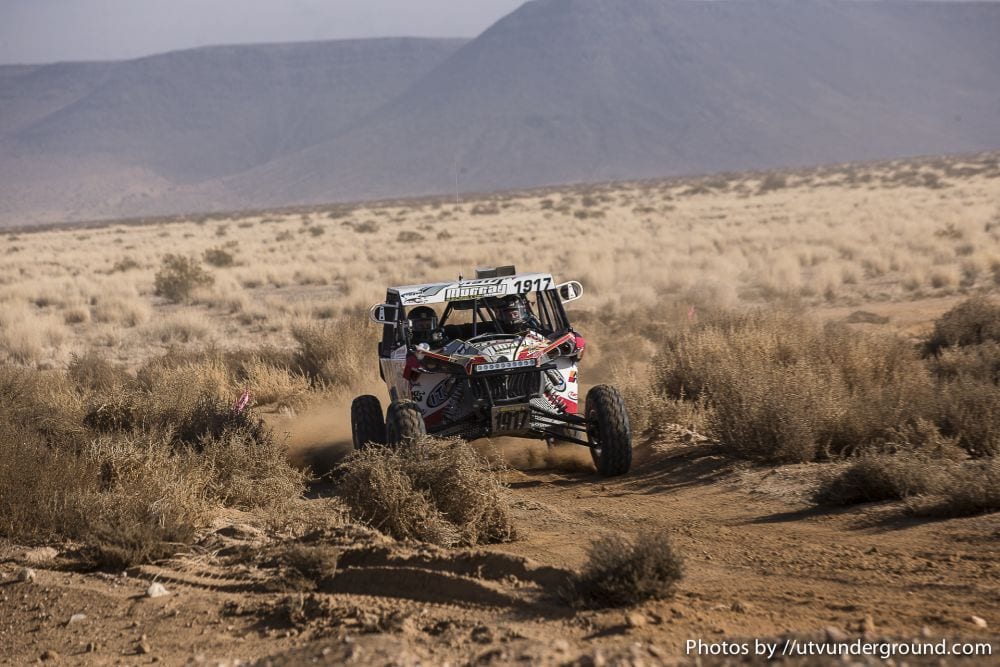 HOW HAS THE SPORT EVOLVED OF THE PAST FEW YEARS?
It's been crazy to be apart of the tremendous growth. The sport has grown in terms of size, vehicle speed, reliability, exposure, and overall competition. When we first started racing there may have been 10-15 teams racing UTVs at an event. Now it's not uncommon to have 75 to 120 teams racing at a big event representing multiple manufacturers. In the coming years I would be surprised if this rate of growth did not continue at even faster rate. Every year the level of speed and performance is increasing at an astounding rate. With more media coverage and company involvement now starting to put races on TV and web, the growth will become even more advanced and grow at an international level at a higher rate than we have seen in the past few years. We are just excited to be a part of the growth.
HOW IMPORTANT ARE YOUR SPONSORS TO YOUR TEAM?
At the level we are competing, our team partners are of the highest importance. It is so vital for us to run quality products. There is no substitute for the best. When you're beating your equipment in the roughest terrain in the world, for 4- 40 hours straight at full speed, you will quickly find out what works and what does not. For example we run ITP wheels and tires, they are consistently looking at tires we race to build and design the strongest and best possible tire for their consumers based around how they hold up in races like the Baja 1000. We ran the same set for 1275 miles, then again for another 400 race miles so we could see where the limit was. This kind of product support and development helps us to be consistently improving our race car as well as the sponsors doing real world testing to learn and provide the finest products to their customers. Some companies may not support race teams, but the ones who do generally do because they want to support the best so they can grow and prove they are the best. Luckily we have a great group of companies we work with and could not compete at the level we do with out them!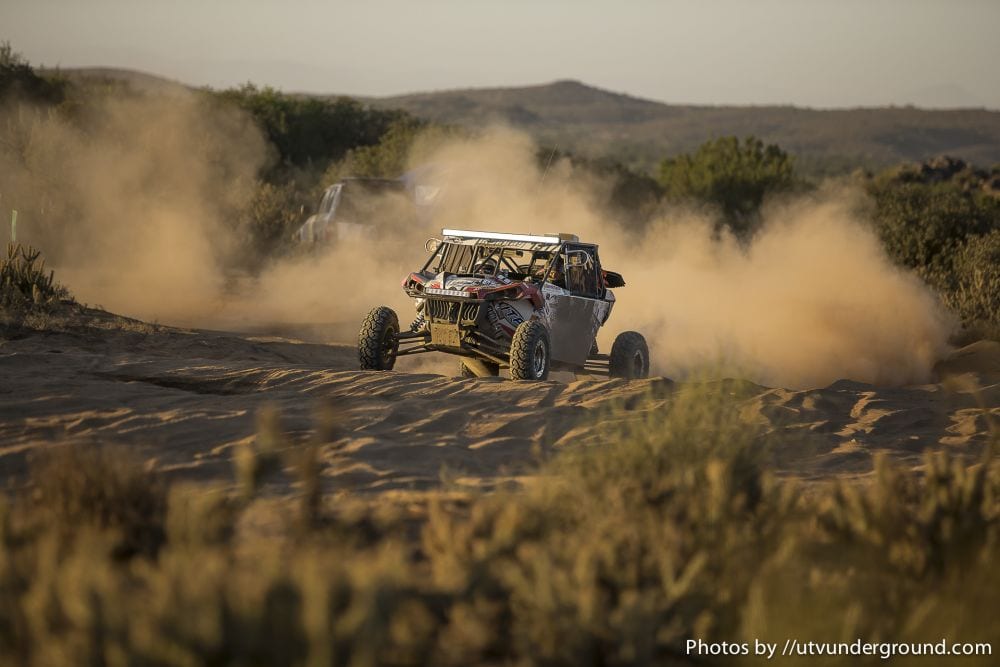 WHAT IS THE FAVORITE RACE THAT YOU HAVE DONE, AND WHAT IS ONE YOU WOULD WANT TO COMPETE IN THAT YOU HAVE NOT?
That is a tough question. On the International level, the SCORE Baja 500 has to be one of the favorites. The Baja 500 is a true hard core desert race. It is long enough to be a logistics challenge but short enough where it must be driven like a sprint. There are dangers and variables at nearly every turn and thousands of people lining the course, racing in Baja is truly an off road adventure. The people, the culture and the love of off-road by the locals is unlike any we have experience elsewhere. Not only is the race in itself an adventure but the overall experience from pre running to its famous tacos make this event one that is hard to pass up. As far as races on our bucket list, the Dakar would have to be at the top of the list. We feel that our driving style and ability to be fast and reliable would prove successful at the Dakar. Hopefully one day we will be able to race and take on this new challenge and show how our Can Am can win this event.
WHAT IS THE ACCOMPLISHMENT YOU'RE MOST PROUD OF IN YOUR RACING CAREER?
We have several, but the one that we think shows our determination and team spirit is the fact that we have finished 33 consecutive Best in the Desert races. This to us is so important because in a sport where in all classes usually 30-50% of the teams don't finish a race due to the severity of the track conditions, we have defied the odds. To finish consistently and in the front of the pack again comes from racing the best brands, and being ready. We look forward to continuing our streak, and have yet to see any other manufacturers be able to come close to this accomplishment in the desert!
WHAT IS YOUR PLAN FOR THE 2015 SEASON?
Murray Racing will be competing in all of the SCORE International races, and the Best in the Desert series. We are currently building a few Can Am Maverick Max DS Turbo race vehicles and can't wait to show what they can do. We feel they are the best Side by Side on the market and confident that we will be on top of the box with them shortly. Our next race is the BITD Mint 400 and then the Baja Sur 500 mile SCORE race in Mexico. Check out our Facebook @Murray Racing Jason Derek and follow our team for updates and results.
FACEBOOK COMMENTS