"X" – The lone definition that these Wildcat 1000s have a race-tuned 1000 H2 engine churning out 90+ horsepower and claim dominance at the top of the Wildcat perfor- mance chain.
From the beginning, the Arctic Cat Wildcat set a new standard in pure-sport ROV performance thanks to a chas- sis and suspension combo that was purpose-built to conquer all types of gnarly terrain.The 2014 Arctic Cat Wildcat X is better than ever with enhanced braking performance, FOX shocks and new steering geometry. The all-new upscaled Wildcat X Limited adds full-aluminum doors, a sleek molded roof, Elka Stage 5 shocks, aluminum beadlock wheels and 27-in. ITP Black Water Evolution Tires.
Inspired by desert race vehicles, the Wildcats' exoskeleton frame features a 40-/60-per- cent front/rear weight distribution for optimal handling at high speed. The driver and passenger are located near the low center of gravity, leaving them less affected by the movements of the vehicle with greater confidence and control.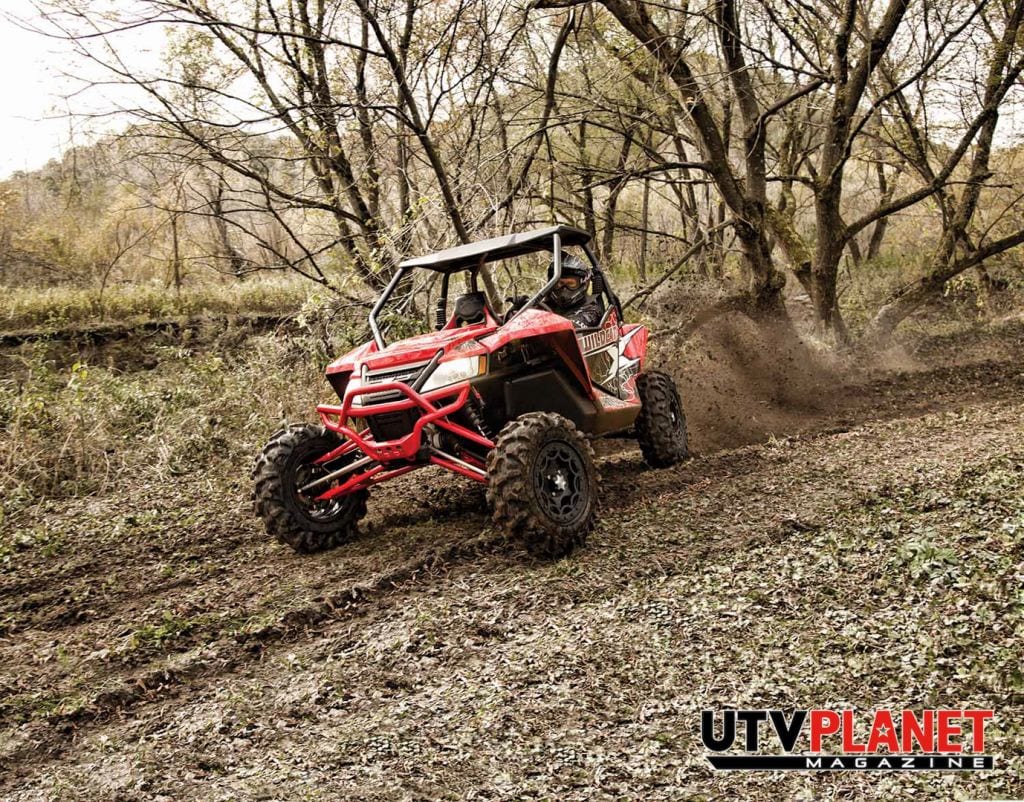 With an industry-leading 17/18 inches of front/ rear suspension travel and13 inches of ground clearance, both Wildcats deliver comfort and control in nearly every condition. The 5-point, multi-link trailing-arm rear suspension design keeps the rear tires planted while the suspension moves through its travel for unmatched traction and control.To smooth out the industry leading suspension travel, the Wildcat X has FOX Podium gas shocks, which deliver outstanding dampening duties complete with 23-position compression adjustment. The X Limited raises the bar higher with Elka Stage 5 shocks with high and low speed compression dampening, as well as rebound adjustment. Precise tuning makes these shocks smoother and more responsive, and they are built tough, rugged and race-ready.
Powering the 90+ horse-power X models are the liquid-cooled 951cc Arctic Cat H2 V-Twin 4-stroke with Electronic Fuel Injection. Delivering excellent torque and speed thanks to 2-into-1 ceramic-coated exhaust and single 50mm throttle body. The privilege of getting all that grunt to the ground belongs to the TEAM Rapid Response clutches and electronic se- lectable 2WD/4WD and front differential lock. Braking performance has been enhanced for 2014 with a new brake pedal that features a new lever ratio for more ag- gressive feel of the four-wheel hydraulic brakes and new dual- piston calipers for additional braking power.
Keeping the steering light and precise is the Variable As- sist Electronic Power Steering (EPS) system that initiates at engine idle for reduced steering effort when in 4WD, especially when the differential lock is engaged. The result is a light steering input effort when negotiating tough obstacles like washouts, rocks and mud, but with enough feedback so the driver senses the tire contact patch in relation to the terrain. • Other comfort-and-control features include high back bucket seats with upper body supports and 3-point seat belts; plus tube-frame doors with inte- grated nets to compliment the exterior lines.
Class-leading LED headlights and taillights shine extra- bright, while a 300 lb. payload rear compartment is large enough to carry a cooler and a Jerry can of gas. Machined, cast- aluminum wheels, automotive- style paint and tilt steering complete the package. The X model offers color- matched bucket seats; under- seat storage; glovebox; alumi- num front and rear bumpers, bed-mounted tie-down hooks and Maxxis Bighorn tires. The new X Limited gets the same features as the X, plus full-aluminum doors, a sleek molded roof, Elka Stage 5 shocks, true aluminum bead- lock wheels and ITP Black Water Evolution Tires.
For more information on the Arctic Cat Wildcat X, visit the Arctic Cat Website