The newest member of the 2014 Can-Am Maverick lineup is the Can-Am Maverick 1000R X mr. The 101-horsepower Rotax powered Can-Am Maverick 1000R X mr is built to offer impressive performance, precision-engineered handling and a driver focused design to conquer a muddy trail or closed-course bog. The new vehicle is based off the two-seat Maverick platform, but includes an industry-exclusive and mud-specific X package, as well Tri-Mode Dynamic Power Steering, Visco-Lok QE and an updated gauge package. The Maverick 1000R X mr also wears an Air Control Suspension (ACS) with FOX Air Assist HPG Piggyback shocks (with a four-inch range of adjustment) and mud-hunting 30-in. Gorilla Axle Silverback tires for ultimate control in the mud. In addition, to keep the engine air intake, CVT air outlet and CVT air inlet free of water and debris, they have been snorkeled to strategic locations on the machine.
CAN-AM MAVERICK 1000R X MR PACKAGE FEATURES
Air Control Suspension (ACS) with FOX† Air Assist HPG Piggyback shocks
30-in. (76.2cm) Gorilla Axle Silverback† tires
14-in. (35.6cm) ITP† SS312 cast-aluminum wheels
Strategically positioned engine air intake and CVT inlets / outlets
Mud-calibrated CVT transmission with mud-ready cover
Tri-Mode Dynamic Power Steering (DPS™)
Visco-Lok QE
4,000-lb (1,814 kg) WARN† winch
Analog / digital gauge
Custom steering wheel with brushed-aluminum center part
Front bumper
X-package seat trim, graphics and color schematics*
AIR CONTROL SUSPENSION (ACS) WITH FOX† AIR ASSIST HPG PIGGYBACK SHOCKS
Via an onboard compressor, the industry-exclusive ACS system adjusts the front and rear high-pressure gas FOX Air Assist HPG Piggyback shocks to six rider-selectable preload levels – for a total adjustment range of 4 inches (102mm). This allows the suspension of the X mr to be adjusted on-the-fly depending on terrain or vehicle load. It also comes with a hose that can be used to fill tires or other accessories while out on the trail.
30-IN. GORILLA AXLE SILVERBACK† TIRES
The same tires found on the unmatched Can-Am Outlander 1000 X mr ATV, the proven 30-inch Gorilla Axle Silverback tires were chosen for their exceptional mud-riding characteristics. Developed by Gorilla Axle for mud riding and racing, these tires have been tested in the deepest mud holes of east Texas and Louisiana. With a tall lug and aggressive tread pattern, the tires offer superb mud performance, yet a smooth ride when traveling to the mud hole.
14-IN. ITP† SS312 CAST-ALUMINUM WHEELS
The tall, ITP cast-aluminum wheels and stylish wheel hubcap work in tandem to give the Outlander X mr an aggressive look. STRATEGICALLY POSITIONED ENGINE AIR INTAKE AND CVT INLETS / OUTLETS BRP has made sure that critical components like the CVT intake, CVT exhaust and engine air intake are located as high as possible on the Maverick 1000R X mr. Positioned high above the muddy, wet conditions below, the system is designed with the proper air volume to keep everything operating efficiently.
MUD-CALIBRATED CVT TRANSMISSION WITH MUD-READY COMPARTMENT COVER
The CVT system is calibrated for performance in wet terrain and conditions and features a 13-bolt sealing system on the compartment cover. A dedicated drain plug is built into the cover and easily accessible if the need ever arises to remove water from the CVT housing. The CVT intake is at a higher location in the chassis for optimal performance in wet riding conditions. Automatic transmission with standard engine braking featuring high, low, park, neutral and reverse is also included.
TRI-MODE DYNAMIC POWER STEERING (DPS™)
Calibrated specifically for use in the Maverick line of side-by-side vehicles, BRP's Tri-Mode DPS system offers variable steering assistance and is designed to offer less assist at high speed and more assist at low speed. It also allows the driver to dial in his or her preference with three modes (Hi, Med, Lo).
VISCO-LOK QE
All DPS-equipped models come with the Visco-Lok QE calibration giving an even quicker engagement of the front differential. It progressively transfers power from a slipping front wheel to the gripping one – automatically with no buttons to push or levers to pull. Plus, there's no wheel hop or driveline wind-up so the system is totally transparent to the driver and extremely easy to steer. Can lock up to 100 percent with no rev or speed limiter. This differential, unlike some competitor's differential systems, does not have a speed or rev limiter. DPS and Visco-Lok QE, when, combined, improve handling and performance in slow-speed technical terrain and mud.
4,000-LB (1,814 KG) WARN† WINCH
A 4,000-pound WARN winch kit includes a roller fairlead, wired remote control and integrated remote storage.
ANALOG / DIGITAL GAUGE
The Maverick 1000R X mr has an upgraded gauge over the base Maverick and now includes a 3-D background for enhanced visual clarity. Featuring state-of-the-art instrumentation with an analog tachometer and speedometer combined with an advanced digital information center.
CUSTOM STEERING WHEEL WITH BRUSHED-ALUMINUM CENTER PART
The three-spoke steering wheel is outfitted with molded grips and a brushed aluminum centerpiece to add to the Can-Am side-by-side's performance looks.
FRONT BUMPER
A stylish, yet rugged, front bumper protects this powerful mud vehicle in the toughest of conditions.
X-PACKAGE SEAT TRIM, GRAPHICS AND COLOR SCHEMATICS
Stitched with the X-package logo and accented with white and yellow highlights, the seats on the Maverick 1000R X mr are race ready and offer industry-leading comfort. X-package graphics and sponsor logos enhance the high-performance looks while complimenting the attractive yellow-and-black color scheme.
MAVERICK 1000R STANDARD FEATURES
INDUSTRY-LEADING PERFORMANCE
Rotax 1000R EFI V-Twin engine
High-flow dynamics
Intelligent Throttle Control (iTC™)
Dual exhaust
CVT transmission with PBO belt
10-gallon (37.9 litres) fuel tank
PRECISION-ENGINEERED HANDLING
Double A-arm front suspension with dive-control geometry
TTA rear suspension
FOX 2.0 Podium X Performance piggyback shocks
Frame with precise weight distribution and mass centralization
13-inch (33cm) ground clearance
214mm disc brakes
12-inch (30.5cm) center-less cast-aluminum wheels
27-inch (68.6cm) Maxxis Bighorn 2.0 tires
Visco-Lok front differential
DRIVER-FOCUSED DESIGN
Driver- and passenger-focused ergonomics
240-watt lighting
Premium fit and finish
625-watt magneto
Optimal seating position
Easy-to-use maintenance center
Removable, high-backrest seats with integrated support
Yellow or all-new white
Adjustable driver seat
Easy-to-use maintenance center
Tilt steering
Passenger handhold and grab bar
2-inch (5.1cm) diameter, high-strength steel, ROPS-approved cage
Easy-clip side nets
3-point seatbelts with anti-cinch
Multi-function rear rack, with LinQ quick-attached accessory system
31.6 liters of cockpit storage
Dual cup holders
Multi-function digital gauge
DESS anti-theft system, with 2 different keys
CAN-AM MAVERICK 1000R STANDARD FEATURES AND BENEFITS
INDUSTRY-LEADING PERFORMANCE
ROTAX 1000R EFI V-TWIN ENGINE
The thrilling 101-horsepower 976cc V-Twin Rotax 1000R mill is a liquid-cooled, single overhead cam power plant features four valves per cylinder and is fed by a 54mm Bosch throttle body and two VDO Seimens fuel injectors. The engine's performance is always at its peak, regardless of temperature or altitude, because of the Maverick side by side's intelligent electronic fuel injection system and a throttle-by-wire system that is exclusive to Can-Am. The end result is a high-performance side-by-side vehicle capable of producing the competitive power, exceptional acceleration and the best power-to-weight in the industry, while at the same time offering outstanding fuel efficiency.
THROTTLE CONTROL (ITC)
The industry-exclusive electronic throttle-by-wire iTC system offers a smooth throttle delivery even if the driver's foot is bouncing due to the rough terrain. The iTC system — which features a rider selectable twin-mode toggle switch for throttle control— can detect unwanted bounces and then filter the input, resulting in more throttle accuracy, especially at low speed. Drivers can choose between a new ECO mode for normal operation and a Sport mode, which offers more linear throttle control. This system also reduces the number of moving parts in the vehicle; requires no maintenance; has no cables to adjust, lubricate, or replace; and the system has an increased life span.
HIGH-FLOW DYNAMICS
High-flow dynamics improve the Maverick side-by-side's breathing while also boosting performance and power. Less restrictions to airflow, improved efficiency with air-to-fuel mixture and enhanced flow of exhaust gases result in power gains. This was partially achieved by increasing the flow volume of the intake plenum and specialized intake runners that allow the tuning of each cylinder for optimal performance. A high-flow head, larger intake and exhaust valves, tweaks to the combustion chamber, an increased compression ratio (12.0:1) and high-flow dual exhaust all contribute to the more-powerful and efficient engine.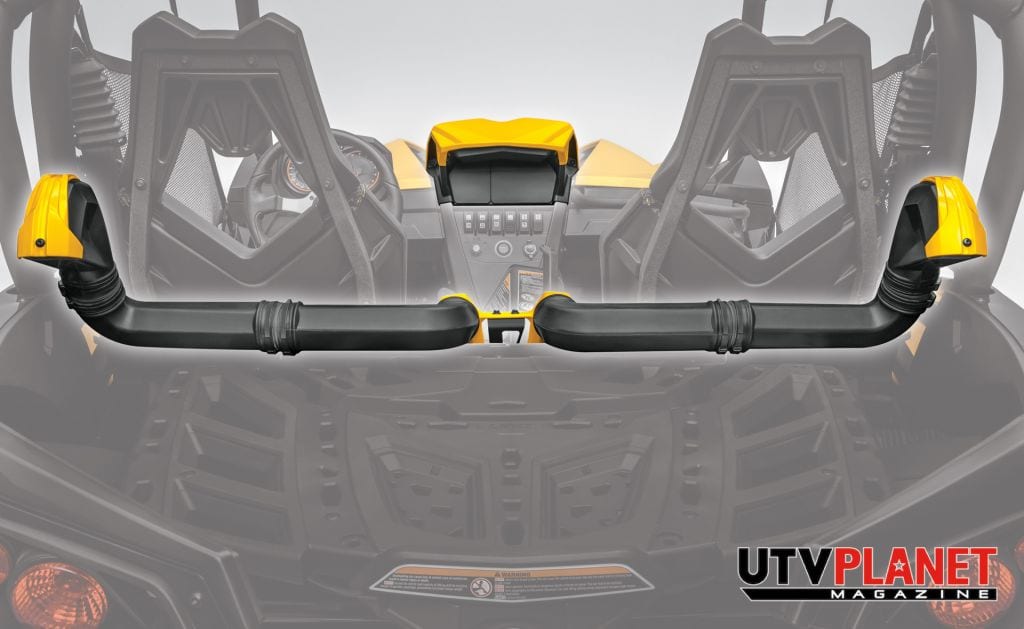 DUAL EXHAUST
The twin exhaust uses tuned manifold lengths and resonator chamber to create more flow. A catalytic converter ensures optimal combustion both from a performance and emission standpoint.
CVT TRANSMISSION WITH PBO BELT
The Continuously Variable Transmission (CVT) uses a wear-resistant Zylon belt. A dual CVT exhaust design also ensures cooler belt temperatures even in extreme conditions.
10-GALLON FUEL TANK
The Maverick has the industry's largest fuel tank at 10 gallons (38 liters), which provides and extended range while exploring trails.
PRECISION-ENGINEERED HANDLING
DOUBLE A-ARM FRONT SUSPENSION WITH DIVE-CONTROL GEOMETRY
The Double A-arm front suspension uses a geometry that works to eliminate diving under heavy braking and rough terrain. By controlling vehicle dive, handling is more precise in all situations and terrain types. For added comfort and control, the front end, which features 14 inches of travel, wears fully adjustable FOX 2.0 Podium X Performance shocks.
TRAILING TORSIONAL A-ARM (TTA ) REAR SUSPENSION
The innovative TTA 5-link rear suspension on the Maverick 1000R is engineered to be compact, lightweight, efficient and extremely sturdy. The TTA suspension effectively eliminates toe change, bump steer, camber variation and vastly reduces wheels scrub during its travel. The unrivaled system features a double A-arm setup where each A-arm acts as two links and uses a toe-control link as the fifth link. The result is a more condensed and lighter package with far less pivot points and spherical ball joints. The rear suspension is more durable than competitive designs because it also reduces free play and wear, and is more resistant to undercarriage damage. Engineers designed the TTA to allow for optimal geometric "squatting" to enhance the tire-to-ground contact, while at the same time increasing its bump absorption, traction and, ultimately, overall control of the suspension.
STEEL FRAME
The Maverick 1000R frame offers more engineered torsional rigidity, precise weight distribution and mass centralization.The frame improves handling by letting the vehicle's suspension work properly and with increased precision. The Rotax engine sits low and close to the center of the frame, which not only improves the Maverick side by side's weight distribution and mass centralization, but also means it's quicker to react to direction changes. The mid-engine configuration results in a lower center of gravity and, along with the rest of the chassis components, improves handling while cornering. Add in a stable 84.3-inch wheelbase and 64-inch width, and the result is a nimble, predictable Maverick that is inspires confidence.
214MM DISC BRAKES
The four-wheel disc braking system on the Maverick 1000R consists of front 214mm hydraulic disc brakes with twin-piston caliper and 214mm rear hydraulic disc with a single-piston caliper for exceptional stopping power.
DRIVER-FOCUSED DESIGN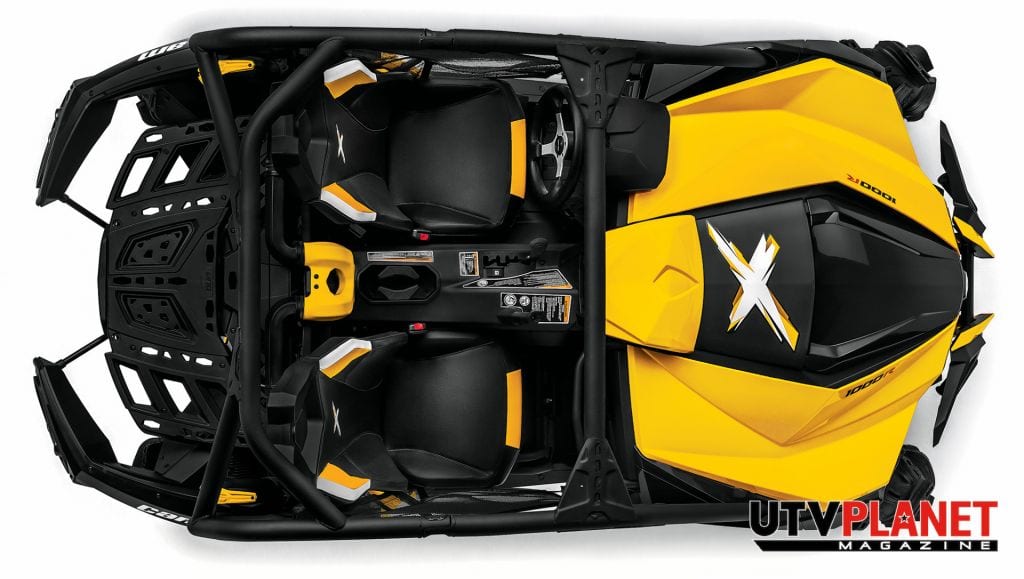 DRIVER- AND PASSENGER-FOCUSED ERGONOMICS
The Can-Am Maverick 1000R features a spacious cockpit specifically engineered to cater to the needs of drivers of various sizes and do so with industry-leading fit-and-finish. Driver-focused ergonomics means adjustable comfort, easy-to-reach controls, integrated safety features and unmatched versatility. A side by side also needs to create a similar experience for the passenger by creating a space that makes them feel one with the vehicle.
PREMIUM FIT AND FINISH
The Maverick closely follows the premium fit-and-finish map created with the introduction of the Commander side-by-side vehicle in 2010. Attention to detail and features that extend beyond the expected are what help the Maverick stand out in a crowd. From its roomy cockpit with its detailed control panel and gauges to its stylish, seamless facade, the Maverick has a level of sophistication that's unparalleled in the industry.
OPTIMAL SEATING POSITION
Much like its sibling, the Can-Am Commander, the Maverick has many automotive-like ergonomics to set it apart from the competition and create a comfortable and tunable space for the driver. Optimal seating starts and ends with entering and exiting the cockpit and the Maverick leads its class in this category. An adjustable driver's seat and tilt steering wheels lets each driver customize the cockpit to their liking.
REMOVABLE, HIGH-BACKREST SEATS WITH INTEGRATED SUPPORT
The removable, freestanding seats in the Maverick allow you to take the same level of comfort to the campfire at the end of a long day's journey. The seats are designed to offer both lumbar and lateral support to "hug" the occupants and keep them secure even in the roughest of terrain.
ADJUSTABLE DRIVER'S SEAT
The full bolster seats, along with their lumbar and shoulder support, are designed to allow easy entry and exit of the machine. The driver's seat is adjustable fore and aft without the need of tools, much like a car.
TILT STEERING
The tilt steering wheel also adjusts without the need of tools. The gauge in the Maverick is integrated with the steering column to it will pivot (raise or lower) with the steering wheel for enhanced visibility.
PASSENGER HANDHOLD AND GRAB BAR
The Maverick line of side-by-side machines has a similar passenger handhold setup as the Can-Am Commander, offering both a grab bar and a left-hand grip bar. The dual handhold design features ergonomically friendly bends and optional hand placement for supreme comfort and convenience.
2-INCH DIAMETER, HIGH-STRENGTH STEEL, ROPS-APPROVED CAGE
The Roll-Over Protective Structures (ROPS) industry standard was followed when designing the Can-Am Maverick family of side-by-side's two-inch-diameter, high-strength steel cage.
EASY-CLIP SIDE NETS
Designed to keep a clear field of vision for both the driver and passenger, the side nets on the Maverick can be opened and close with just one click. They are also built to simplify the entry and exit of the vehicle.
THREE-POINT SEATBELTS WITH ANTI-CINCH
To ensure the occupants have peace of mind and comfort inside the Maverick, Can-Am engineers outfitted it with three-point seatbelt with anti-cinch. There's also a warning alert if the driver's belt is not fastened properly.
MULTI-FUNCTION REAR RACK WITH LINQ
The Maverick side by side has a multi-function rear rack that utilizes the LinQ quick-attached accessory system. LinQ enables the sporty Maverick to quickly and effortlessly install a rear storage box, rack extension or soft-sided bags. An optional bed liner offers additional storage for increased versatility.
31.6 LITERS OF COCKPIT STORAGE
The onboard storage consists of a 17.2-liter glove box and a 13.1-liter storage space beneath the driver's seat.
DUAL, OFF-ROAD CUP HOLDERS
Twin cup holders, located in the center console, have rubber flaps for off-road use.
MULTI-FUNCTION DIGITAL GAUGE
The rectangular LCD gauge, which offers a speedometer, odometer, clock, trip meter and more, is mounted to the steering column so it adjusts with the steering wheel and stays within the driver's sight lines.
STANDARD & PERFORMANCE D.E.S.S. KEYS
D.E.S.S. is the industry's first standard anti-theft device. Electronic code in key must match code in ECU to start. The Maverick 1000R family comes with two different keys. One is standard key, which limits top speed to 44 mph (70 km/h). The second key is the performance key that has no limitation on speed or power.
240-WATT LIGHTING SYSTEM
Much like the Can-Am Commander, the Maverick 1000R family of side-by-side vehicles has the industry's best lighting system at 240 watts. Automotive-style projectors, on each side, run at 120 watts in low beam and 240 watts in high-beam mode.
625-WATT MAGNETO
The Maverick 1000R electrical system can dedicate up to 300 free watts to power accessories.
EASY-TO-USE MAINTENANCE CENTER
Easily accessible and out of the elements under the hood, a centralized maintenance area allows access to the air box, radiator and coolant overflow. Fuses and relays are also easily accessible.
BASE COLOR OPTION
The Maverick 1000R base model is available in an all-new white and the signature Can-Am Yellow.
For more information on the entire Can-Am off-road lineup of ATVs and side-by-side vehicles, please visit www.CanAmOffroad.com.