The all-new 2014 Can-Am Maverick MAX 1000R four-seat side-by-side is purpose built to raise both the performance and comfort levels of the modern multi-passenger off-road vehicle. The MAX offers the same class-leading performance (101-horse- power), handling and ergonomic influences of the two-seat Maverick 1000R, but also benefits from industry-exclusive Can-Am design elements. With a 29.5-Inch longer wheelbase, Dynamic Passenger Comfort system and stadium-style rear seating, the 2014 Maverick MAX 1000R is engineered to accommodate multiple passengers. The Maverick MAX vehicle also has a larger hydraulic disc brake system up front compared to the standard Maverick two-seater.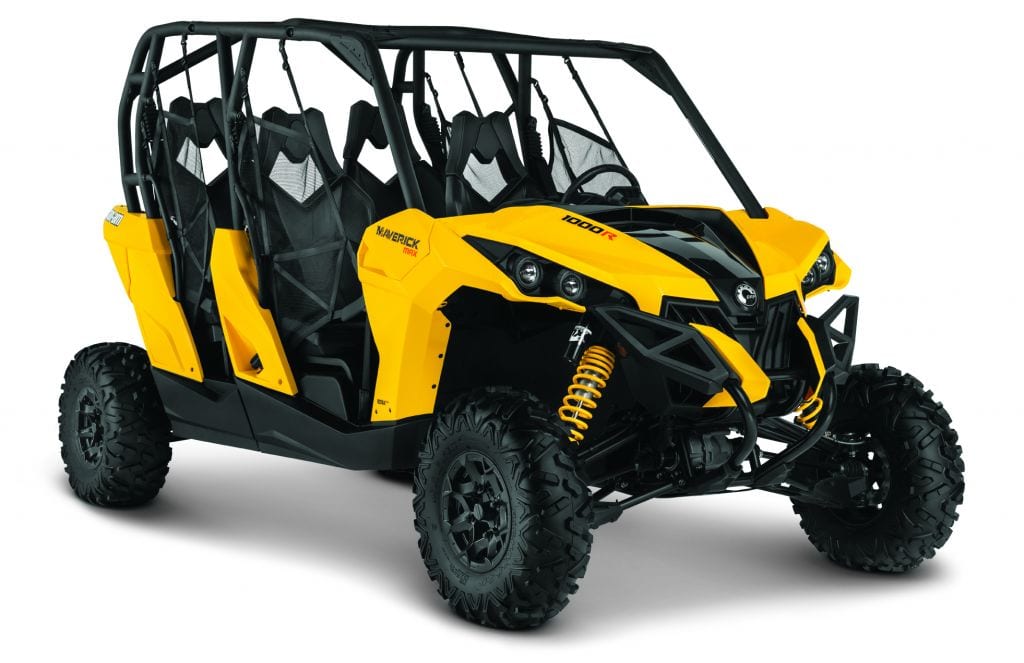 The Maverick MAX platform is available in both a standard model and the X rs DPS performance package, which includes Tri-Mode Dynamic Power Steering, Visco-Lok QE, FOX 2.5 Podium performance shocks, beadlock wheels, X-Team graphics, two color choices and more. The X rs DPS platform also receives the updated 3-D analog / digital gauge background package.
MAVERICK MAX 1000R FAMILY HIGHLIGHTS
INDUSTRY-LEADING PREFORMANCE
101-HP Rotax 1000R EFI V-Twin engine
High-flow dynamics
Intelligent Throttle Control (iTCTM)
Dual exhaust
CVT transmission with PBO belt
10-gallon fuel tank
PRECISION-ENGINEERED HANDLING
Double A-arm front suspension
TTA rear suspension
FOX 2.0 Podium X Performance piggyback shocks
MAX frame with precise weight distribution and mass centralization
29.5-inch longer wheelbase
12.5-inch (31.75cm) ground clearance
Four-wheel hydraulic disc brakes
12-inch center-less cast-aluminum wheels
27-inch (68.6cm) Maxxis Bighorn 2.0 tires
Visco-Lok front differential
DRIVER-FOCUSED DESIGN
Optimal seating position
High backrest seats with integrated support; removable front seats
Adjustable driver seat
Tilt steering
Dynamic Passenger Comfort
Stadium-style rear seats
Passenger handhold and grab bar
Easy-clip side nets
3-point seatbelts with anti-cinch
31.6 liters of cockpit storage
Off-road cup holders
Premium fit and finish
2-inch diameter, high-strength steel, ROPS-approved cage
Multi-function rear rack, with LinQ quick-attached accessory system
Multi-function digital gauge
240-watt lighting
625-watt magneto
Easy-to-use maintenance center
DESS anti-theft system, with 2 different keys
Yellow plastic (base)
CAN-AM MAVERICK MAX 1000R X RS DPS PACKAGE INCLUDES
Tri-Mode Dynamice Power Steering
Visco-Lok QE
Updated 3-D analog/ digital gauge
Two color schemes with X-package graphics and seat trim
Fully adjustable front and rear FOX 2.5 Podium X Performance shocks
12-inch aluminum beadlock wheels
Custom steering wheel
CAN_AM MAVERICK MAX 1000R FAMILY FEATURES AND BENIFITS
ROTAX 1000REFI V-TWIN ENGINE
The 976cc V-Twin Rotax mill is the most powerful side-by-side engine in the industry*. The 101-horsepower, liquid-cooled, single overhead cam engine features four valves per cylinder and is fed by a 54mm Bosch throttle body and two VDO Seimens fuel injectors. The engine's performance is always at its peak, regardless of temperature or altitude, because of the Maverick side by side's intelligent electronic fuel injection system and a throttle-by-wire system that is exclusive to Can-Am. The end result is a high-performance side-by-side vehicle capable of producing the most power, acceleration and best power-to- weight while at the same time maintaining industry-leading fuel efficiency.
INTELLIGENT THROTTLE CONTROL (ITC)
The industry-exclusive electronic throttle-by-wire iTC system offers a smooth throttle delivery even if the driver's foot is bouncing due to the rough terrain. The iTC system — which features a rider selectable twin-mode toggle switch for throttle control — can detect unwanted bounces and then filter the input, resulting in more throttle accuracy, especially at low speed. Drivers can choose between a new ECO mode for normal use and a Sport mode, which offers more linear throttle con- trol. This system also reduces the number of moving parts in the vehicle; requires no maintenance; has no cables to adjust, lubricate, or replace; and the system has an increased life span.
HIGH-FLOW DYNAMICS
Rotax engineers used high-flow dynamics to increase the engine's performance. An easier-breathing engine produces more power. Less restrictions to airflow, improved efficiency with air-to-fuel mixture and enhanced flow of exhaust gases result in power gains. This was partially achieved by increasing the flow volume of the intake plenum and specialized intake runners that allow the tuning of each cylinder for optimal performance. A high-flow head, larger intake and exhaust valves, tweaks to the combustion chamber, an increased compression ratio (12.0:1) and high-flow dual exhaust all contribute to the more- powerful and efficient engine.
DUAL EXHAUST
The twin exhaust uses tuned manifold lengths and resonator chamber to create more flow. A catalytic converter, an off-road industry first, ensures optimal combustion both from a performance and emission standpoint.
CVT TRANSMISSION WITH PBO BELT
The Continuously Variable Transmission (CVT) uses a Zylon belt that is more resistant to wear. A dual CVT exhaust design also ensures cooler belt temperatures even in extreme conditions.
10 GALLON FUEL TANK
The Maverick has the industry's largest fuel tank at 10 gallons (38 liters). That's 11 percent more capacity than the nearest competitor and provides and extended range while exploring trails.
DOUBLE A-ARM FRONT SUSPENSION
The Double A-arm front suspension offers precision handling in all situations and terrain types. For added comfort and con- trol, the front end, which features 14 inches of travel, wears fully adjustable FOX 2.0 Podium X Performance shocks.
TRAILING TORSIONAL A-ARM (TTA) REAR SUSPENSION
The innovative TTA 5-link rear suspension on the Maverick MAX 1000R is engineered to be compact, lightweight, efficient and extremely sturdy. The TTA suspension effectively eliminates toe change, bump steer, camber variation and vastly reduces wheels scrub throughout its full 14 inches of travel. The unrivaled system features a double A-arm setup where each A-arm acts as two links and uses a toe-control link as the fifth link. The result is a more condensed and lighter package with far less pivot points and spherical ball joints. The rear suspension is more durable than competitive designs because it also reduces free play and wear, and is more resistant to undercarriage damage. Engineers designed the TTA to allow for optimal geometric "squatting" to enhance the tire-to-ground contact, while at the same time increasing its bump absorption, trac- tion and, ultimately, overall control of the suspension.
FOX 2.0 PODIUM X PERFORMANCE PIGGYBACK SHOCKS
Premium FOX 2.0 Podium X performance shocks, front and rear, come standard on the Maverick MAX 1000R and give the drive an infinite range of tuning to better match their driving style and the various terrain conditions. The re-buildable pig- gyback shocks feature adjustments for preload (dual-rate spring), rebound and high- and low-speed compression. Two other critical design elements are the high-volume, 6-inch piggyback reservoir and the velocity sensitive damping control. The shocks are designed to be lightweight yet durable to withstand extreme use. The FOX shocks feature a hard-anodized alu- minum body, forged piggyback body cap, hard chrome plated, heat-treated shaft, upper and lower bearing mounts, racing- developed high-flow piston and specially formulated oil for optimal performance at variable temperatures.
MAX FRAME WITH PRECISE WEIGHT DISTRIBUTION AND MASS CENTRALIZATION
The Maverick MAX 1000R is outfitted with a new frame that's offers more engineered rigidity compared to its closest competi- tion. With more torsional rigidity, a frame can improve handling by allowing the vehicle's suspension to work properly and with increased precision. The Rotax engine sits low and close to the center of the frame, which not only improves the Maverick side by side's weight distribution and mass centralization, but also means it's quicker to react to direction changes. The mid-engine configuration results in a lower center of gravity and, along with the rest of the chassis components, improves handling while cornering. Add in a stable 113.8-inch wheelbase and 64-inch width, and the result is roomy-yet-nimble Maverick that is as predictable and confidence inspiring as it is powerful and dynamic.
29.5-INCH lONGER WHEELBASE
The interior space of the rear cab was built to offer both comfortable and spacious seating area for two full-sized adults. The 29.5-inch longer wheelbase (over the standard Maverick) also creates a more comfortable ride and positions the rear passengers in front of the rear axle for improved vehicle dynamics. The Maverick MAX has a total wheelbase measurement of 113.8 inches and 148.3 inches of total vehicle length.
12.5-INCH (31.75cm) GROUND CLEARANCE
The Maverick has 12.5 inches (31.75 cm) of total ground clearance for optimum performance in challenging terrain. The suspension and frame were engineered to produce a vehicle that can tackle rugged terrain in predictable fashion while also remaining stable and precise in aggressive cornering.
FOUR-WHEEL HYDRAULIC DISC BRAKES
The four-wheel disc braking system on the Maverick MAX 1000R consists of dual front 220mm hydraulic disc brakes with 32mm twin-piston calipers and dual 214mm rear hydraulic discs with a 27mm single-piston caliper for superior stopping power.
12-INCH CENTER-LESS CAST-ALUMINUM WHEELS
Inspired by the wheels found on the award-winning G2 Outlander 1000 XT, the stylish center-less cast-aluminum wheels on the Maverick were computer-optimized to add strength while at the same time reduce unnecessary weight.
27-IncH (68.6cm) MAXXIS BIGHORN 2.0 TIRES
The non-directional, six-ply Maxxis Bighorn 2.0 radial tires offer an extremely durable carcass, yet are lightweight in design to reduce unsprung weight. This tire provides a smooth ride, predictable cornering while at the same time offering sturdy lugs and a capable tread pattern for climbing and clawing across roots, rocks and other tough terrain.
VISCO-LOK FRONT DIFFERENTIAL
Exclusive to Can-Am, Visco-Lok is a progressively and automatically locking front differential system, once 4×4 mode is selected. The system intelligently transfers power from a slipping front wheel to the opposing wheel with traction. Visco-Lok has no buttons to push or levers to pull. Plus, there's no wheel hop or driveline wind-up so the system is totally transparent to the driver and extremely easy to steer. Up to 100 percent lock up with no rev or speed limiter.
DRIVER AND PASSENGER FOCUSED ERGONOMICS
The Can-Am Maverick MAX 1000R features a spacious cockpit specifically engineered to cater to the needs of drivers and passengers of various sizes and do so with a fit-and-finish that leads the industry. Driver-focused ergonomics means adjust- able comfort, easy-to-reach controls, integrated safety features and unmatched versatility. The MAX platform also caters to its three passengers' ride experience by creating a comfortable space that also makes them feel one with the vehicle. Can-Am Engineers added Dynamic Passenger Comfort ergonomics into the MAX chassis to improve the ride experience for the two rear passengers. This concept includes class-leading comfort, dual handhold options, stadium seating and easy entry and exit.
OPTIMAL SEATING POSITION
The Maverick has many automotive-like ergonomics to set it apart from the competition and create a comfortable and tun- able space for the driver. Optimal seating starts and ends with entering and exiting the cockpit and the Maverick leads its class in this category. The innovative driver's seat in the Maverick truly gives off the impression of feeling "locked in" and can be further dialed in with both an adjustable steering wheel and seat.
REMOVABLE HIGH BACKREST SEATS WITH INTEGRATED SUPPORT
The front seats in the Maverick are removable and freestanding, which means you and your passengers can feel as comfort- able in them a the campfire at the end of a long day as you have during your trail journey. The seats are designed to offer both lumbar and lateral support to "hug" the occupants and keep them secure even in the roughest of terrain.
ADJUSTABLE DRIVERS SEAT
The full bolster seats, along with their lumbar and shoulder support, are designed to allow easy entry and exit of the machine. The driver's seat is adjustable fore and aft without the need of tools, much like a car.
TILT STEERING
The tilt steering wheel also adjusts without the need of tools. The gauge in the Maverick is integrated with the steering column to it will pivot (raise or lower) with the steering wheel for enhanced visibility.
DYNAMIC PASSENGER CONFORT
Dynamic Passenger Comfort ergonomics means offering optimal seating, viewing and comfort for rear seated passengers. The rear seats feature the same ergonomics as the front passenger seat, in terms of both lumbar and shoulder support as well and the overall seat design. The rear passenger area also includes a total of four handholds, easy-clip side nets and stress-free access.
STADIUM STYLE REAR SEATS
Raised 3.5 inches higher than the front seats, the rear passenger seating features stadium-style positioning for increase passengers visibility while moving down the trail. This design element not only improves the rear passenger's sight lines, but also helps create a more interactive environment.
PASSENGER HANDHOLD AND GRAB BAR
The Maverick MAX line of side-by-side vehicles offers the same handhold setup for the front passenger as found in the two- up Maverick 1000R. The dual handhold design, which includes a grab bar and a left-hand grip bar, features ergonomically friendly bends and optional hand placement for supreme comfort and convenience. The rear passenger area also includes a total of four handholds for the rear passengers. There is a grip bar on the center console for each passenger as well as an additional grab bar near the cage.
EASY CLIP SIDE NETS
Designed to keep a clear field of vision for both the driver and passengers, the front and rear side nets on the Maverick can be opened and closed with just one click. They are also built to simplify the entry and exit of the vehicle.
THREE POINT SEATBELTS WITH ANTI CINCH
To ensure the occupants have peace of mind and comfort inside the Maverick, Can-Am engineers outfitted it with three-point seatbelt with anti-cinch, front and rear. There's also a warning alert if the driver's belt is not fastened properly.
31.6 LITERS OF COCKPIT STORAGE
The onboard storage consists of a 17.2-liter glove box and a 13.1-liter storage space beneath the driver's seat.
OFF ROAD CUP HOLDERS
The Can-Am Maverick MAX 1000R offers four conveniently located cup holders. Located in the center console of both the front and rear seating areas, the cup holders have rubber flaps for off-road use.
PREMIUM FIT AND FINISH
The Maverick MAX 1000R family offers industry-leading fit-and-finish. Attention to detail and features that extend beyond the expected are what help the Maverick stand out in a crowd. From its roomy four-seat cockpit with its detailed control panel and gauges to its stylish, seamless facade, the Maverick has a level of sophistication that's unparalleled in the industry.
2-INCH DIAMETER HIGH-STRENGTH STEEL, ROPS APPROVED CAGE
The Roll-over Protective Structures (ROPS) industry standard was followed when designing the Can-Am Maverick family of side-by-side's two-inch-diameter, high-strength steel cage.
MULTI FUNCTION REAR RACK WITH LINQ
The Maverick side by side comes standard with multi-function rear rack that utilizes the LinQ quick-attached accessory system. LinQ enables the sporty Maverick to quickly and effortlessly install a rear storage box, rack extension or soft-side bags. An optional bed liner offers additional storage for increased versatility. The rear rack is rated to carry up to 200 pounds of cargo.
MUTLI FUNCTION DIGITAL GUAGE
The rectangular LCD gauge, which offers a speedometer, odometer, clock, trip meter and more, is mounted to the steering column so it adjusts with the steering wheel and stays within the driver's sight lines.
240 WATT LIGHTING SYSTEM
Much like the Can-Am Commander, the Maverick MAX 1000R family of side-by-side vehicles has the industry's best lighting system at 240 watts. Automotive-style projectors, on each side, run at 120 watts in low beam and 240 watts in high-beam mode.
625 WATT MAGNETO
The Maverick MAX 1000R electrical system can dedicate up to 300 free watts to power accessories thanks to the industry's largest magneto.
EASY TO USE MAINTENANCE CENTER
Easily accessible and out of the elements under the hood, a centralized maintenance area allows access to the air box, radia- tor and coolant overflow. Fuses and relays are also easily accessible.
STANDARD AND PREFORMANCE D.E.S.S KEYS
D.E.S.S. is the industry's first standard anti-theft device. Electronic code in key must match code in ECU to start. The Maver- ick MAX 1000R family comes with two different keys. One is standard key, which limits top speed to 44 mph (70 km/h). The second key is the performance key that has no limitation on speed or power.
BASE COLOR OPTION
The Maverick MAX 1000R base model is available in yellow.
MAVERICK MAX 1000R X RS DPS PACKAGE
Much like the base Maverick 1000R X rs DPS package, the MAX X rs DPS includes Tri-Mode Dynamic Power Steering, which features the exclusive Visco-Lok QE front differential, FOX 2.5 piggyback shocks racing-inspired graphics, lightweight 12- inch aluminum beadlock wheels, and other specialty add-ons. Available in either a black-and-yellow finish or the new white with Can-Am Red and black schematics, the Maverick MAX 1000R X rs DPS also wears the same updated 3-D analog / digital gauge package.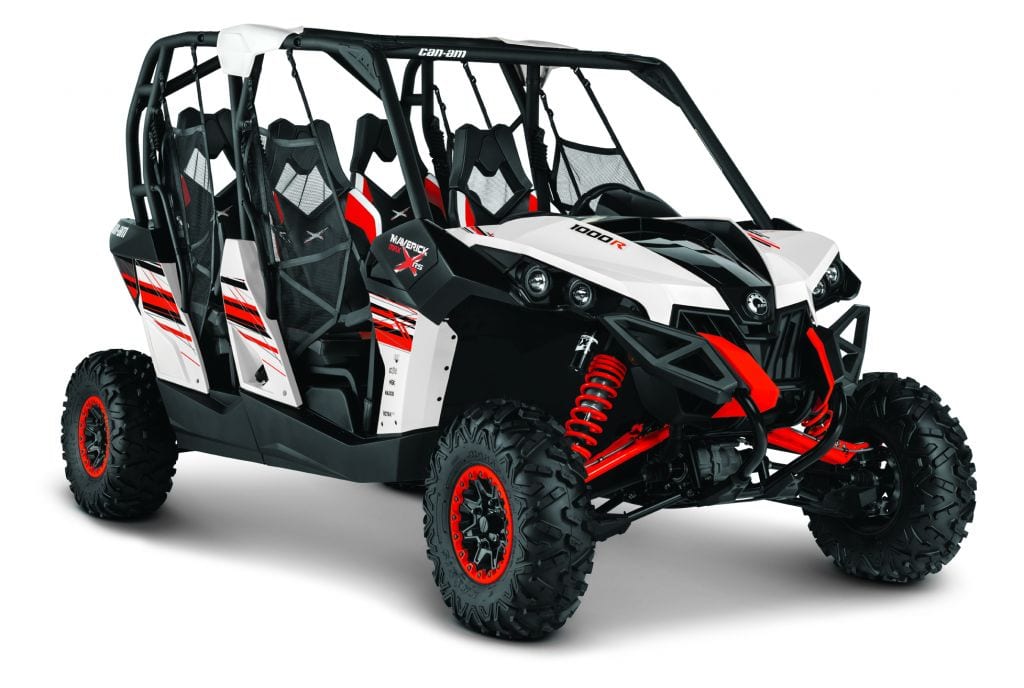 TRI MODE DYNAMIC POWER STEERING (DPS)
Calibrated specifically for use in the Maverick 1000R side-by-side family, BRP's Tri-Mode DPS system offers variable steering assistance and is designed to offer less assist at high speed and more assist at low speed. It also allows the driver to dial in his or her preference with three modes (Hi, Med, Lo).
VISCO LOK QE
All DPS-equipped Can-Am side-by-side vehicles include Visco-Lok QE calibration giving an even quicker engagement of the front differential. It progressively transfers power from a slipping front wheel to the gripping one – automatically with no buttons to push or levers to pull. Plus, there's no wheel hop or driveline wind-up so the system is totally transparent to the driver and extremely easy to steer. Can lock up to 100 percent with no rev or speed limiter. This differential, unlike some competitor's differentials, does not have a speed or rev limiter. DPS and Visco-Lok QE, when, combined, improve handling and performance in slow-speed technical terrain.
UPDATED 3-D ANALOG/DIGITAL GAUGE
The Maverick MAX 1000R X rs DPS has the same upgraded gauge package found on other model-year 2014 XT, X and Limited vehicles. This system includes a 3-D background for enhanced visual clarity. Featuring state-of-the-art instrumentation with an analog tachometer and speedometer combined with an advanced digital information center.
TWO COLOR SCHEMES WITH X-PACKAGE GRAPHICS AND SEAT TRIM
The Can-Am X-Team-inspired black-and-yellow plastic is joined in 2014 by an all-new white with Can-Am red and black color schematic. Both colors include X-package graphics and sponsor logos to enhance the high-performance looks.
FOX 2.5 PODIUM PERFORMANCE SHOCKS
Developed in collaboration with FOX, the high-grade FOX 2.5 Podium Performance shocks make their first appearance on a factory-built side-by-side vehicle. The re-buildable shocks sit at all four corners and are fully adjustable for Dual-Speed Compression (DSC) and rebound. The 2.5 Podium shocks offer a high-volume 6-inch piggyback oil reservoir and specially for- mulated oil for improved flow and heat dissipation. Proven technologies such as upper and lower spherical bearing mounts, velocity-sensitive damping control and a high-flow piston, optimize performance in varying terrain. They are designed to be extremely durable with a hard-anodized 2.5-inch aluminum body, forged aluminum piggyback body cap and a 5/8-inch hard chrome-plated, heat-treated shaft. To maintain supreme control, the FOX shocks' extension velocity after compression can be fine-tuned to optimize vehicle control.
12 INCH ALUMINUM BEADLOCK WHEELS
The Maverick MAX 1000R X rs DPS uses same 12-inch aluminum center-less, computer-optimized wheel design as the stan- dard Maverick, but also mates a full-function yellow beadlock (mechanical fastening device) that makes it nearly impossible for the tire to break its bead from the wheel during heavy acceleration or cornering.
CUSTOM STERRING WHEEL
The three-spoke steering wheel is outfitted with molded grips and a brushed aluminum centerpiece to add to the Can-Am side-by-side's performance looks.
X PACKAGE SEAT TRIM
Stitched with the X Package logo and highlighted with white and yellow highlights, the seats on the Maverick look like they were taken right out of a racecar.
For more information on the entire Can-Am off-road lineup of ATVs and side-by-side vehicles, please visit www.CanAmOffroad.com.