It seems to me that Honda, as a company, is never happy. By that I don't mean that they don't take joy in their products. Instead, over the years, I've seen them take perfectly good vehicles and change them – often much before the expected "expiry" date. No, it seems that almost as soon as a product makes it into production a group of engineers' starts tinkering with it and changing it. So, on the surface at least, I think it's fair to say that they just aren't happy with their results. The other way to look at it though would be to say that Honda never stops improving – a statement that I find applies company wide.
This past June I saw another example of this constant improvement culture at Honda's South Carolina Recreational Vehicle production plant. In an elaborate line-off ceremony a white jumpsuit clad employee drove a new Honda Pioneer 700-4 UTV off the end of the assembly line to the applauding approval of the entire plants staff. This new product is the next step in the evolution of Honda's first UTV product "Big Red". However, short of also having four tires, it is a completely different vehicle. Normally, generations or linear evolution is how all motorized vehicles progress – whether cars, trucks, ATVs, snowmobiles or motorcycles. But here in – once again – I saw that company trait. Honda is just never happy. Big Red was launched just a few years ago yet here it was already being replaced. In fact, that's one reason for the name change as well. Honda Pioneer 700-4 is so different from Big Red that to call it a generational upgrade would be wrong; so instead Honda decided to start a new timeline with a new name – Pioneer. The choice of name is also telling because a Pioneer always comes first. By using that name Honda is saying that this UTV will be the first in a line of vehicles that will always be improving from this starting line.
So, while this story is about the new Honda Pioneer 700-4, Big Red must be mentioned because it was the first. Big Red gave Honda a UTV product that from a competition point of view made them a player in the market. However that first effort was not without its drawbacks. Big Red had a number of design issues; none of which on its own was serious. Instead taken together it made Big Red a good first effort that Honda was keen to follow up with another effort.
The building of the new Honda Pioneer 700-4 models includes an all-new chassis formed around Honda's 700cc-four-stroke engine driving its automatic transmission. This new chassis includes a long-travel suspension system that smoothes out the ride over tough terrain. The new bodywork comes standard with integrated doors and headrests; after all keeping the occupants inside the UTV in case of mishap is the key to safety in these machines. However, Pioneer is primarily a workhorse and as such can carry loads over tough terrain as well as being able to tow big loads. But moving people is where the Pioneer really departs from the original Big Red. This new unit is the traditional side-by-side at first glance, built for two. But on closer inspection you'll see that a quickly convertible seat system changes its body into a four-seater. Best of all it doesn't have to stay in one or the other configuration – it changes as needs do – and quickly.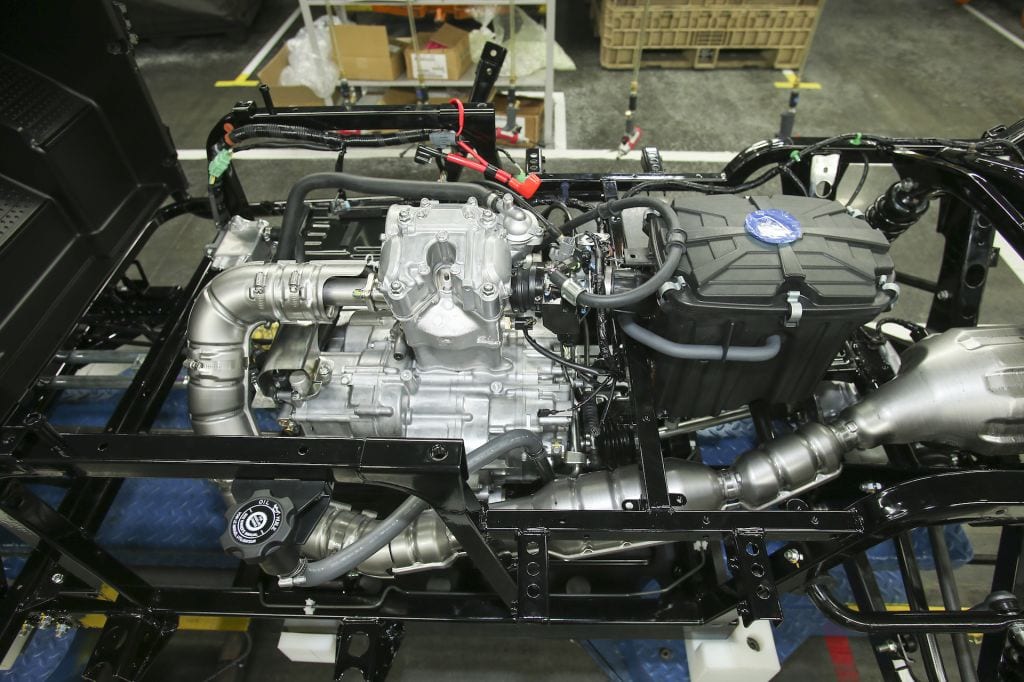 This conversion also takes into account the need for just three seats – so from the conventional two forward seating positions Pioneer can add a third and a fourth. The "how" is pretty straightforward. The two rear seats tilt up out of the bed using a release latch which than locks into place in the upright position. Do one seat back – then the other – as needed. The rear passengers also get access to three-point seat belts, which are built into the Roll Over Protection Structure (ROPS). Here they are out of the way yet easy to get to when needed. The Pioneer cargo bed, like most UTV beds, tilts. I mention this because even with the convertible seats you don't lose the tilt function. Mind you it is disabled when the seats are up and passengers are in them. This was one the things we tried first during the introduction. Tech writers have a bad sense of humour. Anyway, they don't tip when occupied.
The wheelbase on Honda Pioneer 700-4 is a little longer than the one found on Big Red – 76.8 inches versus 75.7 inches—yet overall length is just about the same. The key body difference is in the width though. Pioneer is nearly three inches narrower. This addresses a complaint about Big Red – it was too wide for many trails. These new proportions give the Pioneer a tighter 14.8 feet turning radius. But, almost as importantly, the ground clearance has been raised too – to 10.3 inches. However, perhaps the most telling specification is found in the suspension travel: both new models have a full 7.9 inches of travel on the double-wishbone independent front suspension system, while the same setup gets 9.1 inches of in the rear. This is a two-inch gain. Again, a significant upgrade from Big Red. Also those twin rear shocks are adjustable using a spring preload, so it's easy to change from light use to a rate that can carry heavy loads. Both versions of the Pioneer 700 get new front tires sized 25 x 8-12. These new tires help give the Pioneer improved steering feel and more agile steering
In South Carolina we had a chance to drive the new off-the-line Pioneers on the plant grounds. Here they have a 10 kilometer test track that winds though pine forest, rocky stream beds – and some lovely mosquito infested swamp – felt almost like Ontario in May. The point of this bush bashing though was to give us a feel for the new Pioneer. To that end the overriding sensation was of driving a machine that was smaller than it really was. Pioneer turns quickly and easily following twisting trails almost as easily as the Honda Foreman that was out front leading the pack. Its suspension sucks up bumps – pops over logs – and never really bottoms out. The suspension is not stiff per-say; it's just gives and returns quickly. The most telling trait though is that Pioneer felt almost the same with a single driver as it did with driver and three passengers aboard. We didn't have a chance to tow or weigh down the box, but from the feel of the engine I suspect this will be no problem.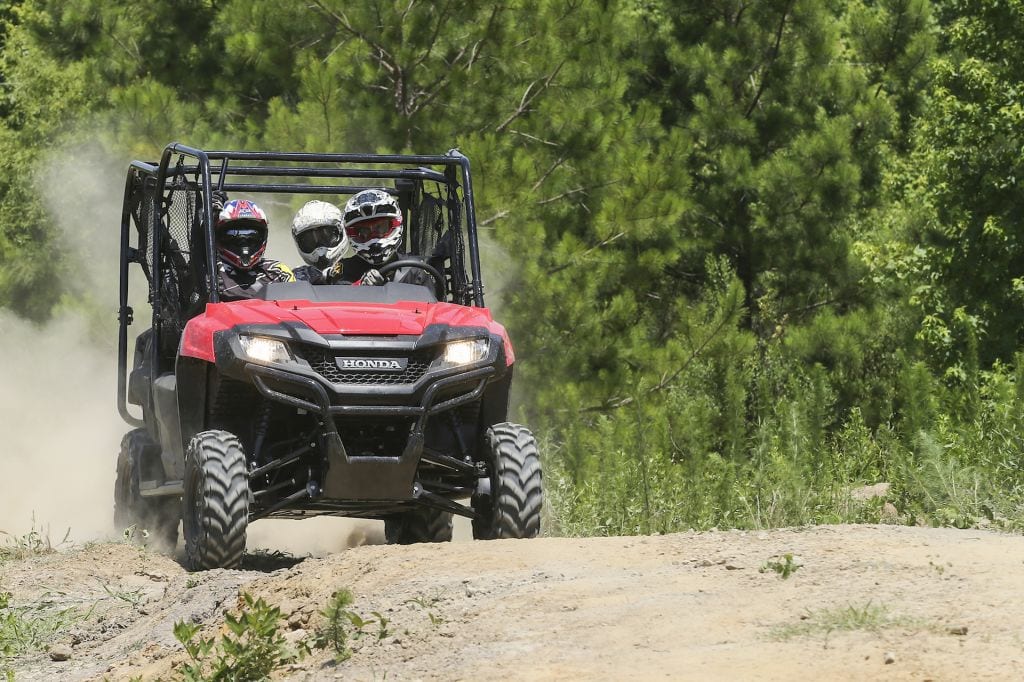 Driving the Pioneer is Honda's veteran 675cc liquid-cooled OHV single-cylinder four-stroke four-valve engine with Programmed Fuel Injection (PGM-FI). This is a motor that is a proven performer – and in keeping with Honda's credo – they give customers all the power they need, but not power for the sake of bragging rights. In fact this is Honda's biggest motor and I agree that any more would be pointless. Getting the power to the ground is an automotive-style transmission that features a hydraulic torque converter, three hydraulic clutches and an Electronic Control Module (ECM) to automatically select one of three forward gears and one reverse gear. The ECM monitors throttle, speed, engine rpm, gear selector position, brake application and engine oil temperature. It uses all these impute to decide what gear to use and how quickly to shift. Also, on downhill slopes the transmission provides positive engine braking for slowing power.
As for traction Pioneer uses full-time 2WD for improved traction. Real 2WD – not slip and grip. This is a non-differential rear end—one similar to ones used on Honda ATVs equipped with IRS. When the driver wants to change settings a gearshift selector makes it easy to go to 4WD mode. Pioneer also has a front differential lock for maximum grunt. Of course there are no belts – that's a given with Honda, but it is a major point that needs repeating. Honda transmissions use a durable shaft-drive design.
So what else needs to be mentioned? That's a long list however there are just a few that I think are worthy. The engine gets a new mounting system that helps tune out vibration. This idea than extends to vibration-isolating bushings, on every contact point for the driver and passenger—steering wheel, handholds, floor, seat bottom and seat back. Past that the 2WD/4WD selector also gets a new dual shift-mapping program that automatically selects between two transmission shifting modes—Cruise or Sport mode. Yes this is automatic – the computer senses what the driver is doing and changes accordingly. My first thought was good – this helps with power. But it was later that I also realized that it's also about fuel economy. Pioneer can stretch its fuel capacity this way.
As for onboard capacity we know Pioneer can carry up to four adults – but past this the tilt bed will also accommodate a 1000-lb while also towing 1500-lb. Multiple D-rings are found on the bed and wall of the cargo area. For work (especially at night) Honda has added 37.5 watt headlights, a higher AC generator output—from 410 watts on Big Red to 450 watts, increased its fuel capacity and built a big sealed glove box.
It's interesting to note that the new Pioneer was designed by Honda Research and Development in Ohio, and built at Honda South Carolina. In many ways this North American influence and flavor is what I tasted during the debut of this new UTV. Honda promises us more Pioneer versions in the future as well. I look forward to that.
For vehicle options, specifications and pricing of the Honda Pioneer 500. Please visit the Honda Pioneer 500 website at sxs.honda.ca