I love reading and hearing off-road enthusiasts opinions, well most off the time. The problem starts when I too often encounter people blasting loudly various uninformed opinions regarding the current available arsenal of UTV's available on the market. Please notice the words "often" and "uninformed"! It's not that I don't respect others opinions as I love to hear well thought out, open, objective and informed ideas, it's just hard to respect strong uninformed opinions that seem most often to lean in one direction and leaving out the big picture. Especially those who refuse to see positive characteristics outside the ultra long-travel non-desert portions of the world as not all of us ride desert and dunes. But for those willing to open our minds to the fact that different parts of North America, even the world posses differing terrains, needs and scenario's that tend to favor unique characteristics of each of the differing models available on the market today. I come to this review informed and my writing by no means contains truth stretching, yet I write my opinion around the machines intended use.
With that said, my hope is that some (especially those in need of something a little less high end race like) who seek a fun, workhorse capable and tough can walk away from this article a little better informed. So let's dig into the details of Kawasaki's 2014 Teryx 800 which has the versatile ability to tackle any terrain and get hard work done with three powerful characteristics; strength, comfort and its utilitarian features.
New Strong & Well Balanced Chassis
Let's dig into the Kawasaki Teryx 800 bigger, most notable new enhancements. To me, this area of design improvements is among the most significant. It's a new, yet proven double-x frame design (used on 4-seat version) built for maximum strength and durability. The mid-engine placement better balances the overall ride performance and ability of maintaining control with less rear end kick. It's wide stance keeps things stable, and paired with 26″ Maxxis Bighorn tires it offers a great planted feel when cornering.
Suspension
A very close second place on the significance factor for me is it's new suspension setup, new Fox Podium shocks. These are not just simply added to the mix, they're premium shocks tested, tuned and built specifically for the 2014 Kawasaki Teryx 800 and it's new frame design. The shocks can be further tweaked and dialed to each riders needs and terrain via an easy adjustable compression damping dial and spring preload positioning. They allow tackling even the toughest and unexpected terrains with the greatest of confidence.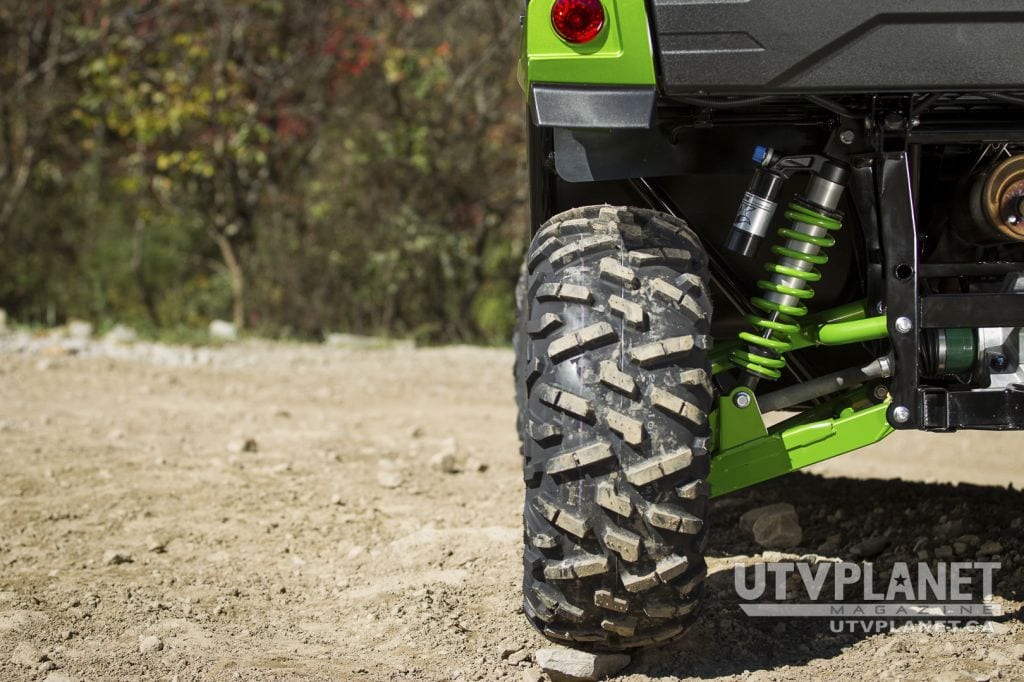 Engine
Kawasaki claims a more powerful engine than previous models, which this v-twin is already known for being one of the best base platforms for making power. It's been given a displacement boost from 749cc to 783cc, which increases horsepower and torque by 26% and 12% respectively. Piston features a revised crown that raises compression ratio from 9.3:1 to 10.7:1. In addition, they've increased crank mass for enhanced idle stability, flywheel effect which is tuned to optimize the performance of the centrifugal clutch. In order to reduce fuel consumption throughout your ride Kawasaki engineers revised cam profiles and to optimize powered delivery, a larger 35mm diameter exhaust collector was better tuned for the job.
Drivetrain, CVT, & Clutch
Kawasaki is known for possessing one of the best engine breaking systems in the industry and improvements carry into the 2014 Kawasaki Teryx 800. The CVT & clutch combo provides an instant smooth linear acceleration along with controlled engine breaking. You might also dig the idea that the centrifugal clutch is located between the crankshaft and CVT drive pulley which minimizes belt shock and reduces wear by maintaining consistent belt tension. Those belts can be expensive and a timely repair. It's an overall robust design of the high stress areas designed to keep you driving more and wrenching less.
Breaking Components
Breaking, the ability to bring one of these larger off-road machine to a quick stop is mandatory and Kawasaki has done a great job at designing a system that can do just that. Building confidence in this area is vital, it determines how hard you can push your equipment. On the front dual 200mm two-piston calipers with lines wrapped with braided steel plays into that confidence. On the rear, one central mounted, sealed Multi-disc systems adds to that confidence. It's virtually maintenance free, compact and hidden away for ground clearance and protected by the chassis. It just works and works well, period!
Creature Comforts
I can only speak for myself, but I love the growl of Kawasaki's beastly v-twin, but Kawasaki has reduced engine noise as well as the heat given off in the cab. I love the comfort of the premium bucket seats and the retractable shock dampened seat belts are a welcomed comfort as well while tackling harsh jarring terrains. I'm a huge fan of well thought out storage compartments. There is now more storage than Teryx has ever had, glove box of course but Kawasaki added great sealed and sizable storage compartments behind both of the seats. From a value standpoint, I love how no matter which version you purchase, LE or standard, they all come with the above mentioned shocks and equipped with power steering. That's huge!
First Ride Impressions
For our testing I took things further than just simply throwing on a few easy miles calling it a day and pretending to have a good solid opinion about its performance and abilities. Rather, I put it through the ringer with two full days of complete torture on an amazing point to point ride at one of the USA's most premier ride destinations on the east coast, the Hatfield McCoy Off-Road trail system in rugged West Virginia. With a good mix of creepy crawling and high speed pushing speeds to the edge, we encountered a powerful telling mix of all terrains and obstacles. You name it! Mud, rocks, boulders, ice, snow, insane climbs, tight, open, twisty, technical, whoops and so on; we spent two full days tackling a little of it all! The 2014 Kawasaki Teryx 800 earned each and every word or alkaloids written below!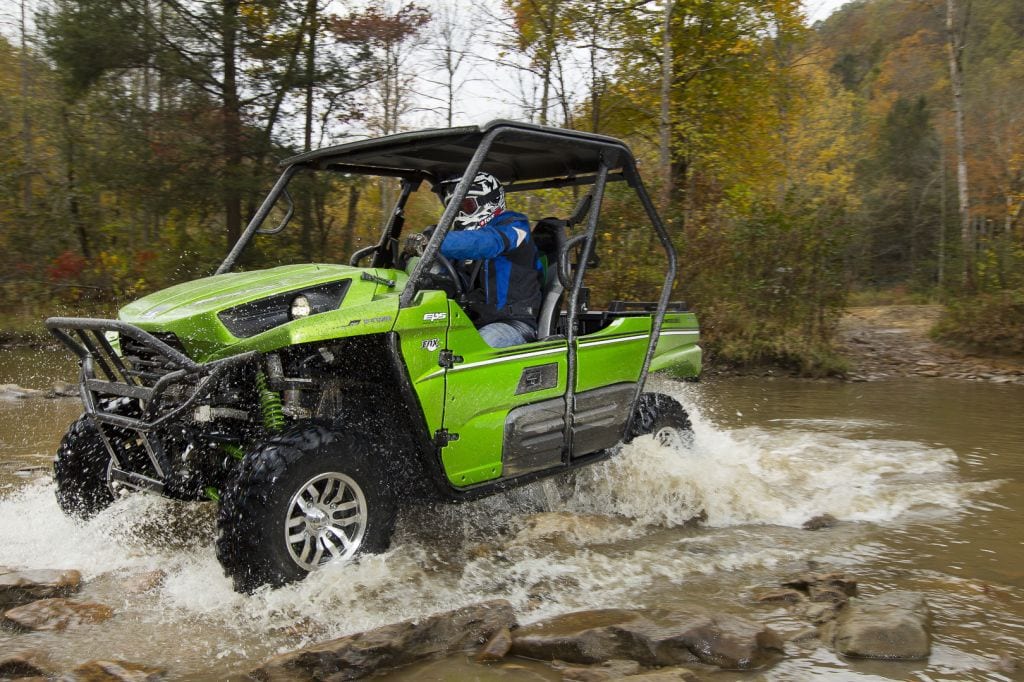 Just like its name Kawasaki Teryx 800, this machine is all beast and desires to prove to its driver and passenger that it can handle whatever challenges you may have in store for it. Like I mentioned early on, we put it through the ringer in a large assortment of scenarios and it proved itself Kawasaki strong with amazing performance. As hard as I pushed at times, not even a flattened tire was experienced and I'm unable to explain why as we pounded it through countless rock gardens. Diving into corners with velocity, the machine built a trusting confidence with me that I didn't expect. Only in rare snotty times did the front end lose traction and slide out of my intended line. Usually due to a snotty, slimy hard packed soil. And even that was rare.
We powered up gnarly hills and mountains and the power to do so was smooth, linear and plenty of it on tap to conquer whatever stood in your way. I banged through humps, jumps and awkward terrain and the new Fox shocks made life so much more bare-able and stable to keep it hammered. Power steering made life easy with arms much less fatigued than what I'd expect from a hard days ride. Stability was always amazing, kickers kicked with minimal lift and even though the whoops we tackled weren't desert deep and plentiful, Teryx held its own! I inspected the vehicle at the end of our two days of torture and aside from a few scratches, this Teryx bared all we through at it and that says a lot to me. Maybe I wasn't in the desert, but I did run it through some of the east coast's most brutal environments and was never disappointed!
For more information on the Kawasaki Teryx 800, please visit the Kawasaki Website.