Right off the top let's talk about what the Kubota RTV-X1100C is not. It's not a fun trail-riding machine. It's not a fair-weather utility-only machine. It's not a speed-demon and it is certainly not a simple-minded weak design. All these nots are meant to push your understanding of this machine into the right mindset right here and now. This unit is a workhorse – with a capital "W". Everything about this Kubota is heavy-duty and overbuilt – and when I started testing it, this trait came out right away.
How's that? Well, there is a hydro-line that runs through my IronWood test site in Northern Ontario and once every twenty years the power line crews come through in the winter and clear it out. They use those huge Bombardier steel tracked tractors towing heavy equipment – and they make an un-Godly mess.
With this Kubota I headed up that hydro-line and immediately sunk axle deep into a mix of mud and mire. There is always standing water in this area, but being Spring it was really deep. I looked at my son as the little diesel churned the mud. "I think it's too deep" I said. I didn't have my four-wheel drive tractor out of winter storage yet, so if we sunk we'd have a long, wet, walk back.
Stephen pointed out the differential lock on the floor by my heel (just like on my Ford tractor). "I guess that's our safety" he said. We pushed on hoping that if we got stuck the diff-lock would get us out. The water was one thing, but the hydro crew had also left ruts behind that could swallow a Buick so hanging up the unit was a real threat. Avoiding the worst of the holes, I was soon pushing water with the bumper – and still didn't need the diff-lock.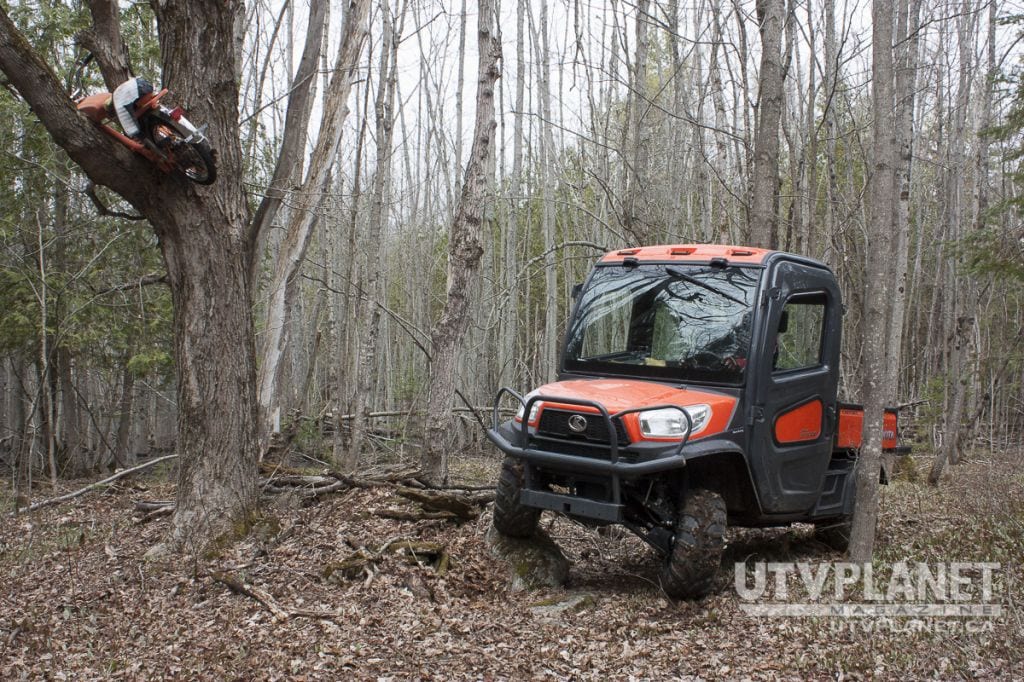 At this point we both looked at each other and wondered aloud what it would take to stop this little tank. The water rose to the doors (that have rubber seals) and still it plowed on. As it turned out – nothing stopped it – didn't even slow it down. Not mud, not water, not any amount of timber slash. It was frankly a jaw-dropping performance.
I think what had really deceived us was the diesel engine. This little 3-cylinder power-plant makes tons of torque but it's not fast. For horsepower it puts out 24.4, but it more than doubles that for torque at 52.7 lb-ft of torque. So here is where the deception comes in. The top speed we achieved was 28 km-h off-road. Its acceleration is slow as well, spooling up as if it's tired. And that's what really threw us. With a gas engine, in a sticky situation, you rely on the throttle to burn you out of trouble. Going into this muddy mire we knew this would not be the case with the Kubota – that's when we found it just didn't matter. This diesel churns the wheels at a steady rate even when completely buried in mud and water.
To ride in, Kubota RTV-X1100C offers a full steel chassis with a full steel cage mounted cab. This creates a solid skeleton as well as rock-solid base for hauling people, cargo and towing up to 1300 lbs. The fully closed cab is weather-proof, almost water-proof and offers roll-over protection as well.
A new Kubota feature is the Extra Duty IRS. This independent rear suspension now matches a front independent suspension as well. With eight-inches of travel at each corner this allows the wheel to drop into a hole, maintain torque, without pulling at the opposite wheel. Not to mention, without a full length axle there is one less low hanging obstacle that can get the unit hung up. Ground clearance is now up to 10.4" with this setup.
The drive system is based on Variable Hydraulic Transmission. This transmission offers a wide torque band and uses large oil coolers to maintain constant performance.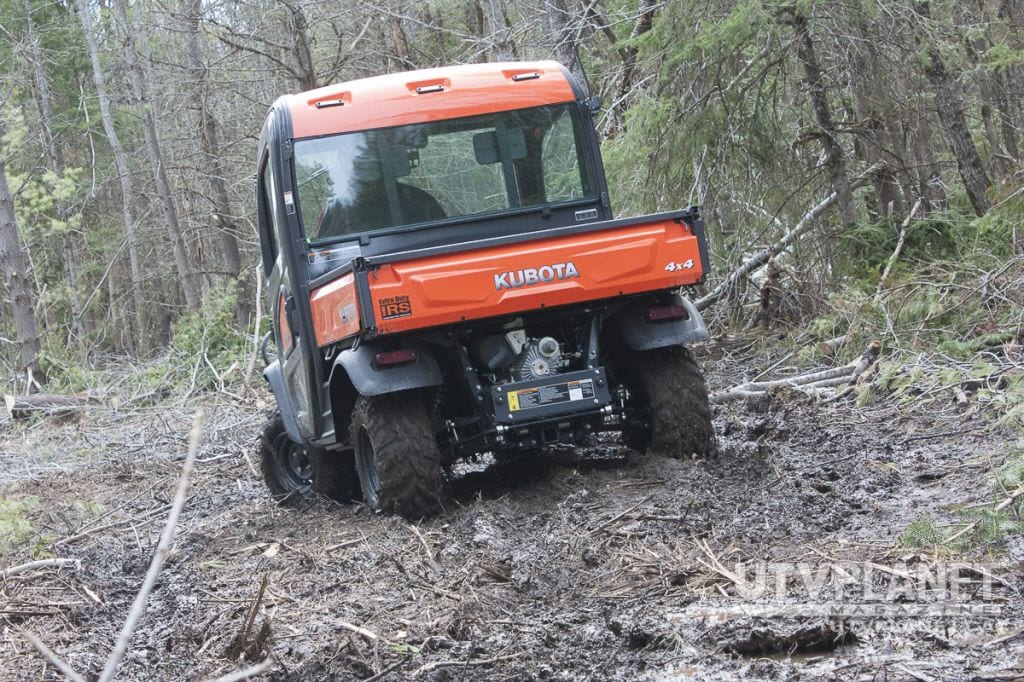 Power is pushed to the wheels, where the operator can choose 2WD, 4WD – in either a Hi or Low speed range. The front wheels use a limited slip differential – which makes steering easy – while in back the heel pedal can lock the rear differential on demand. Making the steering easy (its power) is a good thing as the unit weighs in at 2,337 lb and has a turning radius of 13.1-feet.
Let's get back to what makes this a true four-season (particularly for Canada) work vehicle. That full steel cab is completely enclosed. Windows are automotive style glass on all sides – with cranks to open the side windows in the steel doors. The doors have full rubber gaskets that seal them shut and a fully sealed floor-pan. On the passenger side is an auto-style HVAC control for heating and cooling. Yes, this unit has A/C too. The front windshield has a wiper and even a washer fluid sprayer. For the driver's comfort the steering wheel tilts and the seat adjusts. There is also a deadman pedal on the left that helps relax the foot and also brace inside the cab. All controls are automotive style and the overall in-cab feeling is comfortable. There are 12V outlets for accessories and an electric horn – to get the attention of others on the job site – or your kid that is goofing off while working. There is a standard antenna mount on the rear of the cab by the roof. This can be used for standard radio – or two-way radio setups.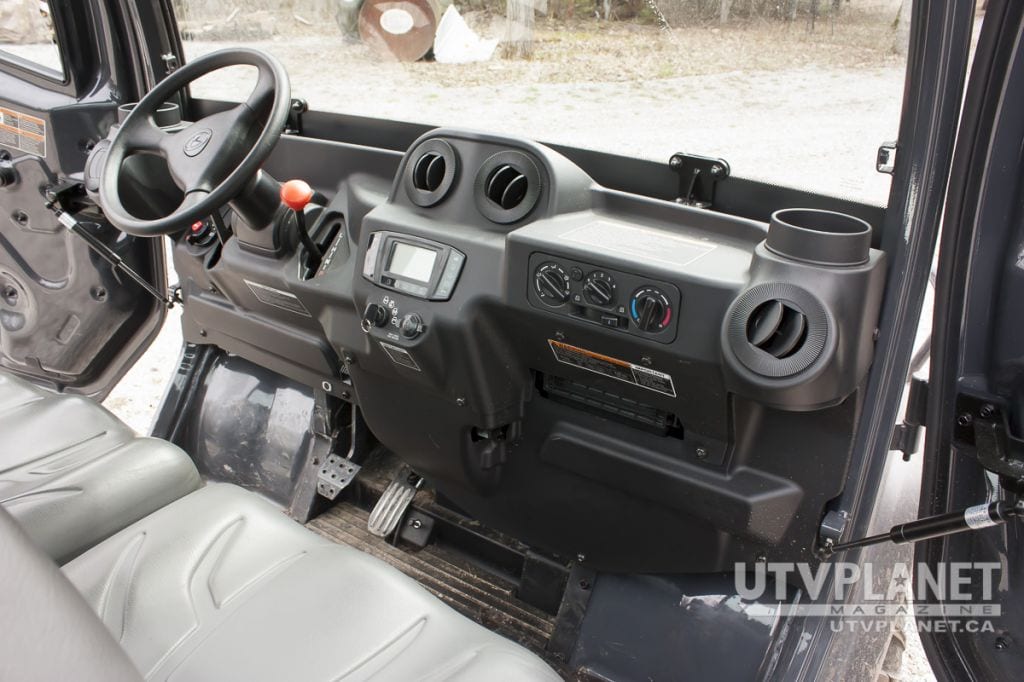 Gauges easily keep track of all the running systems and I noted that the 30L fuel tank will easily get the machine through a full day out in the field – even if it's idling all day long. Up front, under the hood, you'll find the radiator and air-intake located high and dry. Here water isn't a problem and the air is cleaner and cooler for the engine. This location improves both radiator performance and simplifies maintenance.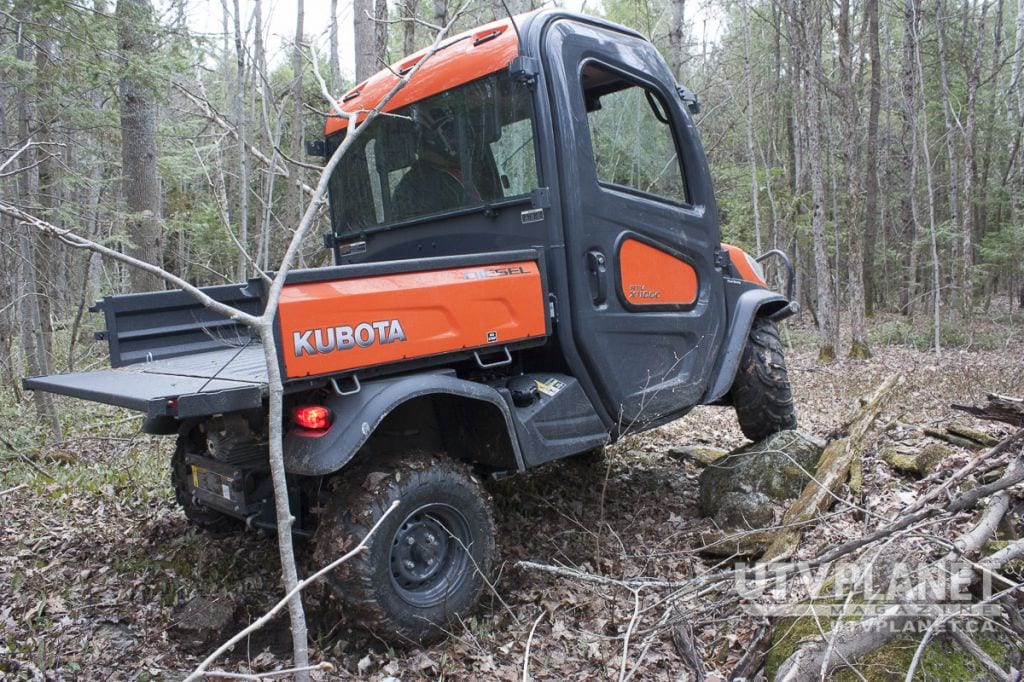 A great feature from Kubota is the pickup truck like box that has a drop tailgate with a simple but sturdy latch system. A nice option on this unit (and it was on ours) is a spray-in bed liner. This stuff is scratch resistant and offers solid underfoot traction even when wet. Four tie-down hooks in the corners help keep loads in place
The bed itself is also lifted by a hydraulic cylinder with an in-cab lever that puts it up and down. It will hold any position as the hydraulic lever locks it into place till it's moved. This also means there is no outside lock on the bed so you don't even have to leave the cab to dump it.
Below the bed is a standard 2-inch automotive receiver hitch. You'll need a longer bar as it is attached forward on the chassis. Above it is the PTO take-off. This unit opens the realm of possibility to whatever you can imagine and buy. The standard coupling is covered by a solid metal screw-off cover to keep it clean.
I haven't even mentioned the brakes – because as I'm thinking about it now – I think I almost didn't use them. See, the diesel engine provides dynamic braking – or compression braking as I call it. This braking action is so dramatic that on level ground I will bet that you never touch the brake pedal. Just take your foot off the accelerator and you almost pitch forward with the immediate slow down. On long harsh slopes this also means that the engine will hold the unit to a crawl. In fact during my test I couldn't find a slope steep enough to let the Kubota roll down. Even on a 15% slope with my foot off the power the unit came to a halt. However if you are wondering the brakes are fully sealed wet type discs. They will have no problem stopping whatever you are hauling.
Overall, if work was my only criteria for a UTV I couldn't think of a better machine than this Kubota RTV.
For vehicle options, specifications and pricing for the Kubota RTV-X1100C, please visit the Kubota Canada Website.