A heated steering wheel; that's what I want. That was my overriding thought as I did a winter test of the new UXV 700i from Kymco recently. Not that anyone else has one; I'm just putting it out there – a heated wheel would be so nice for many months of the year here in the Great White North. Particularly for those of us of a certain age. I figure warming my frozen fingers is about as good a reason as any to choice one UTV over another. Just saying… if someone were smart enough to offer one, I'd buy it. The other reason I'm whining about this is because it's just about the only complaint I had while testing the Kymco in the snow and ice.
For 2014 Kymco adds a second, more powerful, member to its UTV family; the Kymco UXV 700i. This full framed side-by-side is running an all new 695cc fuel-injected, liquid-cooled 4-stroke, SOHC 4-valve engine. This motor is powerful, smooth in operation and offers a throaty exhaust note. But, it's not loud and it does not bark under acceleration – both important features for hunting and trail riding where excess noise ends up hurting the ears and annoying the neighbors. Kymco claims this motor will make 45 horsepower, and while I have no way of verifying that I can say that when you hit the throttle there is lots of jam in the response.
The day of my test saw minus 10 C temps and fresh snow. Not an ideal summer jaunt but good for testing. I found starting the UXV easy; it's an automotive style starter (with the key) on the right side of the steering column. As for the cold – well, as the fuel injection automatically deals with the need for choke and also takes temperature into the equation, it's easy. It did need to run for a few minutes before normal idle was achieved; that's not out of the ordinary and once warm never bogged or quit.
The Kymco UXV 700i uses a CVT transmission to push the power to the wheels through an automatic shifter that features High, Low, Neutral, Reverse and Park. The shift lever itself is found in the center console; conveniently at the driver's right hand. The position is good, very much like what's found in many pickup trucks today and the consol is wide enough that it still serves as an armrest. The gates on the shifter are large, easy to move through and because of this (and the location), frankly, it's easy to slide through the gears without looking down at all. Note that while Kymco uses a Park position on the shifter it still offers a manual parking brake, just under the dash in the centre. I like this because when you're trailering the parking brake saves the parking pin by holding the weight of the machine at the brake discs – rather than stressing the pin as the machine bounces in transit.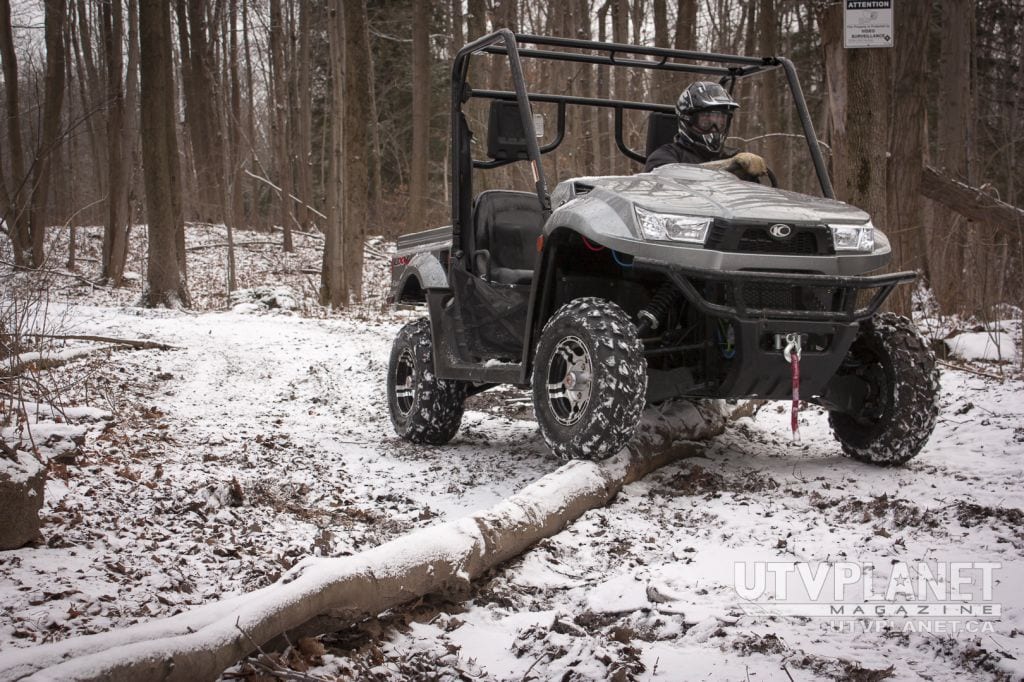 Now, shifting between 2WD and 4WD is achieved with a push-button. If more traction is needed a differential lock can also be engaged to push torque to both the rear wheels. Mind you leaving this engaged on a twisting trail causes a lot of wheel scrub as the tires work against each other. Use it when you need to get out of a hole then disengage it.
Winch controls are found in the glove box and on the winch itself – the glove box control needs to be plugged in, but it has a long lead so you can operate it while standing outside the machine. If you don't find yourself underwater than you can simply operate it from the winch itself with the controls found there. Nice to have a choice – though I figure in either case if you need the winch you will be getting dirty. While I'm at the front of the machine I want to point out the brush bar. It's not extraordinary, but its good solid steel. That optional 3000 lb winch (standard on the LE model) itself is also recessed to keep it from harm and the design overall is good protection for the UTVs plastic nose and upright radiator.
The day of my test was the first really cold one after a period of higher temps, so the ice down in the swamp was thin. And while it broke as I expected it to – I had no need of the winch – thankfully. It was while running through the water that another feature manifested itself. The body shape, fenders and floor pan of the Kymco are very good at deflecting water. Hitting the water at speed the splash went up and out – not in. What little shot forward would have been caught by the windshield instead of my face – if I'd had one. On the Kymco this is an optional purchase – however it is a feature that I would not do without any longer. While there was a time when I figured windshields were for girls; I have come to appreciate them. They not only fend off water and mud, but they protect the passengers from branches, debris and most importantly the cold, cold wind.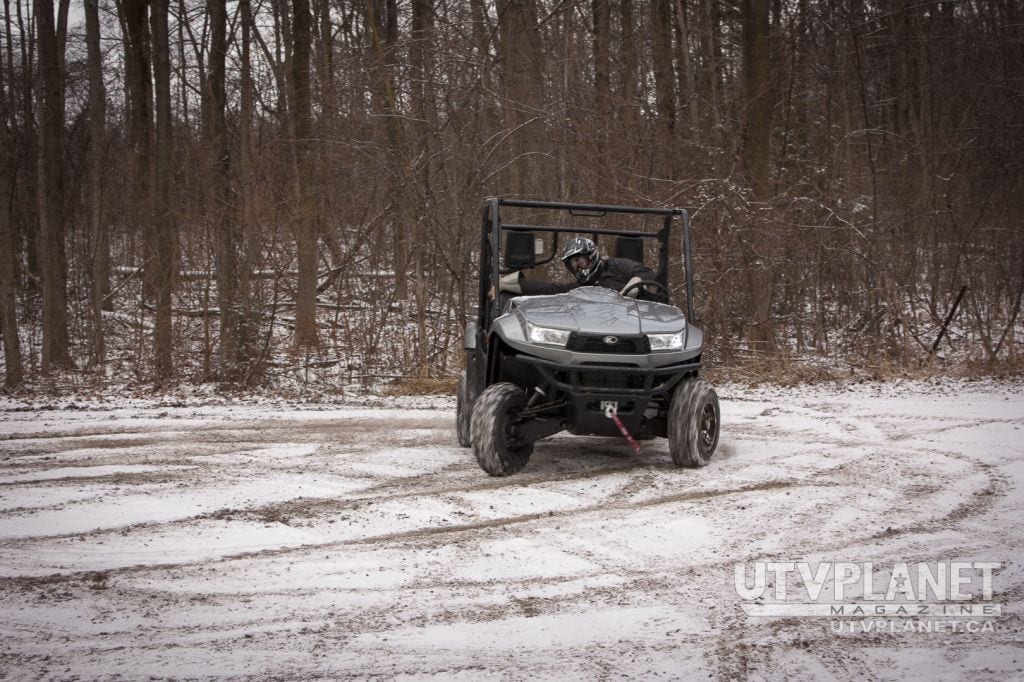 Suspension on the 700 is an independent dual A-arm setup fore and aft. They offer 7.5-inches of travel and the centre clearance height is good too. The brakes are hydraulic dual-discs in front and shaft-mounted hydraulic discs in the rear. The brakes bite, and with a potential of as much as 2000 lb carried and towed that is a good thing. The UXV comes with a 420 lb capable tilting cargo bed and it will also haul up to 1,200 lb using a 2-inch receiver hitch – the same as you'd use for your truck.
Other connivance features include a locking glove box, under seat and under hood storage, multi-function digital instrument display and 12V accessory outlet. That tilt-bed also has a locking tailgate and can be operated from either side. The tough polyethylene bed is tough and slippery at the same time; good for dumping – but for stuff you want to stay put, well you'll need to use the integrated tie-down clips in the box sides.
Safety features include dual headlights with high and low beam. Also there are plenty of handholds and the objective of keeping people inside the UTV is achieved with a roll cage with seat belts, headrests, and mesh half doors.
My overall feeling after my days ride was that the Kymco UXV 700i was a work horse, not fancy, not overly sophisticated, but steadfast. In part, because of my impressions, I did a little reading on the company after my test and I think its worth a bit of ink to share that information here. Me, I like to know who I'm buying from – so here it is.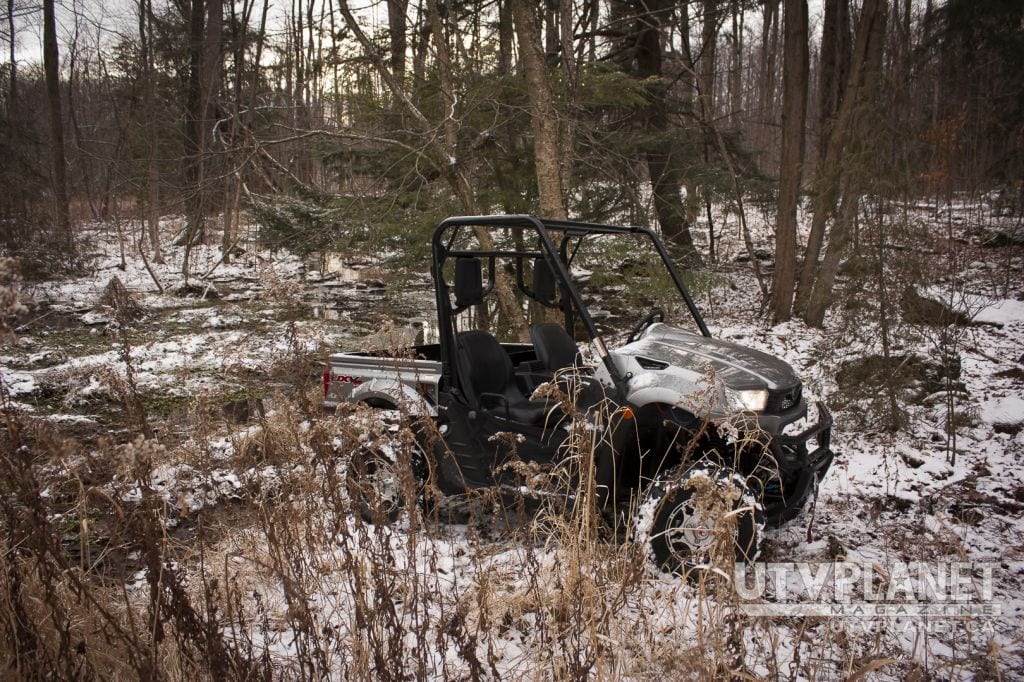 My apologies to those readers who already know more about Kymco that I do.
Kymco or the Kwang Yang Motor Co, Ltd. is a Chinese company, but it's not a grey market producer and it's not a mainland Chinese outfit. No, its roots are in democratic Taiwan and they go back to 1963 when a group who had been working for Honda split off and started its own manufacturing facility. From this island factory they continued to supply Honda with parts for a number of years. But, by 1970 it was building and selling its own scooter in Asia. Over time its product line increased to include scooters, dirt bikes, motorcycles and ATVs. Kymco, as a brand name, has been around since 1992, that's when they began to sell branded vehicles in earnest. However they also continue to supply engines to other companies. For instance in 2008 Kymco announced that it would provide the engines for BMW's G450 X Enduro bike. Kymco also builds engines for Kawasaki scooters. These business relationships inspire confidence I think. This is a company with 3,000 employees who produced 570,000 vehicles last year.
Today Kymco's main area of operations is still Asia, but they have a foothold in North America, complete with dealers and a supply chain for parts and service. If you're in the market the Kymco deserves a look.
For vehicle options, specifications and pricing for the Kymco UXV 700i. Please visit the Kymco Canada