When consumers got a first glance at the new Polaris Sportsman ACE, they probably shared the same level of intrigue towards this new model as we did. After all we were looking at a revolutionary concept, a vehicle that is best described as a single-seater, which combines an ATV to the security and comfort of a UTV.
So lets get the obvious out of the way. If you are an adrenaline junkie or a seasoned rider that lives to mash the accelerator, the Polaris Sportsman ACE probably isn't for you. The Polaris Sportsman ACE is more geared or should I say being marketed towards a specific group of consumers. With the introduction of the Sportsman ACE, Polaris is targeting consumers with limited or no experience in off-roading, the entry-level rider. Polaris ride clinics also revealed that consumers interested in off-roading but intimated by handling an ATV or riders with physical challenges, which can no longer operate an ATV, would also be potential customers for this unit as well.
Once you take a good hard look at this unit, it's easy to see why these consumers are being targeted. The Polaris Sportsman ACE gives off the impression that anyone can operate this vehicle; quite simply it inspires confidence and safety.
However Polaris may have a problem with this marketing strategy because I fall into none of those categories and I can tell you I truly enjoyed my experience with this unit: it's just plain fun to drive!
TRAIL READY
The Polaris Sportsman ACE is a unique build, starting with the footprint of a Sportsman ATV offering components from RZR and influences from RANGER. The unit is fully trail ready with a width of 48-in/121.9 cm and due to its size, it is easily transportable. The unit boasts 10.25-in/26.04 cm of ground clearance and utilizes a MacPherson strut front suspension. This is the same setup that you will find in the Sportsman 570 and has 8.2-in/20.82 cm of suspension travel. The rear suspension is a dual a-arm independent rear suspension with 9.5-in/24.13 cm of travel. The transmission, independent rear suspension and braking system have been pulled directly from the RZR 570, giving the vehicle a great ride and a ton of stopping power. Like all of Polaris off-road vehicles, the Sportsman ACE features the On-Demand All Wheel Drive system. The unit also comes pre-wired to accommodate the installation of a 3,500-lb/1587 kg winch.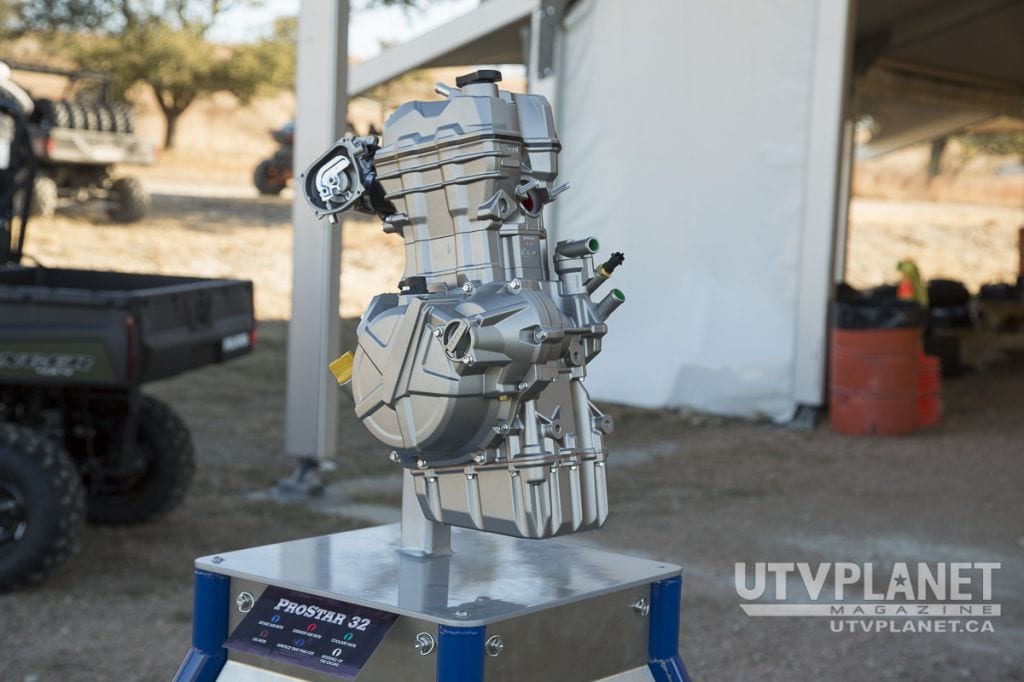 POWERPLANT
The Polaris Sportsman ACE is powered by an all-new ProStar 32 EFI engine, named "ProStar 32" for its 32 horsepower. The dual overhead camshafts with a 4-valve cylinder head work with the advanced engine management system to allow the engine to dissipate heat very efficiently and quickly spool up into its power band. The combination of these technologies means that this engine puts out more power than the Sportsman 400 HO and the same amount of power of the Ranger 500 EFI. The ProStar 32 engine was developed in-house by Polaris to deliver great performance on the trail and exceptional fuel economy and according to Polaris, this is the most fuel-efficient engine they have offered. This, coupled with the 5.25-gal/19.87 liter fuel tank will provide you with enough power and range for those long scenic trail rides.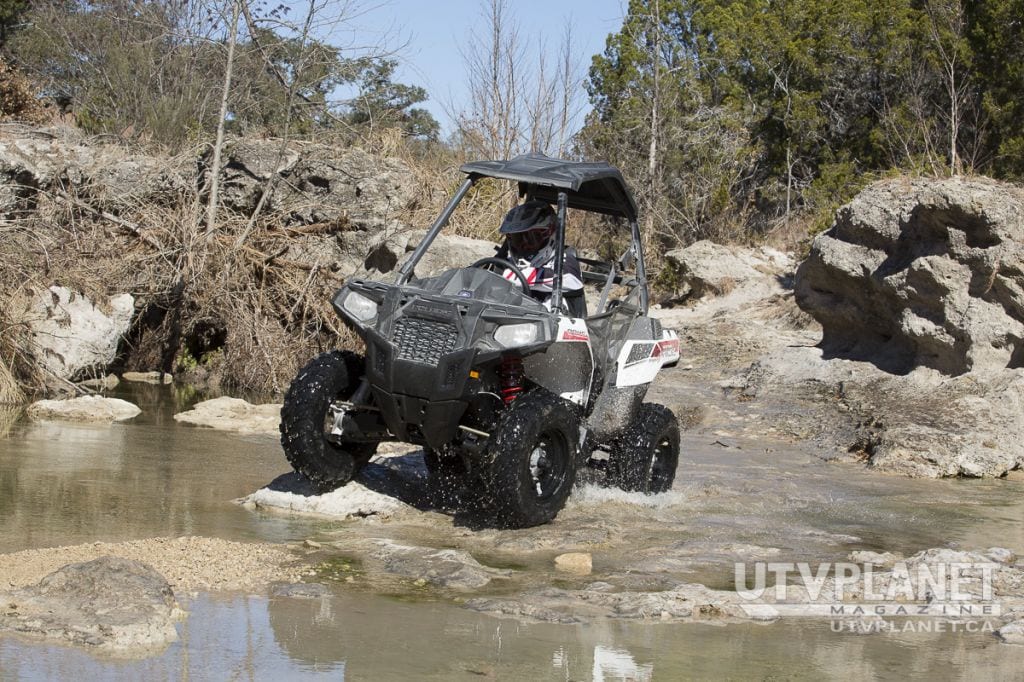 COCKPIT DESIGN
If you are familiar with the Polaris RZR line-up then the cockpit of the Polaris Sportsman ACE may look familiar. The cockpit is inspired by the RZR 570 so you will find the same great features: easy to read gauge, controls which are easily accessible, adjustable high-backed seat, tilt steering and even a cup holder to hold your favorite beverage. The steering wheel has a tilt adjustment of 3.5-in/8.9 cm and the seat slides back and forth by 4-in/10.2 cm therefore providing ample room even for the taller rider. For added security the unit also features an ROPS cab frame and a 3-point safety harness, features that until now were only found in a UTV.
Two particularities of the cockpits design caught my attention. I really appreciated that they modified the side nets, that now feature a metal rod which make them easier to handle for clipping or exiting the vehicle, no more fumbling around with flimsy side nets. The flat floor plan was also a welcomed addition making ingress and egress easy, unlike a UTV that you must step up into, this design concept makes entering and exiting the vehicle almost effortless.
STORAGE AND PAYLOAD
Although the unit does not feature a glove box, you can find a 2.8-gal/10.6 liter semi dry storage compartment located under the vehicles front rack. The unit has a payload capacity of 575-lb./260 kg, more than enough to haul all your gear. If you are looking for dry storage, the cargo bed is Lock & Ride ready, so it can easily accept the high-capacity cargo box that is sold as an add-on accessory. It should also be mentioned that the cargo box has an access panel, which gives you easy access to the top of the engine compartment and air box. If this still leaves you wanting more, the unit has a towing capacity of 1,500-lb./680 kg.
THE RIDE
Polaris chose Hidden Falls Adventure Park in Marble Falls, Texas as our testing grounds, a beautiful location offering a wide variety of trails and terrain. In fact, Hidden Falls Adventure Park was a great location since it offered novice to expert level trails and conditions.
First we tackled novice level trails, which included some rocky patches, water traverse, and scenic trails nothing to extreme. Basically we wanted to simulate that typical laid-back trail ride one would do on that perfect Saturday amongst friends. As we suspected the Sportsman ACE handled these conditions remarkably well. The unit felt good to drive, handled beautifully and offered more than enough power to get us where we wanted to go.
Although the Sportsman ACE is not meant for extreme riding conditions, that didn't stop us for trying. We tackled some aggressive terrain, soaking up some huge hits and bumps on the more advanced level trails. The unit provides enough power and ground clearance to make it through these obstacles, however lacks in suspension to make it a confortable ride. The absence of EPS also makes maneuvering in these conditions difficult and steering feedback is most definitely felt.
What should you retain from the above observation? The fact that an entry-level unit lacks EPS or suspension to comfortably handle extreme terrain or the fact that we were still able to concur that terrain regardless, I leave that up to you.
SO DID WE LIKE IT?
We didn't like it. We loved it! During the product briefing the product manager from Polaris mentioned that the first reaction from a seasoned rider is, "that's not for me". However after riding the vehicle 95% of season riders found the Sportsman ACE a fun capable trail-riding machine. I am to report that I fall within that 95 percentile.
I had a great time with the Sportsman ACE zipping along the trails of Hidden Falls Adventure Park. I found this unit fun to drive, handled great and the unit felt good even after driving it all day. With a CAD MRSP of $8499, it's a great entry-level unit that I am confident even the seasoned rider can appreciate.
Visit your local Polaris Dealer and experience the Polaris Sportsman ACE for yourself, don't forget to watch our video review of the Sportsman Ace.
For more information on the Polaris Sportsman Ace, Please visit www.polaris.com