Arctic Cat expands its popular Wildcat series for 2015 with the Arctic Cat Wildcat Sport, a stunning new two-seat performance ROV that slots in-between the original Wildcat and the Wildcat Trail.
The Wildcat Sport's chassis is 110.5 in. long and 60 in. wide, com- pared to the Trail's 110.5 x 50-in. chassis and the original Wildcat's 128 x 64-in. frame. The rider and passenger positions are set a full 3 in. lower than competitive models to produce a low center-of-gravity, leaving the occupants less affected by vehicle movements while optimizing vehicle handling.
The performance engineered chassis is complemented by its bump-swallowing double A-Arm front and swaybar-equipped rear suspensions with 12.2 in. and 12.6 in. of travel, plus 13 in. of rock-clearing ground clearance. Add 26-in. Carlisle Trail Pro tires to the mix and the result is driving confidence and control in even the gnarliest terrain.
Powering the new Wildcat Sport is a 60-plus-hp, liquid-cooled 700 parallel twin engine that was designed by Arctic Cat (and that debuted on the Wildcat Trail). Featuring a closed-loop EFI system and four valves per cylinder, this powerful engine earns its class- leading distinction for sporty fun, smoothness and durability.
TEAM Rapid Response clutches maximize that horsepower and performance, while electronic- selectable 2WD/4WD (with front differential lock) provide the exact riding performance that riders want the moment they ask for it. And dual-piston caliper hydraulic brakes offer enhanced braking performance.
Occupant comfort is a hallmark of Arctic Cat Wildcats, and the Sport follows suit with high-back bucket seats (with upper body supports); fully-variable tilt steer- ing; a sport shifter on the center console; easy-access hinged doors with automotive-style handles and latches; passenger hand-hold; 3-point seat belts; digital gauge; and premium halogen lights with LED taillights.
Built for sporting fun, the Wildcat Sport also delivers useful features like a 300-lb. payload in the rear cargo bed, a 2-in. receiver and 1500-lb. towing capacity.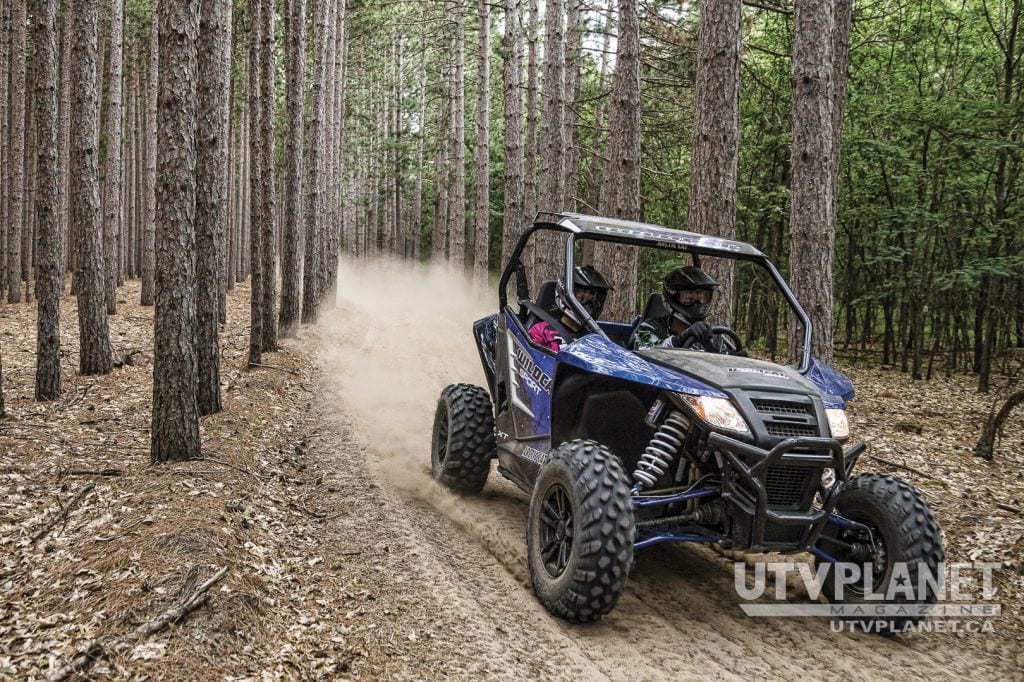 The base model Sport comes with steel 12-in. wheels, JRi ECX-1 shocks and the option of Lime Green or Red.
The Sport XT offers cast-aluminum wheels, automotive-style paint and color-matched suspension arms. It's available in Viper Blue or Vibrant Red Metallic.
The amped-up Sport Limited EPS package features electronic power steering; Elka Stage 5 shocks with Dual-Speed Compression and rebound adjustability; full aluminum doors; an under- hood storage box; plus automotive-style paint and color-matched suspension arms. It's available in White Metallic or Matte Black.
60-plus-hp 700 parallel-twin 4-stroke engine with closed-loop EFI, SOHC and liquid-cooling provides class-leading performance, durability and excitement.
TEAM Rapid Response clutch system for optimal drivetrain performance and durability
High/Low/Reverse/Park and with electronic 2WD/4WD/ Differential Lock
Variable Assist Electronic Power Steering (EPS) (Limited)
12-in. machined cast-aluminum wheels (XT and Limited)
New dual-piston caliper hydraulic brakes provide enhanced braking performance
Easy-hinge doors with automotive- style handles and latching ease vehicle entry and exit.
300-lb. rear cargo box capacity
• 1500-lb. towing capacity and 2-in. rearreceiver hitch
Underhood storage box (Limited)
Automotive-style painted bodywork (XT and Limited)
Color-matched suspension arms (XT and Limited)
Available in Lime Green and Red (Sport)
Available in Viper Blue and Vibrant Red Metallic (XT)
Available in Matte White and Matte Black (Limited)
For more information on the Arctic Cat Wildcat Sport, please visit the Arctic Cat Website.