MARKHAM, ON. (June 11, 2015) – Honda today announced the addition of a brand-new full-size side-by-side model— the groundbreaking Pioneer 1000—to its 2016 lineup. With class-leading displacement and payload, along with a full list of features including self-leveling rear suspension and a Dual Clutch Transmission (DCT), the flagship Pioneer 1000 promises to raise the bar in terms of power, features and capability in both work and recreation applications.
"We're extremely excited to introduce the brand-new Pioneer 1000 into the 2016 side-by-side lineup," said Jeff Stralak, Assistant Vice President and Division Head of Motorcycle/ATV & Power Equipment at Honda Canada. "Our engineers approached the side-by-side market from an industry leading perspective with this brand-new model. We expect the Pioneer 1000 to immediately raise the standard for this important and fast-growing segment. With the brand-new Pioneer 1000 joining our proven, popular and versatile Pioneer 700 and Pioneer 500 models, Honda now has the powersports industry's best multiuse side-by-side lineup."
PIONEER 1000 EPS/1000-5 EPS
Immediately assuming its position as the clear leader in the full-size multiuse SxS category, Honda's new-from-the- ground-up, no-compromise Pioneer 1000 is powered by a purpose-built inline, twin-cylinder, Unicam 999 cc engine. It's also the first side-by-side with DCT, a state-of-the-art transmission that is durable, efficient and easy to use. Designed, developed and produced according to Honda's holistic methodology, the largest Pioneer is smooth-riding and extremely versatile.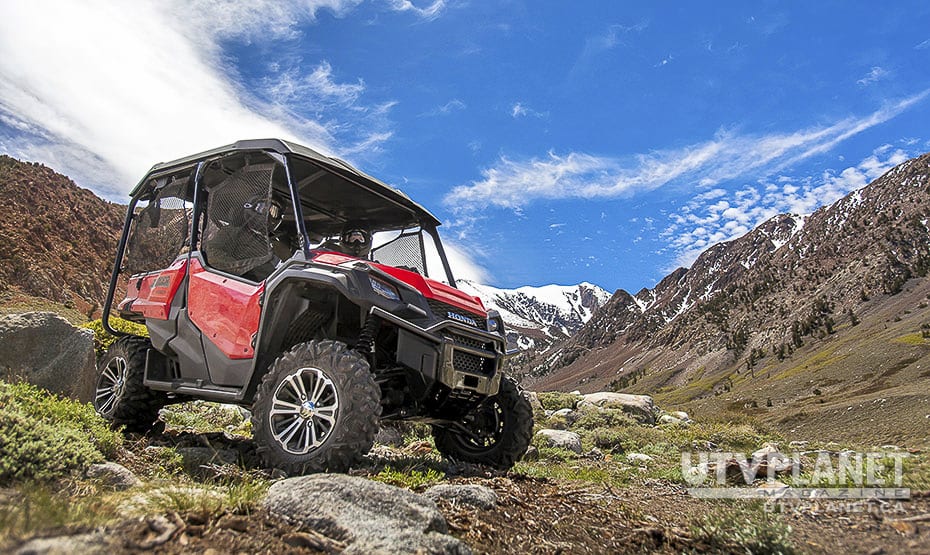 Built in North America, the Pioneer 1000 is offered in two different configurations, the Pioneer 1000 EPS, a three- person version and the Pioneer 1000-5 EPS, a full-featured model with a convertible cargo box offering seating for up to five passengers version. Both versions of the Pioneer 1000 come standard with four-wheel-drive, electronic power steering, a high-low sub-transmission and 4 drive modes, ranging from Turf Mode to 4WD differential lock.
Additional features on the Pioneer 1000-5 EPS model include 14-inch aluminum wheels, 27-inch radial tires, an LED headlight, auto-leveling rear suspension and a full-size convertible bed.
There is an extensive range of Genuine Honda Accessories available for both models, and the Pioneer 1000 EPS is covered by a one-year warranty.
PIONEER 700/700-4
Since its introduction, Honda's Pioneer 700-4 has set new standards in versatility. Both versions are powered by a rubber-mounted 675cc liquid-cooled engine that's paired to an automatic transmission with automotive-style torque converter and a dual-stage shift map. The Pioneer 700 offers all that is needed to get the job done including seating for two and a full cargo box with tilt function. The popular Pioneer 700-4 offers the industry's first convertible rear seating design, which transforms the tiltable cargo box into secure seating for up to two additional passengers while maintaining the same nimble footprint of the Pioneer 700.
PIONEER 500
Introduced last model year, the trail-width Pioneer 500 is easy to maneuver in tight conditions, and it fits into a full-size truck bed or a small storage shed. The fun and affordable 4WD vehicle does it all in style and comfort, with a similar look to the larger Pioneer models. It also has steering-wheel-mounted paddle shifting, independent rear suspension and single-function door and net. And of course the Pioneer 500 has the superior engineering and record of durability and reliability for which all Honda four-wheel powersports products are known.
ABOUT HONDA CANADA
Honda Canada Inc. was established in 1969 and is the sole distributor of Honda motorcycles, scooters, ATVs and side-by-sides in Canada. The Honda Canada Motorcycle Division is responsible for sales, marketing, and operational activities for these products through authorized Honda dealers. For more information on Honda Canada powersports products, please visit: motorcycle.honda.ca.