The Can-Am Maverick MAX family of recreational-sport side-by-side vehicles adds one new member for 2017 with the arrival of the new, family friendly Can-Am Maverick MAX X mr 1000R mud-specific package. All Can-Am Maverick MAX side-by-side vehicles are designed with a longer chassis and comfortable seating for four adults, giving families and friends ample room to share in the off-road enjoyment. The five Maverick MAX units share the key Can-Am pillars of performance, handling and rider-focused design, but each package includes a few unique characteristics to set them apart from them one another and the competition.
CAN-AM MAVERICK MAX X mr 1000R
BRP added to its industry leading Can-Am X mr family of purpose-built mud vehicles with the introduction of the new four-passenger, family-friendly Can-Am Maverick MAX X mr 1000R side-by-side vehicle. Like the shorter two-seat Maverick X mr 1000R unit, the MAX mx 1000R package is powered by the potent 101-horsepower, 976cc Rotax 1000R V-Twin and outfitted in an exclusive X-package setup.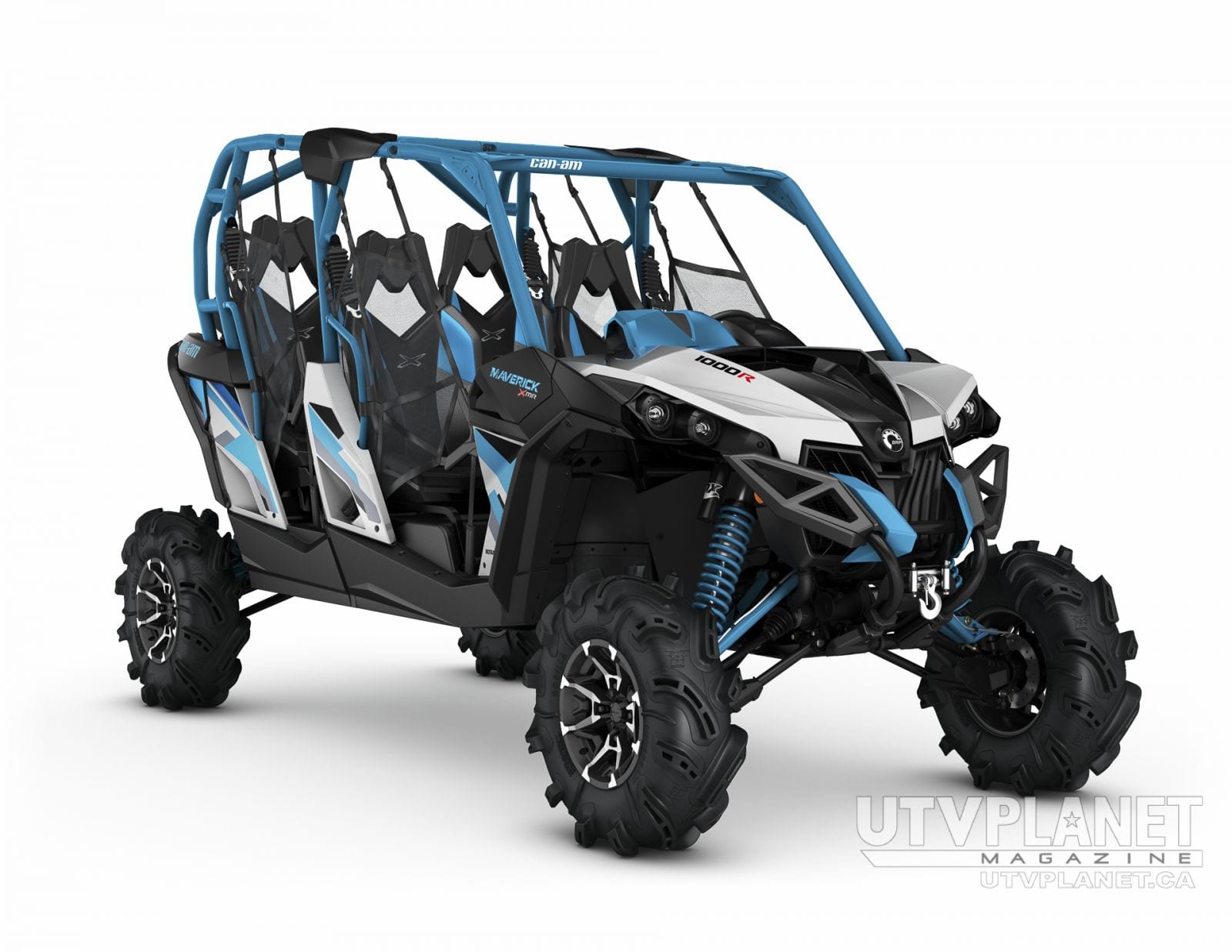 The Maverick MAX platform has an additional 29.5-inch (75 cm) wheelbase to help accommodate two additional rear passengers and provide a better footprint. It also receives several key features for its 2017 unveiling. They include the durable CVT with Quick-Response System (QRS) and technologies borrowed from the Maverick Turbo units, all-new FOX 2.5 Podium QS3 shocks, custom wheels, a front sway bar and head-turning color.
101-hp Rotax 1000R V-Twin engine
The 976cc, 101-hp Rotax 1000R V-Twin engine powering the normally aspirated Maverick MAX X mr 1000R supplies reliable, thrilling power for both recreational and racing applications.
CVT with Quick Response System (QRS) – NEW
The Maverick MAX X mr 1000R side-by-side vehicle uses the same CVT with Quick Response System (QRS) found in the Maverick MAX Turbo vehicles. The QRS system allows for even better power transfer and faster engagement time while also reducing friction for longer belt life. The CVT ventilation has strategic inlets and outlets and a specific impeller design to create more cold-air flow moving through the pulleys. The CVT on the Maverick MAX X mr has an extra low range "L-gear" to allow for an increased load. The transmission system has a 13-bolt sealing system and drain plug for the housing, and the CVT intake is at a higher location in the chassis for optimal performance in wet conditions.
Strategically Positioned Engine Air Intake And CVT Inlets / Outlets
BRP has made sure that critical components like the CVT intake, CVT exhaust and engine air intake are located as high as possible on the Maverick MAX X mr. Positioned high above the muddy, wet conditions below, the system is designed with the proper air volume to keep everything operating efficiently.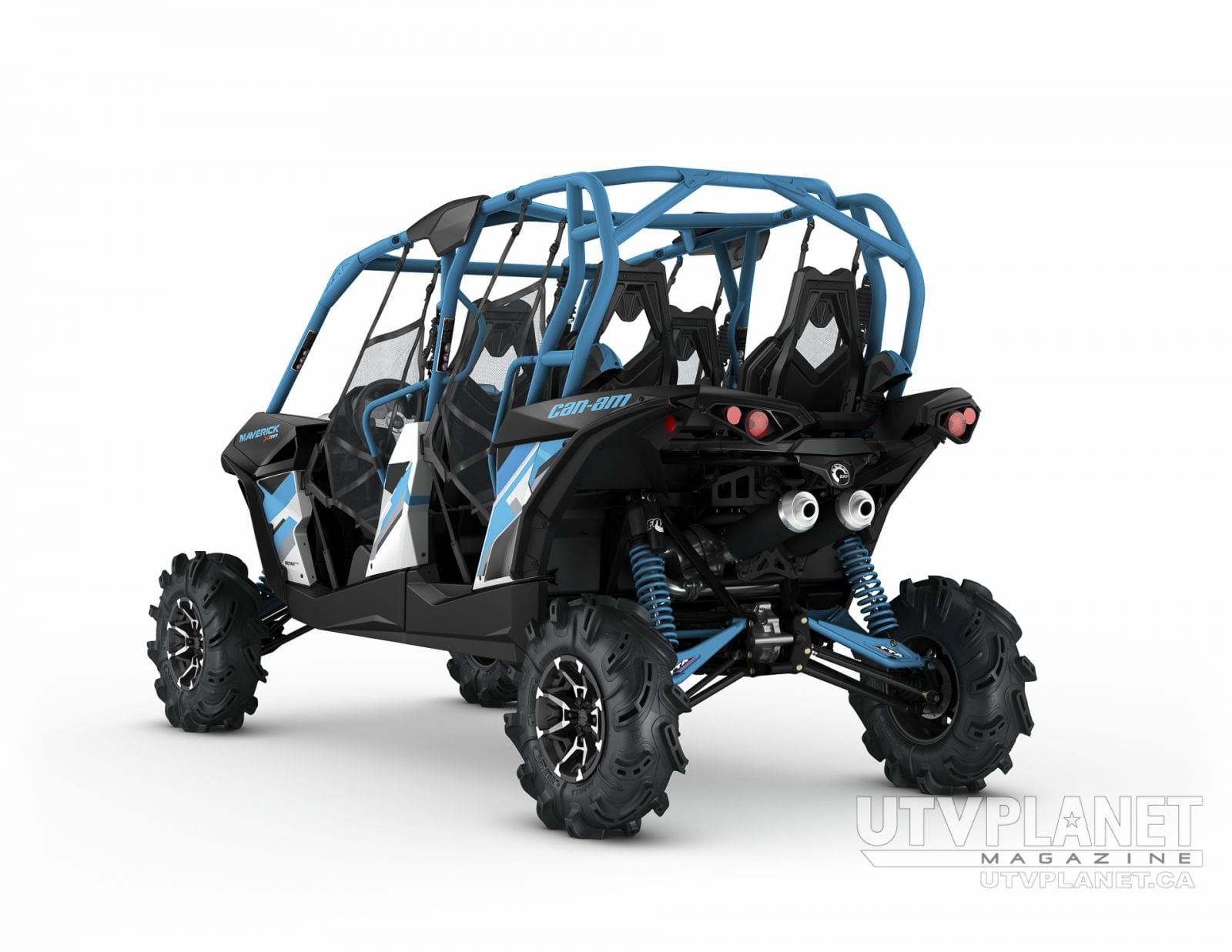 Tri-Mode Dynamic Power Steering (DPS™)
The Tri-Mode DPS system features three modes (MIN, MED and MAX) allowing riders to select the desired amount of steering assist to adjust to the terrain requirements and to various riding styles. It offers less assist at high speed and more assist at low speed.
Visco-Lok QE Front Differential
All DPS-equipped models come with the Visco-Lok QE calibration giving an even quicker engagement of the front differential
FOX 2.5 Podium QS3 Piggyback Shocks – NEW
New FOX 2.5 Podium QS3 piggyback shocks were added for 2017. The high-grade shocks allow for simpler and quicker compression adjustments, and feature a tool-free adjuster and numerous fine-tuning ranges for exceptional ride quality.
Front Sway Bar – NEW
The new front sway bar uses a torsional spring design to counter weight transfers to reduce body roll and create an even flatter and more desirable handling experience. It attaches to the underside of the chassis and to the A-arms via a sway bar link.
30-inch Gorilla Axle Silverback Tires
Engineered for mud by Gorilla Axle, the 30 x 9-14 (76.2 cm x 22.9 cm-35.6 cm) Silverback tires have been tested in the deepest mud holes of east Texas and Louisiana. With a tall lug and aggressive tread pattern, the tires offer superb mud performance and traction.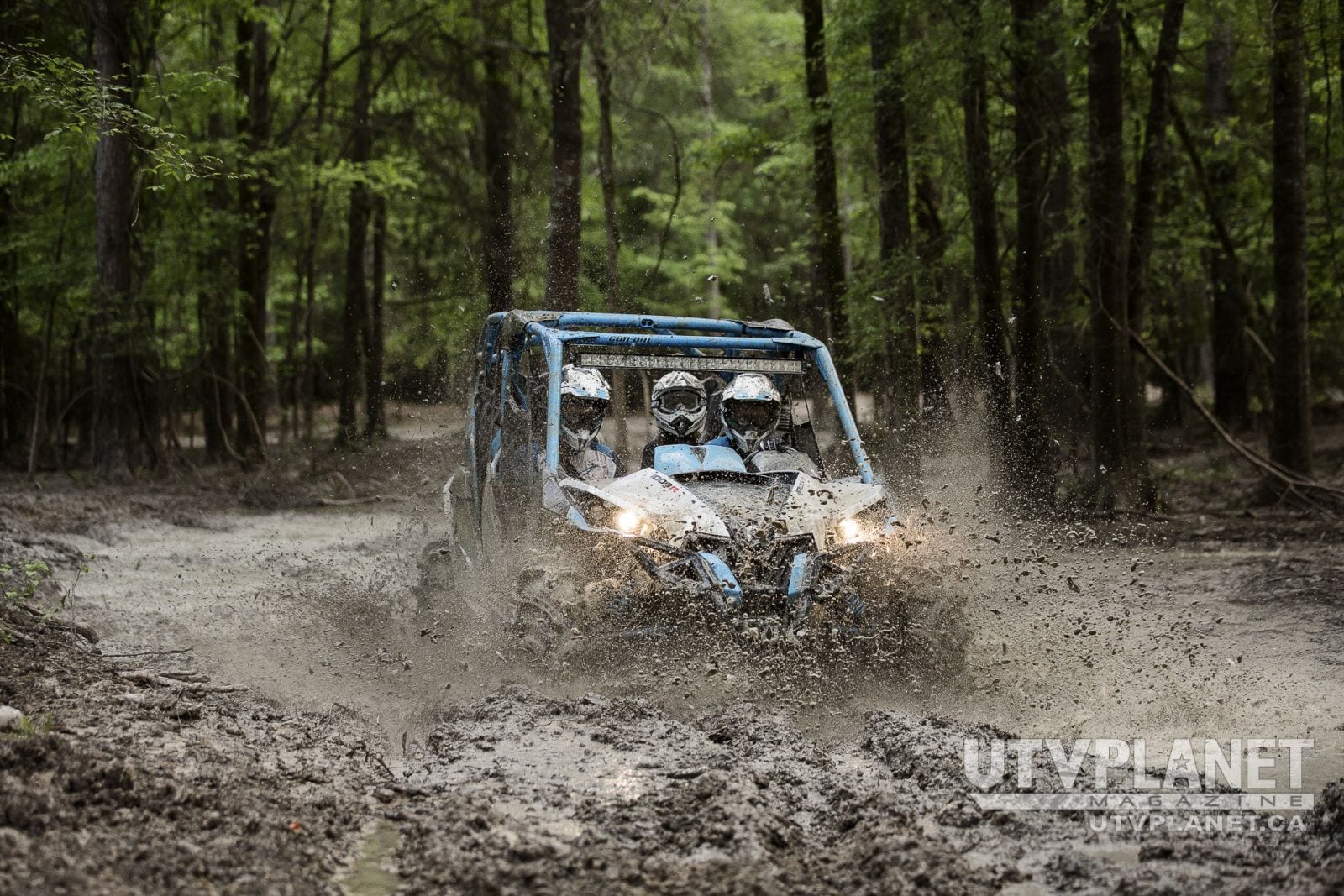 14-inch Cast-Aluminum Wheels – NEW
New stylish and functional 14-inch (35.6 cm) cast-aluminum wheels give the Maverick MAX X mr 1000R its own unique look. The lighter weight black wheels are durable for the demanding mud and have an attractive machined aluminum 8-spoke design with a black center and Can-Am cap.
4,500-pound (2,041 kg) Winch
A 4,500-pound winch kit includes a roller fairlead. The winch is designed to handle heavy-duty loads and is an ideal accessory for mud vehicles.
Mudguards
Extending out from the fender wells, the bolt-on mudguards are designed to offer increased protection from mud, water and trail debris for the occupants.
X-Package Seat Trim
The X package includes black seats with new color-matching highlights and enhanced "X-Team" stitching.
Analog / Digital Gauge
The Maverick MAX X mr has the same upgraded gauge as the other Maverick X-package vehicles. It features state-of-the-art instrumentation with an analog tachometer and speedometer combined with an advanced digital information center.
X-Package Steering Eheel
The three-spoke steering wheel with molded grips and a brushed aluminum centerpiece enhance the X-package appearance.
X-Package Colors And Graphics
Dressed with the Hyper Silver, Black and Octane Blue, the Maverick MAX X mr 1000R also wears X-package graphics and sponsor logos to complete its competition-ready appearance.
2017 Can-Am Maverick Max X mr 1000R
TECHNICAL SPECIFICATIONS
ENGINE
| | |
| --- | --- |
| TYPE | 101 hp, Rotax 976 cc, V-twin, liquid cooled with strategically positioned engine air intake |
| FUEL DELIVERY SYSTEM | Intelligent Throttle Control (iTC™) with Electronic Fuel Injection (EFI) |
| TRANSMISSION | Quick Response System (QRS) CVT with high airflow, L / H / N / R / P, Extra low L-Gear |
| DRIVE TRAIN | Selectable 2WD / 4WD with Visco-Lok QE auto-locking front differential |
| POWER STEERING | Tri-Mode Dynamic Power Steering (DPS) |
SUSPENSION
| | |
| --- | --- |
| FRONT SUSPENSION | Double A-arm with sway bar 12-in. (30.5 cm) travel |
| FRONT SHOCKS | FOX 2.5 PODIUM QS3 Piggyback compression adjustment |
| REAR SUSPENSION | Torsional Trailing A-arms (TTA) independent with sway bar 12-in. (30.5 cm) travel |
| REAR SHOCKS | FOX 2.5 PODIUM QS3 Piggyback compression adjustment |
BRAKES
| | |
| --- | --- |
| FRONT BRAKES | Dual 220 mm ventilated disc brakes with hydraulic twin-piston calipers |
| REAR BRAKE | Dual 214 mm ventilated disc brakes with hydraulic single-piston calipers |
TIRES / WHEELS
FRONT TIRES
Gorilla Axle Silverback

30 x 9 x 14 in.

76.2 x 22.9 x 35.6 cm

REAR TIRES
Gorilla Axle Silverback

30 x 9 x 14 in.

76.2 x 22.9 x 35.6 cm

WHEELS
14-in. cast-aluminum
DIMENSIONS / CAPACITIES
L X W X H (IN)
148 x 67.9 x 81.9 in.
L X W X H (CM)
376 x 172 x 208 cm
WHEELBASE
113.8 in. (289.1 cm)
GROUND CLEARANCE
14.5 in. (36.8 cm)
ENGINE / DRY WEIGHT*
1,571.8 lb (713 kg)

*Maverick MAX DPS dry weight shown

RACK CAPACITY
150 lb (68 kg) with

LinQ™ quick-attach

STORAGE CAPACITY
Glove box: 4.5 gal (17.2 L)

Center console: 0.3 gal (1.3 L)

TOWING CAPACITY
N/A
FUEL CAPACITY
10 gal (37.8 L)
FEATURES
| | |
| --- | --- |
| GAUGE | Multifunction Analog / Digital: Speedometer, tachometer, odometer, trip and hour meters, fuel, gear position, sport mode, ECO™ mode, seat belt and 4 x 4 indicator, diagnostics, clock, auto shut off |
| WINCH | 4,500-lb (2,041 kg) winch with roller fairlead |
| PROTECTION | N/A |
| INSTRUMENTATION | Lighter type DC outlet in console, standard connector in the back (15-A) |
| LIGHTING | 240 W from four 60-W projectors with tail lights / brake lights |
| ANTI-THEFT SYSTEM | Digitally Encoded Security System (D.E.S.S.™) |
WARRANTY
| | |
| --- | --- |
| FACTORY | 6-months limited warranty |
| EXTENDED | Up to 30 months B.E.S.T. coverage |
About BRP
BRP (TSX:DOO) is a global leader in the design, development, manufacturing, distribution and marketing of powersports vehicles and propulsion systems. Its portfolio includes Ski-Doo and Lynx snowmobiles, Sea-Doo watercraft, Can-Am all-terrain and side-by-side vehicles, Can-Am Spyder roadsters, Evinrude and Rotax marine propulsion systems as well as Rotax engines for karts, motorcycles and recreational aircraft. BRP supports its line of products with a dedicated parts, accessories and clothing business. With annual sales of over CA$3.8 billion from over 100 countries, the Company employs approximately 7,900 people worldwide. www.brp.com @BRPnews
Ski-Doo, Lynx, Sea-Doo, Evinrude, Rotax, Can-Am, Spyder, Outlander, Renegade, Defender, Commander, Maverick and the BRP logo are trademarks of Bombardier Recreational Products Inc. or its affiliates. All other trademarks are the property of their respective owners.