Polaris RANGER® is the industry's No.1-selling utility vehicle (UTV) lineup, offering the hardest working and smoothest riding family of vehicles for hunting, farming, trails and mud. The Model Year 2017 lineup continues to offer more innovation with new features and models across every price point and consumer application.
Full-Size & CREW Models
For Model Year 2017, Polaris RANGER raises the bar with the introduction of the world's most powerful family of UTVs. For even more extreme performance, Polaris welcomes the new RANGER XP 1000, available in base, EPS and new special editions. In addition, Polaris leads the industry with innovative special editions including two new High Lifter mud editions in Full- Size and CREW; the hard-working RANGER XP 1000 EPS Ranch Edition; and the industry's first gas-powered UTV with heating, ventilation and air conditioning (HVAC) on the RANGER XP 1000 EPS NorthStar HVAC and CREW HVAC Editions.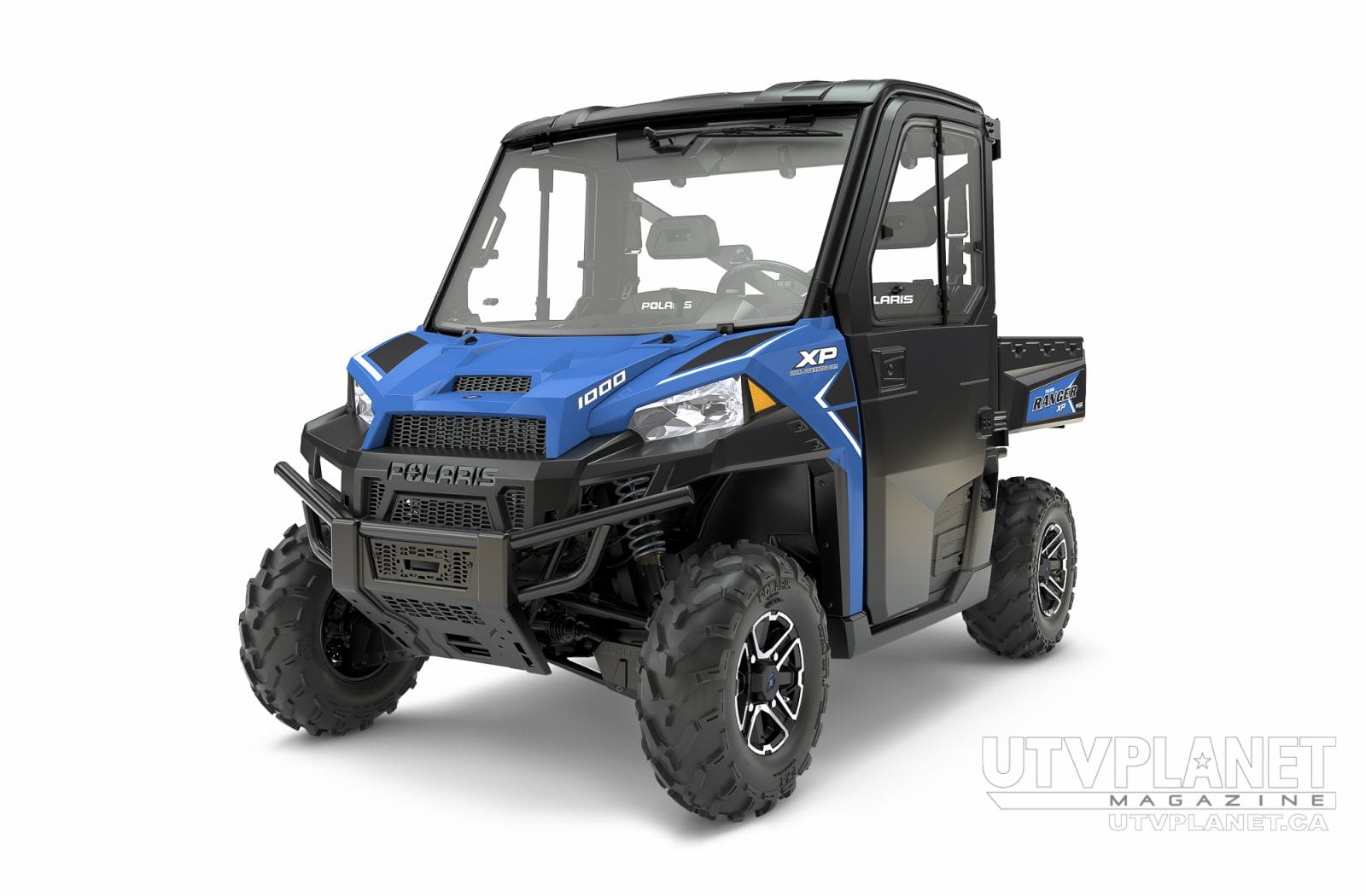 While the RANGER XP 1000 and CREW XP 1000 models offer a monstrous, industry-leading 1000ccs and 80-horsepower ProStar® engine with gobs of torque, the vehicles feature more than just a power increase. All XP 1000 models have class-leading precision with a Three-Mode Throttle Control switch on the dash to enhance the driving experience. Operators can choose from three modes for ultimate precision and control: Performance, Standard and Work, dependent on driving conditions and use of vehicle. The Performance mode offers maximum and instant throttle response for snappier acceleration and is used predominately for recreational purposes. For a traditional blend of torque and high-speed performance, the operator would select the Standard mode. The Work mode provides lengthened low RPM band for better slow-speed control which is perfect for towing a trailer or when navigating tight spaces.
Another industry first, Polaris is introducing the special edition, HVAC RANGER XP 1000 EPS and CREW 1000 EPS. The vehicles are the first gas-powered UTVs to offer a HVAC system for all-weather comfort. RANGER owners use their vehicles in a variety of weather conditions and the standard air-conditioning and heat ensure the weather doesn't put a halt on a productive day. To ensure a clean cab, the RANGER XP 1000 EPS and CREW XP EPS NorthStar HVAC Editions also feature a premium cab system to seal out the elements, while the HVAC system constantly pushes fresh air into the cab to force dust out. For faster heating, the system includes an electronically controlled engine thermostat. For off-road durability, the air conditioning compressor is sealed. And the sealed, engine-integrated alternator not only adds durability, but is an industry first. Both vehicles are available in Velocity Blue.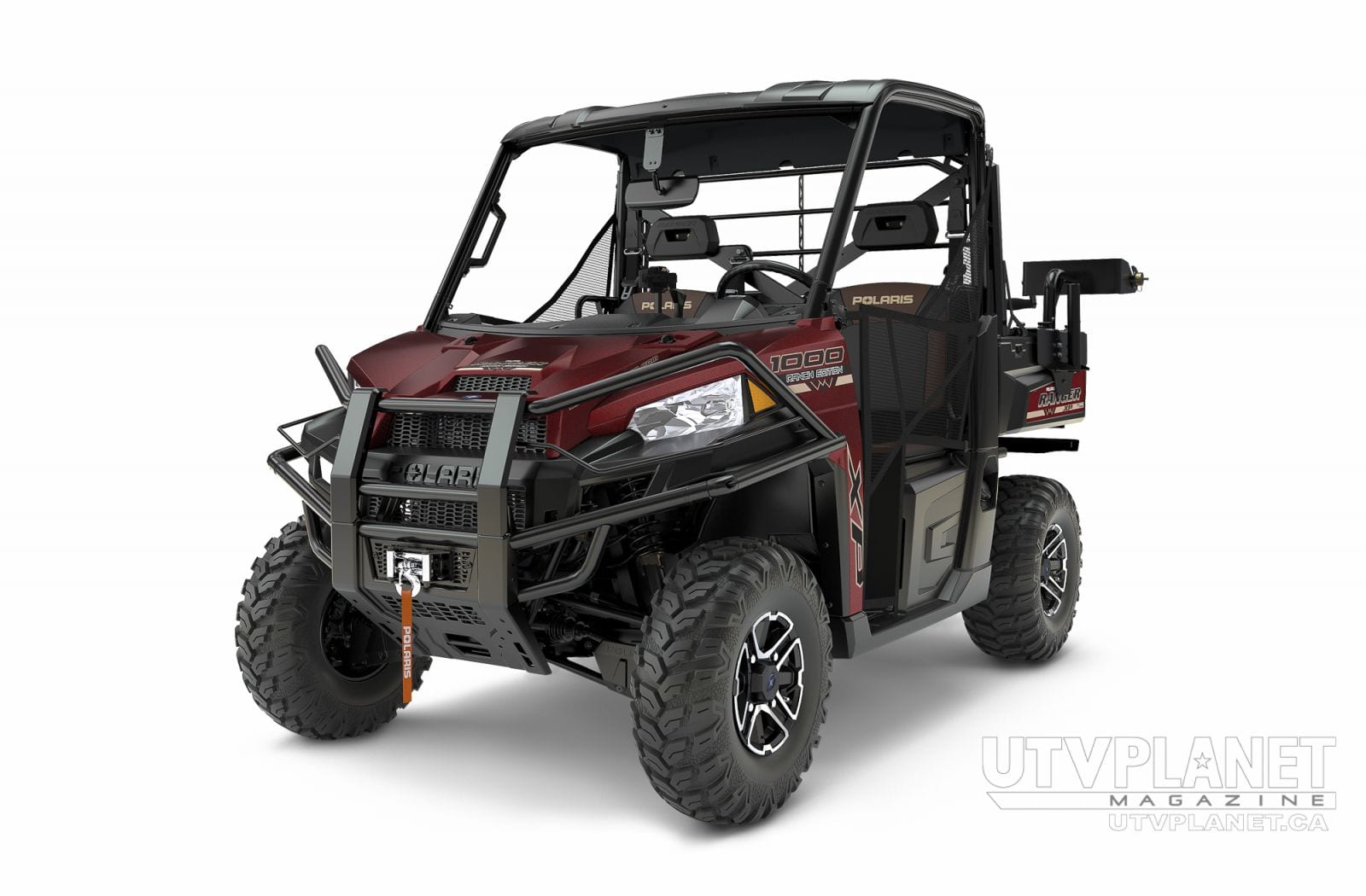 Ranchers love RANGERs and now they have a vehicle straight from the factory made specifically for them. The RANGER XP 1000 EPS Ranch Edition offers an innovative, self- leveling, rear suspension with Nivomat® shocks. The shocks automatically adjust the suspension depending on load, resulting in a higher-loaded ground clearance. Due to a lower spring rate, the Nivomat shocks provide a smoother ride and the ability to go long distances at 50 mph (80.5 kph) fully loaded, making hauling loads such as fertilizer, feed or building materials quicker and easier. To ensure the RANGER XP 1000 EPS Ranch Edition is up to any task, the vehicle is equipped with 30-percent stronger half shafts, and heavy-duty bushings so the operator can traverse muddy pastures and pens without worry. Accessories featured on the vehicle so it works harder include: a full-body skid plate, 4,500-lb. (2041-kg) winch, front and rear bumper, rear-view mirror, sport roof, fold-down headache rack, rear power with dash-mounted switch, in-cab gun rack, T-post rack and a wire fence spooler located on the rear of the box to make fence construction and repair a breeze. The RANGER XP 1000 EPS Ranch Edition is available in Maroon Metallic.
Last year, Polaris introduced the first three-seat, mud-riding machine, the RANGER XP 900 EPS High Lifter Edition. This year, Polaris ups the ante with the 80-horsepower RANGER XP 1000 EPS High Lifter Edition, and expands the mud offering with the first six-passenger, "Mud Bus," the RANGER CREW XP 1000 EPS High Lifter Edition. Both have reduced gearing for more mud-specific torque, heavy-duty reverse chain, high engine air and clutch intakes, arched lower a-arms, 28-in. (71.12-cm) High Lifter Outlaw II tires, and sealed switches, fuse box and battery. New for 2017, both units feature steel half-door protection for less mud intrusion into thecab and increased durability. The vehicles are available in Titanium Matte Metallic with a High Lifter graphics kit, Velocity Blue a-arms and accents.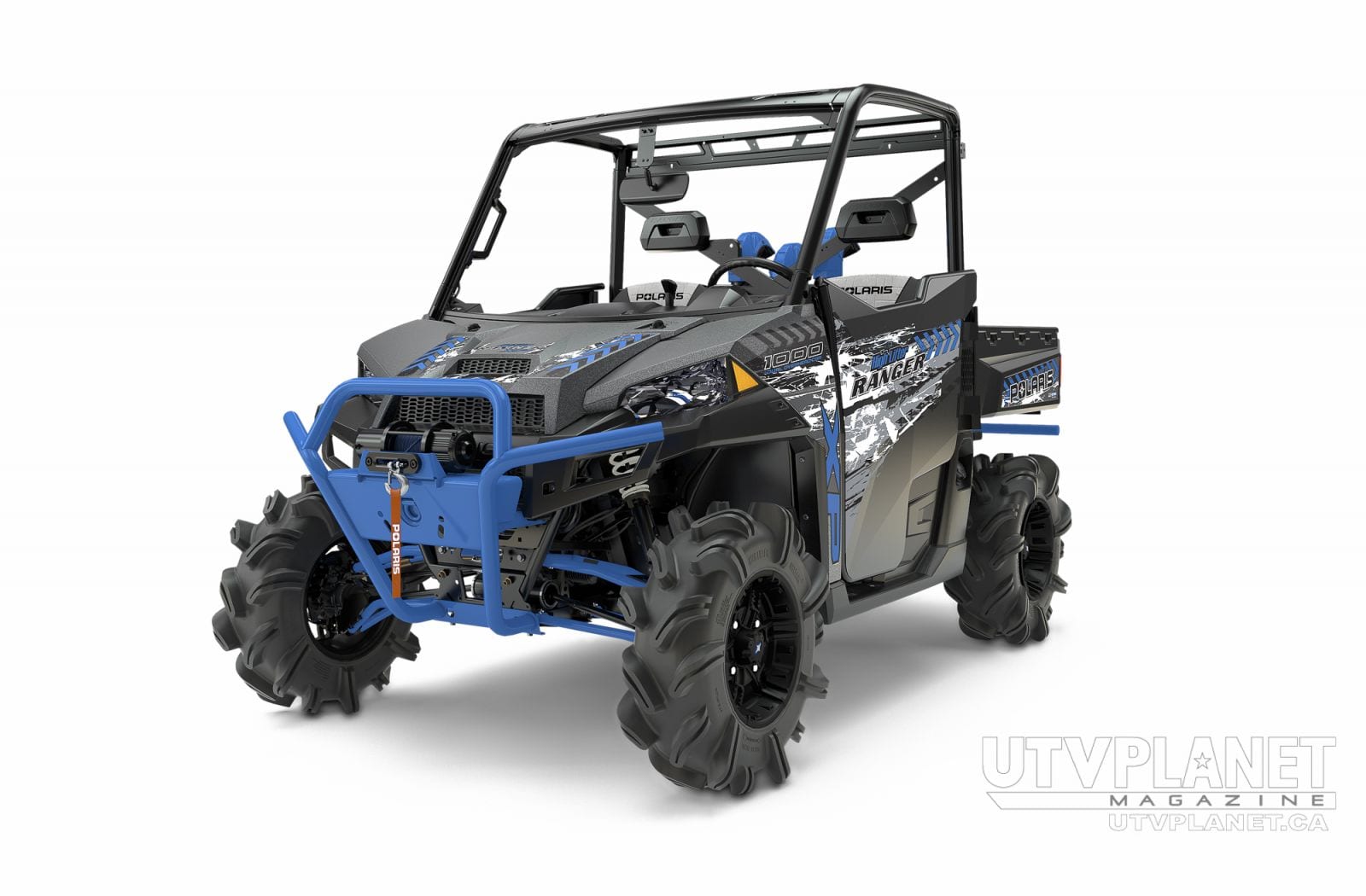 With the introduction of the new RANGER XP 1000, Polaris is offering its best-selling side-by- side of all time, the RANGER XP® 900, at an unprecedented value. For $1,200 less than previous years, customers can own a premium, full-size vehicle at an unmatched price and experience all the features of one the most-awarded side-by-side lineups. The price reduction is available on both the in-mold base and Electronic Power Steering (EPS) models. The RANGER CREW 900 models also will be offered at $1,000 less than previous years.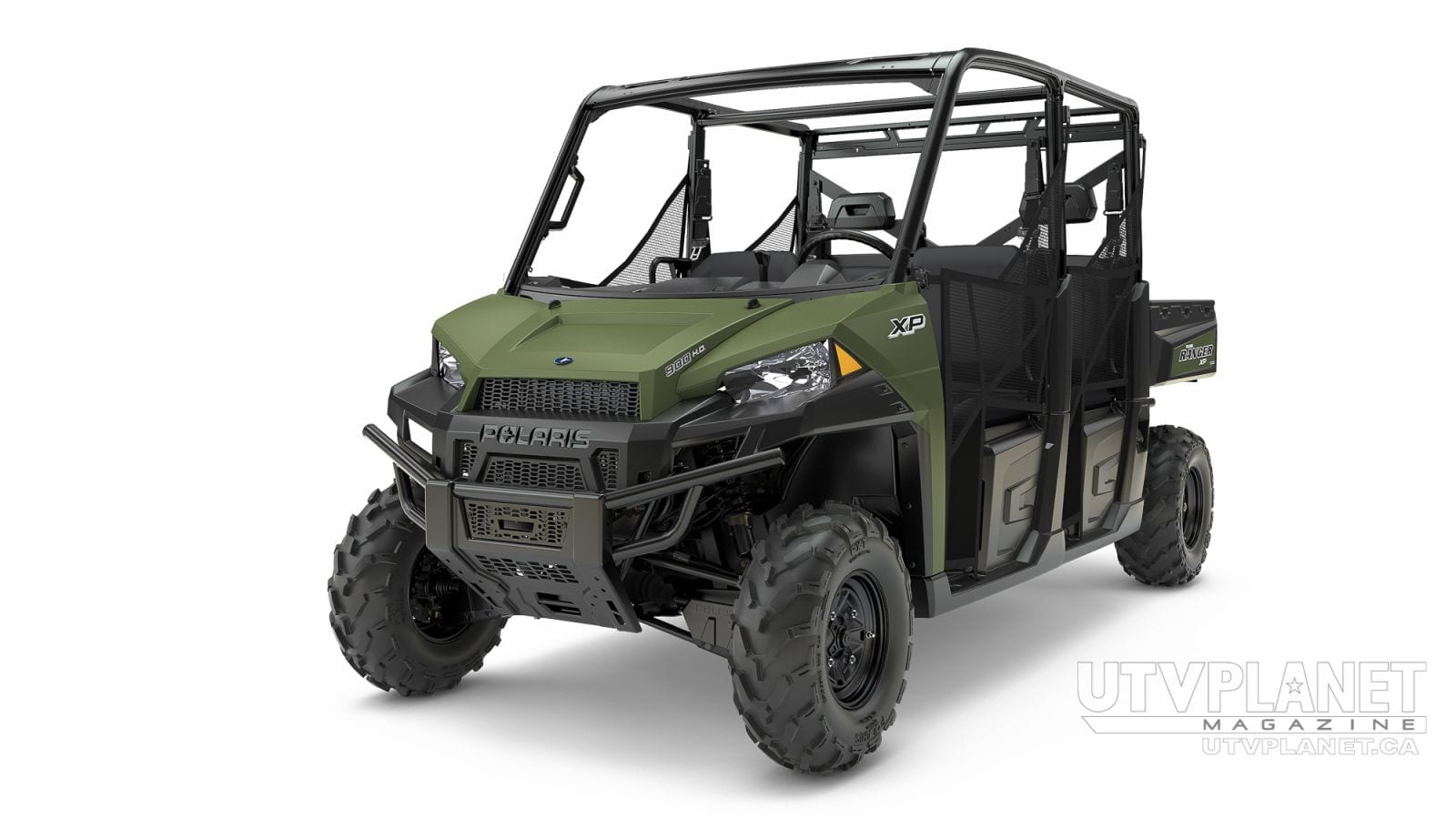 The RANGER XP 900 is offered in Sage Green and Polaris Pursuit Camo with an EPS model in Solar Red. The new RANGER XP 1000 is available in Sage Green with EPS models in Sunset Red, Nara Bronze and White Lightning. Also part of the Full-Size offering for 2017 is the RANGER 570 Full-Size in Sage Green and Solar Red; RANGER 6×6 in Avalanche Gray and Sage Green; and RANGER Diesel in Sage Green.
The RANGER CREW XP 1000 is available in Sage green with EPS models in Sunset Red, Nara Bronze and Polaris Pursuit Camo. The vehicles are part of the CREW lineup, which also includes the RANGER CREW XP 900 in Sage Green; RANGER CREW XP 900 EPS in Polaris Pursuit Camo; RANGER CREW Diesel in Sage Green; RANGER CREW 570-6 Sage Green; RANGER CREW 570-4 in Sage Green and Polaris Pursuit Camo; and RANGER CREW 570-4 EPS in Titanium Matte Metallic.
Mid-Size Models
New to the Mid-Size line is the RANGER 500, offering the industry's best utility side-by-side value. Perfect for a first-time off-road vehicle owner or an experienced owner, the RANGER 500 sets the benchmark in usability with features including an automatic CVT Transmission, On- Demand True All-Wheel Drive (AWD) with VersaTrac® Turf Mode, Independent Rear Suspension (IRS), Electronic Fuel Injection (EFI), ease of maintenance and available accessories to fit any task. The vehicle's new, liquid-cooled, single-cylinder Pro-Star 500 engine delivers smooth, efficient torque and 32 horsepower – the most in its class.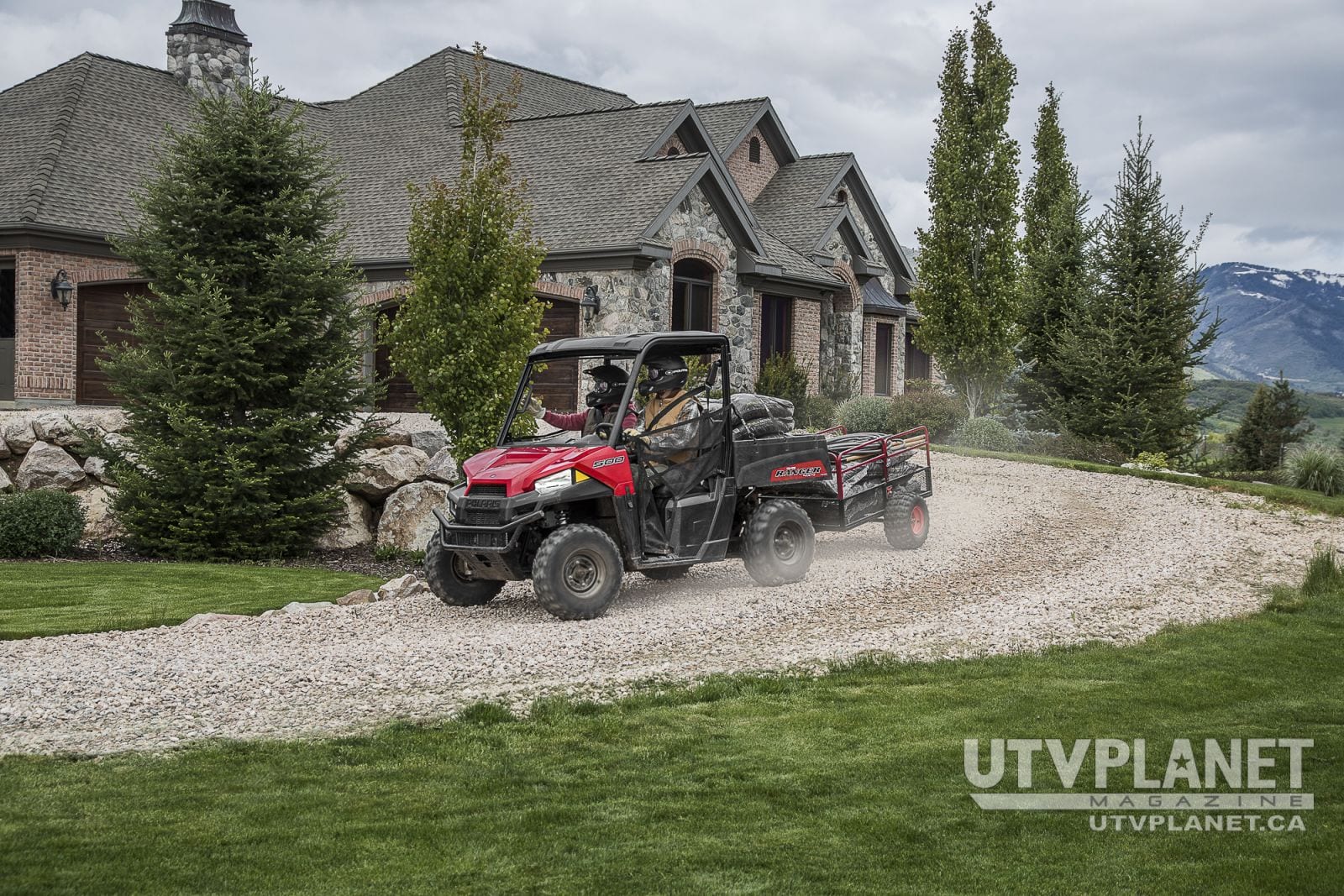 All RANGERs are hardworking and the RANGER 500 is no exception with its class-best 500 lbs. (226.8 kg) of cargo capacity, 1,500 lbs. (680 kg) of towing and 1,000 lbs. (453.6 kg) of payload. The unit's On-Demand True AWD ensures it can tackle muddy pastures or rutted, rocky hunting trails – and back by popular demand for 2017 – the VersaTrac unlocking rear differential ensures you don't tear up the grass.
To complement its hard work ethic, the RANGER 500 has class-leading smoothest riding features such as IRS, long suspension travel and high ground clearance to ensure a smooth ride and less fatigue on the operator.
The RANGER 500 joins the mid- size lineup and is available in Solar Red. The line continues to offer the RANGER 570 in Sage Green and Polaris Pursuit Camo with an EPS version in Black Pearl; the RANGER EV in Avalanche Gray and Polaris Pursuit Camo; and the RANGER EV Li- Ion in Polaris Pursuit Camo.
Polaris Engineered Accessories
Whether you're working, hunting, or driving your RANGER just for fun, Polaris Engineered AccessoriesTM provide the right tools to get the job done and enjoy the ride. With hundreds of options, RANGER vehicles can be customized with a unique combination of accessories engineered to fit and perform.
For Farm and Ranch, the innovative, new Lock & Ride® Pro Fit ClearView doors conveniently provide full-side visibility and additional light in the cab. Combine them with Lock & Ride Pro Fit cab components like a windshield, roof and rear panel for enhanced rider comfort and protection.
Also released this year is an expanded work and hunt lineup of accessories across the Full-Size and Mid-Size vehicles. New accessories include: RANGER Gear Vault, a versatile, efficient tool and cargo storage; a hitch-mounted Fence T-Post carrier; Lock & Ride Fence Wire Spooler; and a Lock & Ride CargoMax System to add more storage options for the cargo bed. Additionally, Polaris has expanded its popular line of Lock & Ride products for the Mid-Size vehicles which now includes a Lock & Ride Pro Fit Hard Coat Poly Flip Down Windshield, Lock & Ride Bed Rails and Lock & Ride Tip Down Headache Rack.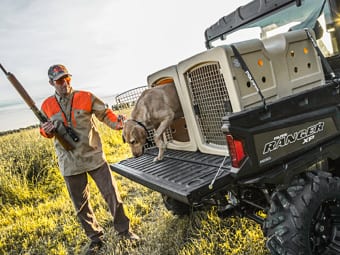 Polaris Engineered Accessories also offers a full line of hunting accessories in Polaris Pursuit Camo including Lock & Ride Pro Fit cab components that deliver comfort and protection, and the innovative, new Lock & Ride Pro Fit ClearView Doors to enjoy a full view of the surroundings. The all-new RANGER Gear Vault provides more than 11 cubic feet of sealed, weatherproof storage for firearms, ammo, and other gear – and it has molded-in features to securely mount the new Lock & Ride Dog Kennel, 5-gallon buckets and the Polaris Northstar® Cooler line (30 & 60 qt.).
Keeping your food and beverages cold on your outdoor adventure is paramount. The Polaris Northstar Coolers take that seriously keeping ice cold 30+ hours longer than competitive coolers.
More information about Polaris Off-Road Vehicles and Polaris Engineered Accessories can be found at www.Polaris.com.
About Polaris
Polaris Industries Inc. (NYSE: PII) is a global powersports leader with annual 2015 sales of $4.7 billion. Polaris fuels the passion of riders, workers and outdoor enthusiasts with our RANGER®, RZR® and POLARIS GENERAL™ side-by-side off-road vehicles; our SPORTSMAN® and POLARIS ACE® all-terrain off-road vehicles; VICTORY® and INDIAN MOTORCYCLE® midsize and heavyweight motorcycles; SLINGSHOT® moto-roadsters; and Polaris RMK®, INDY®, SWITCHBACK® and RUSH® snowmobiles. Polaris enhances the riding experience with parts, garments and accessories sold under multiple recognizable brands, and has a growing presence in adjacent markets globally with products including military and commercial off-road vehicles, quadricycles, and electric vehicles. www.polaris.com