We all know the big-dog in the yard of the sport performance UTV world. The Polaris RZR has held the title for a long time and has weathered several challengers. Can-Am, the biggest competition to Polaris' market dominance, did very well the with Maverick and it has taken a bite out of the pie from the mighty RZR. So when word hit that Can-Am had something new on the horizon a while ago that would turn the sport performance world upside down, we all took notice. Can-Am can make some serious machines, so we knew it would be good. That machine was, of course, the Maverick X3 lineup, a series of turbo-charged, high horsepower machines with amazing suspension and handling to go along with the power. The gauntlet was definitely thrown down.
The X3 machines took on Polaris' RZR lineup in every category except one. Polaris still had a standard, non-turbo RZR that had the same suspension as the turbo-charged model, but a lower MSRP that made it more accessible to those who didn't want to spend the extra for the horsepower. To combat the RZR in that market, Can-Am recently unleashed the Maverick X3 900 H.O., a non-turbo X3 that had the same suspension and handling as the higher horsepower models, but starting out at a lower cost. This new machine offers up amazing handling and a smooth ride, but at a bargain price for those looking to save a few bucks.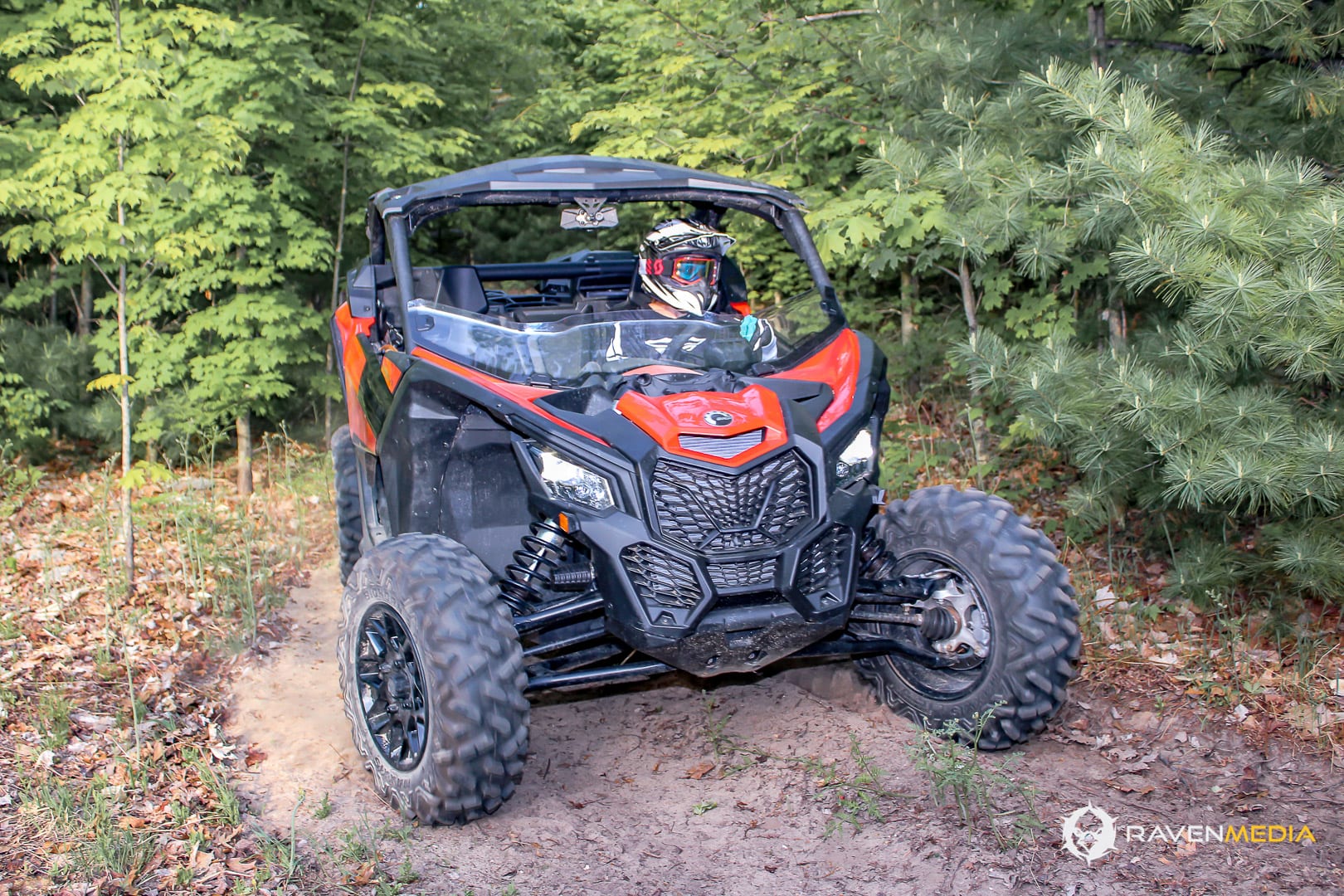 The engine
The 900 H.O. comes with the same motor as the turbo-charged models, just without the added expense of the turbo. It is a ROTAX 900cc liquid-cooled, three-cylinder Advanced Combustion Efficiency (ACE) motor with the same Donaldson high-flow air filter that the other X3 models have. This combines for a pleasant 90 horsepower, which may seem tame compared to the number the turbo X3s get, but when you actually drive the machine, you'll find that it has more than enough horsepower for most applications, plus you don't have the additional noise coming from the turbo itself. It's a fun machine to drive for sure.
Like other companies do, Can-Am, or in this case BRP, uses the ROTAX ACE 900 triple engine in more than just the X3900 H.O. Like we said, it can be found as the base engine in the other X3 machines. You can also find it in some of the Sea-Doo personal watercraft, configured to run in marine form. You'd also have no problems finding it under the hood of several Ski-Doo snowmobile models too.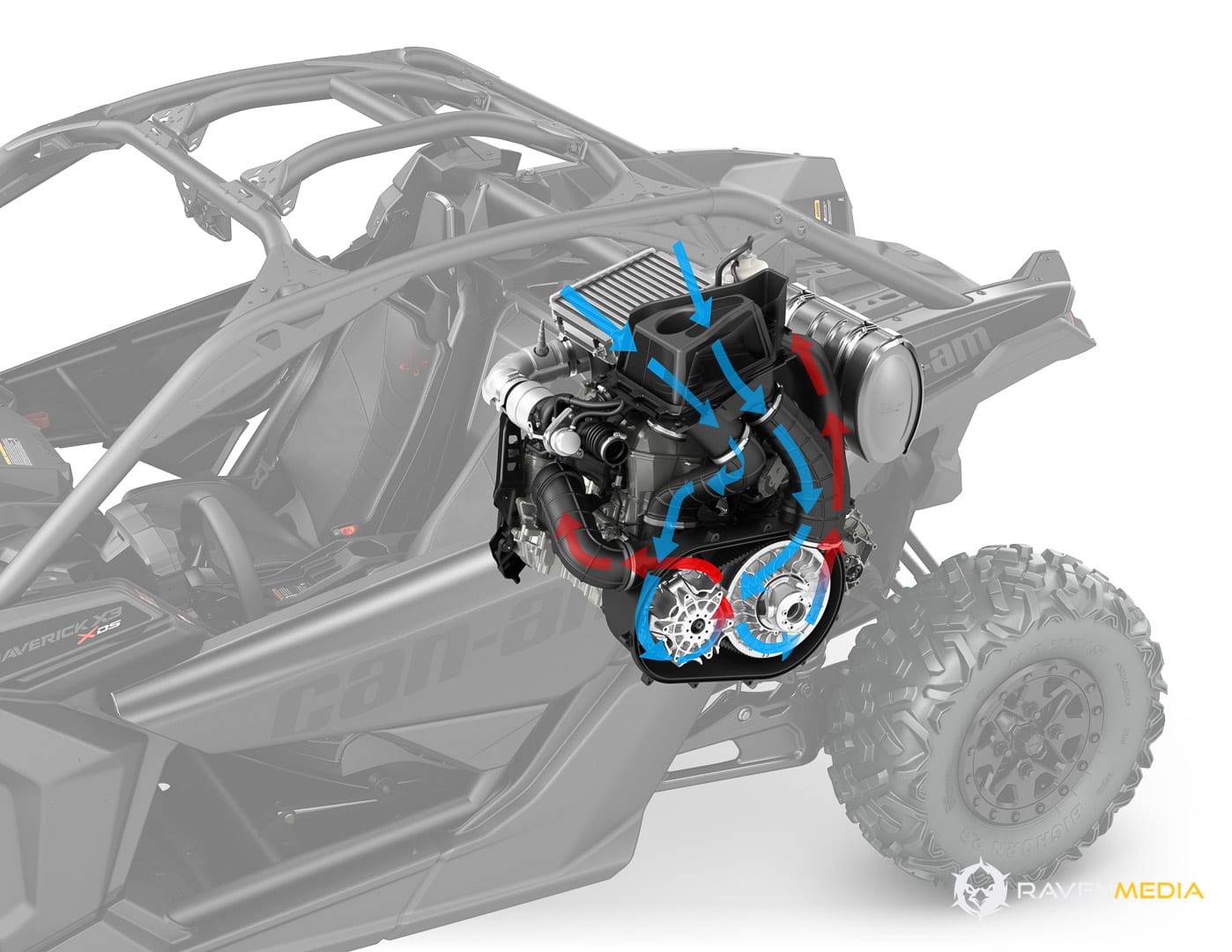 The engine has a single, large central exhaust that has a throaty tone that sounds like a high-performance engine should. The power delivery is exactly what you'd expect with a solid mid-range punch that builds to a decent top-end. We expected the engine to feel a little flat, as it was originally configured to run a turbo, but there wasn't a discernable flat spot in the powerband. Let's be totally honest here, unless you're running in a lot of wide-open terrain, or climbing a lot of hills, etc. you never really use all the horsepower a turbo-charged engine produces. To us, this makes the 900H.O. a real winner because you have good, usable power that tops out well, and you save a couple of thousand dollars.
Power Delivery
Feeding the ACE triple is full electronic fuel injection that is controlled by Can-Am's iTC, Intelligent Throttle Control, a drive-by-wire electronic throttle system that uses mapping software to control the EFI as you drive. The iTC system learns from you as a driver as you roll down the trail, and alters its own digital mapping to match your driving style. This is done to give you optimal power delivery and maximum fuel economy, depending on which mode you select for the system. We have used other drive-by-wire systems in other machines, but Can-Am has it pretty much perfected.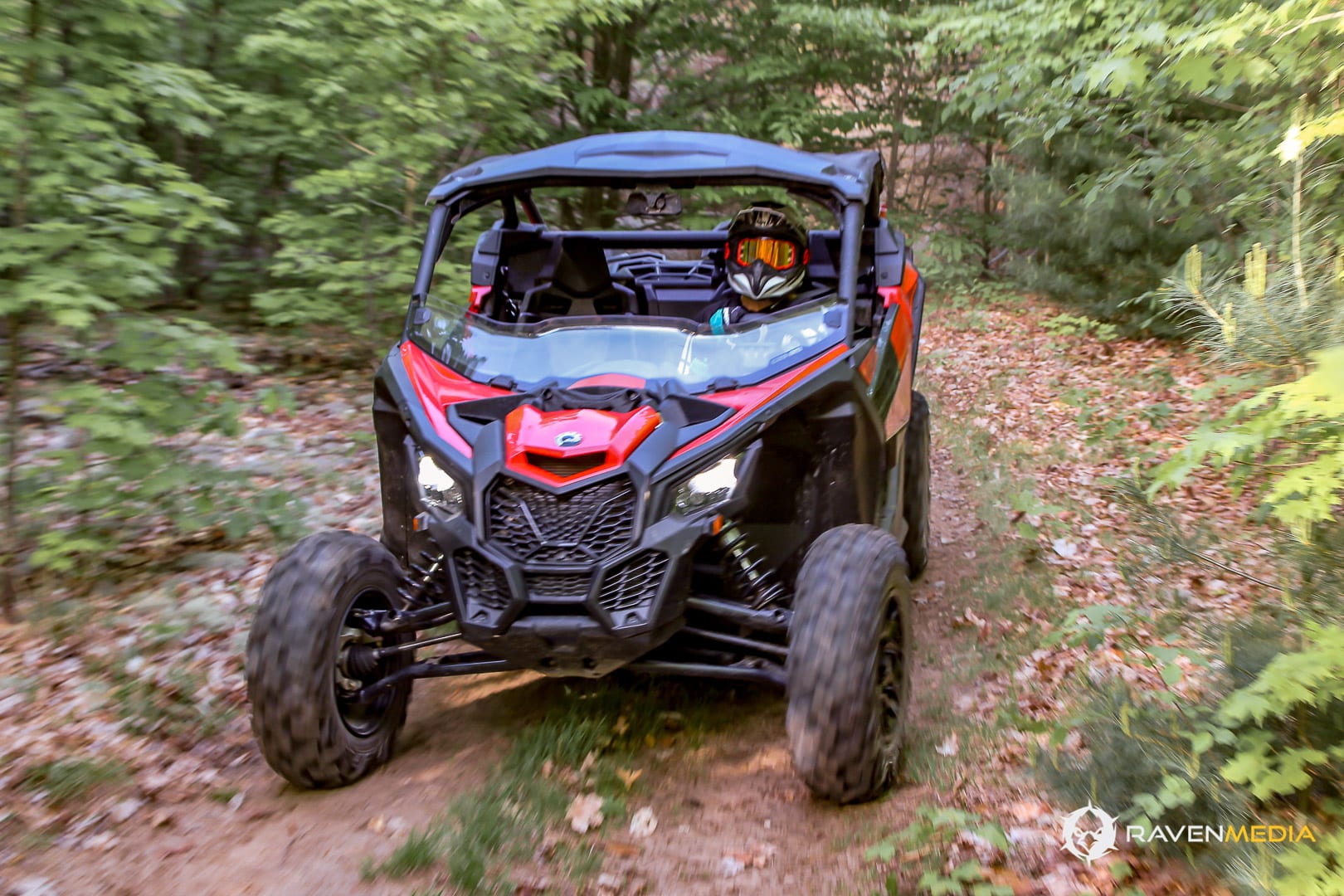 The engine's power is transferred through Can-Am's QRS-X Quick-Response System X CVT transmission. This high-performance CVT works very well and has lower noise than many other CVT systems. The power from the engine translates quite well to the wheels, too. Low range works well for picking your way through tricky sections, or when you have to power over steep sections. The 900 H.O. has a selectable two and four-wheel drive and it comes with the Visco-Lok X high-performance auto-locking front differential.
Suspension action
Like we said, the sweet thing about the 900 H.O. is that it has the same suspension setup as the more expensive turbo options. Have you ever seen the video Can-Am had floating around of an X3 hammering through massive sand whoops in the dessert? The wheels are beating through the huge bumps, yet the machine itself is remaining steady and not transferring the impacts to the driver. Yeah – same setup in the 900 H.O.!
Up front you'll find dual A-arms cradling massive Fox Podium 2.5 piggyback remote reservoir shocks with 18-inches of travel. The rear system is a TTX four-link torsional trailing arm setup with a sway bar to keep it steady when cornering. There are also the same Fox Podium 2.5 remote reservoir shocks with 18-inches of travel. The suspension soaks up everything we could throw at it. The suspension system works extremely well.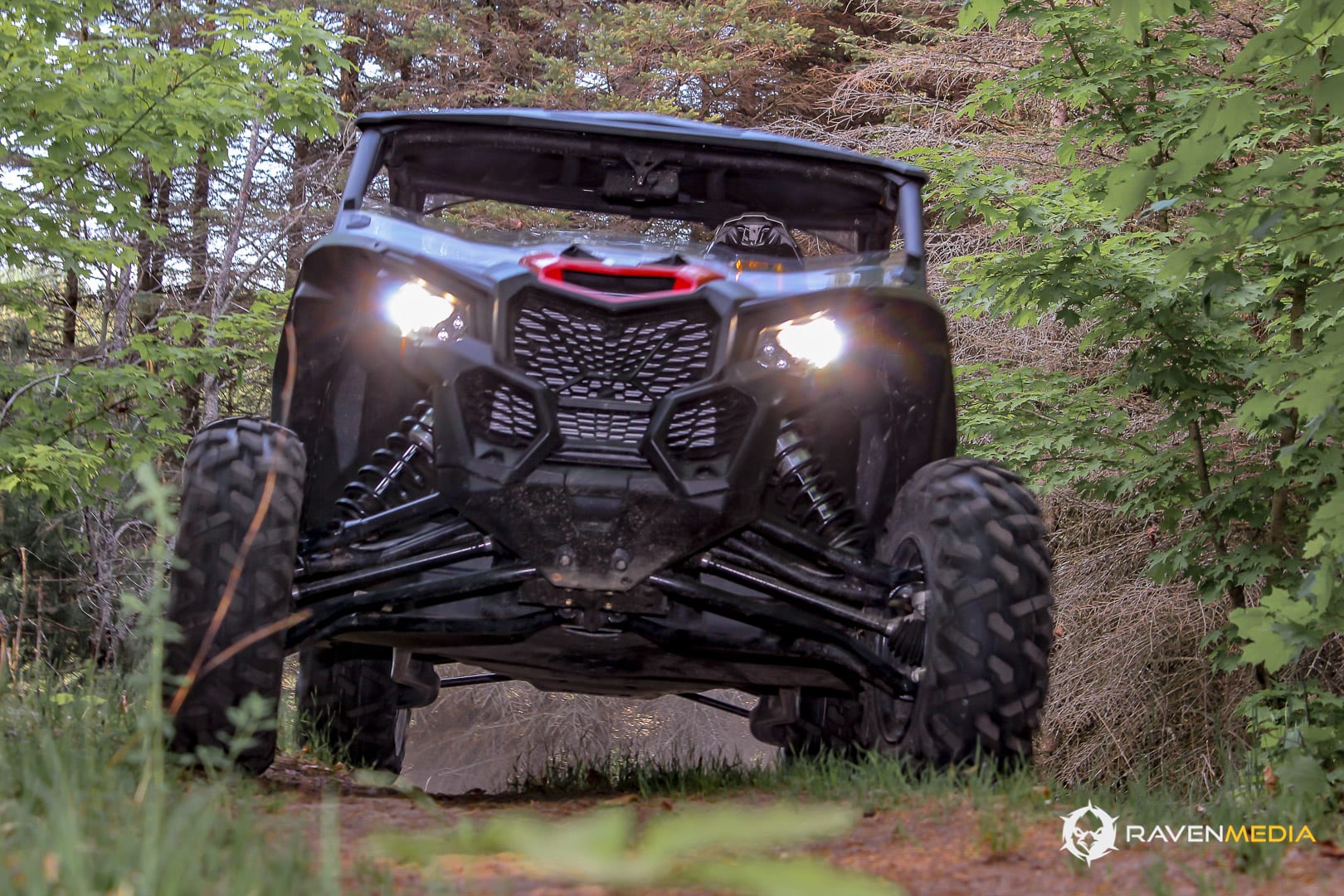 It's easy sometimes to get caught up in just the numbers of the shock travel, but the whole system has to work together to make for a fun ride. That's the beauty here. Can-Am has put a lot of thought into how the dual-phase 980-grade steel frame, shocks and suspension system all works to get you from point A to point B in both a hurry and in comfort. They looked at the designs the top trophy trucks use for suspension and applied that same geometry to the X3 line. What you end up with is a machine that floats well, while keeping the machine steady. There isn't a hint of deflection or bump steer either. The X3 900 H.O. inspires a lot of confidence when you drive it and it doesn't beat you up. This lets you drive it longer and at higher speeds than you could with a lesser machine.
Ergonomically correct
Can-Am has been doing a ton of work into making the driver and passenger more connected with its machines lately. The Ergo-Lok interior of the X3 is so good, that they have been adapting the designs and technologies into other machines lately. Remember how much we liked the Maverick Trail? All of that technology came from the X3 series and this machine is no different. Starting with the seats, which are positioned to put your body positioning in a more natural pose. If you hop out of a RZR and into an X3, it's going to feel very different and alien at first, but as soon as you drive it, you'll appreciate the design.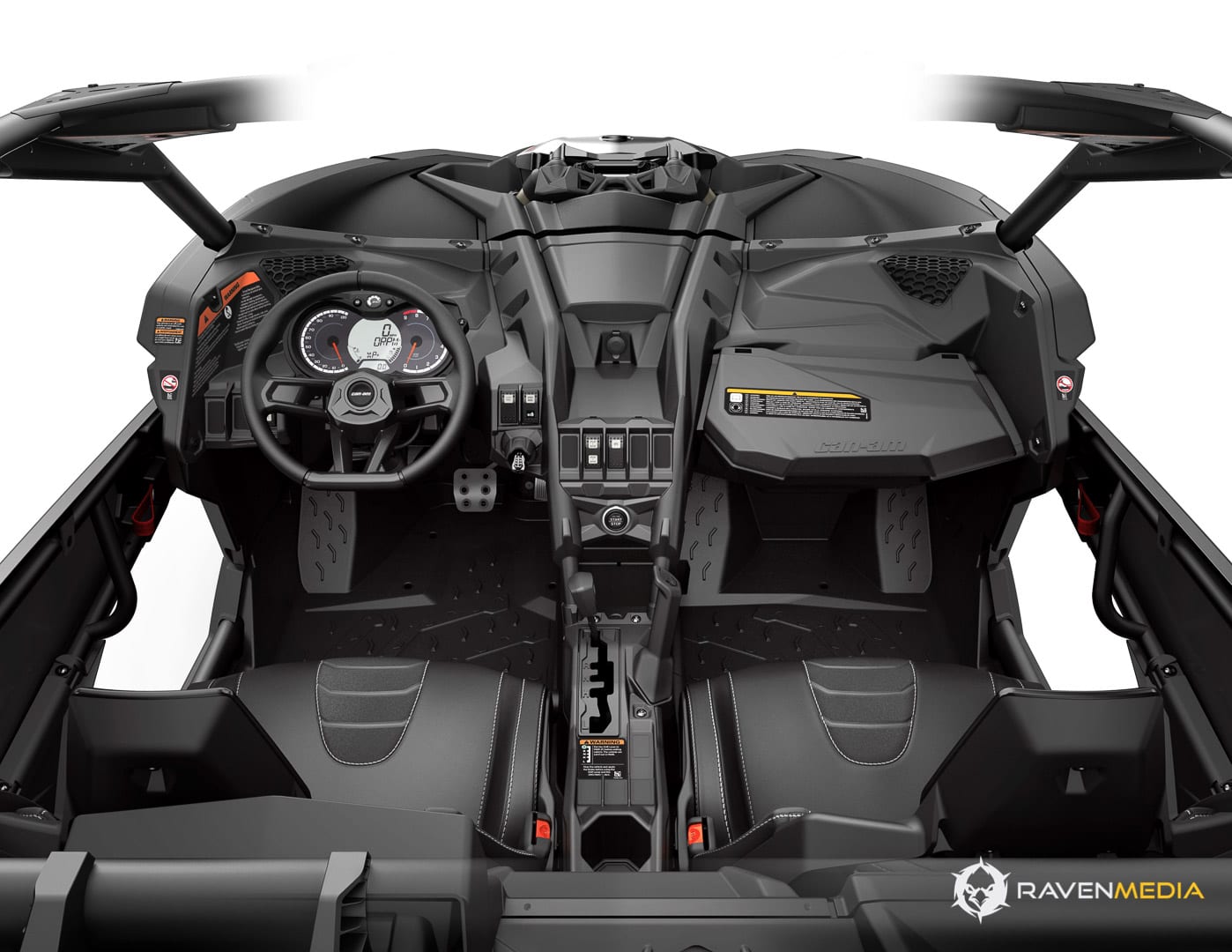 The seats are extremely comfortable, a definite step up from the Can-Am seats of old. The driver's seat adjusts with two-inches of height adjustment and six-inches of slide adjustment. All of the controls are driver-centered, and were inspired by race cars. Even the pedals have been designed for a new feel. To keep you focused on driving and not worrying about being distracted by the controls. And we love the steering wheel. It is more compact and has a flat spot on the bottom to help reduce rubbing on your legs.
Driving it
If you haven't guessed it by now, we really like the Maverick X3 900 H.O. It's wide, as 64-inches, but not as wide as the biggest X3 and right in line with other sport performance UTVs. It's also 131-inches long. This makes the X3 extremely stable regardless of what speed you're driving it at. We hit some off-camber sand and were able to whip the 900 H.O. without ever feeling that sickening urge that we were going to roll. We then took the X3 into some deep woods and hammered through ruts and fallen logs without pause.
If you go riding with buddies who have higher horsepower machines, they might pull you on the straight-aways, but once you get into rough terrain and tighter corners, things are going to even up pretty quick, unless they're also in an X3, but that's another story. The 27-inch Maxxis Bighorn 2.0 tires hook up well as you'd expect. These tires are pretty much the industry standard for OEM tires. We might try a few other options down the road, just to see how other rubber performs.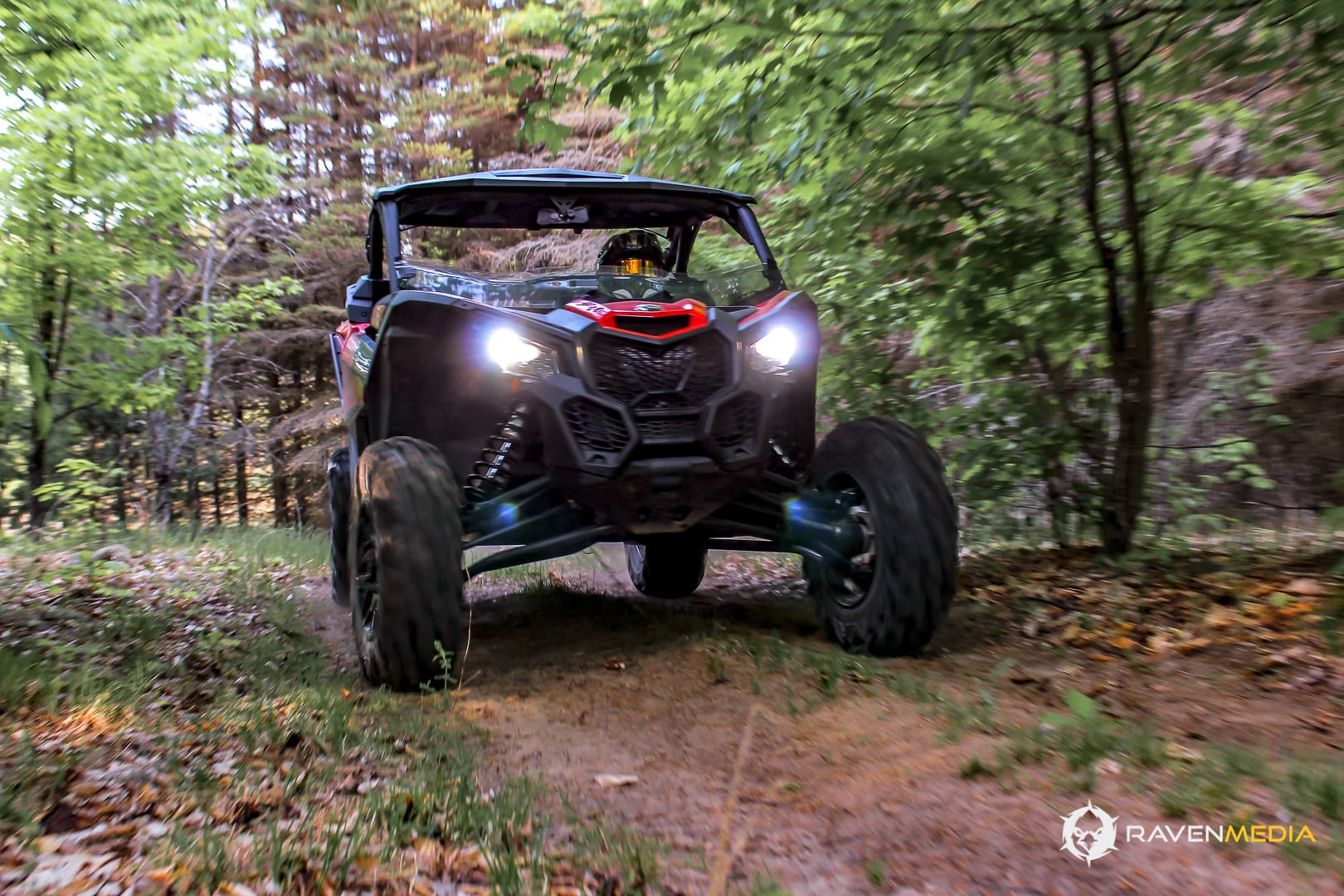 The low seat height and massive shocks team up to give you a 65-inch tall machine with 13-inches of ground clearance. It lets you drop into ruts without high-centering the machine and the overall design of the Ergo-Lok cockpit keeps you feeling 100-percent in control, no matter how rough the terrain gets.
The Can-Am Maverick X3 900 H.O. offers all of the handling and performance of the other X3 machines, without the higher price tag associated with the higher horsepower, turbo-charged models. If you have high performance aspirations but your budget is telling you that you can't, take a serious look at the 900 H.O. You won't be disappointed at all.