Most UTV companies design and build new machines to cover a broad range of uses. It makes perfect sense, right? These machines may turn out to be much more useful for certain tasks or terrains, but the manufacturer would never say that their newest creation is best suited for wide-open dessert terrain, or tight, twisty woods. Well, Yamaha would do exactly that and were very frank in stating that while their new Wolverine X4 will work well just about anywhere, it really excels in wooded, tight trails like you'd find across Canada and the U.S. east of the Mississippi River. If you're looking for a new adventure-minded machine that can haul up to four people, with excellent handling, power and noise levels, the X4 is definitely one to look at. Just as Yamaha planned, too.
Don't think that the new Wolverine X4 is just a Wolverine with two extra seats. It is a completely new design from the ground up. Yamaha wouldn't say why they kept the Wolverine name associated with the X4, but we suspect it is so there is less confusion when technology from the new ride blends into the design of the 2-seat version we already know and love.
Can you handle this?
With so much to talk about, let's start with handling. With many trail systems still limited to 60-inch width machines, it makes sense to develop a machine that comes in under that limit and still remain a well-handling ride. The new Yamaha X4 comes in under the 60-inch threshold at 59 inches. So, coming in at a narrower width, you might think the handling would be weird. It's not. Yamaha designed the machine with superb steering that is precise and easy. Above all, it is very confidence inspiring, something Yamaha stressed from the outset of the process. Yamaha's proven power steering system and superb engine braking make it very easy to drive the X4 for extended periods with little fatigue. We drove it on some steep hills with many tight switchbacks and were impressed with how sharp and precise the steering was. Not once did we have to stop, back and try to cut the turn shorter.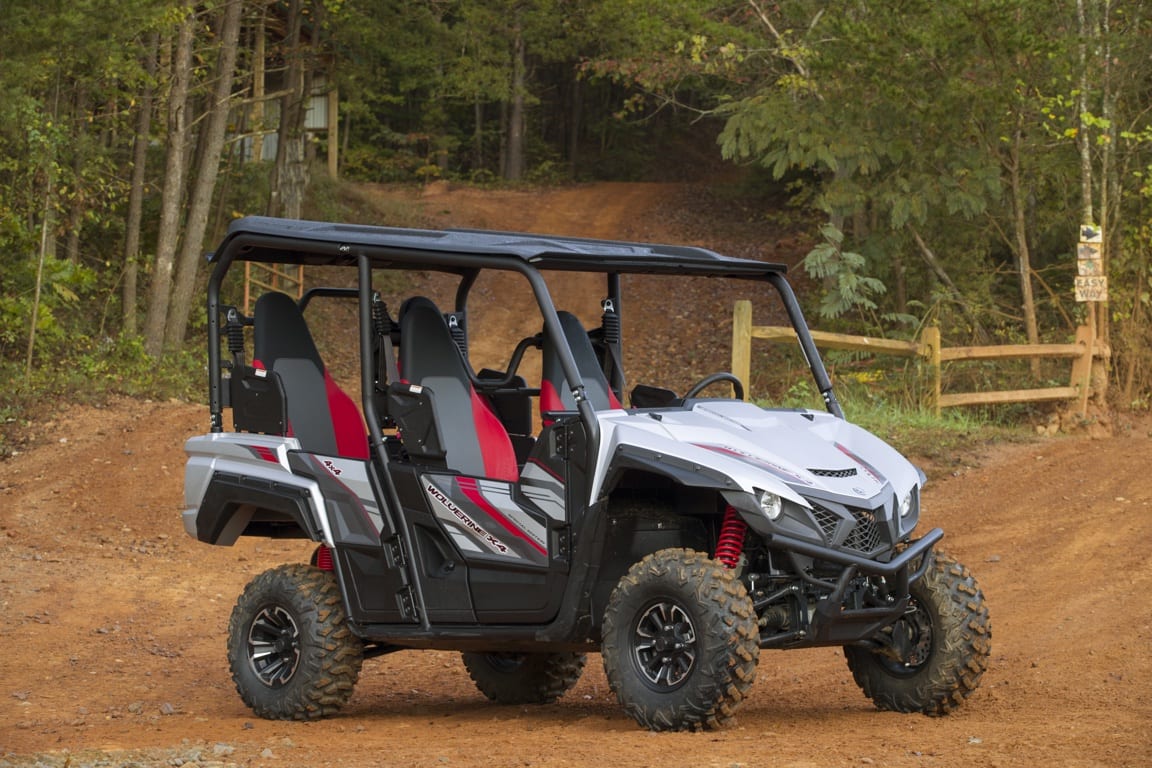 To keep the X4 shorter and more trail-friendly, the X4 loses cargo capacity while in the 4-seater mode. If you need to haul cargo, the rear seats move. The seat bottom flips forward and the seat back slides ahead to give you a decent amount of cargo space. The seat belts even fold down into a covered area to keep them out of the way. The rear area can hold up to 600-pounds of cargo, and there is a tailgate for access. No, the cargo area does not dump, like some UTVs. There is also a 2-inch receiver hitch and a 2,000-pound towing capacity.
To keep the handling the same whether you have passengers, cargo or not, the rear suspension is self-leveling. This allows the machine to adjust the ride height and character of the suspension action to keep the ride the same. It's a pretty cool design that has to cycle a little to "pump" itself back to the normal position. This means that when you have a couple of people jump in the back, the rear will sag, but will correct itself as you move. The rear offers up 8.9-inches of travel and there is 8.7 inches up front. Action from the shocks is, as you might guess, very good. You'd have to get pretty aggressive to outdrive the performance of the suspension.
A shake up in the engine area
Yamaha is so well known for powering its utility and recreation machines with some version of a 700-class, single-cylinder engine. These engines are bullet-proof, torquey powerplants with plenty of usable power. But Yamaha never does exactly what is considered normal, either. Remember the Banshee ATV back in the late 1980s, or the recent three-cylinder YXZ 1000? Arm-chair, social media experts were saying that Yamaha would again go with another single cylinder motor, so when they unveiled an all-new 847cc, liquid-cooled parallel twin engine, it caused some buzz. The new motor makes great power and was designed using technology from Yamaha's motocross bikes. This new motor is so deceptive, too. No, we don't mean it will turn into a giant robot bent on world domination. It is, by far, the quietest gas-powered UTV on the market today. You will think you're doing something wrong when you give it throttle because you don't hear the motor. The engine sits low in the frame, and is compact, yet has a long stroke that gives the X4 one of the best power curves going for recreational UTVs. It is this power curve that makes this motor work so well on technical trails. There is always power on tap and it is near perfect in delivery.
It's not just the motor that is quiet, either. Yamaha looked at every element of the machine to see where they could reduce noise. The motor mounts are all new. Every piece of the drive train was engineered to reduce vibration. How quiet is it? We kept hearing a sound on the trail during our initial test drives. We started thinking that specially-designed Maxxis tires Yamaha uses on the X4 were going flat, but we were wrong. The sound we were hearing was simply the tires rolling on the ground.
Being a Yamaha, it has superb engine braking. In this machine, the engineers who designed the X4 took it to a new level. The low-range of the transmission lets you crawl down steep hills and never touch the brakes, instead letting you focus on steering and enjoying the ride. The Yamaha guys said that we would be shocked at how well the engine braking performed. They were right. On a pretty steep section, we actually had to give it more throttle, as the X4 wanted to stop itself.The Wolverine X4 has Yamaha's bullet-proof 4-wheel drive system that operates with their dash-mounted dial. This includes a locking differential, that we must admit, we never needed to use on our initial rides. The combination of the Maxxis tires and suspension never had us wanting more traction, even over some pretty slick rocks and steep inclines. And, of course, the X4 has the latest version of Yamaha's perfected Ultramatic CVT transmission. It is a smooth system, and let's be honest, you never hear of a Yamaha needing a new CVT belt.
Comforting stuff
The X4 has four full-sized seats that are very well designed. We only slid forward on extremely steep downhill sections and then not by much. The rear seats are better for smaller passengers, mostly due to the foot area. The engine cover sits between the seats, and takes away some of the floor space.
Yamaha redesigned the seat belts in an effort to make them more comfortable for a wide range of people. If you spend much time in a UTV, you know that uncomfortable seatbelts can ruin a ride after a short while. These work great and are very comfortable for just about any size person. The only issue with comfort was getting in and out of the machine. The seat bolsters Yamaha uses to help keep you feeling secure as you drive or ride make it a little difficult to get in and out of the machine. It is just a minor inconvenience, though.
If you want a UTV with a full cab enclosure, the X4 has an available complete cab that was designed alongside the machine, making it the only recreational 4-seat machine with a full cab enclosure. It's a pretty slick set-up with options. The best part is, you can take parts of it off, so you can use the X4 in hot weather and not roast.
The 2018 Yamaha Wolverine X4 comes in grey, blue and silver in the SE model, and for the hunters out there, the Realtree Xtra camo version is pretty sweet looking, too.
Want to learn more? Of course you do. Get to your Yamaha dealer and schedule a test drive. That is the best way to see what the new Wolverine X4 has to offer. It's a great trail and hunting machine, so if you want to realize your adventure, this is the machine to do it in.