If you think about the Kubota brand, many will think first about tractors and with good reason. They are one of the largest manufacturers of smaller tractors in the world. They produce some of the hardest working UTVs out there as well. The company's UTVs are familiar sights at farms, work sites and municipalities. So when Kubota announced an all-new machine in the RTV-XG850 Sidekick, we took notice.
Before we get rolling along here, you need to know something about this new machine. Like all the other Kubota UTVs out on the market, the Sidekick is a work machine. Every aspect of the machine is designed for getting the job done. We really respect that. While the sport machines get the press and the sometimes heated discussions on the internet, or around the campfire, if you go to the dealerships and ask what machines they need to have on the sales floor, you're going to hear the word "utility" a lot. Some people like to go fast, but everyone has a job to do. Kubota knows that this is their wheelhouse and they don't stray, at least not yet.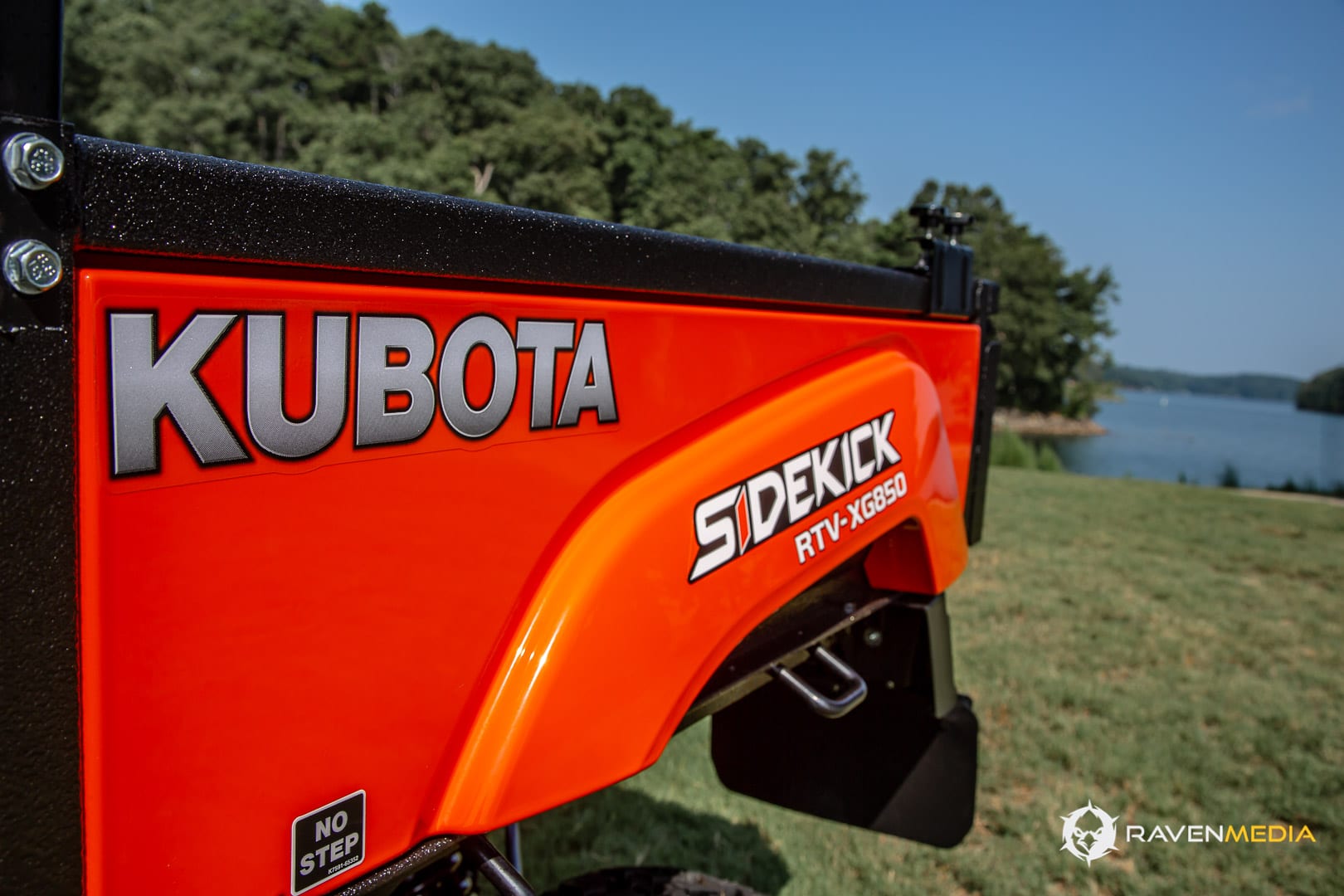 SASSY AND GASSY
Kubota machines have always had the reputation of being diesel-powered, slower and rugged. Their previous UTVs seem to have more in common with tractors than other UTVs out there. That's not a bad thing, mind you. A diesel engine has a ton of torque and can run forever. So it is very intriguing that Kubota released a new machine with a gas engine. The Sidekick runs on an 851cc liquid-cooled, DOHC twin-cylinder engine that produces 48 horsepower at 5,750rpm. That is impressive for a work machine. What's more impressive is the torque the motor produces, with a greater emphasis on the lower-end power of the curve.
What Kubota was shooting for was a gas engine that pumps out the torque of a diesel at slower speeds, but had the upper end to handle a quicker ride. When you want to go faster, the Sidekick will reach speeds up to 40mph. That may not seem like a lot in the day and age we live in now, but it is, especially when you look at the competition, like the John Deere Gator 825i, which has a similar top speed. When you have to scoot across the ranch to get the job done, or when lunchtime is calling you, you'll appreciate the extra speed built into the Sidekick.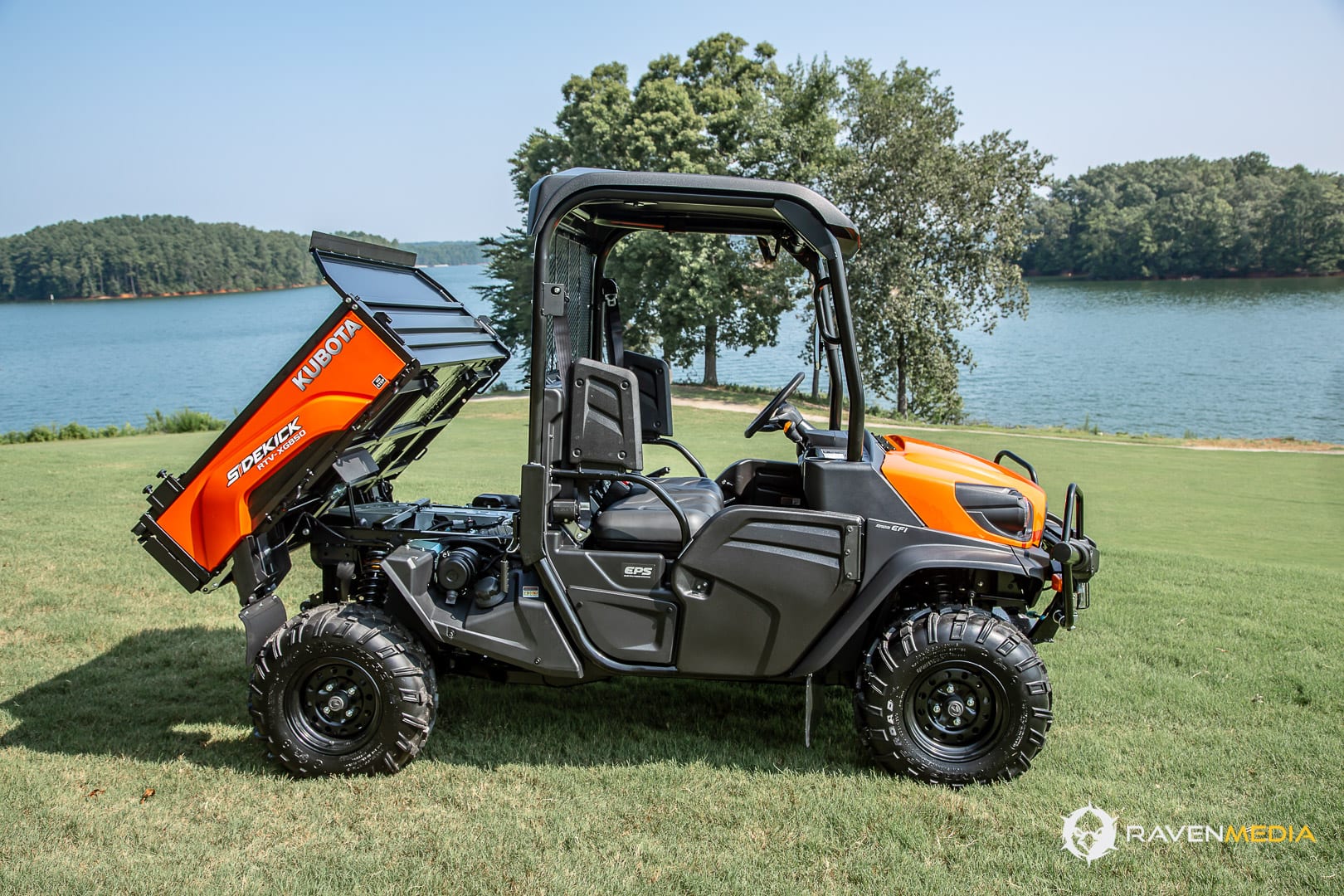 The motor is fed by electronic fuel injection and there is a cool Idle Speed Control system that helps control the engine speeds at lower RPMs. This works well with certain tasks like plowing, or other jobs where engine speed is critical. Adding to the reliability side of the Sidekick is a fully-sealed starter system for reliable engine starts in any condition. Farming and other serious outdoor work doesn't wait for the weather to clear up.
TRANSMISSION AND DRIVE
The Sidekick runs through a CVT system that has a one-way clutch and a continuous tension cogged CVT belt and a fully-sealed CVT cover. Kubota was going for a longer belt life and increased engine braking performance, again two things that are important to utility work and performance in the field. We know from years of testing various utility machines that engine braking performance is hard to achieve, but Kubota seems to have done their homework here. Even under load, the engine braking is solid.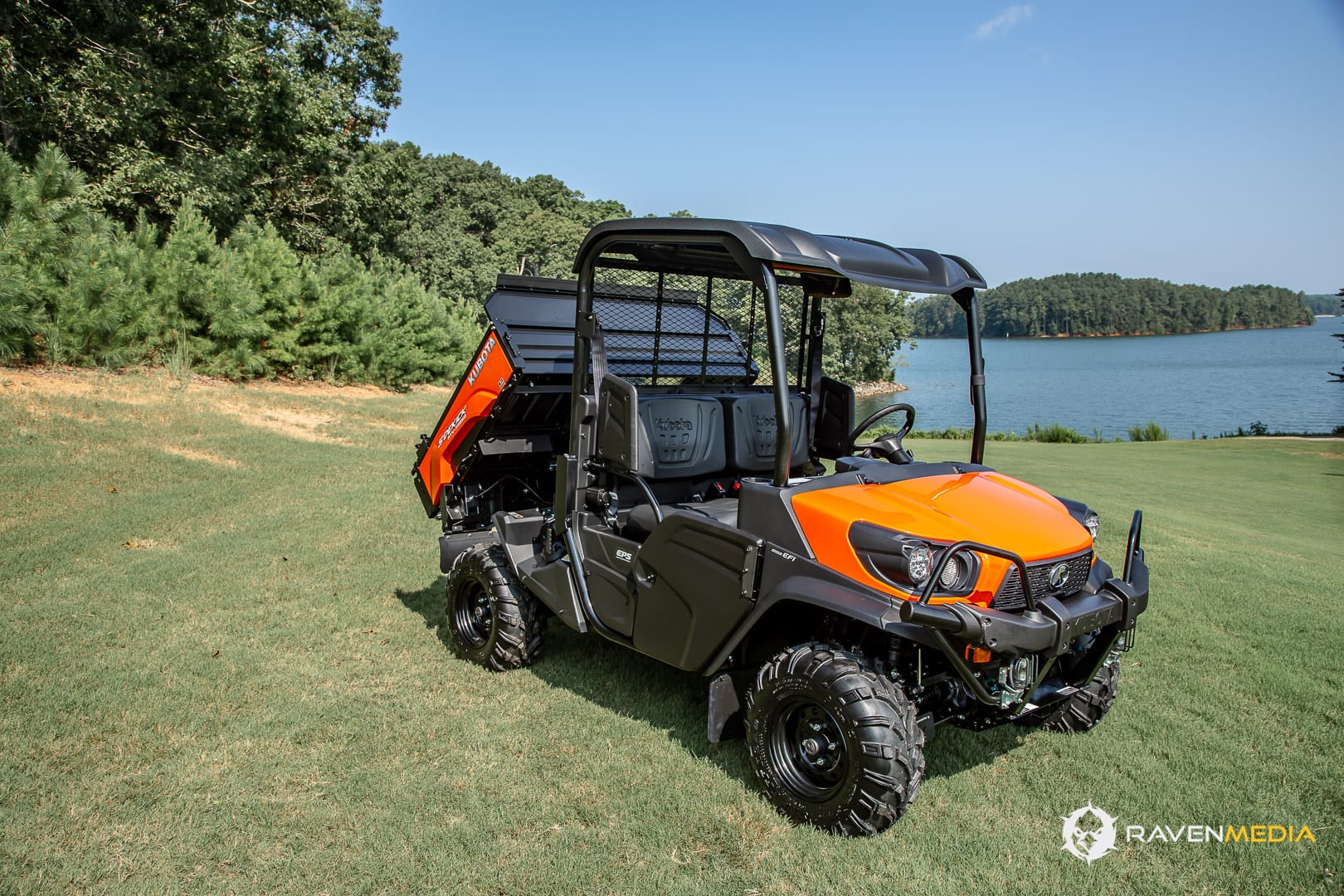 Mated to the transmission performance is the switchable full-time, four-wheel drive. The system is set up to provide you with optimal control and traction under full load and in any condition you can find. You can also drop back into two-wheel drive should the conditions fit. The electronic power steering continuously self-adjusts to drive configuration and speed. This gives you the right amount of steering assist at all times while providing enough feedback to keep your confidence levels high while driving. About the last thing you'd want to do is be driving along under load and have the steering feel sketchy.
LOADED
One stat we can't give you, and one that is normally important, is the suspension travel. Being a utility machine, the amount of travel is far less important that the quality of that travel while under load. The Kubota Sidekick has ample travel on all four corners and is fully independent, allowing the system to adapt to terrain as you move along. The ride is very utility like, and actually on the plusher side for this type of machine.
Here's the impressive part of the suspension action, and something Kubota is very proud about, as they should be. As you look at the machine as it sits on a flat surface with nothing in the machine, that ride height, front to back doesn't change when you load the machine to its full 1,000-pound capacity in the cargo bed. This means the ride quality stays the same and the ground clearance remains unaffected. When it comes time to get the job done, we'll gladly take a stiffer ride over a bottoming-out machine any day. It may be a little stiffer than say, a Polaris Ranger, but the suspension action is very smooth. You're not going to be jarred around on the trail.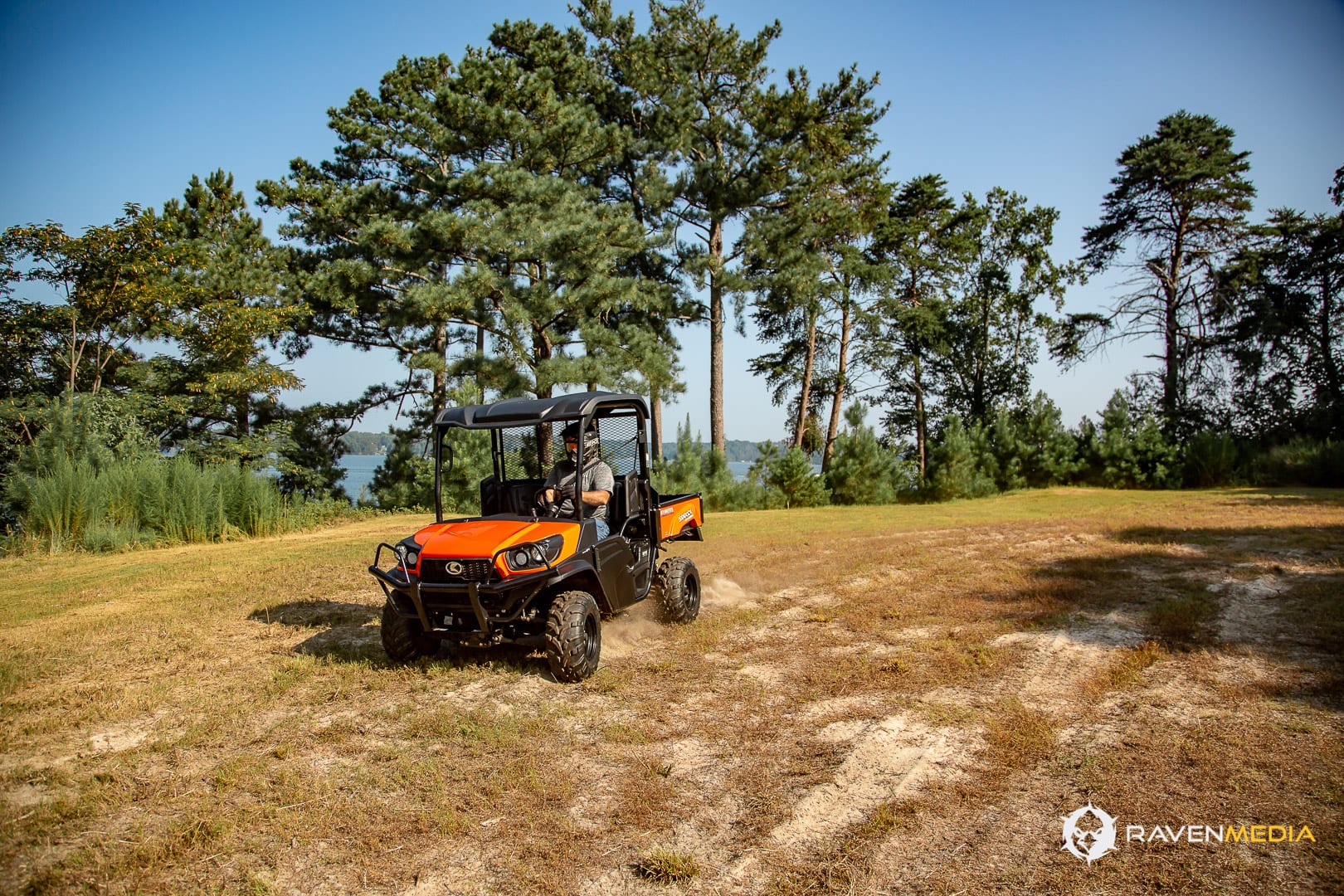 Towing is equally impressive with the Sidekick having a 2-inch receiver hitch and a 2,000-pound towing capacity. The heavy-duty steel cargo bed holds 15.2 cubic feet of cargo and has steel tie-down points built into the base of the bed. Steel is sturdy and while composite beds are stronger than ever, a steel bed can easily be repaired if something happens to it. Plus, being farmers, steel beds allow for "homegrown" modifications. A proper "sidekick" goes along with all of your crazy ideas, and the Kubota Sidekick will let you adapt the vehicle to fit your needs, as any true utility machine should. One popular option that we expect many buyers to opt for is the cargo-box dump assist. This would let you dump the cargo box from inside the cab and make handling those heavy loads much easier.
INSIDE THE CAB
Kubota redesigned much of their interior components to go along with the all-new machine, so you're not getting anything in the Sidekick that has carried over from previous Kubota RTVs. The seating is a 60/40 split bench, but it is unlike most any =traditional bench seating you may encounter. The seats are highly bolsters for comfort and they keep your body planted, a nice feature especially when you're driving in uneven terrain. You'll find cup holders and a convenient glove box for storing stuff. The passenger seat flips up for additional storage and there is storage under the seat that can be accessed with the seat down as well. This is great for things like gloves, tools and more.
The steering wheels and shift knob are new for Kubota and they both have a comfortable and solid feel. The steering wheel is adjustable for comfort and there is a flat spot on the bottom of the wheel to help reduce the chances of your legs snagging the wheel as you get in and out.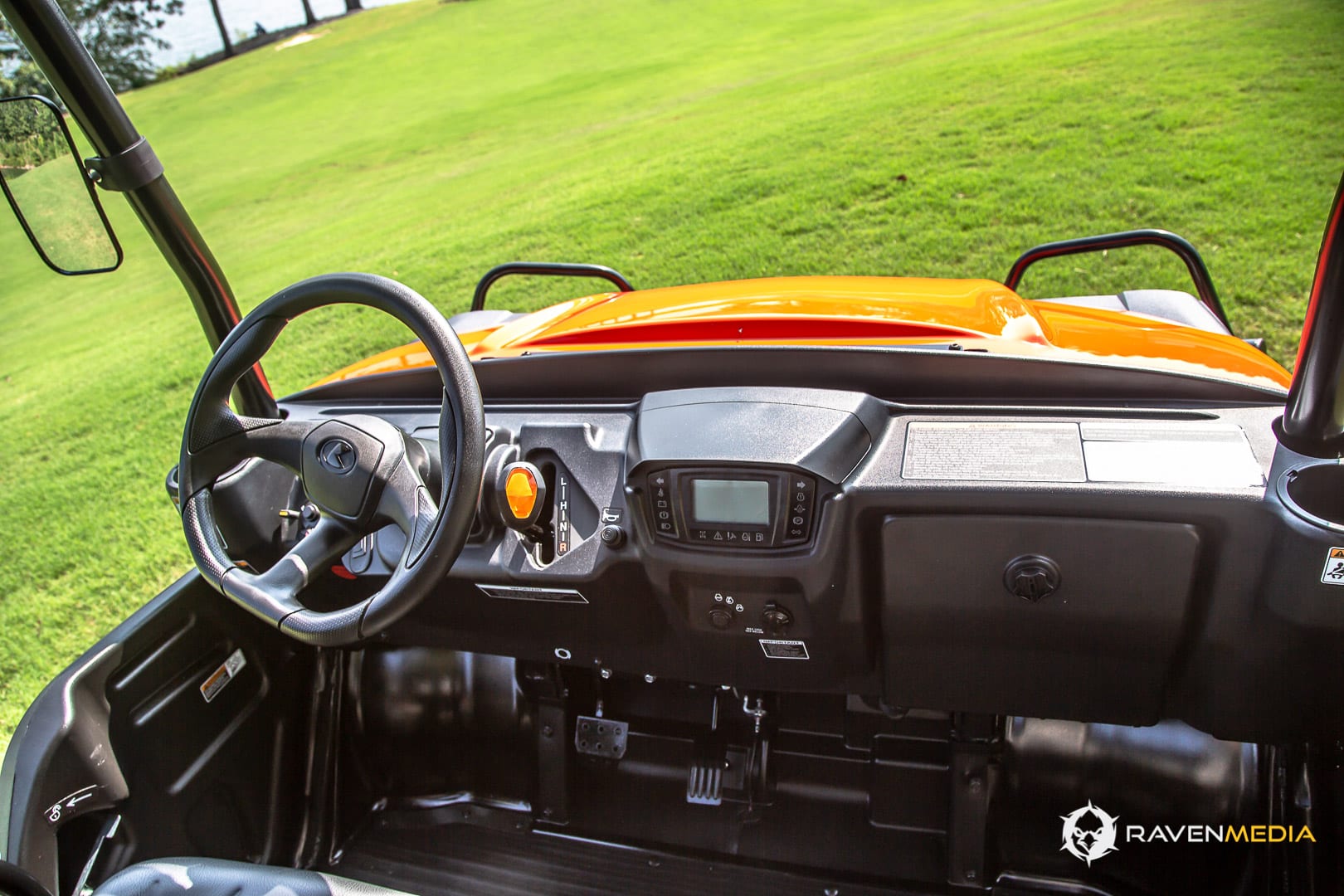 Kubota has shoulder bolstering built into the ROPS cage to keep you in the machine, and there is a weird half door to keep your feet in. The door is very much like a Yamaha Viking door, but it doesn't go all the way across, so there is a gap covered by a steel bar. It'll keep your feet in, but won't do much to keep mud and dirt out.
The display is digital and has alarms for things like the seat belts and parking brake. It also monitors and alerts you to overheating, something that is a good feature for a utility machine. You'll also find the usual gear indicator and speed, fuel levels and more.
AROUND THE SIDEKICK
Up front, you'll find an overbuilt and very protective front bumper assembly. It does a great job of protecting the LED headlights and there is ample place to install a winch, which again, most buyers will add.
Out back, you'll see that Kubota added a standard headache rack to protect the occupants of the cab from anything coming from behind the machine. This is something most modern utility machines are doing these days and it's a welcome thing. Kubota is offering a slew of accessories for the Sidekick, with several cab options and extra protective features.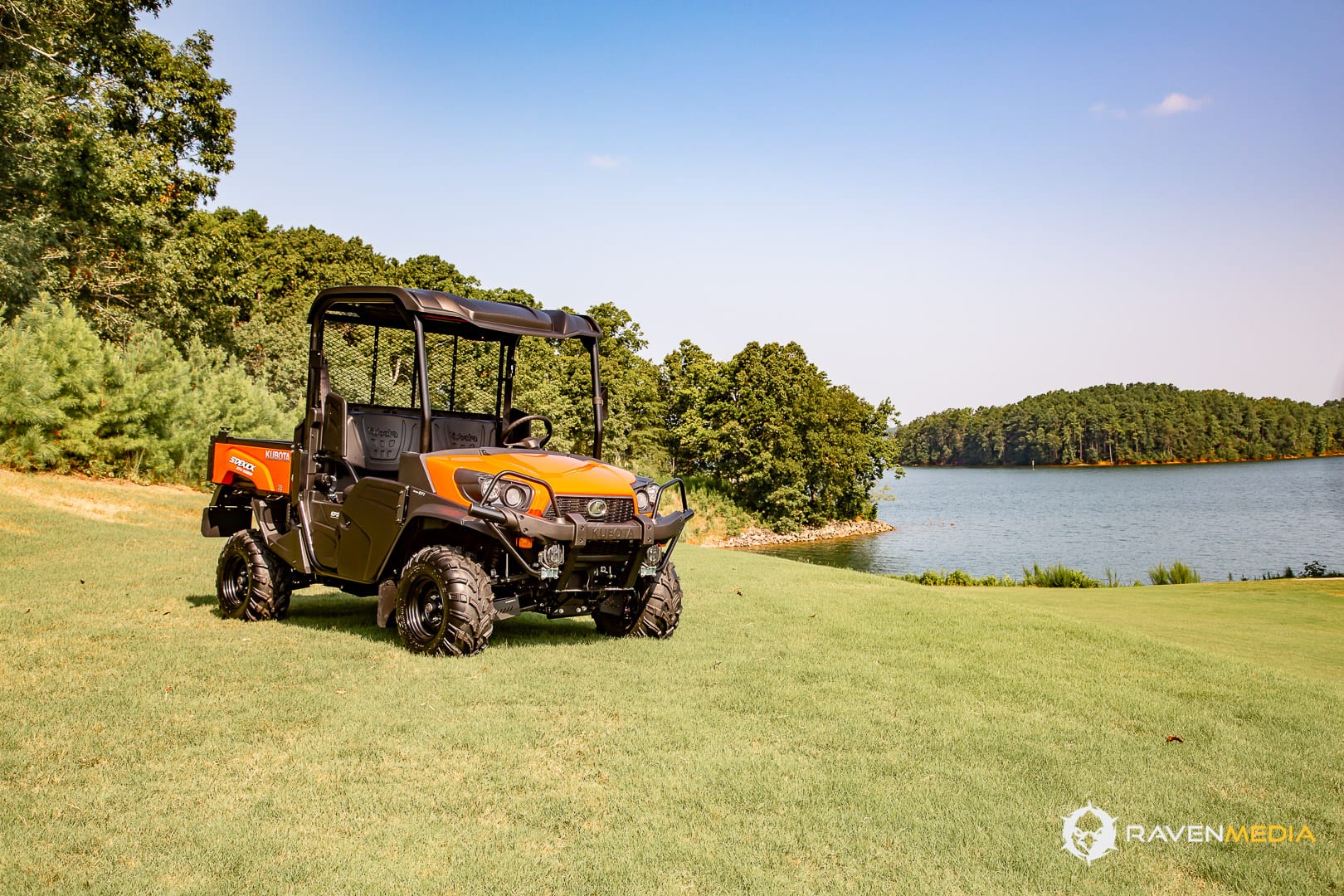 Is the Sidekick the best-looking machine out there? That'd be a no. It has a slightly awkward, boxy look to it, but it's ok. We're not going to complain because the design is more about the comfort and the function. It's a comfortable machine to use and is very capable, and that is far more important than if the looks are sleek and sexy. You can get one in black, green, orange and Realtree camo, with some matching accessories. It is easy to say that this is the most capable gas-powered Kubota ever offered. If you're looking for a new workhorse utility UTV and want the convenience of gas power, take a serious look at the Kubota RTV-XG850 Sidekick. It's worth it!