For many years, Polaris' Ranger ruled the roost for utility machines that had a recreational flair sprinkled in. The Ranger 900 in particular was flying off showroom floors at dealerships and other OEMs were drooling just thinking about the sales figures. Can-Am had the Commander, which could be used for utility work, but was more suited to recreational pursuits. Something needed to happen, and BRP made it do just that. They went and hired away the designer of the Ranger 900 away from Polaris and told him to design the machine he wanted to build. We tested the fruits of his labor years ago when the Defender was unveiled, and it has been a favorite machine ever since. When we were offered the chance to test out the latest version of the Defender, the XTP package, we happily agreed.
The Heart of the XT-P
Our favorite model of the Defender is the HD10. It is powered by a fun 976cc Rotax V-twin four-stroke motor that is quite honestly, a lot of fun. It produces 82 horsepower, but it's how that power is produced that is so much fun. The motor has a healthy, torque-filled bottom end that builds to a brutish mid-range. You have all the power you'd need for tasks around the farm, home or trail, as well as a fun-filled trail ride. Can-Am marketed the Defender originally as a straight utility machine, but from our first test ride at the introduction, they soon realized as we did – it's a great trail machine. The power, while ample enough for throttle junkies like us, is mellow enough to ne be overly intimidating for anyone.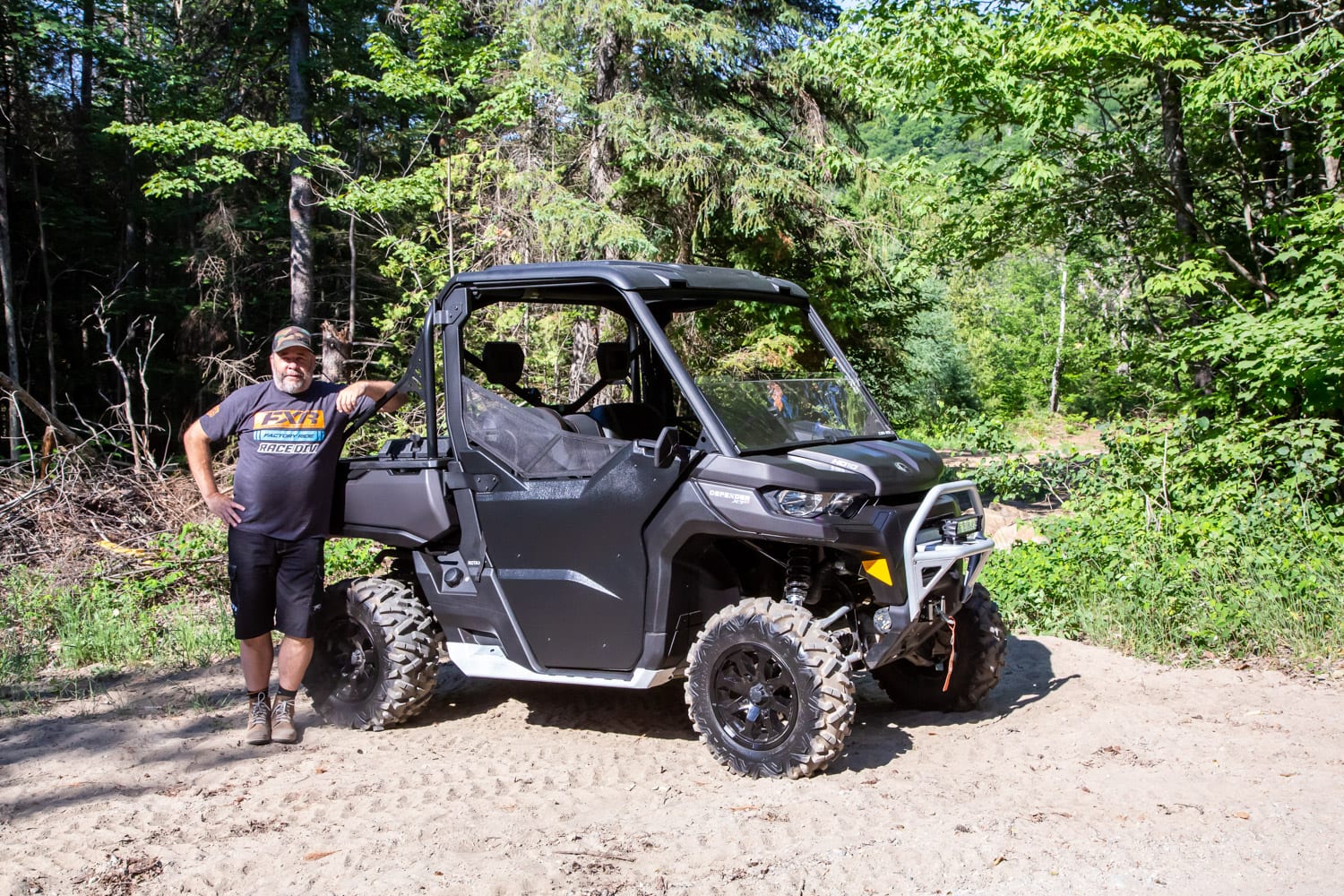 The transmission is a CVT with dual high and low range, plus reverse. You can drive the Defender in turf-saver mode with one wheel engaged, two-wheel drive, four-wheel drive and four-wheel with differential lock. The Defender has EBS brakes to stop quickly, important if you're hauling a load on the farm, or hauling something else on the trail.
Other elements built into the design include a generous cargo bed area that is big enough for a full pallet. There are metal tie-down points on the floor of the composite bed that can hold 1,000 pounds, and the sides have BRP's LINQ attachment points for Can-Am accessories. The Defender also came with a 2-inch receiver hitch for towing up to 2,000 pounds.
The interior of the Defender is very comfortable, with a great dash layout and a comfortable steering wheel. There is over 10 gallons of storage on the dash alone, with a removeable glove-tool box. The seats have a tough, grippy material covering them that will withstand dog paws (something we've tested) and enough bolstering to keep your butt planted where it needs to be. The middle and passenger seats flip up for additional storage on the floor and there is a water tight storage compartment under the seat that can be removed, too.
Let's take it up a notch or two
While the standard Defender is great in its own right, and a very capable work horse, when you hit the trail, you want a little something more, right? That's where the XT-P package comes in. The standard XT package adds a winch and aluminum wheels to the machine. On the XT-P package, there is a 4,500lb. winch and some sweet-looking 14-inch, cast aluminum wheels with 27-inch Maxxis Bighorn 2.0 tires wrapped around them. The XT-P also gets a heavy-duty front bumper and some sweet-looking and functional rock sliders along the sides. We added some accessories, too with an LED lightbar and Can-Am half doors.
The added protection from the front bumper protects the radiator well, and there is a spot to mount a light bar, which adds to the light put out along the trail. The winch is a must-have accessory for any real trail machine. Ever get stuck in the middle of no where? Yeah, we've done that too. The winch is added insurance to get home safely. We added the half doors for more protection for the interior and occupants, and if you run into any mud – which you will – it really helps. The tiny amount of additional noise and heat are worth the protection. Plus, they look sweet. The rock sliders look great and are quite functional. We put them to the test with rocks and hard-packed dirt along the trail and they still look great. Plus, the sides of the cab and door frames are still intact. Good stuff.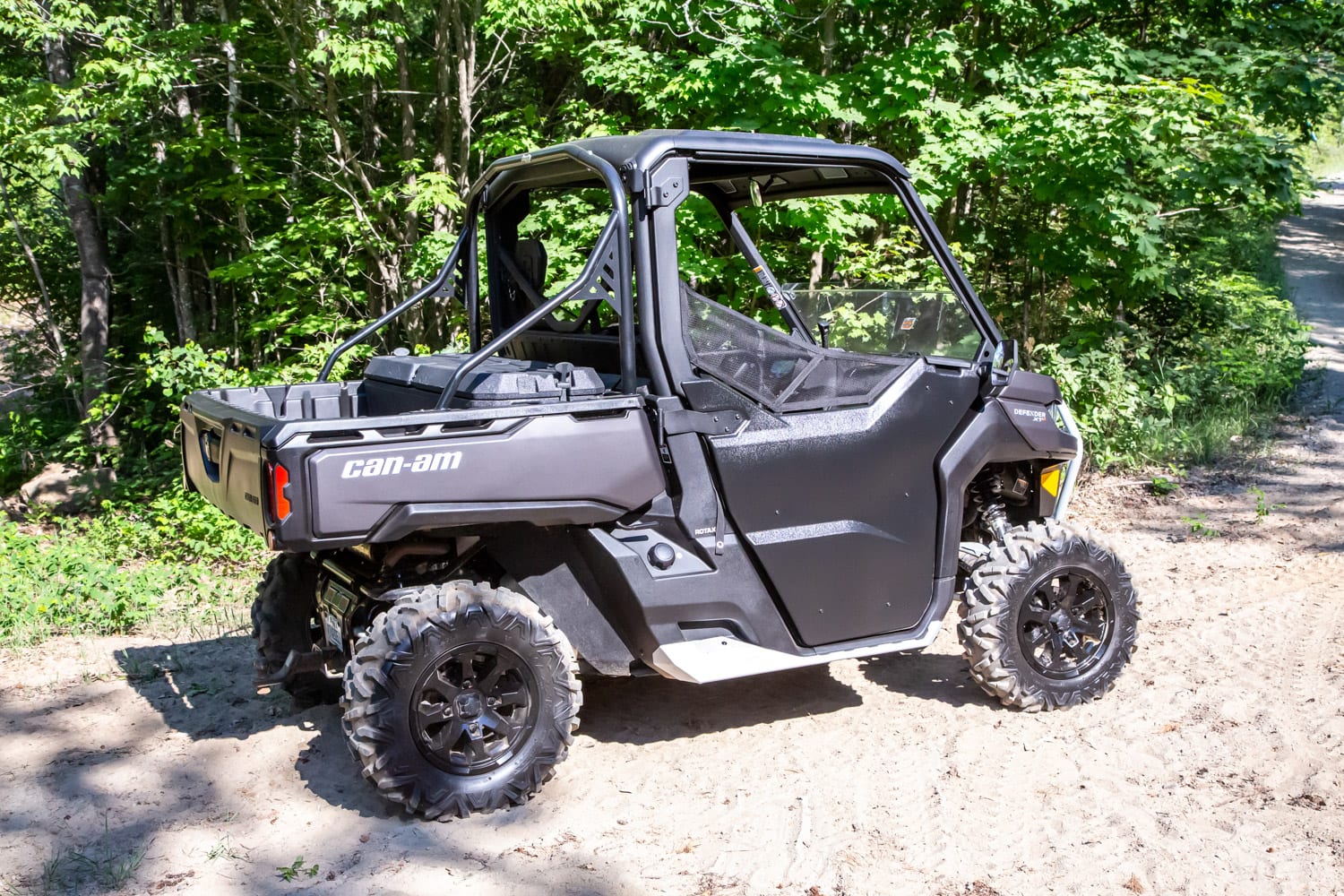 Suspension
This brings us to the main reason to buy the XT-P package. The suspension system is a huge improvement for trail riding. And by huge, I mean HUGE! It starts with arched A-arms, which boost ground clearance along with the taller tires up to 13 inches. That really helped us with ruts and other stuff along the trail. We've been along one particular trail in a standard Defender and have high sided in the ruts. The XT-P made it without issue.
The Arched A-arms are a big help, but let's meet the real star of the show – Fox 2.0 Podium piggyback shocks. The stock shocks are pretty good but are a little soft for serious trail use. I mean, after all, they were designed for work first, play later. No so with the new Fox shocks. You get 11-inches of travel of pure trail-riding goodness. These shocks are adjustable for different drivers and conditions. If you like the shocks a little stiff for high speed G-outs and better cornering, that's a click away. Want a softer ride for rock crawling or easy cruising? Not a problem.
We usually kept our shocks set right about in the middle and found them to be a huge improvement for most trails and drivers. Our speed demons bumped them up, so they could go scary fast around corners. It always amazes me how some of our guys can push machines of any kind at those speeds. That's the beauty of this XT-P's suspension system. It can be pushed hard or dialed back to be subtler. I dare say any of you will find the system to feel the same and be as impressed by it as we were.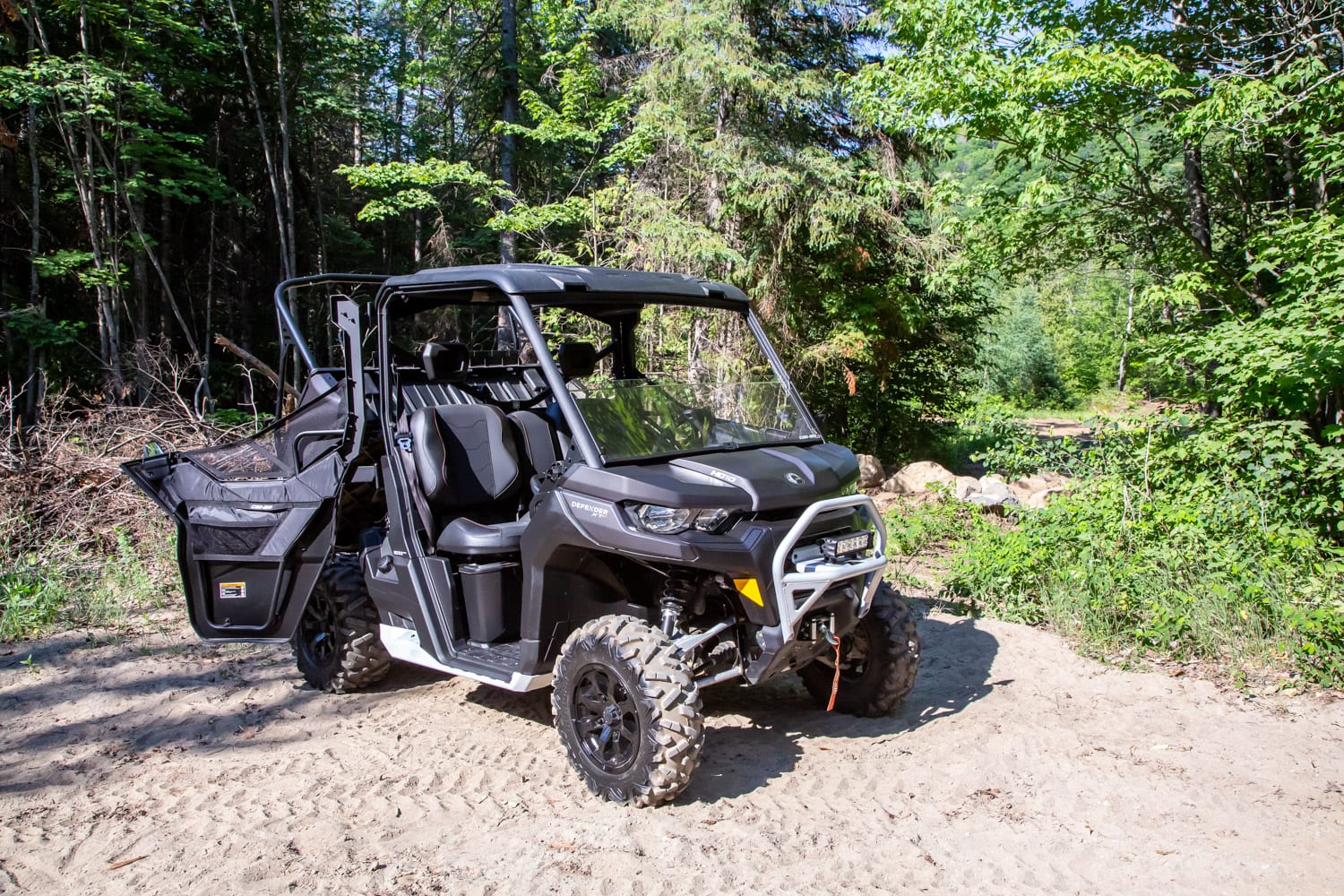 What would we do different?
That's a good question. We'd like to see the LED light bar come standard, maybe even add one to the roof. If you're looking at the XT-P for trail riding, you want the most light you can get. Even for hunting use, you want more light. We'd still like to see the receiver hitch on the back come out a little more from the rear frame. You have to reach under the bed too far to access it. That's a small gripe though. The XT-P package makes the machine 63 inches wide, too. That makes it illegal on select trail systems. If you're going to add the "P" onto XT for Performance, then there should be a boost in engine performance as well. We all know Can-Am can easily top the 100-horsepower mark with a 1,000-class engine. Why not have it in this machine, too?
Final thought
We were impressed by the 2020 Can-Am Defender HD10 XT-P model. It is good for working, but MUCH better for playing than the standard HD10. The suspension is a huge improvement and really lets you explore every bit of the engine's horsepower. If your dealer has any left, you should seriously go check one out. You'll be happy with it for sure.