The enthusiasm for recreational vehicles has really reached an unexpected level for all manufacturers. If the urge to get an off-road vehicle crosses your mind, it will probably be challenging to get what you desire. Several months of waiting are to be expected, and you may receive a response like "Sorry, I cannot find this model for you at the moment"… All the companies are working hard to find supply to meet demand, which is why Can-Am sent us a 2020 version of the Maverick Sports, as they had very few 2021 units available to the media.
What is interesting is that we can review a vehicle that has a lot more mileage than usual. We normally get brand new vehicles, or with only a few hundred kilometers. But this time, our machine was delivered with more than 3000 kilometers on the clock. It will allow us to assess several components during our tests and give you an accurate picture of Maverick's global reliability.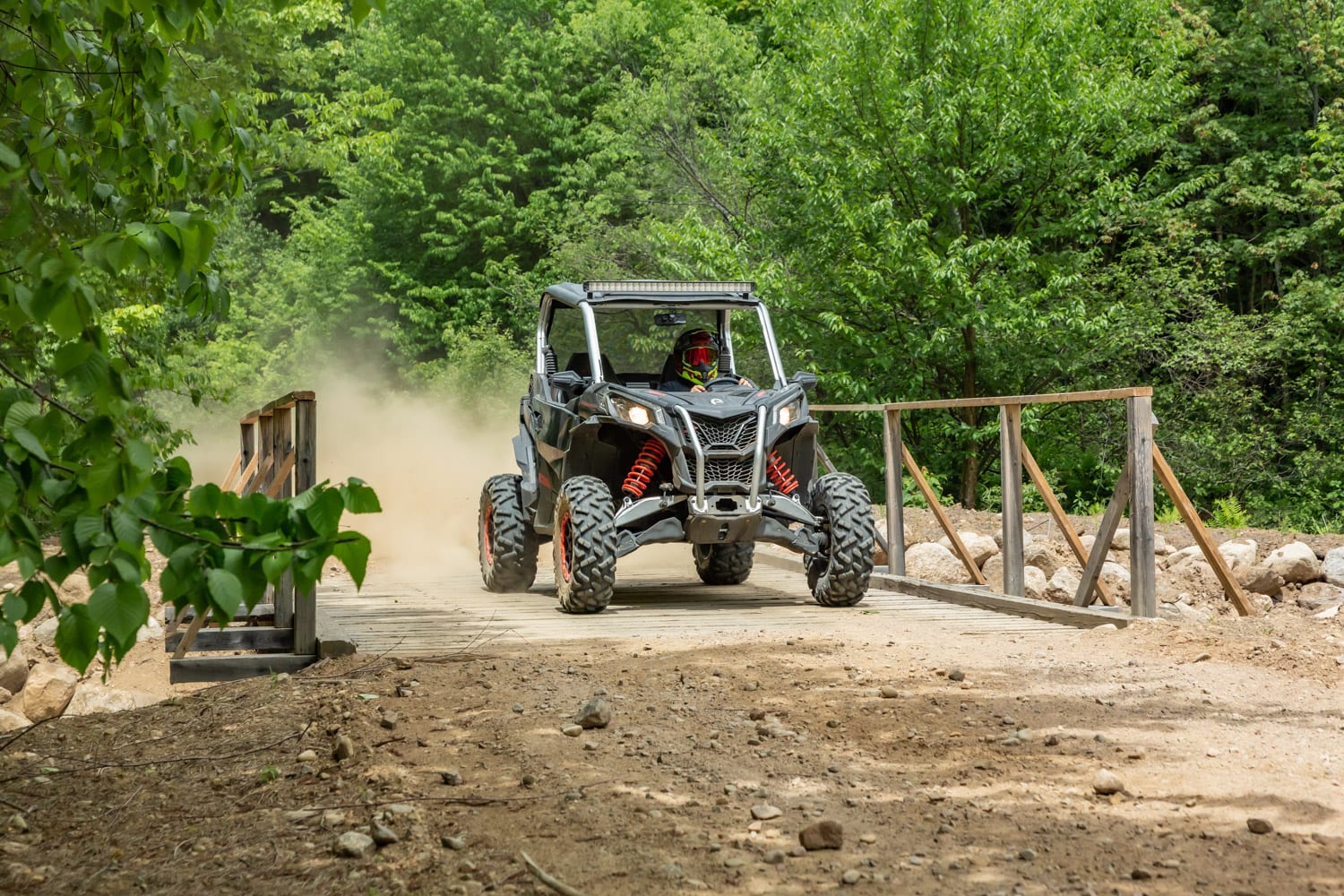 1000R engine
The 1000r is a 100 horsepower naturally aspirated two-cylinder from Rotax. Offred standard for several years at Can-Am, we can easily say that this engine is mature. After 3000 kilometers, no failure was reported in terms of acceleration at all revs. The response is still just as robust and without hesitation. Maximum revolution is always reached when you push the throttle to the maximum. The engine response is also without reproach; we can see that the clutches calibration is almost perfect and properly delivers power to the wheels. However, like most side-by-side vehicles, it is difficult to find the right point of clutch friction when riding at very low speeds, such as loading the machine in a trailer.
Suspension
The 2020 Maverick Sport X XC features Fox Podium 2.5 QS3 shocks with three-position internal resistance adjustment. The front and rear wishbone suspension offers 14.75 inches of total travel with 14 inches of ground clearance, two swaybars (front and rear) to keep the vehicle in line. While all of the components seem to be in place to make this a perfect machine for bumps, the suspension still lacks flexibility. If you tackle a series of bumps at high speed, the rear ends up jumping and becoming more unpredictable, despite a few adjustments to the shocks. This rigidity is felt on a more bumpy trail where you will have to get used to being stirred a little more, especially at medium or low speeds. A stiffer suspension still provides excellent cornering stability; it is easy, even fun, to push in a corner to drop the rear and have great controlled skid experiences.
Interior
The Maverick Sport X XC interior offers everything there is to do with ease, steering wheel and adjustable seat, domed doors for good arm and elbow clearance. The space between the two occupants is still relatively small, so your elbows may touch on rough terrain. The 7.6-inch digital display gives you all the data you need and is attached to the adjustable steering wheel, so you can always have a good view, no matter where you are. The seats provide good lumbar support without making it too painful to enter / exit. Our test vehicle had a roof with a high-performance LED bar on it, which is extremely good for night rides.
As our vehicle did have some mileage, we think it is essential to mention the build quality of the Maverick: there were no noises, clicking, or the like noticeable from inside the cabin. All the interior and exterior body parts are solid, and just like the suspension parts, we can feel the quality of the materials used. The scratch resistance adds to the product's resale value, so even if you go all out, it will keep its look with just regular maintenance.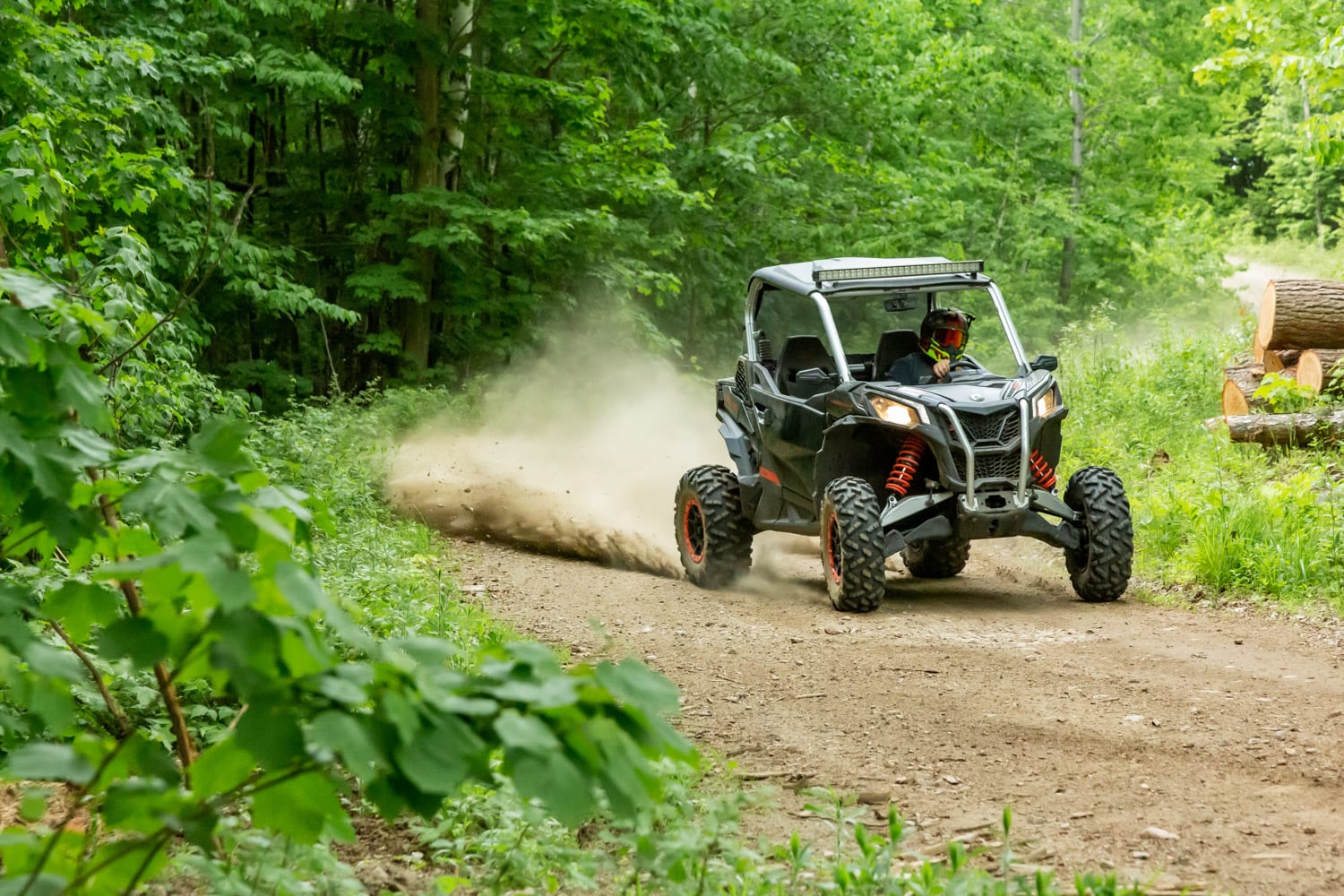 Our test
Media vehicles usually get shaken up a bit, as they say. Our goal is to test the limits of the machine in all conditions. The Maverick Sport X XC is one of the sportiest versions of the range, 64 inches wide, very sporty suspension, etc. Therefore, we can tell you that the short walks on Sunday quickly turned into more rock'n roll rides on Saturday evening! We crossed all types of terrain in a few outings: very rocky conditions putting a strain on the components of the suspension, sandy conditions with high peak speeds allowing us to test the different reactions of the machine, etc. The few hundred kilometers we traveled let us affirm that the Maverick Sport X XC is built very solid, whether in terms of steering or suspension. The various components are like new; no spacing or play was noticeable on the vehicle. After more than 3,500 kilometers, it has retained the same characteristics as in its new condition! Of course, it is impossible to drive around rocks, branches, and the like without observing minor scratches here and there. But without a doubt, the quality of the components used is among the best on the market. The noise level inside the cabin is correct but not exceptional. We hear the hum of the 1000cc engine with good intensity; there could be a little work for Can-Am to reduce the decibels produced by the engine.
The Maverick Sports X XC is a guarantee of success. Reliability and finish are at the rendezvous, and these aspects are also signs of high resale value. This machine is a sure bet, and it will give you a big smile for years to come!