Many of us can remember the first time we saw the Polaris RZR XP4 1000. It was back in 2014 when Polaris first unveiled the machine that, at the time, was the biggest, baddest UTV to ever come around. Ugh! We were in love. Of course, that machine was followed by turbo-powered vehicles from Polaris and other manufacturers. Being in the media, we kind of walked away from the 1000 simply because there were so many other machines out there to play with. When Polaris offered to send us a new XP4 1000 Premium Edition, we said ok. Once we had it, however, we were all over it. It was like rekindling an old flame. As soon as we fired it up and tool off down the trails, we soon remembered why we fell in love with this machine in the first place, and the new Premium Edition is so much fun…
Reintroductions are in order
At the heart of the XP4 is a 999cc ProStar DOHC twin-cylinder engine that now produces a very pleasing 110 horsepower. The XP4 benefitted from the turbo models with a newer high-performance version of the Polaris True On-Demand AWD/2WD system that helps distribute power to the wheels in a way tuned for the type of driving you'd do with a machine of this caliber. It's something you really do notice, especially if you've spent much time in the original 1000. Of course, you still have electronic fuel injection and a PVT automatic belt transmission. To be completely honest, this is one of the most fun motors to drive out there. We forget it sometimes with all the options we get being in the media, but when we hop back behind the wheel, it roars back to us that we just flat-out love this motor. It rips. The sound is great, especially when you don't have the winding sound of a turbo. Not that a turbo is a bad thing, by any means, but the added sound can wear on you.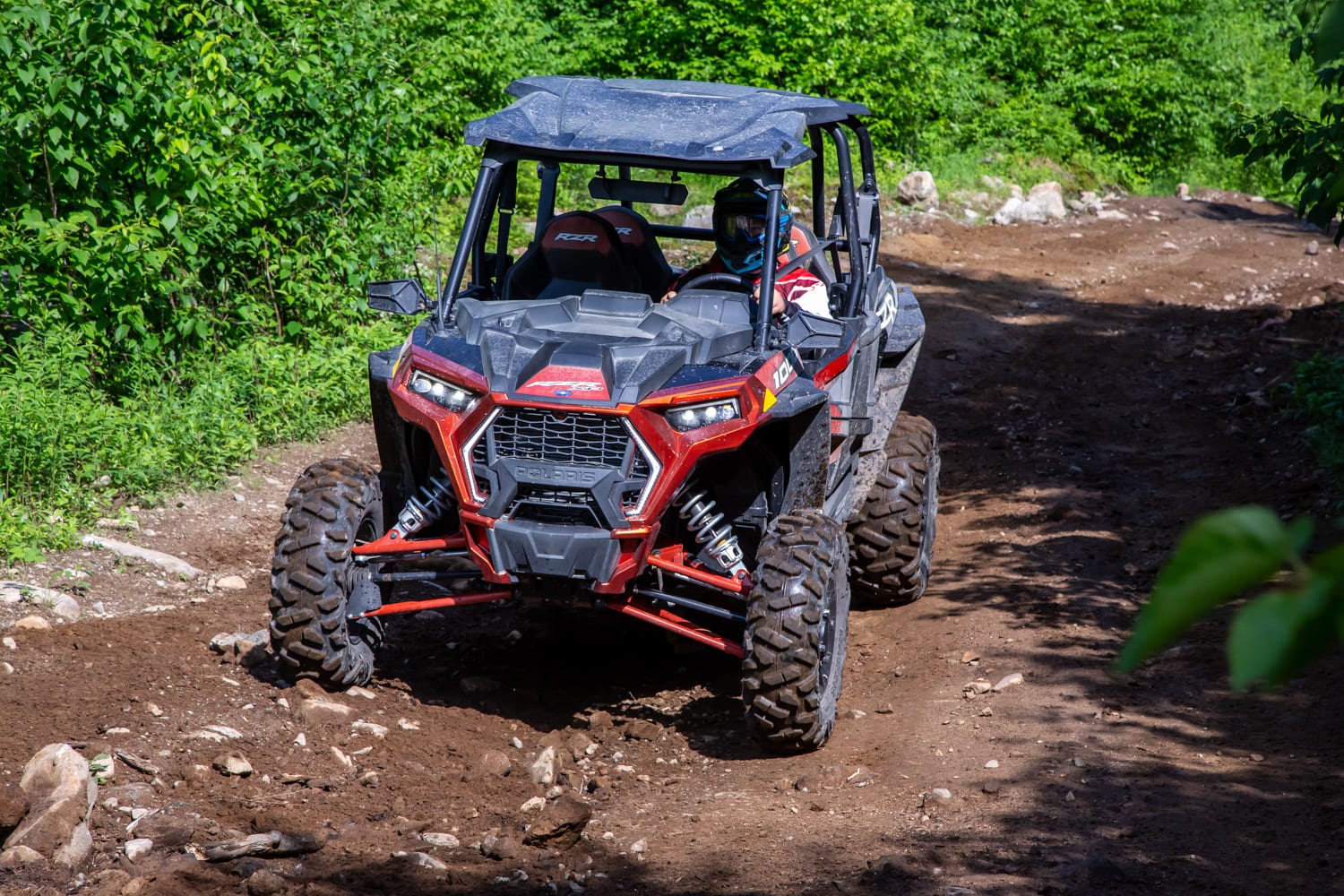 Power delivery is very smooth, meaning that when you stab at the gas pedal, fun things happen in an instant. You can cruise along at a good pace, crack it for a power slide, or stomp on it for a big thrill. Polaris has refined this engine package over the years to make it nearly perfect in how it delivers the goods. Keep in mind that the XP 1000 and XP4 1000 are Polaris' top-selling RZR models. While we may have been away from this machine for too long, it would seem that the majority of the sport UTV buying public isn't.
Shockingly good suspension
Let me start out by saying this – 20 inches of travel. Yes, 20 inches. All the way around. The front shocks are 2-inch Walker Evans needle shocks and the rear are 2.5-inch Walker Evans needle shocks. Each shock also has 16-position clickers for adjusting the action as you see fit. The front system uses dual A-arms with a stabilizer bar. The rear set-up uses trailing arms, like on a trophy truck. There is also a stabilizer bar out back. The bars are important as it helps keep you grounded when cornering and helps to reduce the body lean you can feel when you whip around a turn. Don't get me wrong. You are still going to feel some lean, but it'd be way worse, and borderline dangerous without the stabilizer bars.
Summing up the suspension action in a single word, I'd have to go with plush. It'll soak up stuff with ease and beg for more. We found out that the harder you hit stuff, the more the machine likes it. We hit the clickers on the rear shocks to help plant the RZR when whipping it around a corner. I'm smiling just thinking about it as I write this.
It looks mean
Polaris completely updated the styling of the XP4 for 2020. They added a meaner, more rugged grill, with LED headlights and LED accents that came over from the turbo machines. The dash is new, with angular styling and Polaris made the machine more driver-centric the driver's seating position is changed and the instrumentation is easier to reach. Of course, this is the Premium model with Ride Command, which we'll get to in a moment. All in all, the interior is more comfortable and easier to drive fast. You feel very comfortable and in control, which is vital. We've driven performance UTVs before where we felt just off, in a way. It is rather unsettling. Not so with the RZR. Polaris likes to say that everything about the design of the XP is instinctive and we get it, especially after spending some serious seat time in the machine.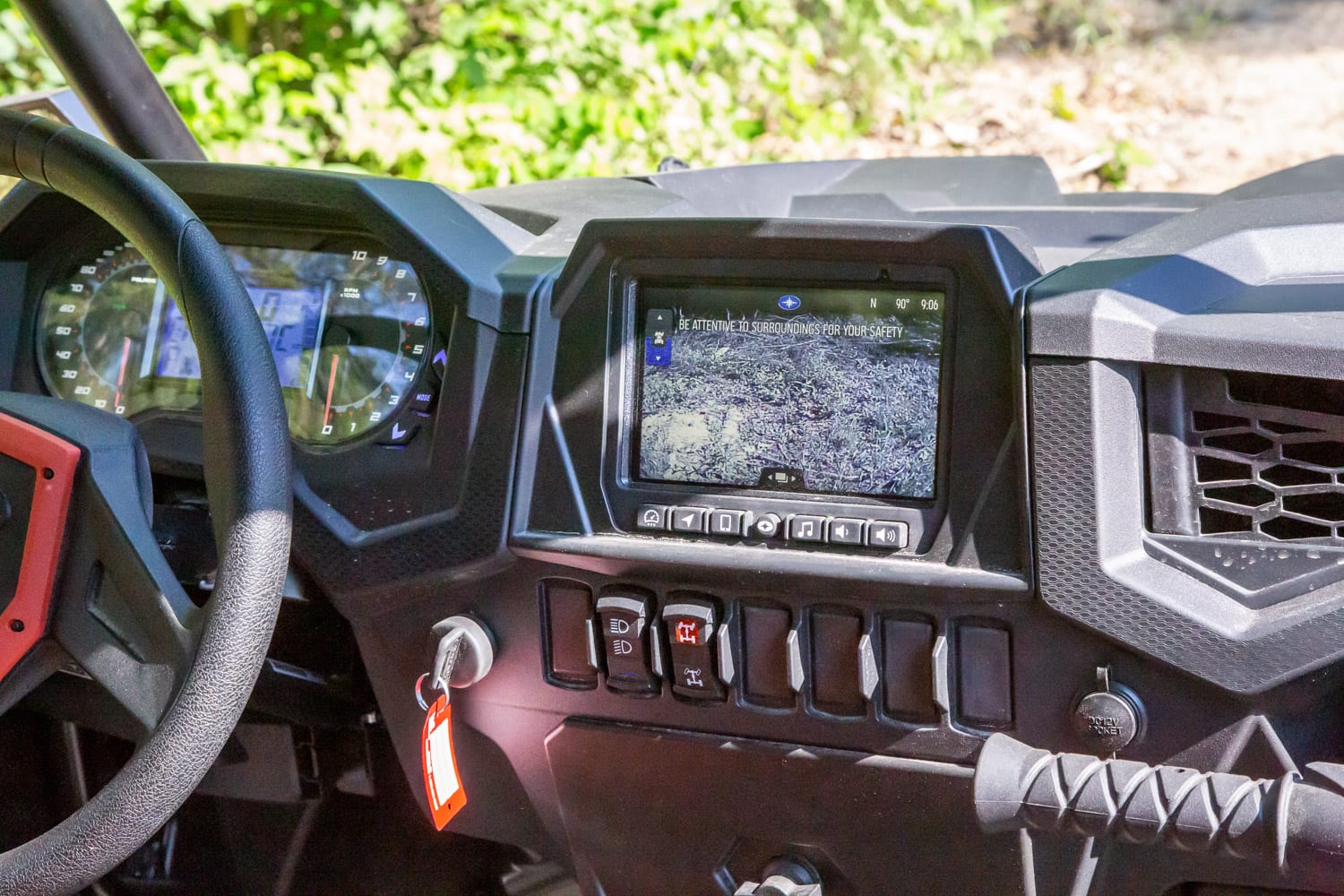 Ride Command
Polaris first introduced Ride Command with a RZR XP 1000 a few years ago. We got to go out to Montana to try it out. Ride Command is pretty cool. The heart of the system is a 7-inch touch-screen display that allows you to operate it while wearing gloves. That is important because who wants to stop and take off your gloves every time you fiddle with the display. The display had different modes that show all of the machine's functions and things like speed, temperature, diagnostics and more the diagnostic function is really helpful with maintenance. It helps track your oil, belt health and more. If something does start to go wrong, the display can tell you about it and help you know what to fix.
The Ride Command system also has a built-in GPS system that maps where you're going and where you've been. You can't really get lost with it. But it does much more. If you are traveling with other people that have machines outfitted with Ride Command, it is easy to track them and know where everyone is, so your buddies don't get lost too. Your buddies are driving machines that aren't equipped with Ride Command? No problem. They can download the free app to their smartphones and you can track them, and they you, using a cellular network. It does get a little tricky if you're in an area so remote that no cell service is available, though.
Another cool feature to Ride Command that we fell in love with is the camera system. Polaris equips the machines with a camera in the front and rear. The rear camera acts as a back-up camera and is really great for helping you back the machine exactly as you'd like. This is really good when you're out on the trail and need to be careful backing up. It shows you what you're backing into. There is also a speed-sensitive front camera that comes in handy when doing things like rock crawling or trying to align the front wheels with a narrow bridge. The camera system is GoPro compatible and you can set it up to show you what your GoPro sees. Pretty cool stuff. Ride Command also integrates a stereo system into the machine, and it gives you options for communication systems. You can get a headset system so you can all talk to each other, and you can pair your phone so you can see who's calling you while you ride.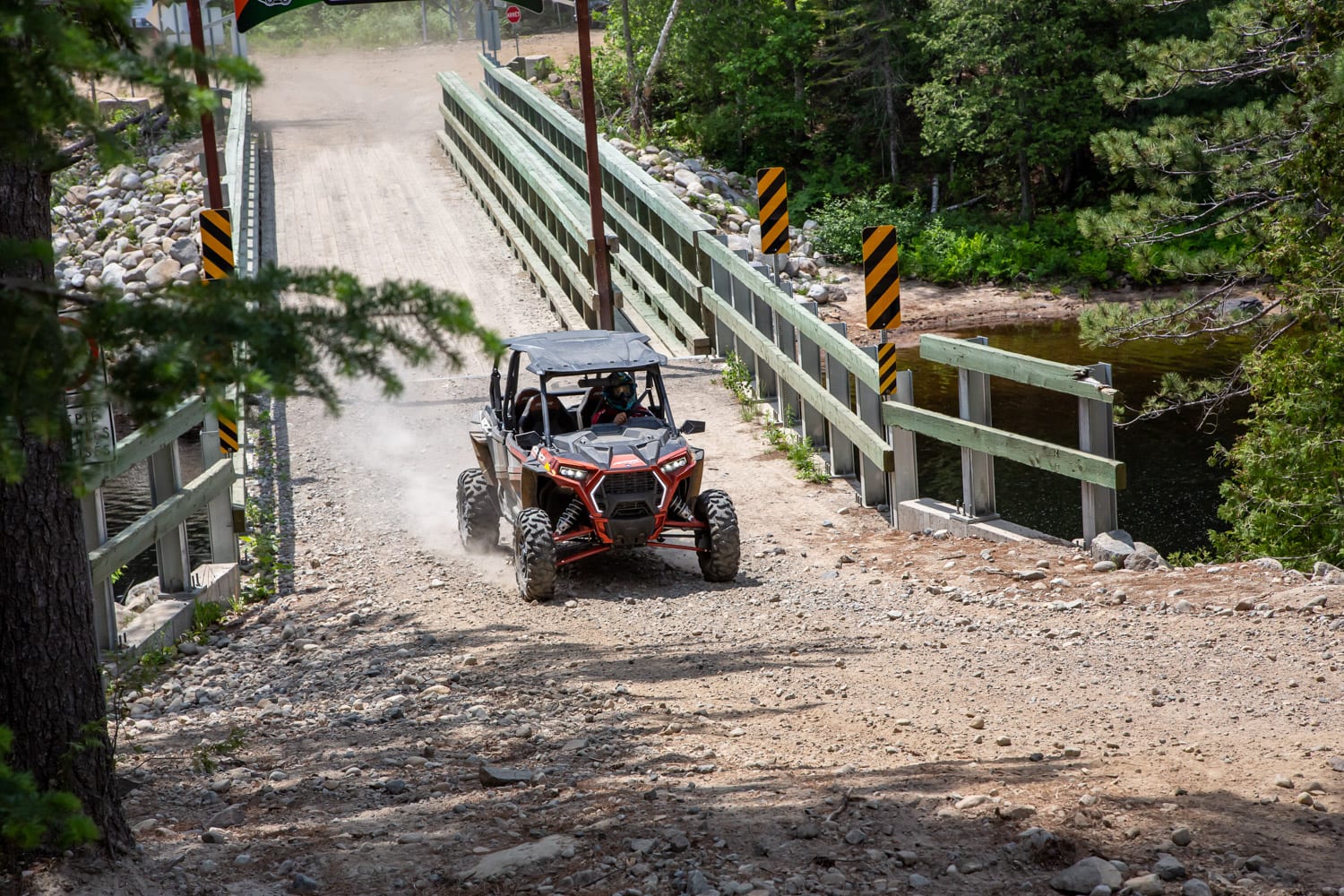 Other Premium features
One thing we definitely appreciate with the Premium model we tested is the doors. Normally you get a ¼ door with the RZR, but the Premium model adds the lower door section to give you a full half door. This helps keep stuff like mud, sticks and other things from getting into the cab. You also get painted panels. Polaris has a Black Pearl model, but we loved our Orange Rust colored machine. It seriously looked fast sitting still.
This machine rolls on big 29-inch Maxxis Bighorn tires mated to 14-inch cast aluminum wheels. They look great and the Bighorns have always proven themselves to be great all-around tires. The 29-inch height helps the RZR XP4 1000 have a whopping 14-inches of ground clearance. The ground clearance lets you scream over trail obstacles with ease. Deep ruts aren't much of an issue either, and you're have to really try to find some that would hold the machine up. We tried and couldn't.
All right, we know we're gushing a bit. We can't help it. Getting back behind the wheel of the XP4 is like meeting up with an old friend and falling right back in where you left off. This is the original high-performance sport UTV, and Polaris has refined it into one of the all-time best out there. It's easy to see why this is the best-selling four-seater, and the addition of Ride Command and the Premium package makes it even better. If you're in the market for a new ride, get one for yourself and go have some fun.