As the creator of the first self-balancing scooter, SEGWAY® is the undisputed world leader in the field. The first version of the electric vehicle, revealed on December 3, 2001 by its creator Dean Kamen, quickly boosted the brand to world-renowned status. In 2005, the SEGWAY XT — which became the x2 SE — gave the personal transporter, even more, ground to cover, thanks to its all-terrain capabilities, and heightened its spirit of freedom! Since then, the brand has continued to conquer new markets, such as law enforcement, security and emergency medical aid, and has found various uses in the agricultural and tourism industries. Ninebot purchased the company in 2015, which gave it a capital boost and allowed it to expand its technology to new products, in partnership with industrial leaders such as Intel and Xiaomi. Robotics also became a natural area of interest.
SEGWAY was also joining forces with large automobile firms such as Ferrari, Porsche and General Motors. Other high-profile international partnerships, such as at the Olympics in Turin in 2006 and in Beijing in 2008 put SEGWAY's excellence front and centre. SEGWAY's presence at the Beijing Olympics even caught the eye of Xi Jinping, then vice-president of the People's Republic of China. As a creator of self balance transporter, SEGWAY aims to simplify the transport of people and objects and make life easier. The next logical step for the company is to move towards Powersports market, with ground-breaking hybrid technology and premium positioning !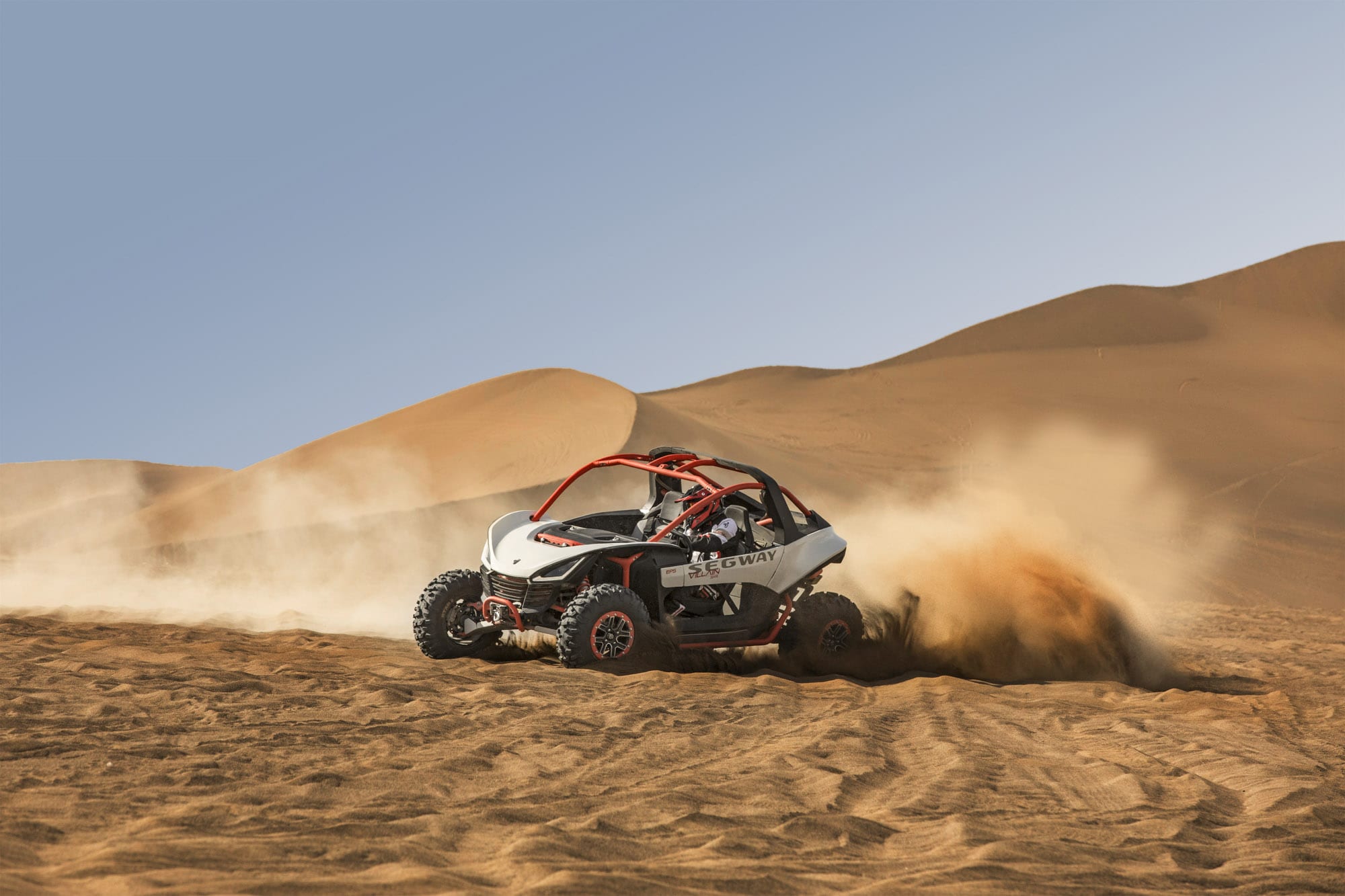 Since launching its first personal transporter in 2001, SEGWAY has never shied away from showing its innovative spirit. As a world leader in its field, the company is taking on the quad and Side by Side markets with technological advancements that are sure to make their mark on the industry. Case in point : the new Snarler quad and Fugleman UTV and Villain Side by Side all come in hybrid and standard versions !
Hybrid Technology
The 2020 range includes the FUGLEMAN (utility/leisure) and the VILLAIN, with a more defined sport/leisure character. All 2 share the same design DNA, with an aggressive posture, a flowing front and a rear that's ready to pounce! Aerodynamics are nurtured with flowing surfaces and crisp parting lines. All three vehicles come in a number of drive options, including the new, centerpiece hybrid version — a technological choice that SEGWAY has mastered and that offers better performance than a full-electric option in an all-terrain vehicle. In this hybrid version, the electric motor can be useful in sensitive areas, thanks to the lack of CO2 emissions and lower operating noise, while the thermic engine can take over in situations where more power is needed.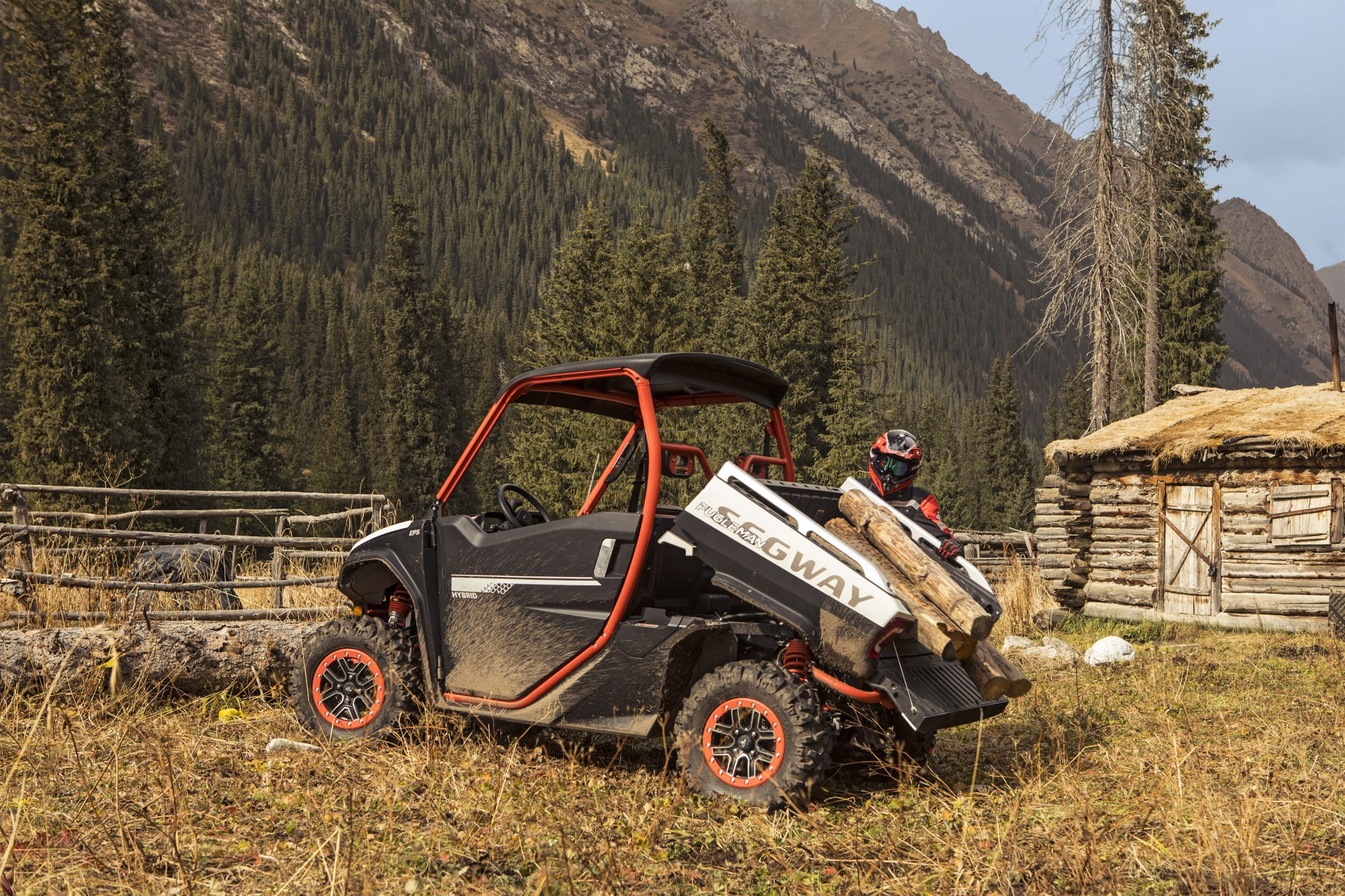 The rechargeable hybrid SEGWAY has a smaller battery size compared to a full-electric vehicle, which reduces its total weight. The paralleled hybrid powertrain includes an engine, a generator and an electromotor, an accumulator battery and a control system, which retains the engine and drive system of traditional combustion engine. SEGWAY combines innovative engine technology with a modern EIC system that brings hybrid technology to the all-terrain vehicle market. Together they can deliver max 86HP and 96MN of torque in the 570 cc. monocylinder version and 181HP and 250 N-m of torque in the twin-cylinder option.
SEGWAY also introduces other proven industry technologies like electric power steering and three adjustable modes (standard, comfort and sport) to adapt to terrain conditions. Finally, its smart, double-channel communication system allows for data transfer through Bluetooth and 4G, letting users see up-to-date data.
Powertrain
Segway Powersports has combined innovative engine technology with a modern EIC system to provide industry-leading hybrid technology for the models of ATV. UTV. SSV.
Together it delivers a maximum of 86HP and 96 N-m of torque for the 570cc engine and a maximum 181HP and 250 N-m of torque for the 1000cc engine. The 20C high-rate battery, the hair-pin wire motor and the smart electrical control unit added to the engine provide an incredible boost during acceleration.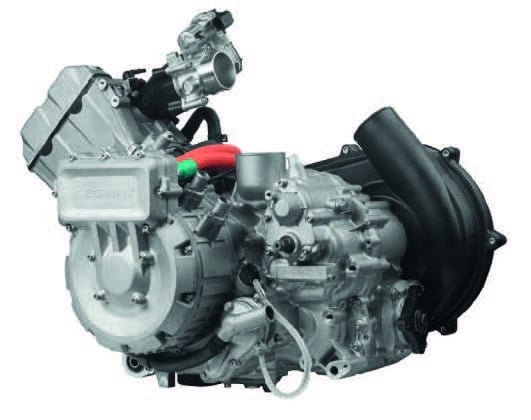 570cc. liquid-cooled, single-cylinder, 4-stroke, DOHC engine power motor the "dual-core" delivers max 86HP and 96 N·m torque.
ERHP (Extended-Range Hybrid Powertrain)
l000cc. liquid-cooled, Parallel twin-cylinder, 4-stroke, 8 valve, DOHC engine, the range-extender powertrain delivers max 181HP and 250 N·m of instantaneous torque.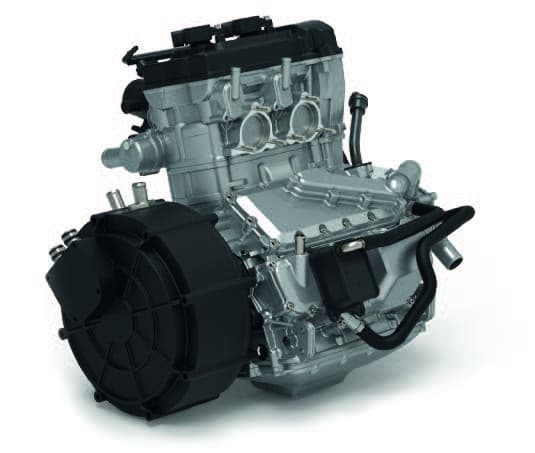 Fugleman
Created for both work and leisure, the Fugleman is a state-of-the-art UTV. Also built with a high- strength chromium-molybdenum frame and set on 4 independent double-wishbone suspensions, it can play on any terrain thanks to its 27 cm ground clearance. Comfort is guaranteed, thanks to four adjustable shocks that can adapt to any terrain and driving style. And with an 18 cm (front) and 21cm (rear) suspension, you're in for smooth sailing. Its 3 bench seat set-up holds 558 kg in the cargo box and can support 900 kg of towing. Both the steering wheel and the driver's seat are adjustable for ultimate driving comfort.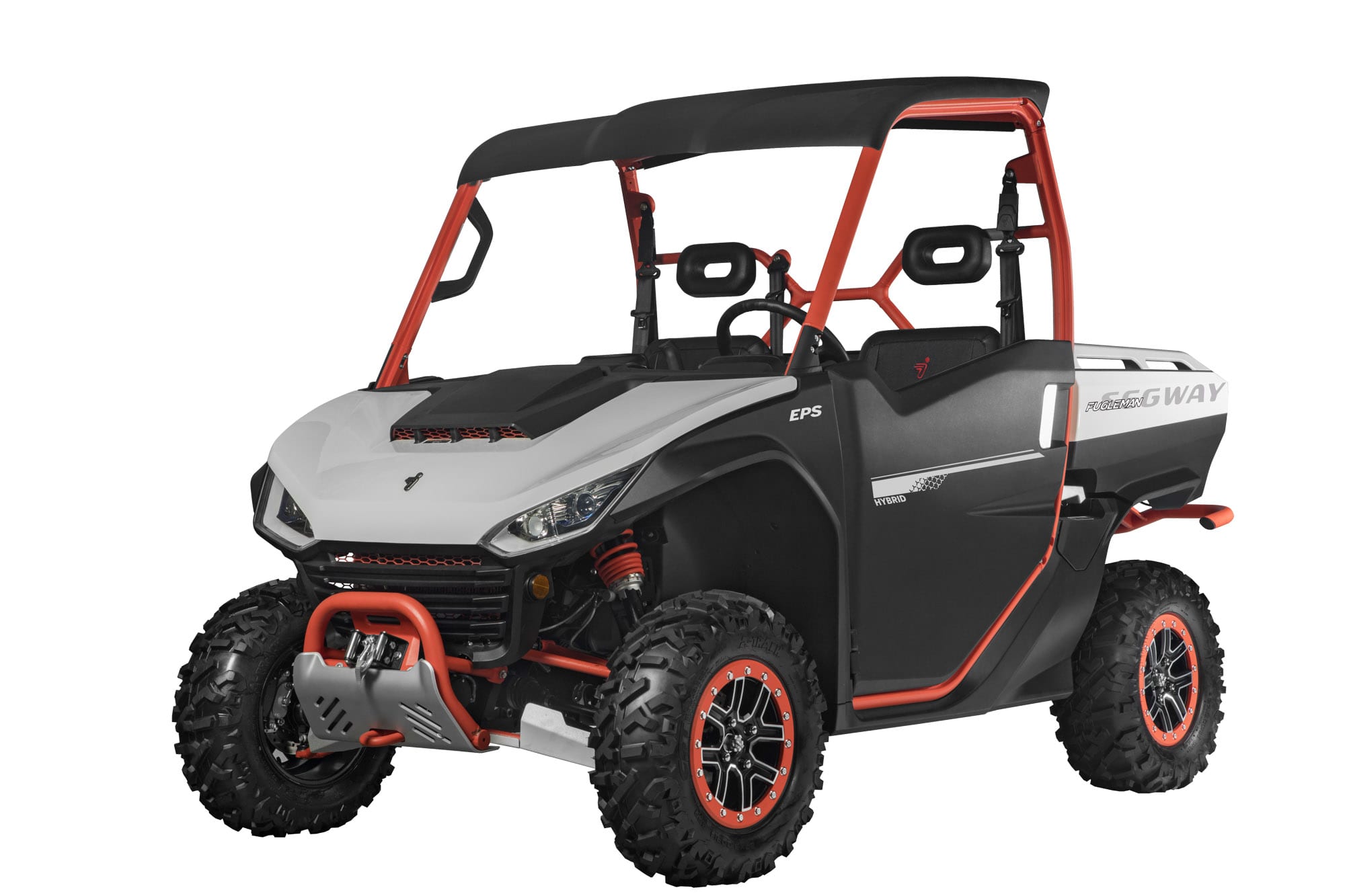 The seat back can also be lowered for more functional use. The interior can sport an optional 10.4'' central touchscreen, which links to its central Bluetooth and 4G intelligent communication system for updated data. Heating is also available as an option. LED headlights provide excellent lighting for night riding. The Fugleman also has a smart lockable front differential and rear diff-lock with easily switchable 2WD/4WD modes to conquer even the most difficult terrain.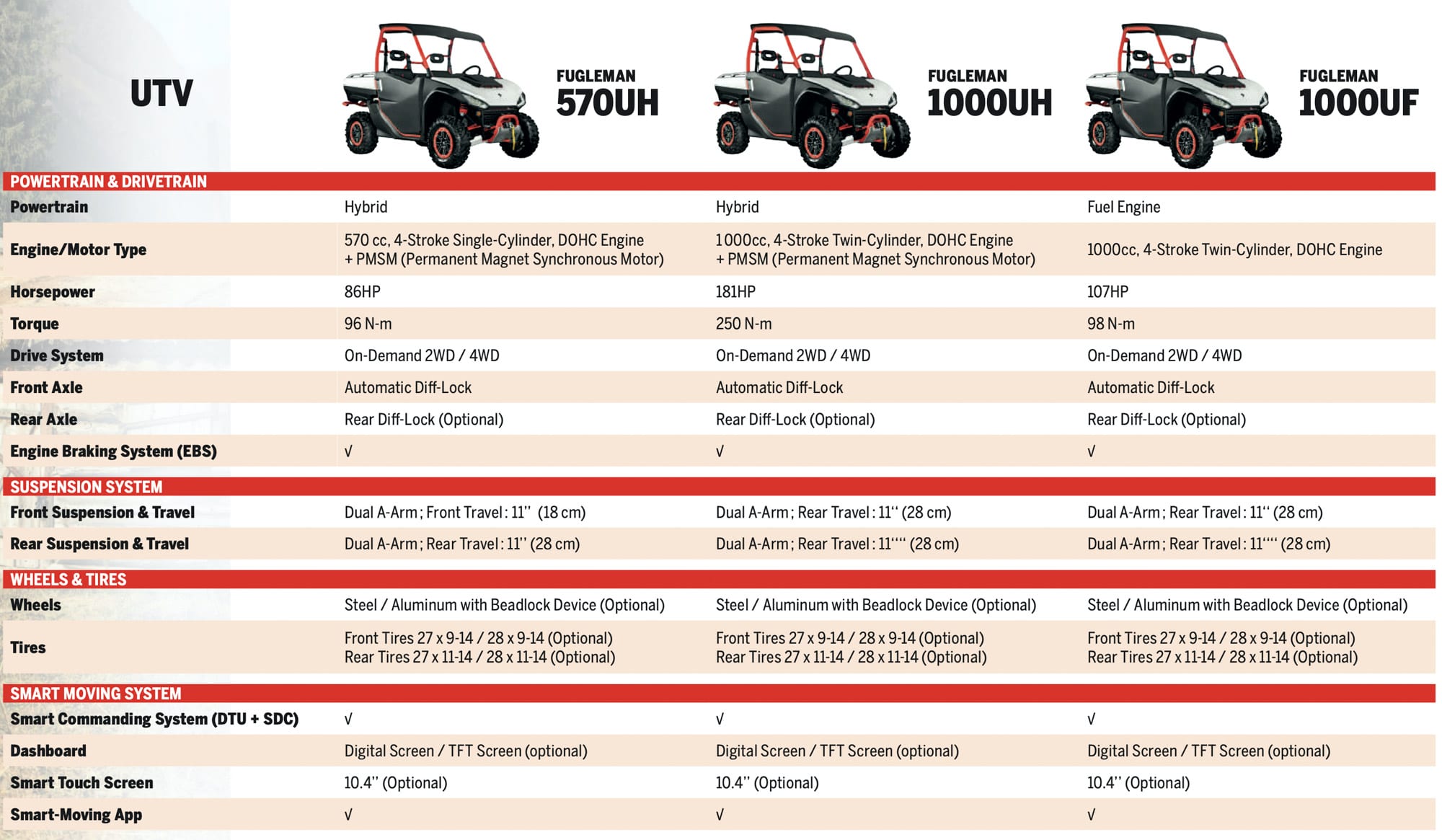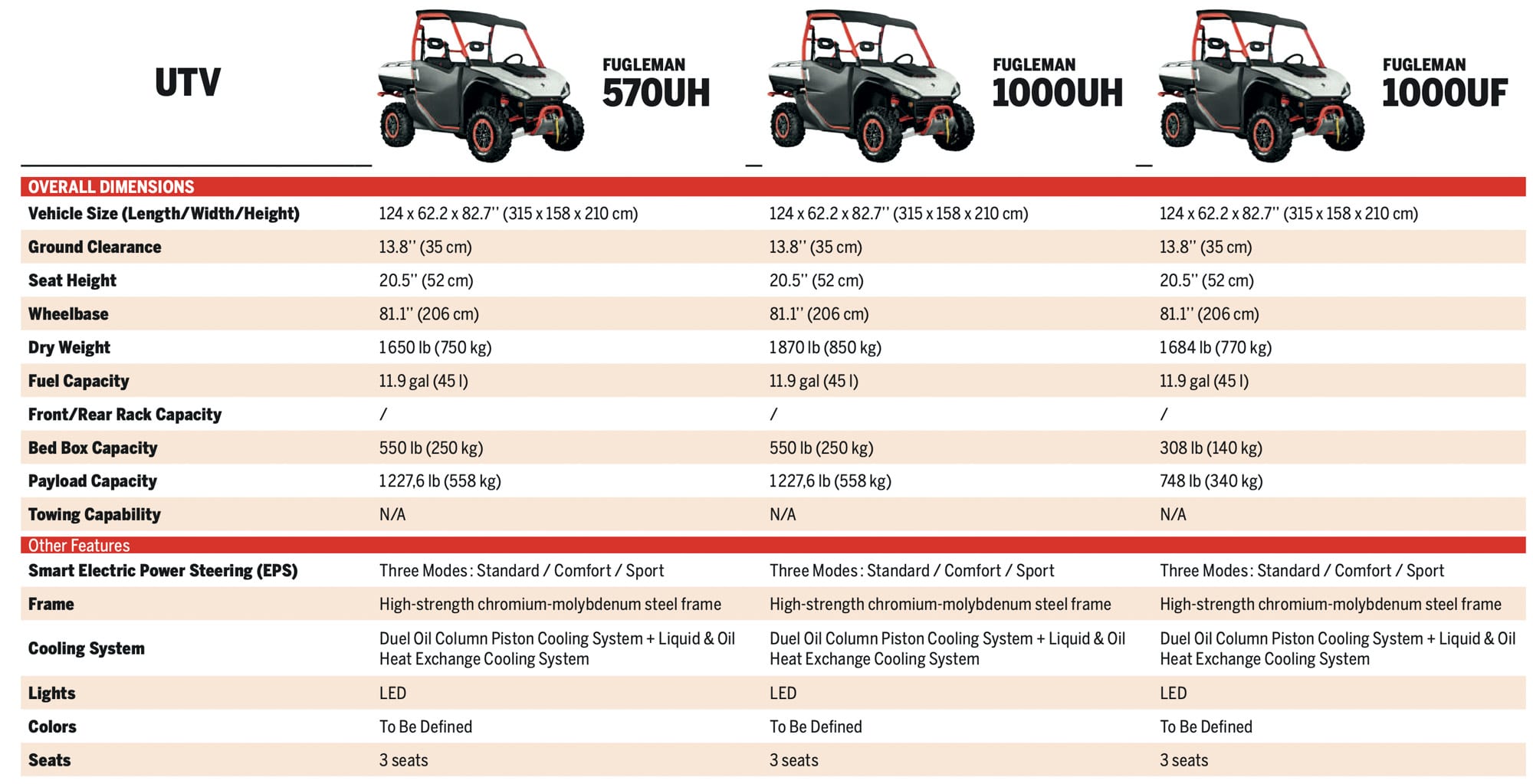 Villain
SEGWAY'S rambunctious SSV also boasts technology centred around its twin-cylinder, 107 horsepower engine, which amps up to 181HP with the hybrid system! As a pioneer in its class, it's cleaner and more economical, all without sacrificing power. Like all SEGWAYS, its water and oil dual-cooling system offers top performance. With its modern, aerodynamic style, VILLAIN boasts an audacious and radically different design. The VILLAIN is equipped with remote reservoirs of both front and rear shocks, and with adjustable dual speed compression and rebound that can adapt to any terrain and driving style — because it's creed is sport !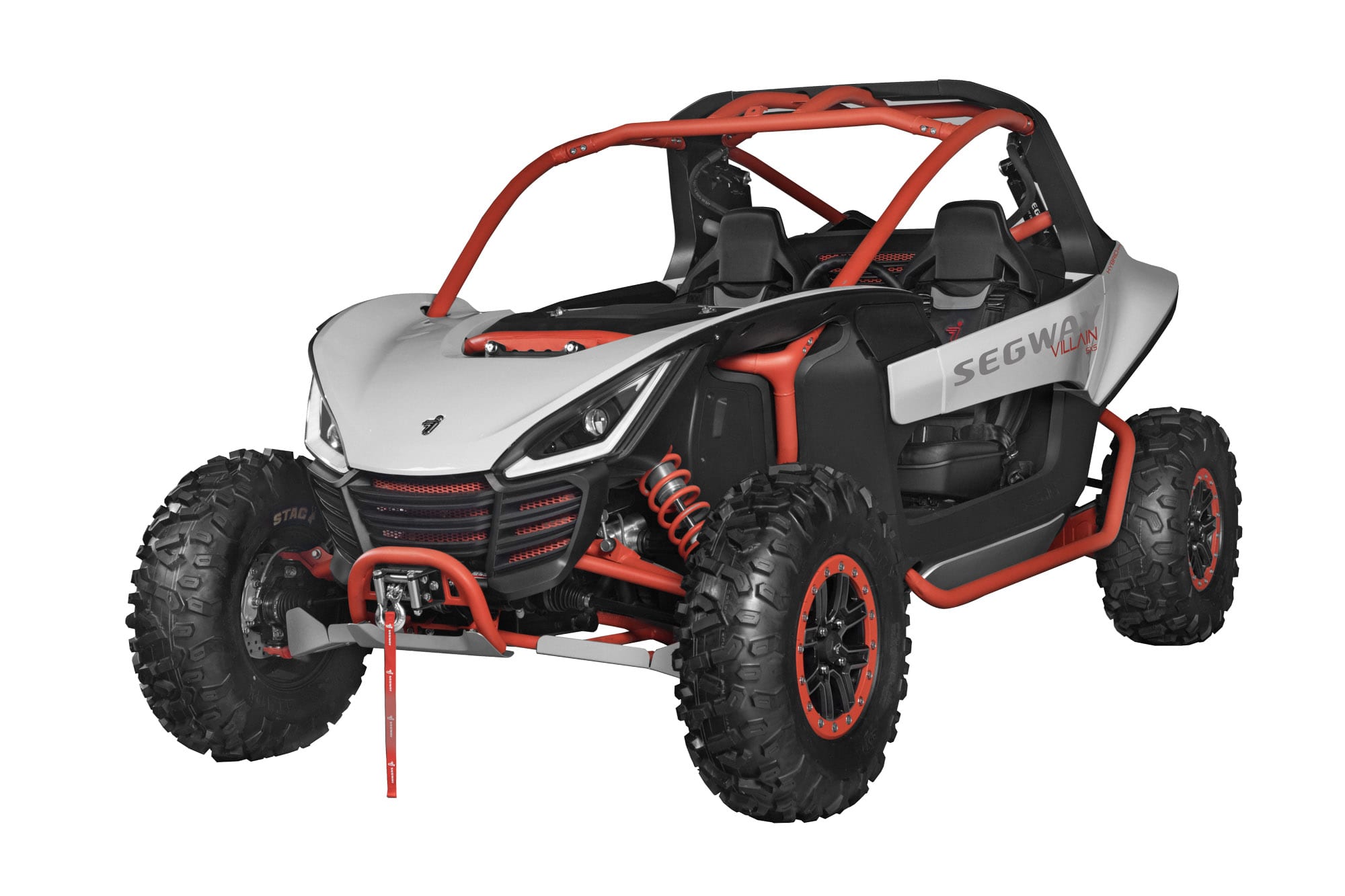 With its dual A-arm with 415 mm wheel travel and rear suspension with 455mm wheel travel, all despite a stabilizer bar, the SEGWAY VILLAIN is a sporty all-terrain vehicle. It includes beadlock rims that secure the drive and make sure that it can handle any terrain. From the adjustable seat and behind its inclinable steering wheel, drivers can access the LCD dashboard with adaptive display and get all the information they need in the blink of an eye. It's a sporty SSV that will make its mark on the European market.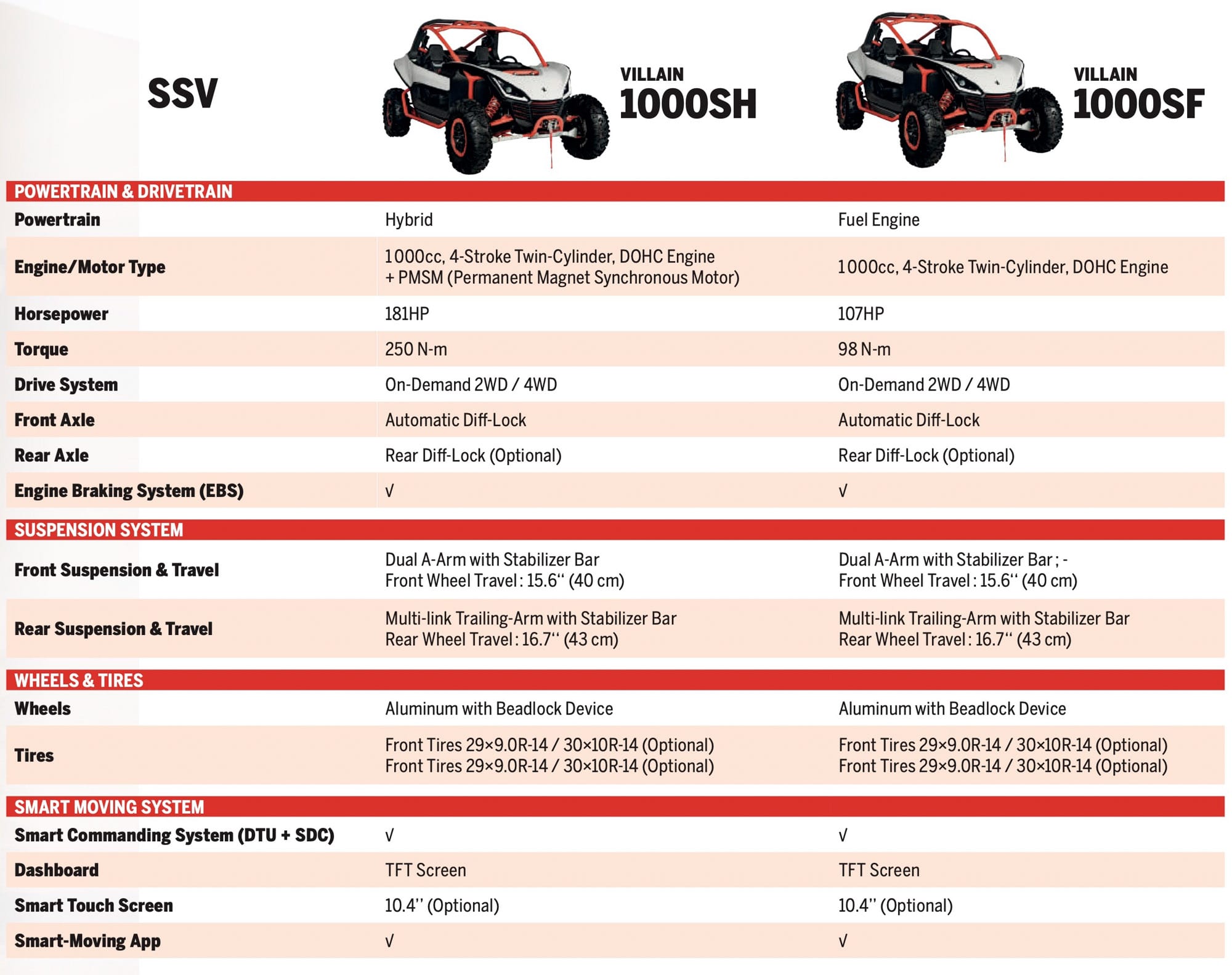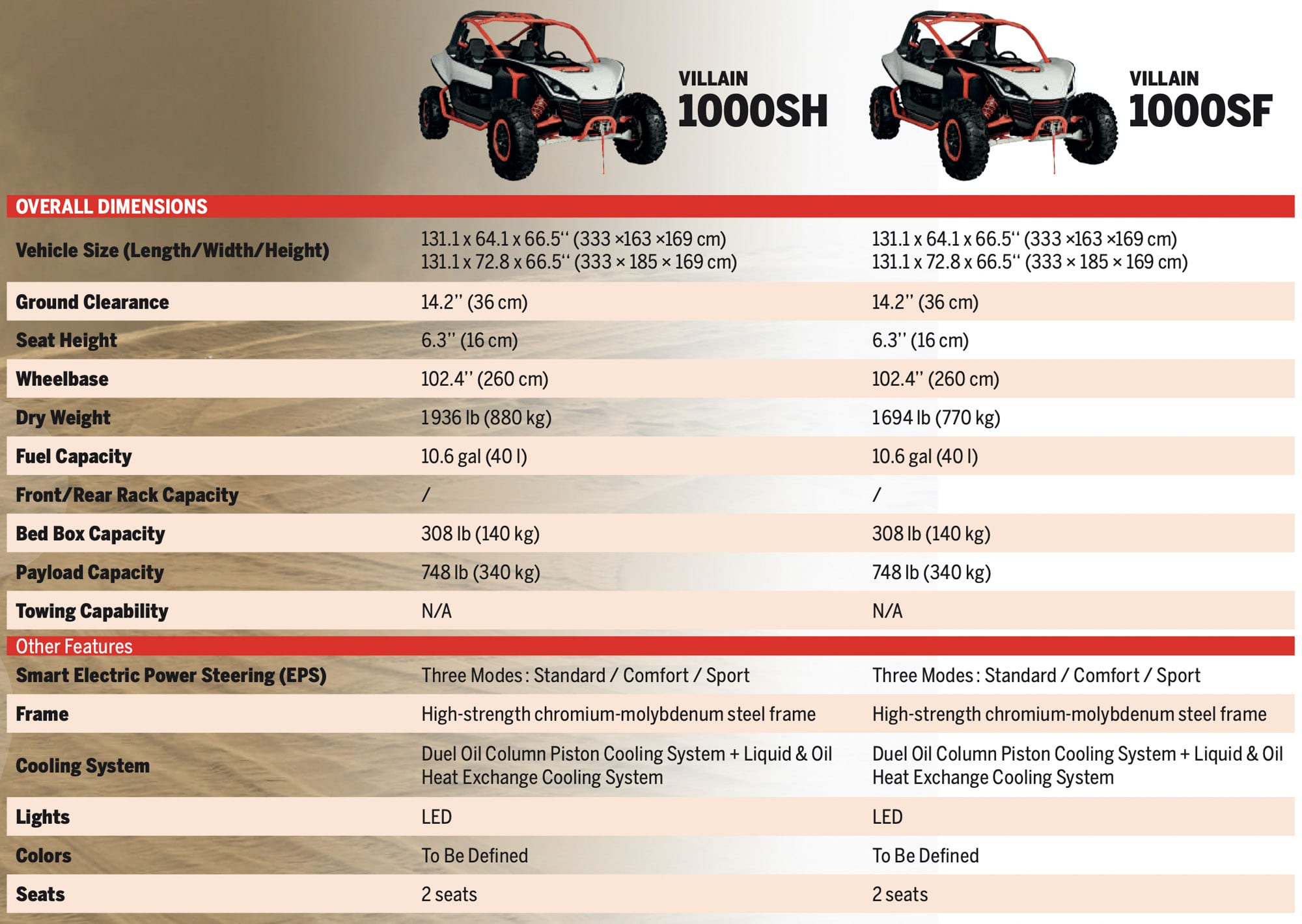 For more information on the Segway Villain and Segway Fugleman – Hybrid UTVs, visit : Segway Powerports