For many, an ATV or a UTV is considered a working tool like any other tool that fills our toolboxes or workshops. Consequently, they must be able to complete the jobs they were intended for when the need arises. Malfunction can cause loss of time and worry that we strive to avoid at all costs. "Time is money" as the popular saying goes, and equipping yourself with quality tools is priceless. The majority of off-road vehicle enthusiasts are somewhat caught off guard when it is time to list the characteristics of the work vehicle par excellence from the manufacturer Yamaha – the Viking. It may not be the machine that comes to mind for some when it is time to make a list of utility-oriented UTVs, but nevertheless, it is worthy of giving it our full consideration. The Viking can work!
2020 Yamaha Viking Ranch Edition:
The overall look of the vehicle that has been made available to us by Yamaha Canada and its director, François Morneau, is much different compared to Vikings we've ridden before. The exterior color and the choice of contrasting colors assigned to the bench seat are worthy of a luxury car or truck. They are close to the colors favored by the horse lovers and this is probably related to its name " Ranch Edition." It is possible that Yamaha is specifically targeting this market, but we believe that a majority of enthusiasts will be charmed by this theme and colors compared to conventional utility UTVs. It's a sharp-looking ride.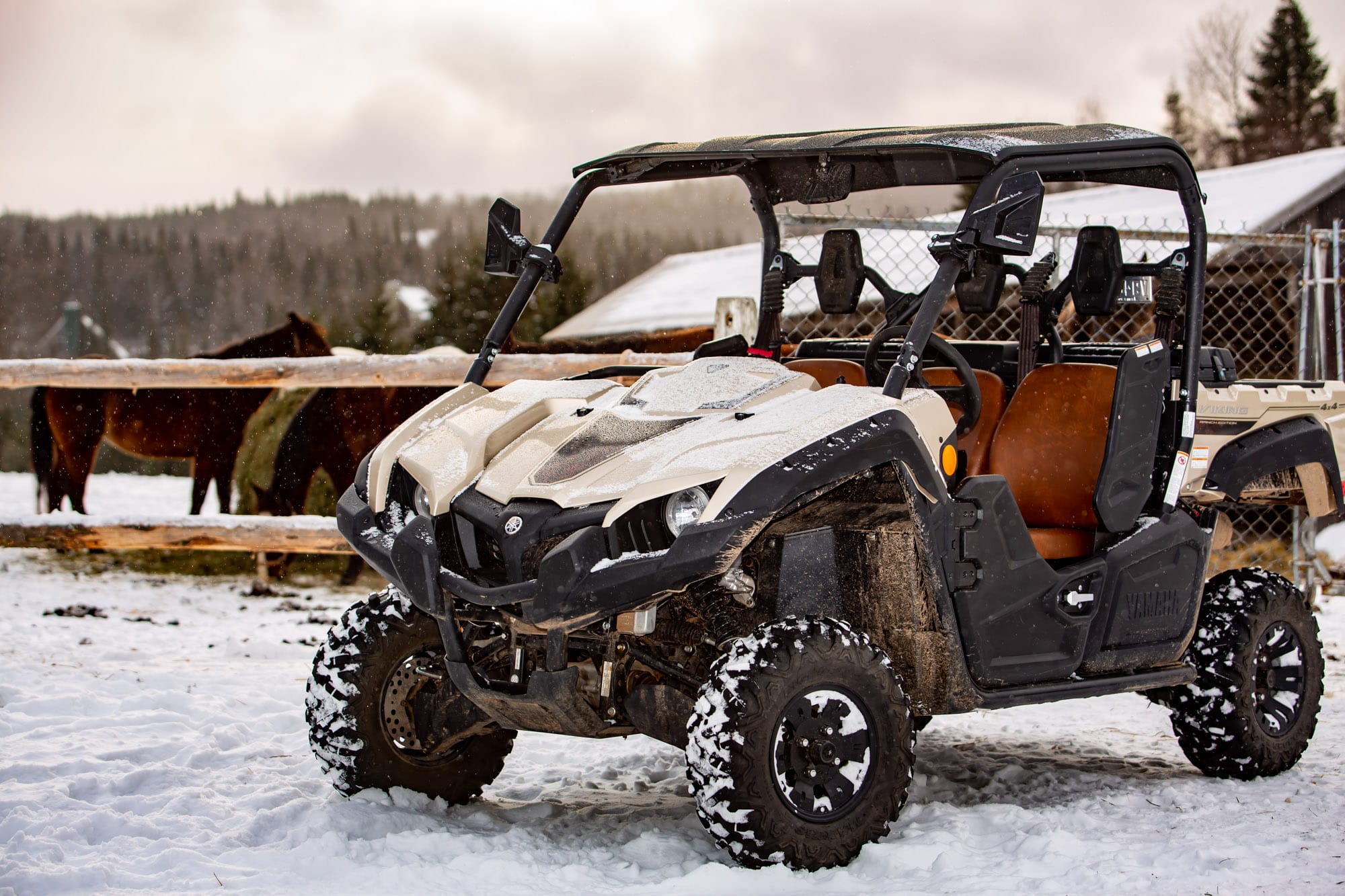 Its body, even if it has been the same for several years, crosses time well and its shape gives a well-defined identity to the 2020 Yamaha Viking. Its solid front bumper will, however, be able to protect from an impact to preserve body integrity.
Space for 3 occupants
3 spacious seats can accommodate a pilot and 2 passengers with ease. The driver's seat is independent to provide 3-position adjustment using a tool. We would have appreciated another way to allow faster changes to the driver's seat. The steering wheel is fixed and does not allow adjustment to individual preferences. These are our two biggest quirks for the overall fit of the machine. The Viking benefits from new, easier-to-use 3-point belts, which offer excellent support without being annoying.
An adjustable grab bar for passengers allows them to have the necessary support when riding in rough terrain. To increase the safety aspect, the designers added huge pads on each side. This helps keep you and your passengers in the machine in case of an accident. It should be mentioned that they are not in the way while entering or leaving the vehicle. In fact, we almost forget their presence because they are so discreet. This is a point that is worth mentioning, because in a utility vehicle, back and forth entries and exits will be a regular task.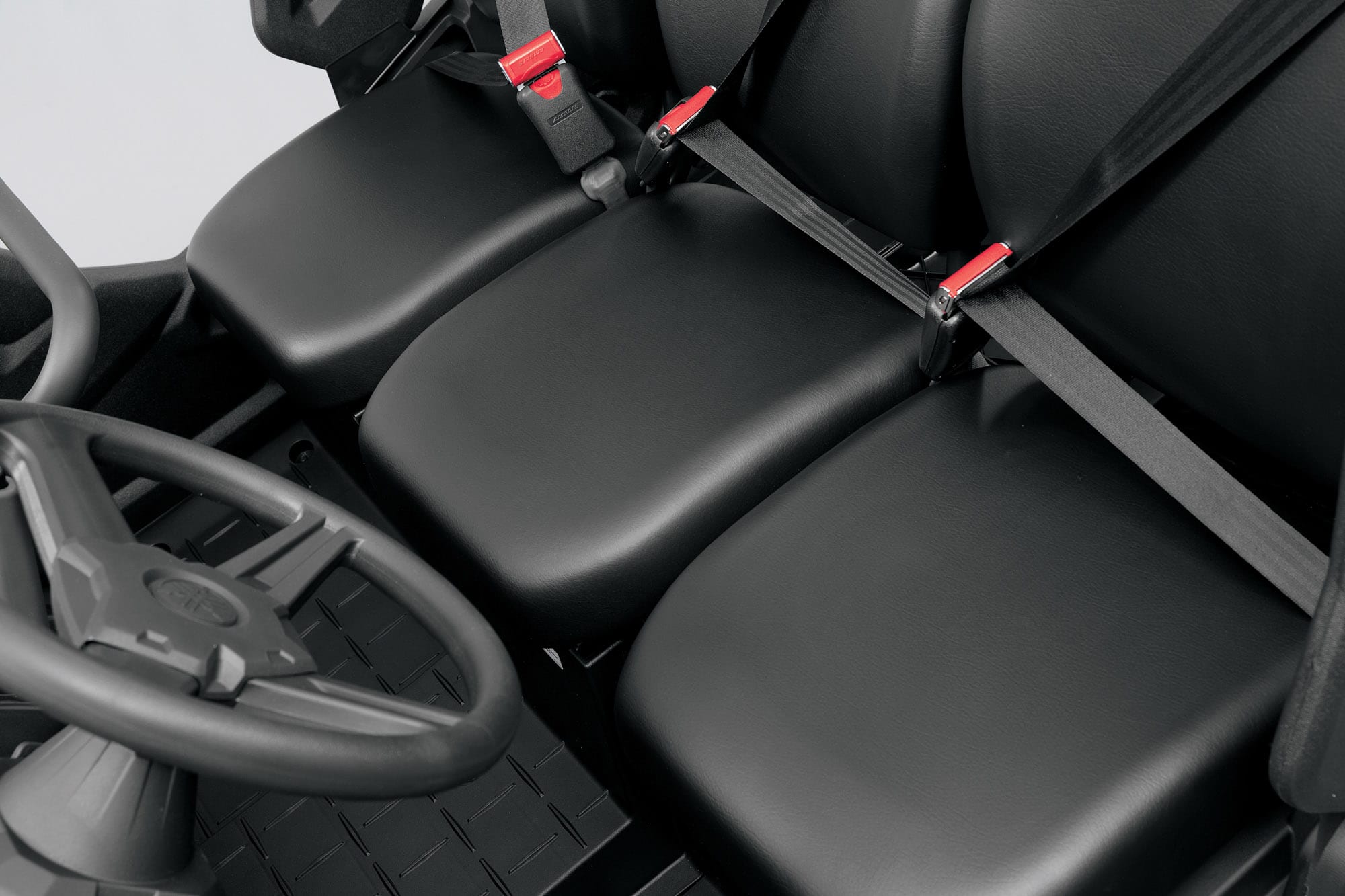 The doors raised questions. Their injection molded products are flawless and aesthetically very pleasing. However, our question lies rather in their height. We would have appreciated an extra effort by the designers to create doors that provide increased protection against the elements. In return, they do a good job of preventing water and mud from entering the passenger compartment through the parts they cover. They could just stand to be bigger.
The digital instrumentation is located in the center of the dashboard and in my opinion it requires a bit of effort to read the information. I briefly had to take my eyes off the road to read the gauges. However, it offers all the necessary information required for proper operation and to take advantage of the Yamaha Viking 2020. New this year, a new audible warning in the event of engine overheating, which sounds when it is about to reach maximum operating temperature.
The engine
Yamaha offers a new generation 686cc single-cylinder for its utility vehicle. Is it suitable for doing the hard work? The question is legitimate because on paper, we could be disappointed with this choice of engine, which is probably below what the competition offers. Our questioning ended when we took the Viking to task. Even if it is not the most powerful, it is intended to perform tasks requiring torque at low speed and it is in this range that the Viking excels. Would we have preferred to have more horsepower? Quite probably, but this engine has proven itself and its reliability is worth well beyond a higher power engine. It's all about how much power you actually need versus what you think you want. The Viking gets the job done. Period.
A very remarkable fact, this single-cylinder engine is very economical to use and it offers a very long range. Its 36.7-liter fuel tank provides almost infinite kilometers for its user and makes its purchase highly appreciated.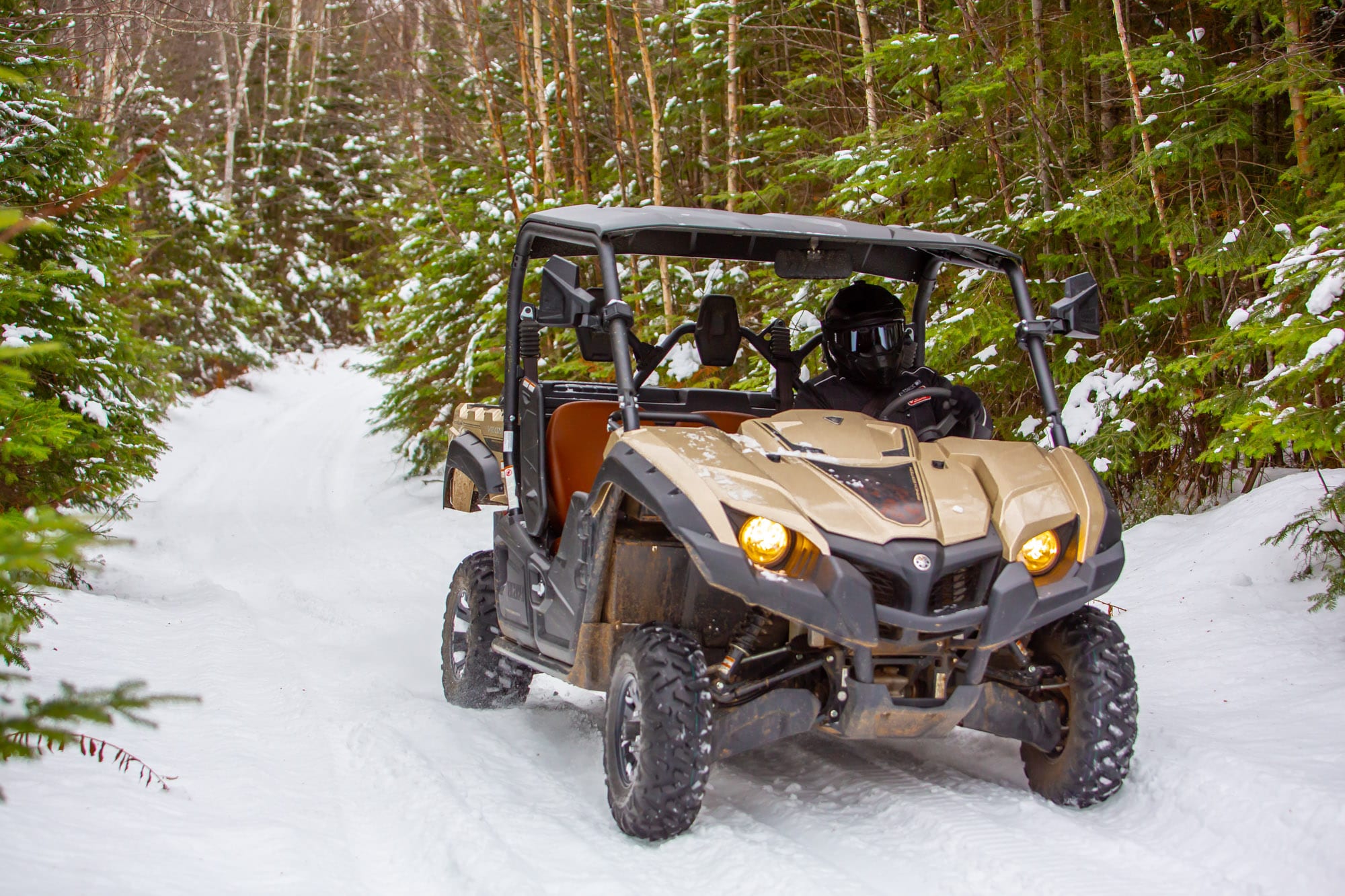 The combination of this engine and the famous Ultramatic transmission, exclusive to Yamaha, uses a centrifugal clutch that maintains constant tension on the belt. This characteristic makes it possible to reduce premature wear due to the fact that it does not slip during its engagement. This UTV is known for its smooth clutch action and its 4-wheel drive system (On-Command), which allows the driver to quickly select between 2 wheel drive, 4 wheel drive limited slip and a 4-wheel drive system with fully locked differential.
During a stop, it is strongly advised to apply the handbrake, because the "Park" selector does not exist. Otherwise, the Yamaha Viking could move away from the place you previously parked.
Its towing capacity of 1,500lbs is proof of its capacities to carry out the work. Its dump box with a maximum capacity of 600lbs allows the transportation and loading of everything necessary to do the job efficiently. Yamaha has added a rubberized non-slip mat at the bottom of the dump box to protect it and to reduce the movement of the objects it carries. Four tie-down points allow loads to be securely fixed. A hydraulic aid assists the tilting operation to avoid a rapid spillage. The tailgate is of a strength rarely seen in this category. We tested it by adding the weight of two big fellows and it did not bend a millimeter. However, the two locks that hold the tailgate in place displeased us greatly. These are likely to wear out quickly over time with their steel design. We would have appreciated a fastening system which is similar to what we find on our everyday pickup trucks.
Exemplary EPS
The electric power steering of Yamaha side by side vehicles impresses us at every opportunity that we have to drive them. Even at low speed, we were able to manipulate the steering wheel with one finger. This is really one of the best things about this vehicle. And it is more appreciable on the Yamaha Viking because of its primary duty – work. The assistance is also sensitive to the vehicle's speed, meaning it is increased at low speed and it is decreased when the speed increases, thus optimizing vehicle control. This progressive feedback makes it possible to feel the trail and to improve the driving experience. Yamaha invented power steering for ATVs and UTVs and it shows.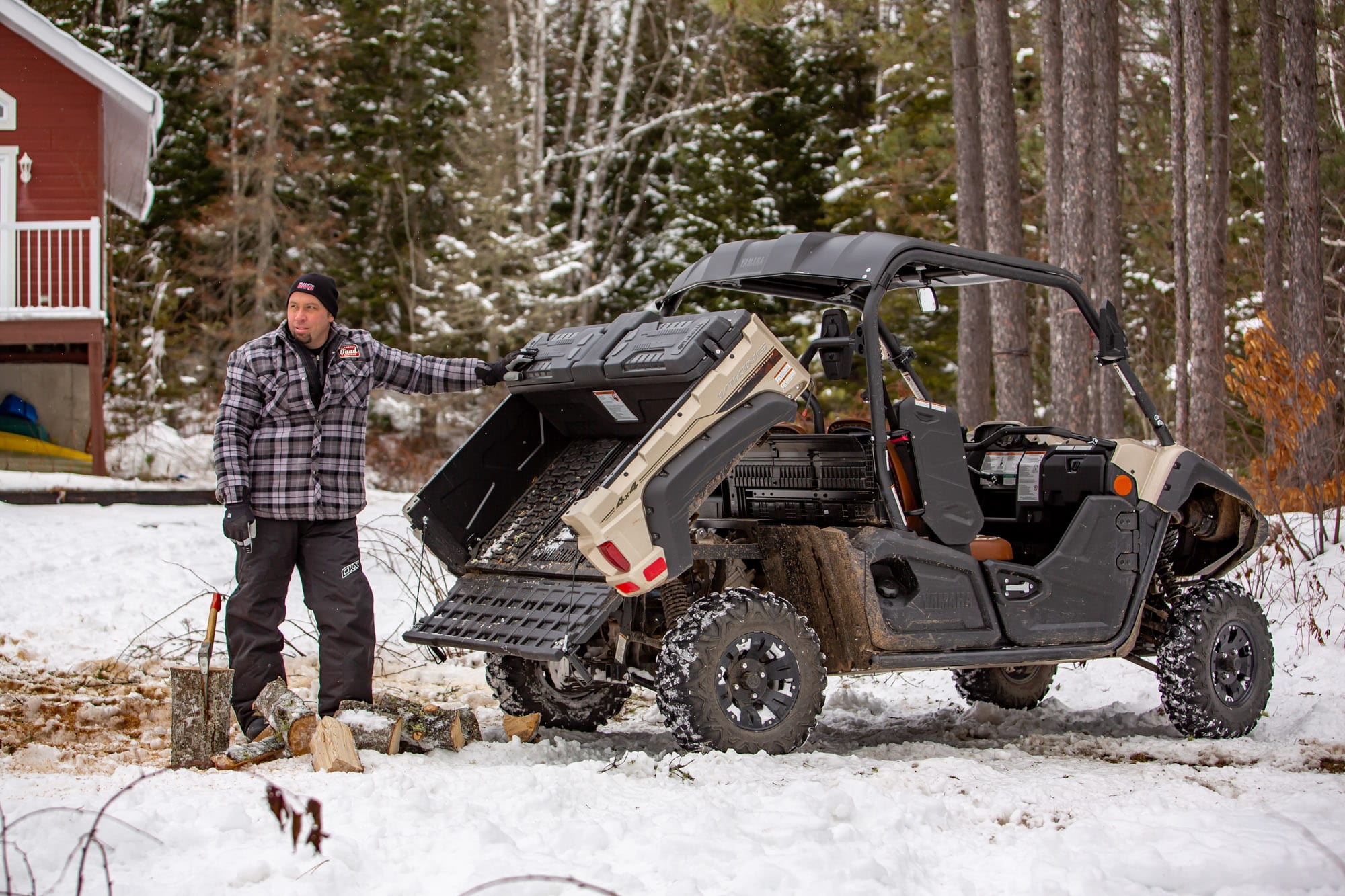 Suspension
The nitrogen-charged shock absorbers that equip the Yamaha Viking offer a very interesting and surprising compromise for this type of vehicle. At first glance, we didn't think they'd be stiff enough, but they work. Indeed, the suspension is very user-friendly and the designers have found the happy compromise for utilitarian and sometimes recreational use.
Combined with all that mentioned above, its chassis and short wheelbase allow handling in tight places. We can easily put it in a dense forest where another vehicle could not go. Its precise direction offers a short turn radius also greatly helps to reach environments that no other could reach otherwise.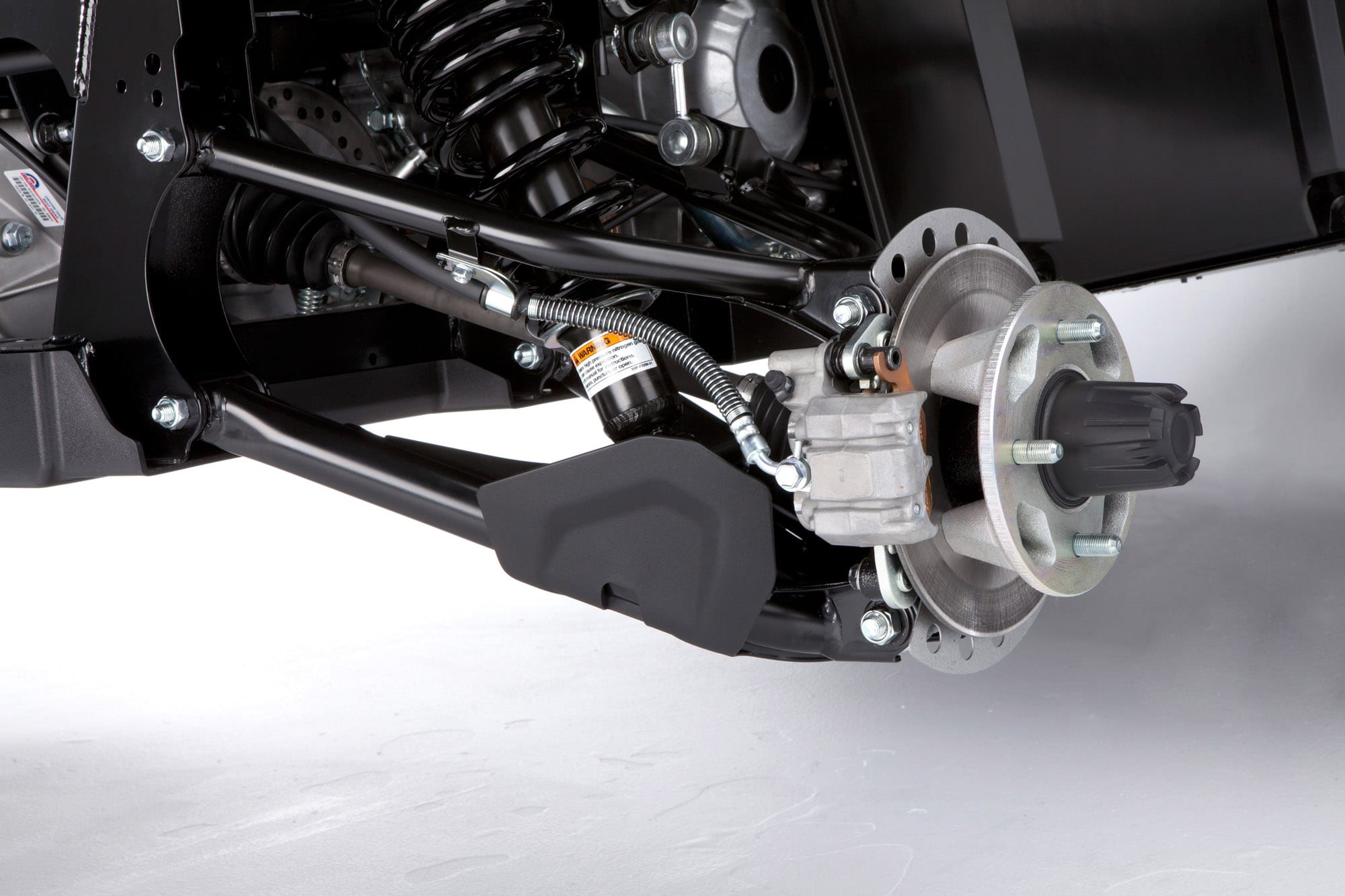 Globally, the 2020 Viking Ranch Edition is a great vehicle with reliability linked directly to the Yamaha name. It is sincerely not the most powerful in its category, but its purchase is rather intended as a long-term investment. It is a Swiss army knife equipped with all the paraphernalia and skills to fulfill every task you can throw at it. And as you'd expect from Yamaha, it gets it done.
To view the entire Proven Off-Road lineup and learn more, visit Yamaha-Motor.ca.