One of the many cool things about our job is the machine intro rides we get to attend. It lets us visit parts of the planet we would seldom see otherwise and make some great friends along the way. We were just talking about the first time we ever drove a Polaris General. It was an unexpectedly snowy trip to New Mexico years ago. We came around a corner to the ride location and there was a line of machines next to the Polaris semi that looked like something we hadn't seen before. I guess you could say they looked kind of like a Polaris Ranger and a RZR were mashed together. The ride was epic and we came away feeling that the General was one of the best Polaris machines for the trail that we had ever driven. Since that trip, Polaris has refined the General even more, making it even better, and the new 2021 General XP 1000 Deluxe with Ride Command is easily one of the best recreational side-by-sides on the market.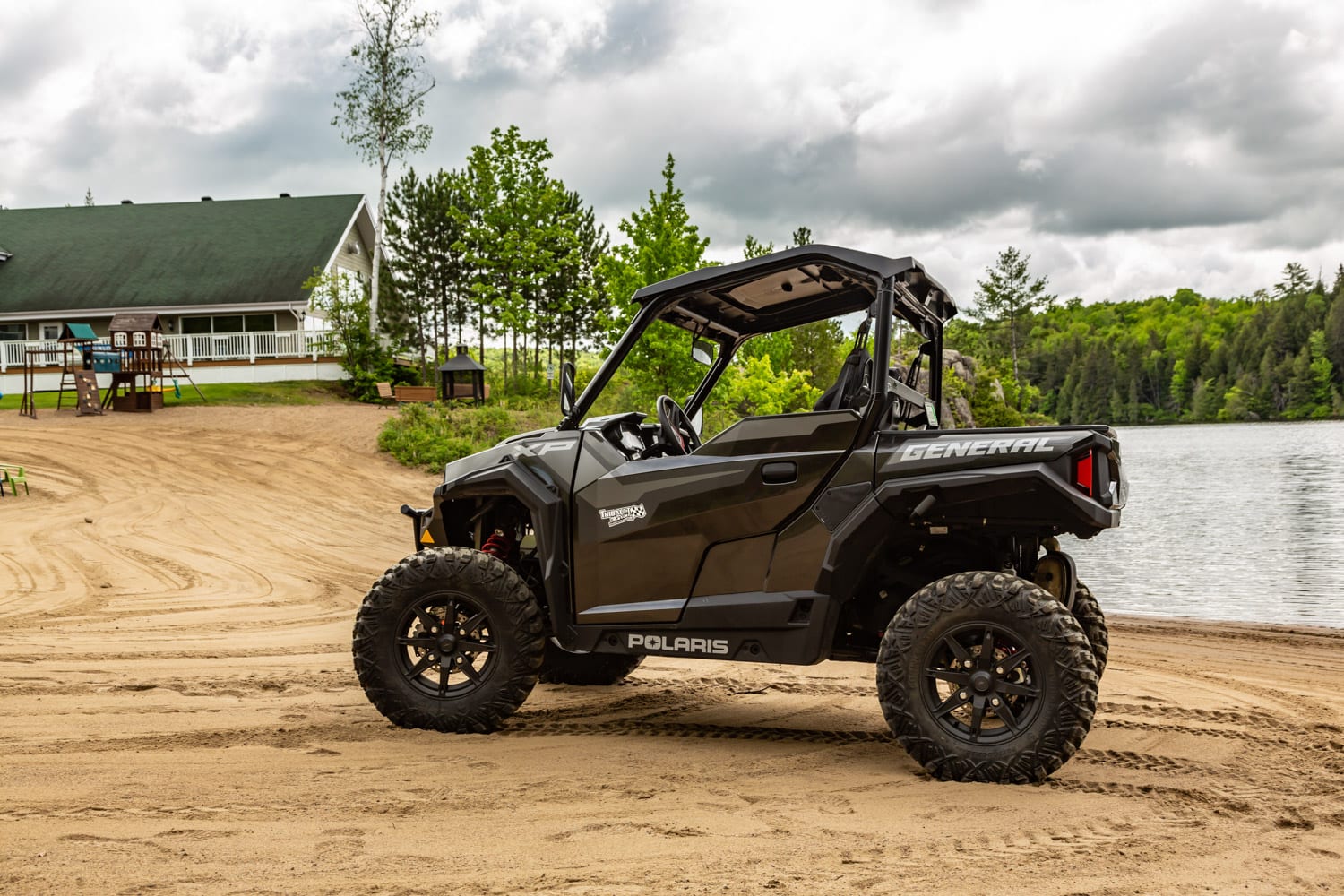 To XP or not to XP
Like many of the machine in the Polaris lineup these days, you have an option between a standard version of a machine, or an XP model with upgraded features and performance. Unlike some other machines, the General XP has the same motor as it's standard counterpart, with a 999cc ProStar DOHC twin-cylinder, four stroke. This motor is the same base powerplant in several of the RZR models and produces a very pleasing and fun 100 horsepower.
The added performance of the General XP comes from how that 100 horsepower gets to the ground, and it's a big difference. High-clearance long-travel dual A-arms are found at all four corners. Stabilizer bars help with body roll and precise handling. Mounted to the A-arms are Walker Evans Racing Velocity Series piggy-back reservoir shocks with 14-inches of travel, and take it from us, this suspension setup is outstanding. There is nothing you can't handle with total confidence whether you're taking on serious rocks, ruts, bumps stumps and much more. This is an amazing suspension setup for a recreational machine.
Of course, it doesn't just stop with amazing suspension. The General XP Deluxe also rolls on massive 30-inch Pro Armor Crawler XG tires wrapped around 15-inch, painted aluminum wheels. With the arched a-arms and taller tires, ground clearance is an outstanding 13.5 inches, making any trail obstacle you'd run into much easier to overcome. We were highly impressed with the tires and how well they grabbed serious traction everywhere we went. Mud, sand, hardpack, rocks and more were no match for what the tires would do. Seeing as how tire and wheel packages are one of the first things people change when they buy a new machine, this is one really cool feature for the XP because you don't have to. You get a premium tire matched to a really nice-looking wheel, but which add to the performance of the machine.
As the old commercials used to say, but wait, there's more. The Deluxe package includes a poly-sport roof and a convex rear-view mirror. We can't tell you how happy we were to see the mirror. This is something we really feel every machine just ought to have, because it makes life much easier on the trail. But it's more than just a roof and a mirror. Polaris added the Rockford Fosgate Stage 4 audio system to the Deluxe package (a boost up from the Stage 1 system that comes in the Deluxe model that doesn't have Ride Command), which really adds a new dimension to the machine, especially when you tie it into the Ride Command system.
Speaking of Ride Command, the addition of the system to the General XP is amazing, and well worth the added cost. You get the 7-inch, glove-touch screen with navigation and ride sharing abilities. We also like the configurable gauge clustering and maintenance scheduling options. The GPS with the integrated trail maps is really accurate, which is something you don't always get in GPS systems. It also helps when you are trail blazing in the back country and you want to keep and share the route with friends. The rear-view camera is great for backing up, and you can also use it to keep track of your buddies who are behind you. We all have that one buddy who has an amazing ability to get lost or go off the trail at an inopportune time. I can't help but think of one ride where one of us blew right through the corner and landed in a tree.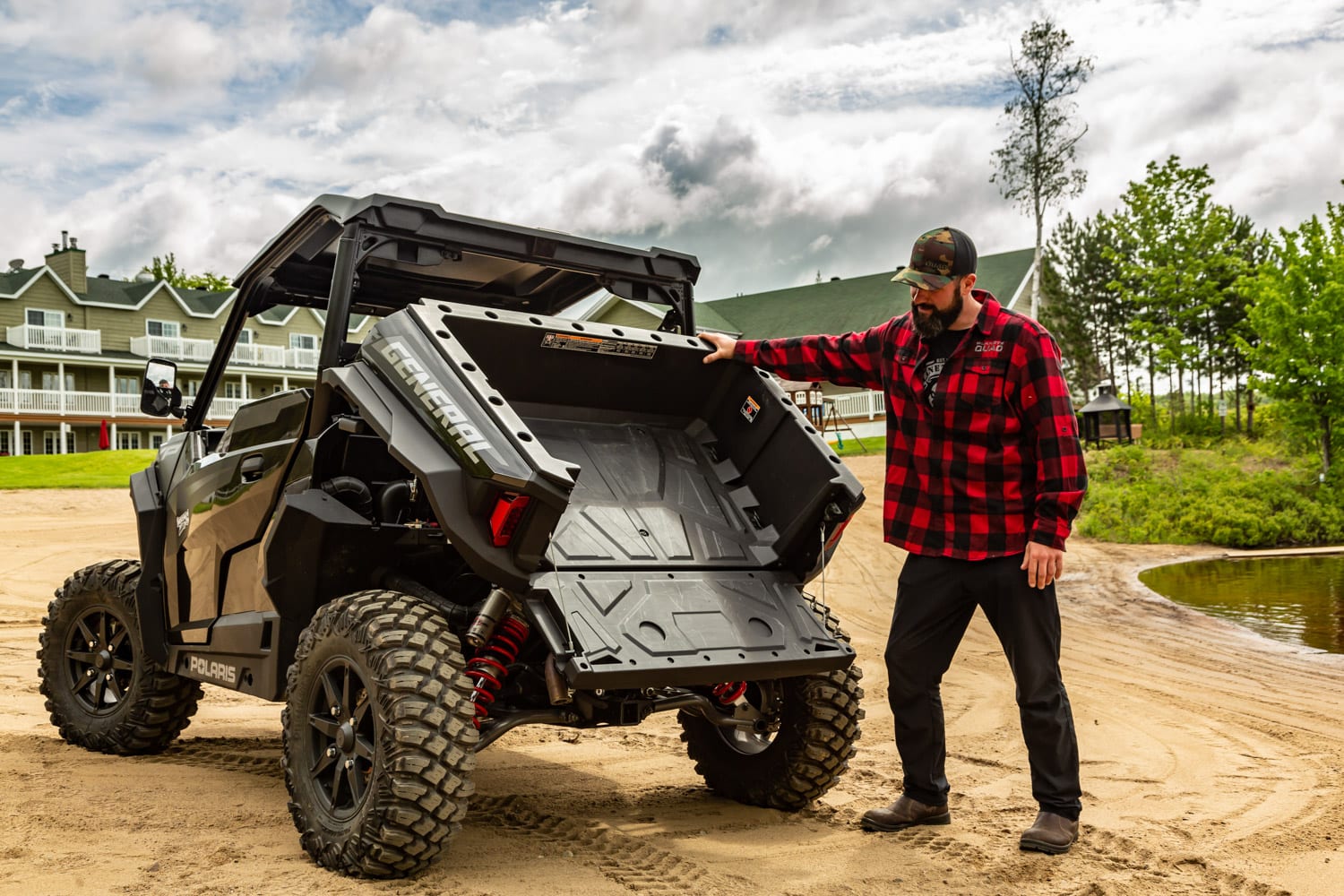 On the trail
One of the things we really like about the original General is how well you can push it on the trails. The chassis is very much like the RZR models, and the 100hp motor scoots you right along. And I still contend that the General's seat is the most comfortable one Polaris makes. But I wondered just how would the taller XP react to being pushed on corners and such? I was a bit concerned with body roll. To be totally honest, it wasn't bad at all. The stabilizer bars added to both the front and rear suspension systems soaked up the excess body roll to help keep the machine planted. I mean, I still felt it some when I really didn't want to let off the gas, but I didn't get that panicked feeling that you get when your brain realizes you pushed the envelope just a little too far.
The General XP 1000 Deluxe with Ride Command is such a cool machine. The dumping cargo box is great for some small utility-type tasks, but the machine is really built for the trails, so there are some cool accessories you can get to make the bed more trail friendly, like a cargo rack to give you some additional space to add things like coolers, and/or camping gear. You know how much we love setting up shop along the trail and inviting anyone and everyone to stop by and hang out. The General XP is perfect for this.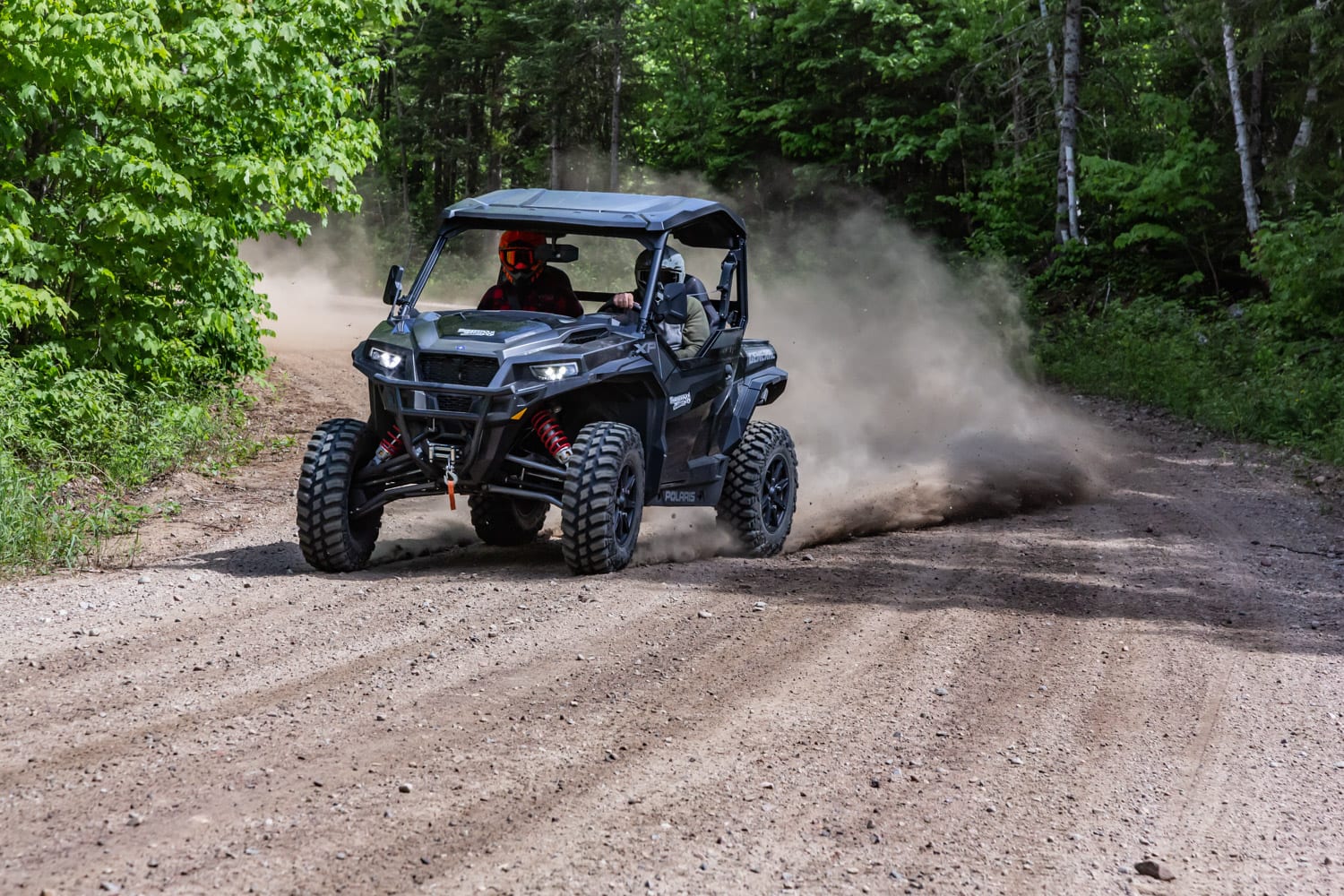 Where this machine truly shines, however, is when the trail gets nasty. We had occasion to get into a few areas where we had to absolutely crawl to get to the top of a hill. Once or twice, we had to employ the 4,500-pound Polaris HD winch to help out. That also came in handy when someone, who shall remain nameless, went off trail and needed to be rolled back over. Overall, if you want the ultimate platform to have maximum fun on the trail systems, navigate to exactly where you want to go without being truly lost, communicate with your group and get through the nastiest terrain you can find, you'd be hard pressed to find a better off-the-showroom-floor machine than the 2021 Polaris General XP 1000 Deluxe with Ride Command.