Toronto, ON – Today marks the introduction of exciting new models to the 2024 Kawasaki lineup of products.
On the side-by-side front, our highly capable MULE PRO-FX, PRO-FXR, and PRO-FXT become even stronger thanks to an all-new, 999 cc engine in the MULE PRO 1000 series.
Here's a closer look at all our new models' features.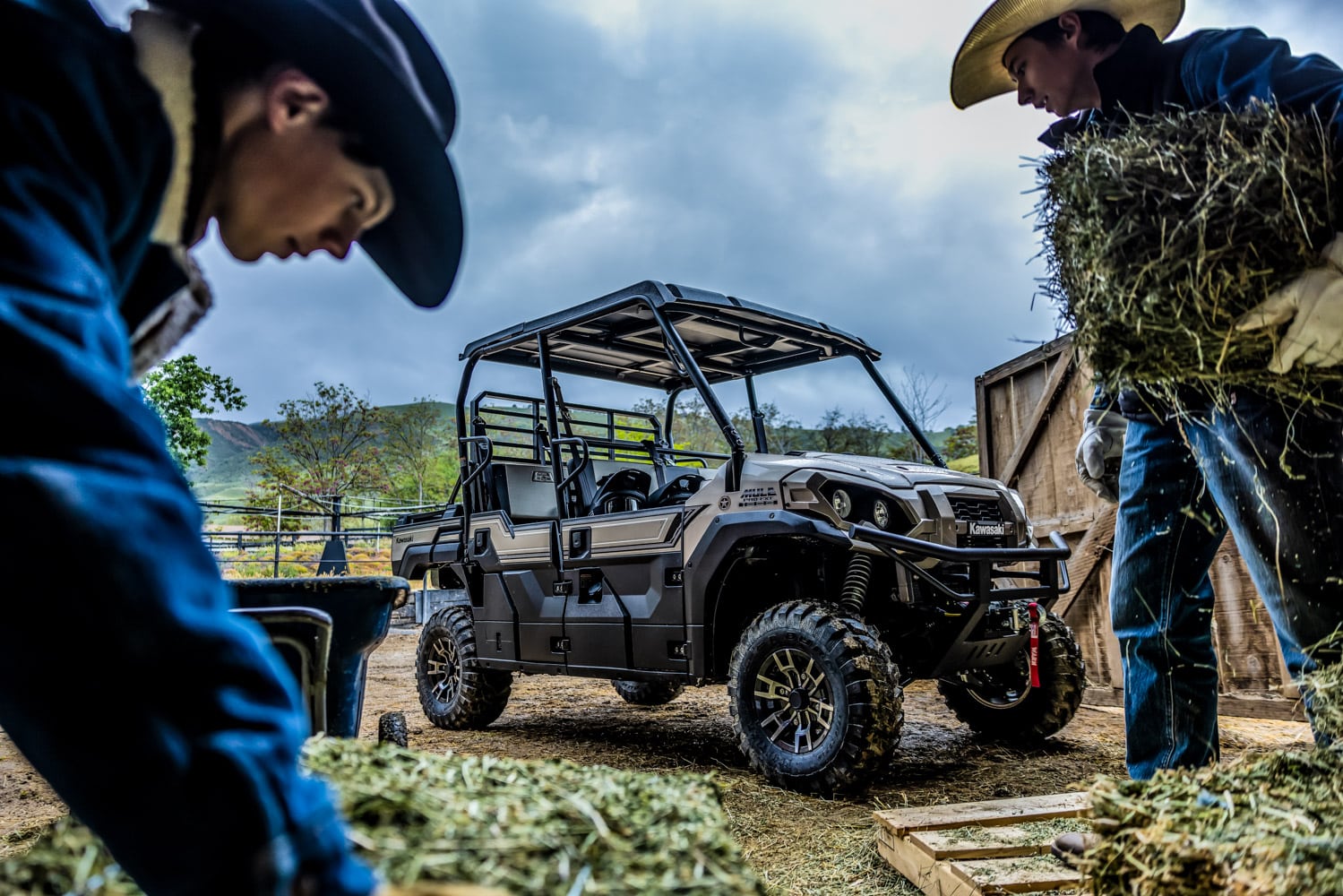 NEW – 2024 MULE PRO-FX 1000, PRO-FXR 1000, and PRO-FXT 1000
New 999cc parallel-twin engine for added low and mid-range brawn and a higher top speed
New standardised look inspired by the sporty Pro-FXR
New sportier stance with higher ground clearance and longer wheel travel
Improved access to key maintenance components
New self-levelling rear suspension
Our highly capable line of hard-working side-by-sides is now stronger and more capable than ever thanks to significant improvements. Our line of MULE PRO-FX 1000, MULE PRO-FXR 1000, and MULE PRO-FXT 1000 receive an all-new and compact 999cc four-stroke parallel-twin engine designed to offer even more grunt to get the work done. Higher power output now allows our flagship MULEs to reach a higher top speed making them the fastest Kawasaki MULE ever and helping get from jobsite to jobsite more quickly.
In upgrading the engine, Kawasaki engineers also took regular maintenance into consideration and made some serious improvements to components positioning. For instance, the snorkel-type air intake was rerouted to reduce dust collection in the air filter which increases filter maintenance from 50 hours to 200 hours.
Under the quick-release side cover, a new, easy-to-access oil dipstick makes checking the levels a breeze. Under the cargo bed, the oil filter has been relocated at the top of the engine for easy replacements.
On the surface, all MULE PRO 1000 models receive an updated front-end styling inspired by the sportier PRO-FXR with a more aggressive quad headlight cluster and more prominent Kawasaki badge. Ground clearance and wheel travel have been increased for better off-road capability.
Ground clearance per model:
PRO-FX 1000 HD: 300/301 mm (11.9 in) (standard/max preload)
PRO-FXR 1000: 310/335 mm (12.2/13.2 in) (standard/max preload)
PRO-FXT 1000: 295/320 mm (11.6/12.6 in) (standard/max preload)
As for wheel travel, all new MULE PRO 1000s get 279 mm (11.0 in) at the front wheels and 256 mm (10.1 in) at the back.
Also new for 2024 is a self-levelling rear suspension available as standard equipment on the MULE PRO-FX 1000 HD and MULE PRO-FXT 1000 Ranch Edition. Once the cargo bed is loaded and the rear suspension is compressed, as the vehicle drives, a mechanical pump raises the rear suspension to an optimal level to spread the weight of the load more evenly, which benefits both handling and braking.
Once the load is removed, through the same mechanism, the suspension gradually returns to its standard height.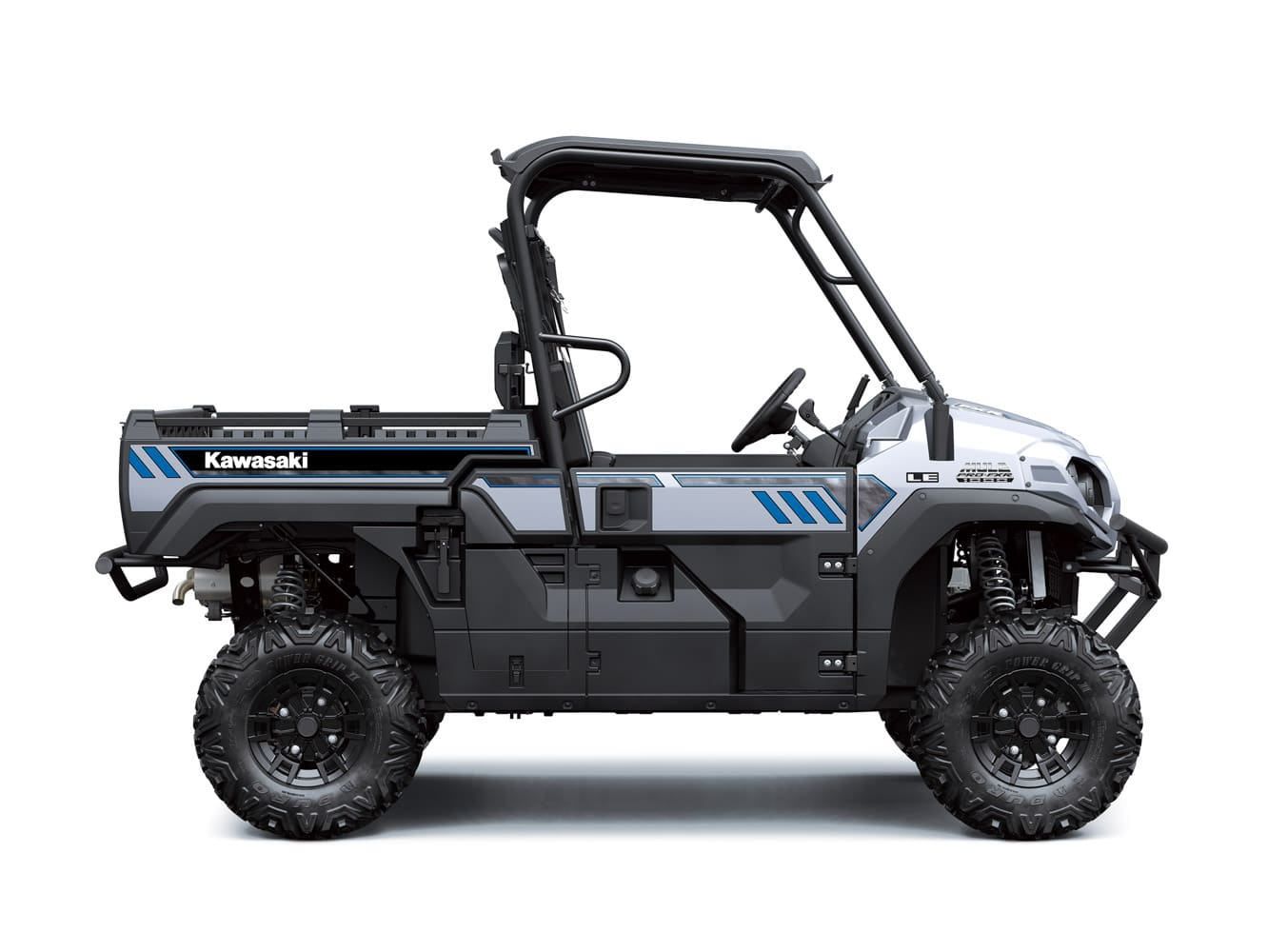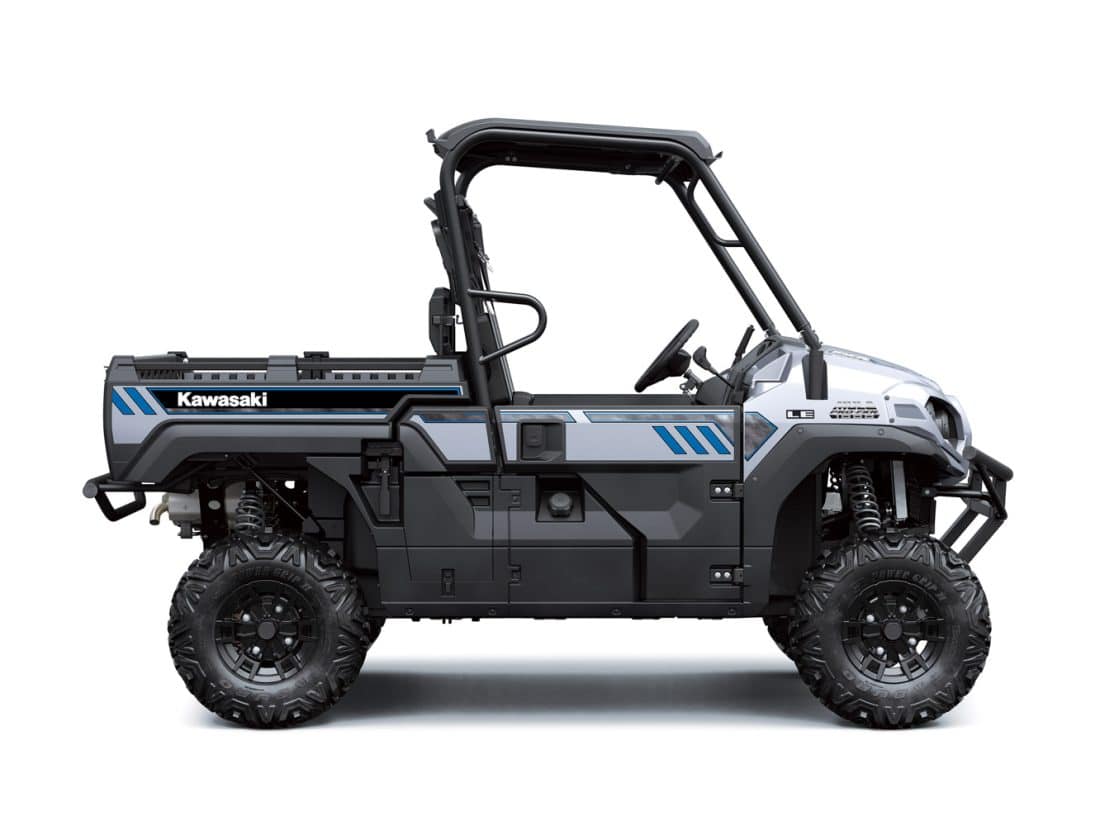 Pricing for the new MULE lineup is as follows:
MULE PRO-FX 1000 HD: $22,999
MULE PRO-FXR 1000 LE: $22,399
MULE PRO-FXT 1000 LE: $24,699
MULE PROF-FXT 1000 RANCH EDITION: $26,499
For 2024, we are also pleased to announced the return of the high-performance Ninja ZX-10RR to our lineup, available in very limited quantities. Our youth KFX50 and KFX90 and BRUTE FORCE 300 ATVs are trail-ready for the summer, and so is our full line of off-road KLX models.
To learn more about our 2024 models, visit kawasaki.ca
____________________________________________________________________________________
ABOUT KAWASAKI
Kawasaki Motors, Ltd. (KMC) started full-scale production of motorcycles over a half century ago as a division of Kawasaki Heavy Industries. The first Kawasaki motorcycle engine was designed based on technical know-how garnered from the development and production of aircraft engines, and Kawasaki's entry into the motorcycle industry was driven by the company's constant effort to develop new technologies. Numerous new Kawasaki models introduced over the years have helped shape the market, and in the process have created enduring legends based on their unique engineering, power, design and riding pleasure. In the future, Kawasaki's commitment to maintaining and furthering these strengths will surely give birth to new legends. Kawasaki's tagline, "Let the good times roll", is recognized worldwide. The Kawasaki brand is synonymous with powerful, stylish and category-leading vehicles. Information about the complete line of Kawasaki powersports products can be found on the Internet at www.kawasaki.ca