Torrential rain, short winter days, defying gravity, and poison oak. If you've followed our exploits behind the scenes with the XP1K franchise, you know every time we plan one of these incredible projects we battle time, Mother Nature, mechanical engineering, and our own intuition. This time was no different. If XP1K4 is your first glimpse at what happens when RJ Anderson steps into a custom built Polaris RZR and drives through a melee of obstacles dreamt up by The Martelli Brothers (my brother and me), Joey DiGiovanni, (UTVUnderground founder and CEO) and Tony Vanillo (Off-Road Management Group), then I encourage you to pause and go watch all three of the record-breaking videos that led us here. We proudly launched the fourth chapter of the RZR-backed saga with our partners Polaris, Rockstar Energy, BFGoodrich Tires, and RIGID Industries on April 18. But as many of you know that wasn't the original plan. If you saw our teaser back in November we were claiming a drop date of Jan 17. What happened? Grab a cold one and let me tell you a tale about perseverance…
XP1K4 started like our other videos projects…we dipped into "The Bible" – a book we keep full of drawings, sketches and ideas for stunts. It has pictures of locations we love, links to videos, crazy ideas from fans – essentially- a catch-all for anything we think would be cool to shoot for future projects. One thing all of these ideas have in common is authenticity. We're not in the business of jackass stunts. Our mantra has always been "Keep it legit." In June 2016 Polaris approved production of Chapter Four and RJ, Joey, Tony, Matt and I all met and started putting ideas on paper. Through our partnership with Rockstar, we had a line on professional freestyle MX rider Jackson "Jacko" Strong. We decided to shoot in Southern California – the birthplace of FMX and to include Jacko in the video. He was pumped. 100% game. And we got to work on building four matching custom RZRs with a twist – a center mount set-up so that RJ had better vision around the car and better weight distribution for the stunts we were planning. We roped in Matt McCall at Trick Factory and the legendary Jimmy Fitzpatrick to help us perfect the backflip stunt, and Tony Vanillo and his crew started making our mega course on some amazing property out on the San Pasqual Indian Reservation right here in San Diego. Everything was going according to plan and we put some solid dates down on the calendar.
Then all hell broke loose.
Without getting into soil chemistry and the mechanics of what happens to dirt when you start pushing it around, what you need to know is San Diego recorded 11.62 inches of rain from October through the last day of February. For you guys up North, that's cupcakes. Normal rainfall for that time period here though is 7.36 inches, meaning San Diego got 4.26 inches above average. It hasn't been that wet down here for over 10 years. To make matters worse our shoot location was in a valley fed by multiple natural aquifers. Everytime it rained – which was about every 3-5 days, it took 3 days to dry out, giving us one day to shoot before the next storm rolled in. This happened about 10 times in eight weeks. To say the least, it was exhausting trying to keep our set from washing away every time it rained.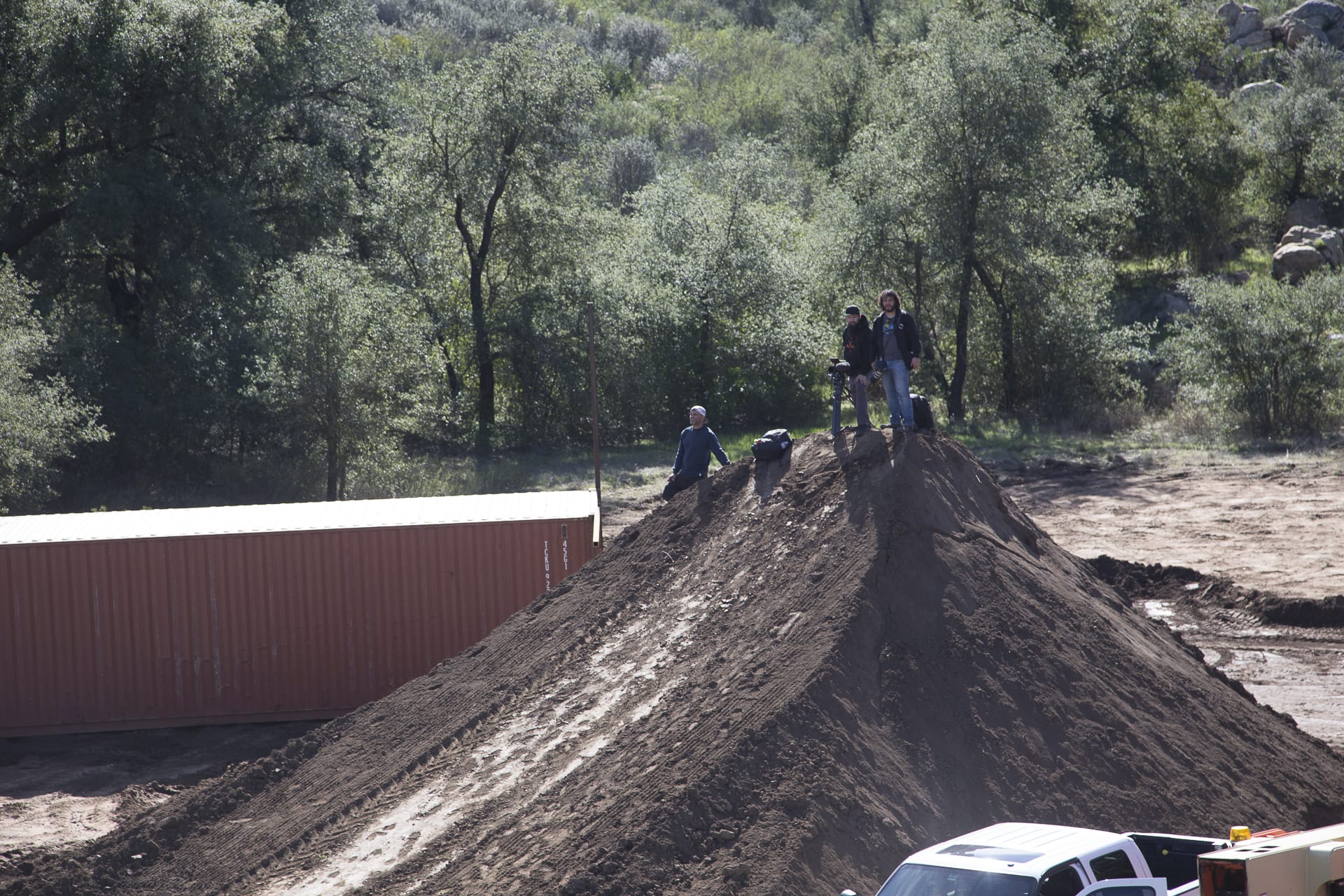 To make matters worse – we were shooting in November, and the days were very short. The sun came up at 7am, peaked at 1pm and was gone by 4:30pm. We have a saying at Mad Media – "Twelve hours is a half day". Well, we weren't getting even close to 12 hours and that started putting us behind schedule. The best time of day to film is right when the sun comes up and right before it goes down. That's the "magic hour". Between the short days and thick clouds, we weren't getting much love from Mother Nature. But we soldiered on.
As the weeks ticked off we got a phone call with more bad news… Jacko was leaving Rockstar for another team. DAMN. That was a tough one because we had written multiple stunts with he and RJ doing lots of radical tricks at the same time. AND he was super pumped to be involved. We can't say enough about how cool Jacko and Rockstar were in setting all that up. We were bummed – but switched gears and doubled down on the UTV stunts we planned with RJ.
Once we got into shooting, things progressed pretty smoothly. We started with a lot of the basic driving stunts, the drone shots, and the cool GoPro angles. Pretty soon though it was time to tackle our first big stunt – the massive 75 foot blind step-down over a boulder and onto a metal ramp we salvaged from XP1K3. There was no way to practice this one. No margin for error. RJ walked the take-off nervously a few times and, after talking to Joey, gave us the thumbs up. We all held our breath and….he nailed it – perfectly, and then came sliding off the metal ramp sideways like a bat out of hell! I don't know how he does this but RJ has a sixth sense for how to fly a RZR. Because we're masochists, we made him do this two more times to be sure we had all the angles. I honestly don't think the video does it justice though. I don't know anyone that would look at that jump and attempt it, let alone with no way to practice. It was gnarly.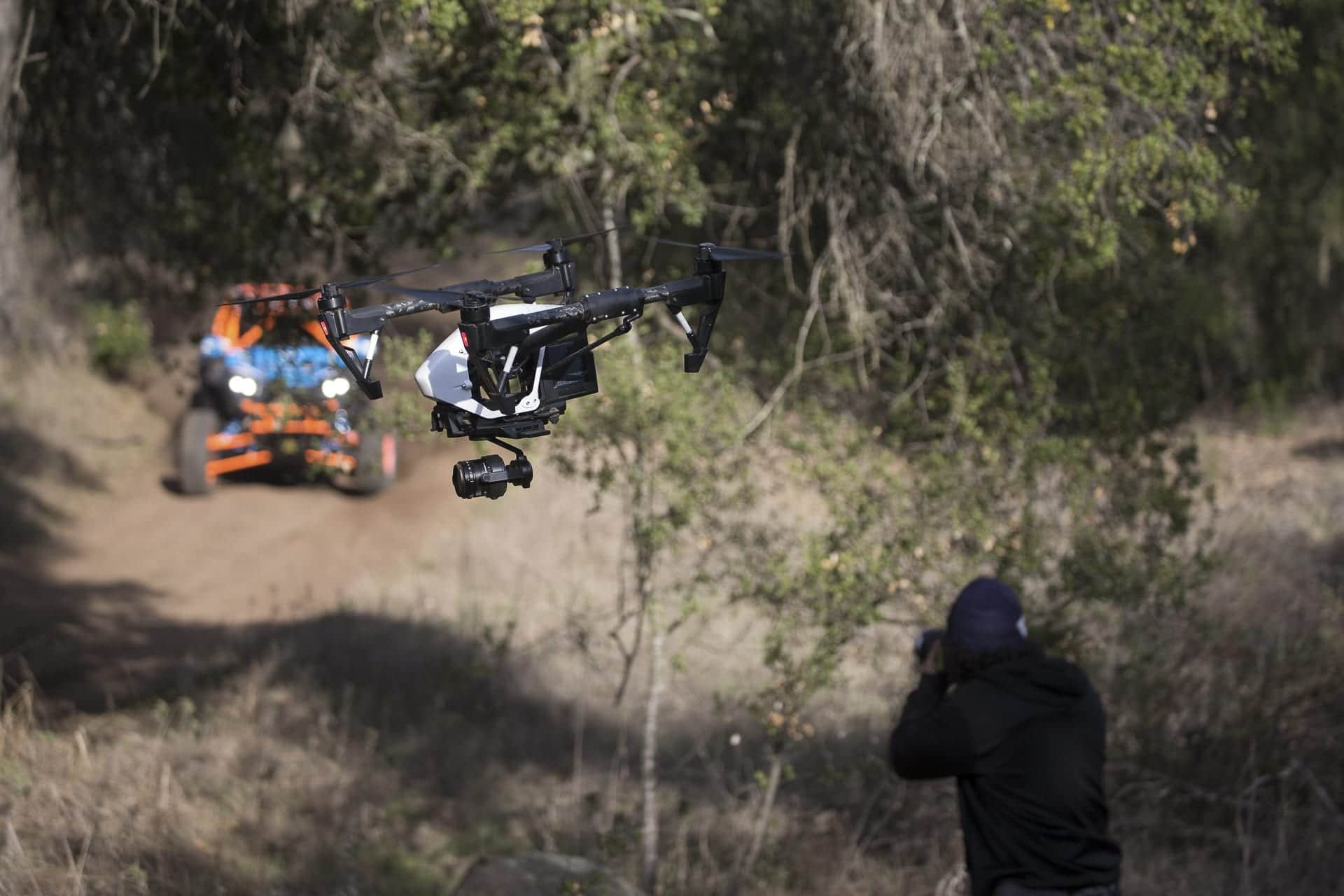 A few weeks later, RJ landed to flat hard on a big rock step-up and broke a few components on the car. We pushed through the repairs, nailed the shot on the second attempt, and got to the point where we were down to a few big final stunts. The 50-50 grind, Wall of Death and the Backflip. But let's pause for a minute here – because while all this was going on, we had a whole other team working on the intro to the video. We tapped CGI guru and FX supervisor Tim Capper through a mutual friend to help us conceptualize what we hoped would be a very slick start to the video. (Spoiler alert – here comes a spoiler.) The idea was we wanted RJ to be walking through the woods, and then stop, and have his RZR basically fly together out of thin air – similar to something you would see in a high budget film like Transformers or Tron. We didn't have six months and millions of dollars to produce this effect but Tim and his team were able to achieve it by combining original CAD drawings of the stock RZR, over three hundred photos Vincent Knakal shot of the finished car, as well as some RED Ronin shots we got in 6K of RJ on set. It was a thrill to see this concept literally materialize out of the air – and we couldn't be more stoked on the finished shot.
Back up in the woods… it was time to grind. The updated 50-50 grind stunt was designed this time around to be a nod to our skateboarding roots. "Let's make it fast – just like those old skate videos." Well if you look closely at the final shots, the margin for error – again, was razor thin. RJ had to plant the car perfectly on the rails at over 40mph. One inch to the left or right and the car would buck and go tumbling down the dirt! First take… he got it, then he lost it – and nearly went end over end! Made a few adjustments – second take – PERFECT. Oh but guess what RJ, "we need a third from you because we need a car to car shot…" (RJ has learned we need every stunt perfectly executed multiple times and it's a running joke with us these days…) My brother jumped in the driver's seat of the camera car and he and RJ nailed a perfect third take…whew.
A few days later it was time to put RJ on the Wall of Death. A bit of history on this stunt; we did this in XP1K2. We did it with wood boards we cut at the property in Washington and totally underestimated the force the car would put on the "ring". Coming at this for V2 – we wanted the wall to be bigger and also give RJ an entry and exit point so there could be no argument that this was camera trickery. Tony Vanillo and his crew designed a new wall with an underground ramp on a pneumatic lift. It's an absolutely awesome design. With the help of the Porter brothers, they built this massive piece in a matter of days.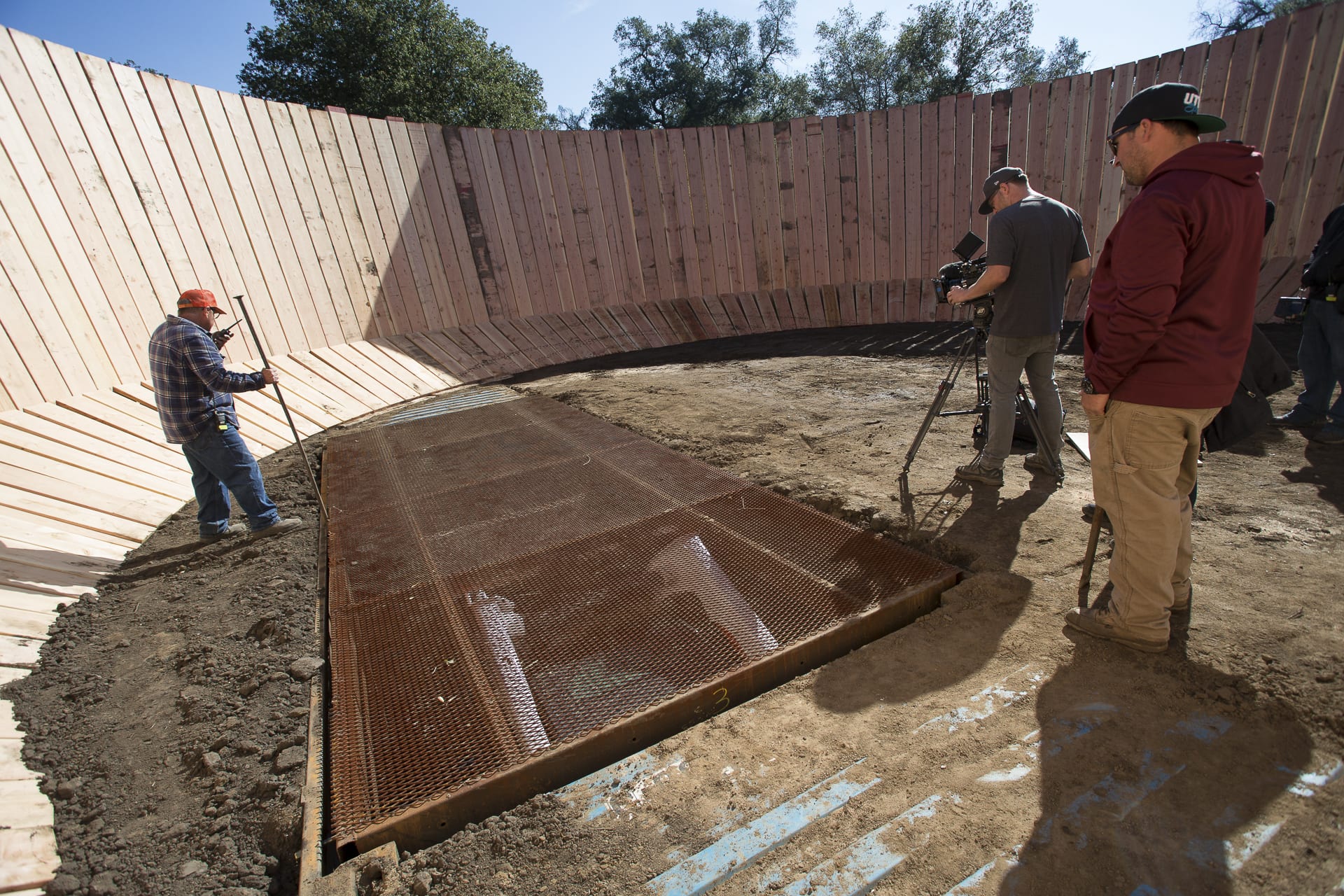 We shot our entry shots and close ups of the ramp working, cleared the set and called "action" – with no idea if the wall would hold. RJ not only got up on the wall almost immediately, but he held the car near the top of the lip for six rotations on his first attempt! It looked and sounded incredible. When he came off after the first take his reaction was priceless…"Yeah she get's on there pretty easy but I could feel the g-force on me and when I accelerated too much… it felt like I was gonna pass out!". We did some quick math and realized that RJ was experiencing nearly five G's on his body while driving on the wall! That's nearly as much as you get driving a Formula 1 car and more than you experience in a Space Shuttle launch! We carefully shot the stunt four more times to get our various pickup angles and two takes for our VR rig. (If you haven't already, check out the VR clip we put out. You'll get a glimpse of what it was like for RJ while on the wall!)
With the Wall of Death in the can we moved on to the final stunt – the backflip. RJ had spent a few days practicing the flip with help and advice from Matt McCall, who built the ramp, as well as FMX legend Jimmy Fitzpatrick, who was kind enough to lend us his foam pit. Jeremy "Twitch" Stenberg happened to be at Fitzpatrick's compound during one of our test sessions and gave RJ some great feedback as well. The day of the shoot everyone was nervous. We had made it through months of rigorous and at times nerve wracking shooting but it all came down to this final stunt. RJ did about 10 speed runs with my brother closely monitoring his speed – then we called "action" and rolled on take one… WHOOSH! He got good air and some solid rotation but just kissed the front end too hard on the landing. We wanted this to be perfect – and so we all agreed quickly to go for a second take… Cameras rolling…he hit it again and this time… PERFECTION. The only small hiccup was we got our drone a little too close and she took a beating as RJ came down smoothly… Whatever… RJ had just landed the gnarliest UTV backflip in history!
Behind The Lens - The Making of XP1K4
What came next were a few weeks of focused video editing at the Mad Media shop. Caleb Norman and I worked together to flesh out the shots and lock in the edit with feedback from RJ and the crew. We pulled in our buddies Cedrick Courtois and Matt Lear to lend their amazing talents to the sound and color respectively. And Tim Capper delivered a stunning CGI render that we added to the intro. When we stepped back and looked at the final video we all agreed it was another home run. It did justice to the RZR platform as nearly indestructible. It showcased RJ's incredible skill as a driver. It featured the authentic and gnarly production style Mad Media is known for internationally. And as usual, it represented the cutting edge of UTV culture, which is what UTVUnderground is all about. Polaris was thrilled. Our partners RIGID, Rockstar, and BFG were stoked; we pushed the "launch" button and let her rip. Between Facebook and YouTube we're over 4 million views and rising – and that's awesome for the sport and this industry. If you like the video, please do us a favor and share it with your friends on social media. As for what's next….well let's just say that we never stop thinking about all the crazy stuff we want to shoot in our Polaris RZRs. Special thanks to Craig Scanlon, Jason DiFuccia, Matt Boone and everyone at Polaris for backing the XP1K franchise. And to RJ for putting up with a crazy schedule, gnarly weather, and a lot of hairy stunts we threw at him this time! We'll see you all in the dirt real soon!
About the XP1K Series
The XP1K viral film series has accrued more than 42 Million aggregate video views across YouTube, Facebook and Instagram, and has been watched in more than 70 different countries. The premium-branded, viral video campaign has made hundreds of millions of impressions worldwide, redefining the Side-by-Side (SxS) market.