Among all manufacturers of off-road vehicles, without a doubt, Can-Am offers one of the widest range of accessories to customize its vehicles. Seriously, there are some many choices, we have a hard time picking which one we will pick for a particular project. It's nice to have choices.
Some accessories are primarily intended to impress the crowd with their rather aesthetic attributes, while others have the fundamental objective of adding safety and practicality. We decided on the practical type of accessories to equip our 2020 Can-am Maverick X3 RR. We also made sure to meet the basic safety accessories required by the regulations to ride on the trails across Canada.
Before we get started, did you know that BRP, mostly due to eco-responsiblity, puts online installation instruction sheets for its accessories at www.instructions.brp.com? This initiative saves 7,330,000 sheets of paper annually and saves over 480 trees.
It's quick and easy. We only had to enter the part number to access the installation steps. In some cases, we have also printed templates, making it easier for us to drill in the exact places. Note that it is also possible to request a printed copy of the instructions and templates for each accessory when purchasing from all BRP dealers. Finally, it is essential to remember that if you are not comfortable installing accessories on your recreational vehicle, a qualified technician at any BRP certified dealer will be able to do it for you.
1- Panoramic sports center mirror: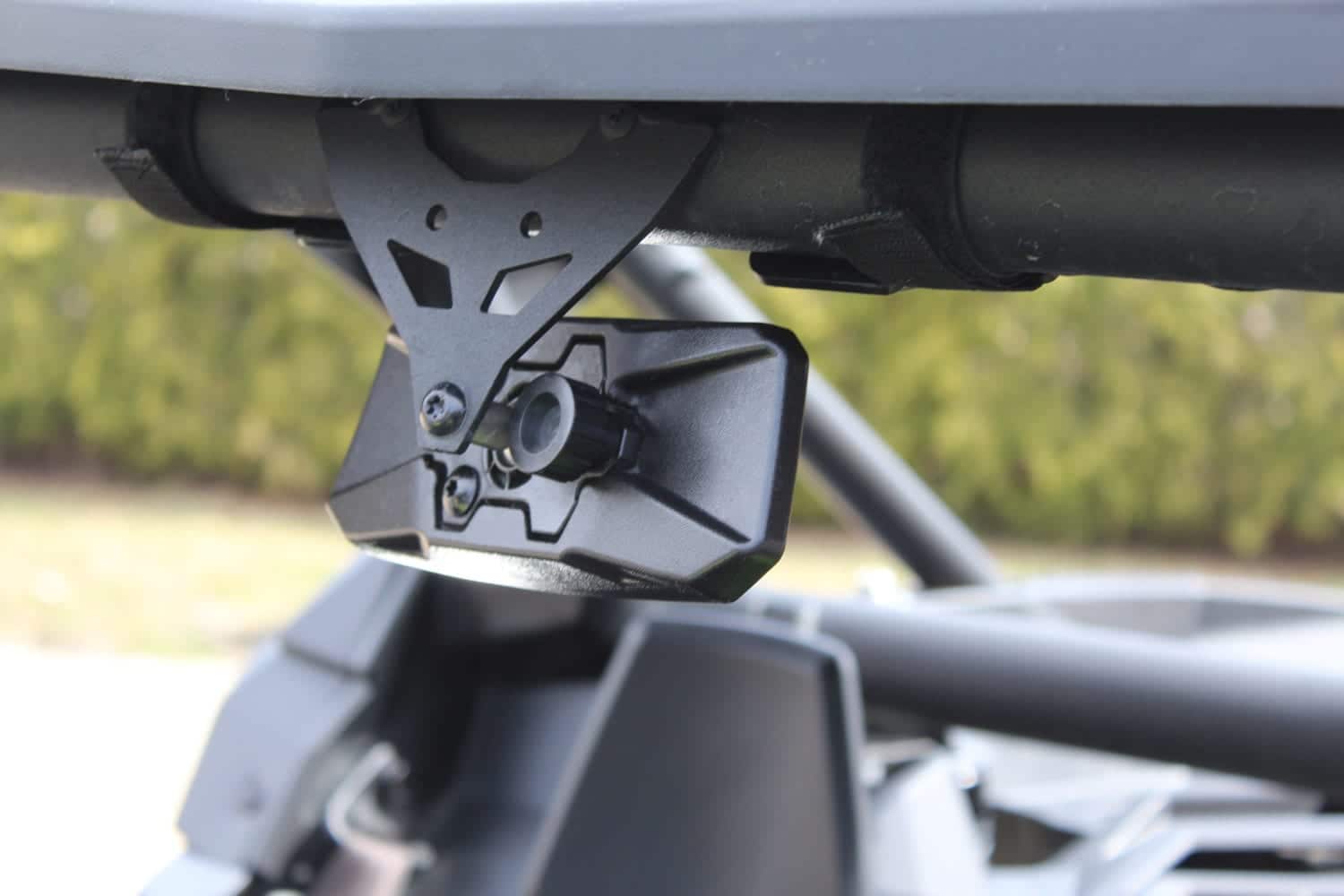 Part number 715004924
CAD $99.99
Probably the number one essential accessory on the add-on list to incorporate when purchasing any side by side vehicle. If you ever forget to buy one, you will quickly discover why it should be essential. It allows you to have a global rear vision by simply looking at it, in just a fraction of a second. It will let you know about the presence of your riding companions and will also allow you to be aware of an impatient rider who asks you to give way.
Its installation takes just a few minutes following the instructions. You just need to mount the mirror to its support first, then complete the installation by screwing the latter to the upper frame of the Can-am Maverick X3. Final adjustment is made by loosening the adjustment knob on its back, and tightening it when the perfect setting is obtained. It cannot be simpler and this new addition will provide a perfect panoramic vision.
The dimensions of this central mirror may seem minimalist, but they offer a panoramic view that fulfills our requirements and should meet yours too. Its convex shape offers wide-angle visibility and it is a piece of mandatory equipment to ride on most organized trail systems in Canada, simply because of all the safety aspects it offers.
2- Half windshield for Maverick X3: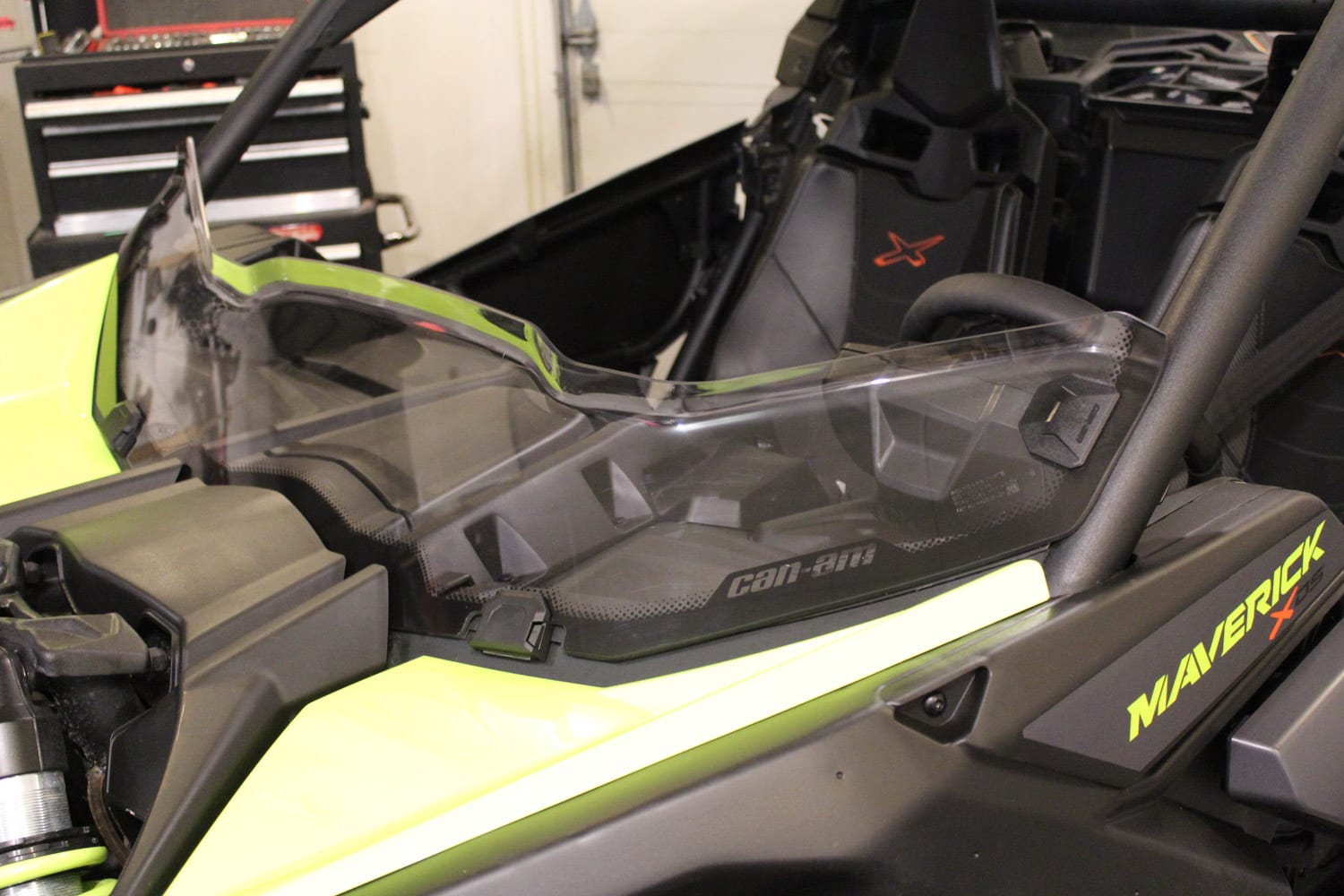 Part number 715002909
CAD $354.99
The addition of this accessory is a matter of taste and preferences from the vehicle's owner. For our part, we prefer a full windshield on cold winter days, but a half windshield is great in the summer season to offer basic protection on colder summer days and to deflect dust and mud.
The half windshield that we decided to install on our Can-am Maverick X3 is made of a 3/16 thick hard polycarbonate AR (abrasion resistant) material that offers superior scratch resistance. Although it costs a little more to use polycarbonate, it offers superior strength and durability compared to acrylic options. This material, with proper care, can last as long as you own the machine.
Be sure to purchase a high-quality, abrasion-resistant polycarbonate windshield, and pay attention to its folding areas – they should have a reduced and veiled appearance. It is a specific characteristic of polycarbonate when it is folded and it is, therefore, an indication of a product that will keep its visibility in the long term.
The initial installation requires you to carefully follow the instructions since several dashboard screws must be removed for some drilling. The goal is the permanent installation of supports. Subsequently, when all of these steps are followed, the use of a J-shaped support allows the removal and addition of the half windshield in just a few seconds, and without tools.
At first, we were amazed by its ease of installation, its aesthetic form, and its rigidity. Its shaded edges also give it a rich finish. However, when we hit the trails, to be honest, we were quickly disappointed. We do not deny its deflection qualities, but we quickly experienced reduced visibility by the veiled folded areas which were often found directly in our field of vision. We were annoyed to the point of regretting its addition at times. The recommendation that we could make to its designers is to design a shorter version that would fix this major drawback. In return, a complete windshield will not have this problem.
3- Side mirrors: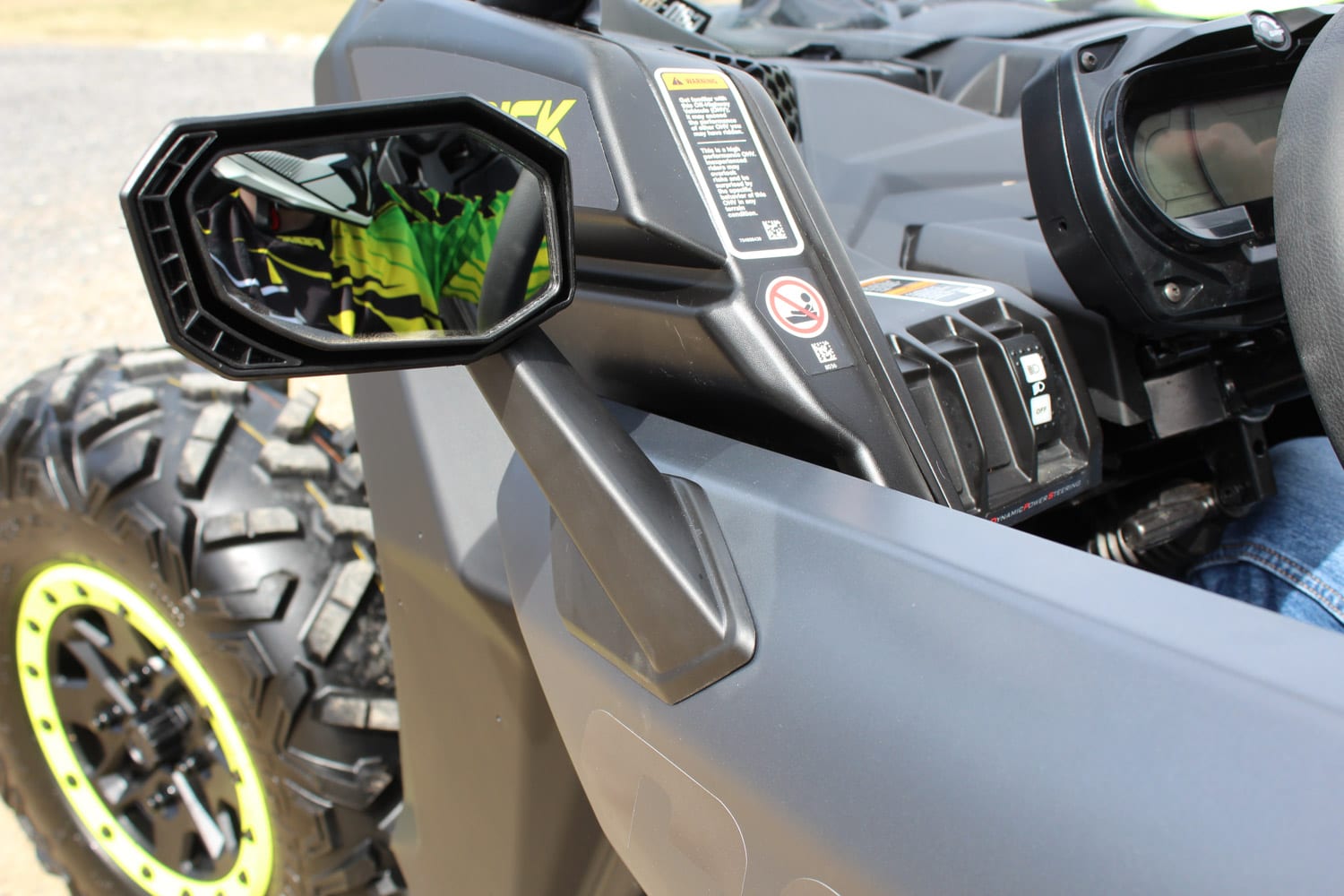 Part number 715004236
CAD $314.99
In addition to the central mirror, the installation of side mirrors adds a huge security aspect and to comply with the regulations in place for most organized trails. The model that we had previously chosen is somewhat a challenge to install in itself because it requires care and precision in drilling the holes to insert the mirrors in their exact position on the vehicle. We printed the assembly instructions as well as the drilling template. However, during the process, we quickly realized that something was wrong. We started with the holes on the metallic surfaces inside the doors using the template provided for this purpose. Then, when we were ready to drill the holes on the exterior surfaces, we found that the inside and outside holes were not perfectly aligned. In fact, we had to correct the outside drilling template 1/2 inch towards the rear of the vehicle to allow a perfect alignment.
Luckily, we had done these checks, otherwise, going back would have been impossible. Would this have worked with other model years than our 2020 Can-am Maverick X3 model? We don't know. All things considered, we are happy to have completed the installation. The recommendation that we would like to make is the following – for this specific accessory, we recommend that you leave it to a technician at your BRP dealer to avoid a costly drilling error.
Despite the issues encountered during this installation, we are highly satisfied with the quality of these side mirrors. The aluminum support, covered with black nylon, should resist impacts it will face during its life. The adjustment is easy and is not altered despite repeated vibrations during rides on bumpy trails. Their convex shapes provide a wide-angle vision to allow a wider vision. They have the particularity of being foldable if an impact occurs or to allow passage in a cramped place thanks to a spring pivot. Speaking of which, we had a space constraint when transporting the Can-am Maverick X3 RR 2020 in our closed trailer. Despite the 7 feet width of our trailer, the Maverick X3 doors fitted with these side mirrors require special care when boarding. Getting out of the vehicle requires contortionist talents because the mirrors take up space for opening the doors as they hit the interior walls of the trailer.
4- Sports roof: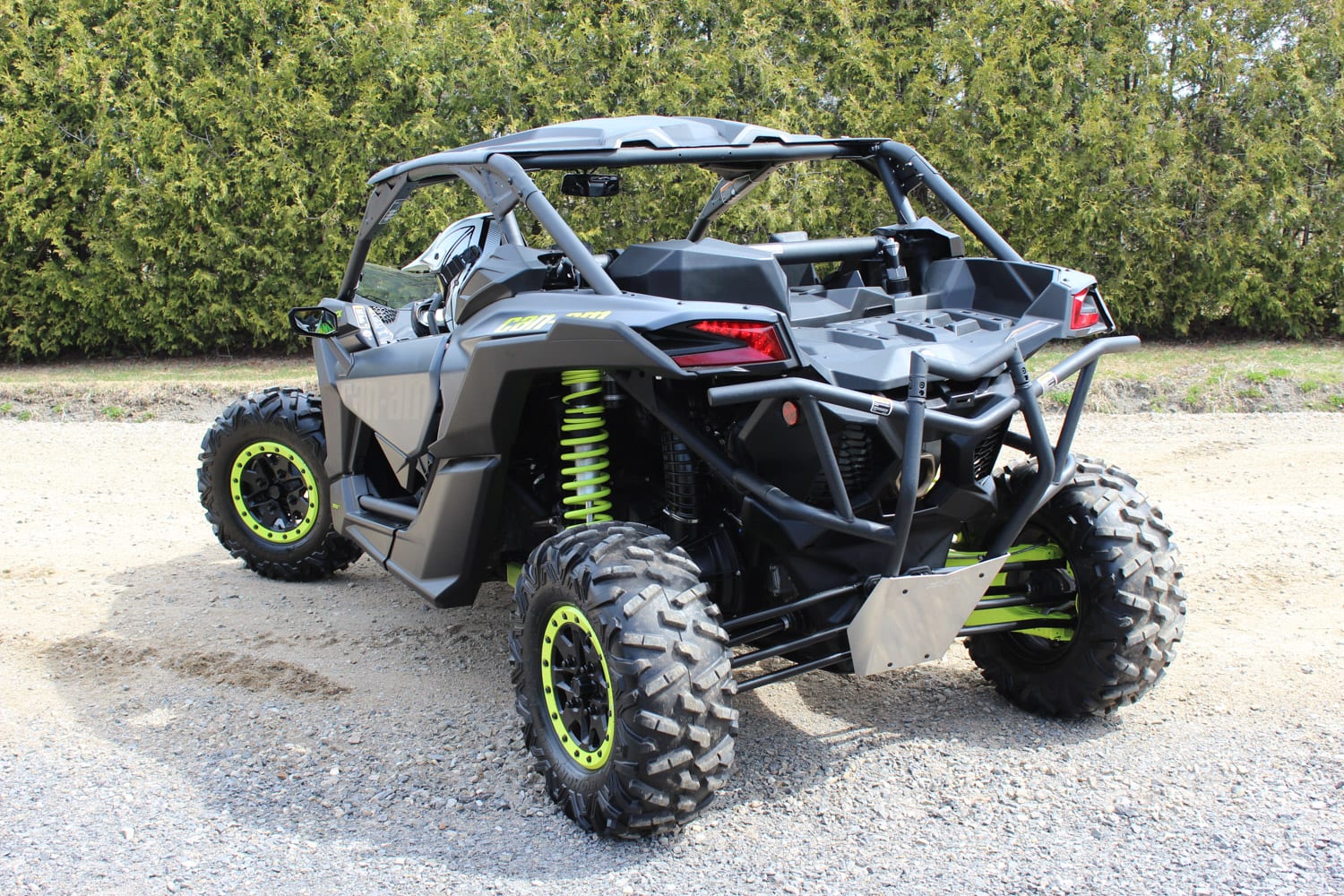 Part number 715002902
CAD $469.99
Can-am offers several choices of roof for the Maverick X3. The advantages of having a roof on a side by side vehicle are obvious. It protects us from the various weather conditions and the sun on a hot summer day.
We opted for the impact-resistant, polypropylene sport roof. Aesthetically, its shape and style are pleasant for the eyes, and its installation is perfectly fitted on the ROPS cage of our Maverick X3. The installation is carried out in a few minutes without tools. To be honest, we first had questions about the effectiveness of the 4 quarter-turn fasteners that attach this roof to the vehicle. We feared that they could loosen during repeated vibrations. To our surprise, they held up perfectly without a problem.
This roof offers very good protection against the elements and is compatible with all the windshields offered by Can-am. Its removal is carried out as quickly as its installation when the need arises.
5- Front bumper with protection plate:
Part number 715002878
CAD $369.99
Beyond the aesthetic appeal, a quality front bumper offers body parts protection against possible impacts. In some cases, they also allow the installation of a winch to help to get you out of difficult situations.
We opted for this Can-am front bumper model because it offers the high quality we were looking for. The high weight of its components gave us a good indication of its durability. It just plain looks tough.
Carrying out its installation, however, gave us several difficulties. Four hands and two brains were needed to achieve this install. The instructions and the photos attached to this piece of equipment were very difficult to understand. At times, we had to improvise and be logical, because they were not so obvious.
Some original parts of our Maverick X3 had to be removed and trashed, and eventually be replaced with the new ones provided with the new bumper. These were attached directly to the chassis and it was at this point that we had to overcome a problem – the bolts of the upper suspension arms were very difficult to access. We had to work hard to loosen them despite the limited space. During the installation stages, we noticed that we had to put in place a reinforcement plate. Upon further examination, we found that our vehicle was already equipped with this part and that its installation was not necessary (we would have appreciated a note mentioning this in the instructions).
Our rational mind allowed us to go through the different stages despite a blatant lack of precision in the many installation phases. It finally ended with the installation of a protective aluminum plate to complete our hard work.
Despite the pitfalls, we can say loud and clear that this bumper is among the most appealing and durable that we have found to date. It will allow the installation of a winch, thanks to the location provided for this purpose. Its 1.5-inch diameter steel tubes are coated with an interior and exterior corrosion resistant coating with a durable powder coat finish.
The only downside we can foresee is the possible deterioration of the aluminum protection plate. Despite its nice appearance, it will likely show obvious signs of aging when it will be constantly confronted with the elements.
6- Rear bumper with protection plate:
Part number 715002880
CAD $369.99
To complete the addition of a front bumper, the installation of a rear bumper is a logical step. Plus it looks pretty cool. The rear bumper protects against unfortunate impacts that may occur and helps to maintain the integrity of body parts.
To counterbalance the difficulties we faced during the assembly of the front bumper, we found that the installation of the rear bumper was surprisingly easy. About fifteen minutes of work, and everything was in place. The 1.5-inch diameter steel tubes are also coated with a durable coating of electrostatic powder for durability over the years.
The only complaint we can make is the same as that of the front bumper. The 1/8-inch aluminum protection plate will likely show signs of obvious deterioration a little too quickly in our opinion.
All in all, the installation of these accessories on our Can-am Maverick X3 RR 2020 was relatively easily done. They make us benefit from the advantages of an exceptional hyper-sport side by side vehicle that is already well defined on the market. No doubt our rides will be more enjoyable with the addition of these new accessories.