Most off-road enthusiasts tend to believe that the UTV (side-by-side) industry revolves around the sport and/or trail purpose built vehicles. However this couldn't be further from the truth! When you look at sales and production charts, the sport and/or trail segment is not where the big money lies.
The largest segment in terms of sales/production of the UTV (side-by-side) industry is the utilitarian market. Just look around at any of the major OEMs, before they even consider introducing any new vehicle in the sport and/or trail segment, they make sure they have a strong foothold in the utilitarian market.
This holds true for Can-Am as well, before they launched the Maverick line-up they introduced their recreational-utility line-up via the Can-Am Commander. When the Commander was first introduced, it did address the needs of the consumer looking for a recreational-utility unit at the time. However the utilitarian market has evolved, consumers such as ranchers and farmers needed and demanded more "workhorse" type vehicles.
With the utilitarian market intensifying, Can-Am needed to respond, as the Commander was no longer well matched for this evolving consumer base. Can-Am didn't just set out to answer the beck and calls for this customer base. With the introduction of the all-new Can-Am Defender, they intended to prove their dominance in the utilitarian segment.
For model year 2016, Can-Am introduces the all-new Can-Am Defender, a vehicle that was designed and engineered to establish new standards in tough performance.
POWERPLANT
A reliable heavy-duty Rotax V-Twin engine powers the Defender HD10. The rear-mounted liquid cooled and fuel injected 976cc engine is coupled to a PRO-TORQ transmission with the exclusive (QRS) Quick Response System. The QRS enhances low-speed riding, offer smooth engagement and promotes better belt life. This work-focused Rotax HD10 V-Twin delivers 72-hp. and according to Can-Am offers 20% more torque (61 lb-ft) than the top selling competitor in the utilitarian segment. It should also be noted that a 799cc V-Twin (50 hp. /50 lb-ft torque) is available in the HD8.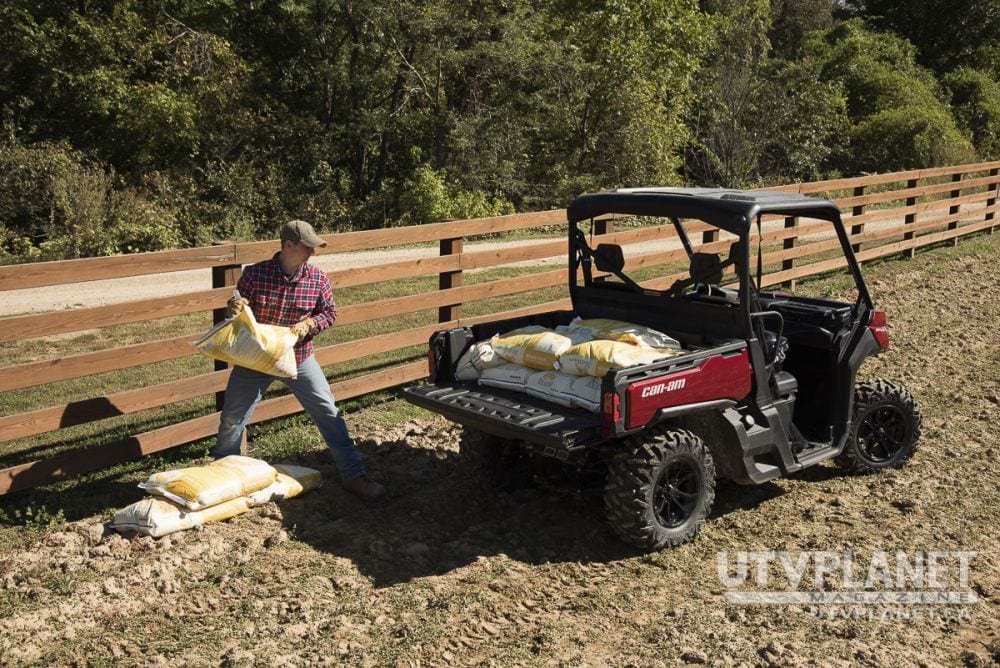 SUSPENSION
The Defender (HD8 & HD10) features an exclusive rear heavy-duty Torsional Trailing A-arms (TTA-HD) suspension. The TTA-HD is borrowed from unique and proven Can-Am TTA rear suspension, but redesigned to handle heavier loads. Can-Am provided us with a designated area for us to put this to the test. We loaded the cargo box with 1000-lbs/454 kg to see how the unit would perform. The results were very impressive to say the least as the Defender with its 11-in./28 cm of ground clearance handled the weight/load with ease. This is also the opportune time to mention that the Defender can tow up to 2,000 pounds via its 2-inch receiver.
TIRES, WHEELS AND BRAKES
The Can-Am Defender sits on a set of 27-in. Maxxis Bighorn 2.0 tires mounted on 14-in. cast aluminum wheels. This workhorse is brought to a stop by 220 mm vented disc brakes with hydraulic twin-piston calipers up front while the rear features the same 220mm discs but only single-piston calipers in the back.
COCKPIT AND ERGONOMICS
The Can-Am Defender has a rugged outer appearance and is available in four different packages (Standard, DPS, XT and XT Cab). The unit we had the most seat time in was the HD10 with XT package and that is the one we will concentrate on for the rest of this review.
The XT package includes a 4,500 lbs. winch, 14-in. cast-aluminum wheels and full hard roof. The color options available for this package are: Intense Red, Pure Magnesium and dipped Mossy Oak Break-Up Country Camo.
Ingress and egress is made easy, one could say almost effortless due to the A-pillar being moved forward and the Versa-Pro bench seat profiled corners. Moving forward the A-pillar also has another distinct advantage, increased visibility for all the occupants.
When entering the unit, you will find that the Versa-Pro bench seat is very comfortable and can easily accommodate three adults. The bench seat has a 40/20/40 configuration, which was inspired by modern day pick-up trucks. In the XT package, the bench seat includes a reinforced seat cover (thicker vinyl) and a special material finish, which is not only more resistant but also offers a premium look. In addition the driver's seat is also adjustable 3-in (8 cm) forward/reverse, which not only provides for added comfort but also facilitates ingress/egress.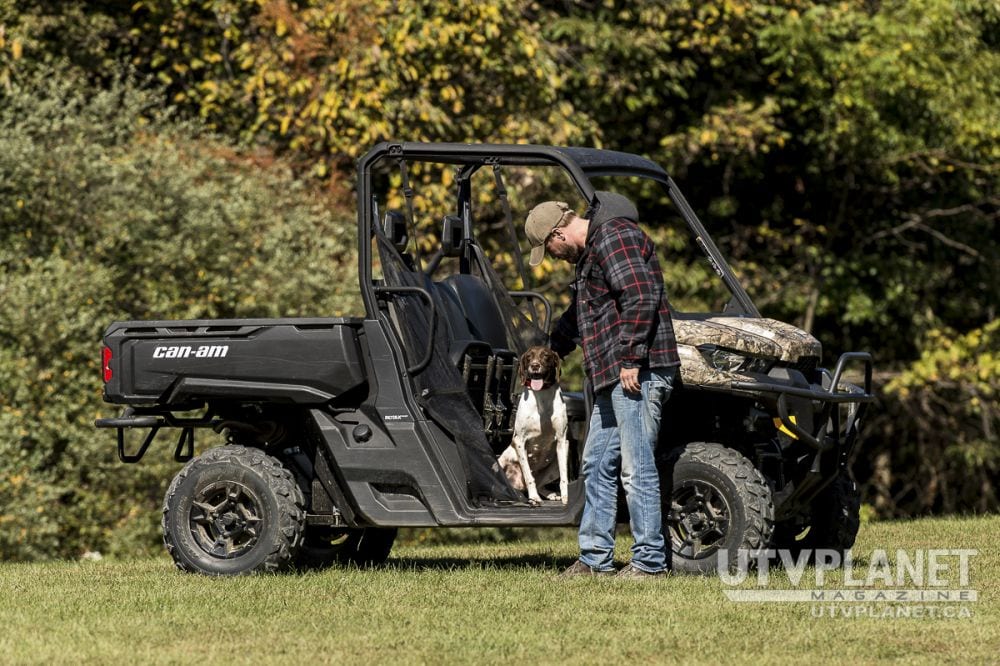 Underneath the passenger seat, which can be easily folded up, you will find 5.6 gal (21 L) of storage. This storage box is waterproof and is also easy removal for your convenience. The fold up passenger seat also improves onboard storage and is also great for transporting your dog. No more mud paw prints or scratches on you seats as your dog is comfortably seated on the cab floor instead of up on a seat.
Once seated in the vehicle you will immediately notice the superior fit and finish that Can-Am is renowned for. All the gauges are clearly legible and all controls are within reach. Creature comforts were also not overlooked, with great features as: tilt steering and a foldable console that provides for an armrest and contains dual cup-holders.
However my favorite feature of the open dash design is the innovative and industry exclusive detachable toolbox. Can-Am replaced the traditional glove box with a water-resistant and quick-attach 1.7 gal (6.3 L) toolbox, now how smart is that! What I love about this feature is that you can purchase additional toolboxes and customize them to your needs. Example, you could have one setup with your tools and yet another with your favorite fishing tackle. Then easily swap them out depending on the activity you are doing.
I briefly mentioned the cargo box earlier, however there is so much more to it than the weight it can carry, so it warrants a closer look. As previously cited the cargo box has a 1,000 pounds / 454 kg (600 pounds / 272.2 kg in California model) load capacity and dump assist levers. However what is interesting here is that the cargo box is customizable. You can create a dual-level setup or completely different compartments. This is accomplished by utilizing the integrated recesses, which allows for both 1×3 (inch) and plywood separators. The cargo box is adaptable to accept 14 LinQ quick-attach accessories for further customization. Aside from it being customizable, Can-Am even taught of adding recesses for 5-gallon pails, now how clever is that. The tailgate has also been reinforced and can support up to a max weight: 250 pounds / 113.4 kg, it can also be removed in seconds without the use of any tools.
THE RIDE
Can-Am in my opinion selected the ideal location to present and allow us to demo the unit. The media intro was held in Nebo, Illinois at a hunting and vacation resort known as Harpole's Heartland Lodge.
Harpole's Heartland Lodge offers a wide range of activities and amenities, one of them being trail riding. Nestled between the Mississippi and Illinois Rivers, the terrain surrounding Heartland Lodge provides some of the best riding trails in Illinois and Missouri. The trails range from easy going to moderate, nothing too extreme, perfect real world scenario to test out what the Defender has to offer.
The Can-Am Defender has three driving modes; NORMAL, WORK and ECO selectable via a rocker switch situated on the front panel. NORMAL mode as no speed or torque limitation, WORK mode is calibrated for working with high loads and finally ECO mode limits both high-range speed and torque.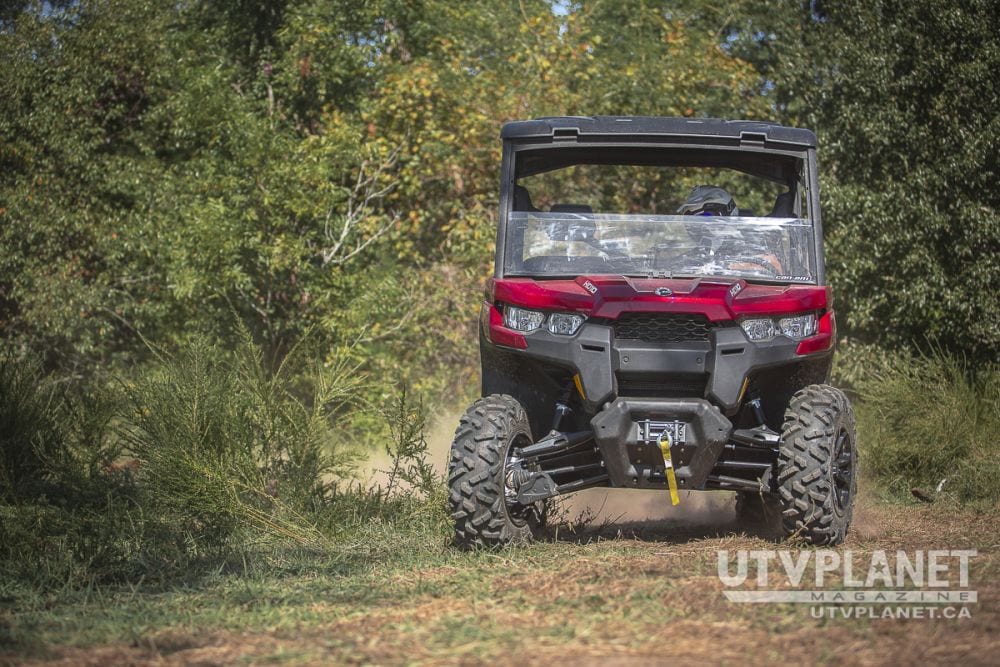 Since we had already tested the work capabilities of the Defender, we selected the NORMAL driving mode and set out on the trails. The trail conditions we faced during our test runs where mostly hard packed surfaces, steep inclines/descents and some rock patches. The trail widths also varied from picturesque open fields to tight narrow wooden passages.
We had plenty of seat time in the Defender and found the unit a pure pleasure to drive. The Defender navigated well over every trail condition we faced and we always remained comfortable and confident in the Cab. The power steering felt good in all conditions and the engine breaking was exceptional, you almost never needed the brakes on steep descents. The Defender also has a remarkable tight turning radius for improved maneuvering in tight, technical terrain.
SO DID WE LIKE IT?
We absolutely enjoyed our experience with the Can-Am Defender. There is no doubt that the Defender is a purpose built workhorse, however it's versatile enough that it could be used in various applications, including trail riding.
When you spend time with the unit, it shows that Can-Am took the time to listen to the consumers in the utilitarian market, as the Defender is packed with features and innovations to cater to their specific needs.
If you are in the market for a multipurpose workhorse, we encourage you to live the Defender experience for yourself by visiting your local Can-Am dealer and taking one out for a test drive.
For vehicle options and pricing for the Can-Am Defender. Please visit the Can-Am Offroad Website