The tough, capable and clever Can-Am Defender family of side-by-side vehicles gives drivers a leg up over the competition in the agricultural, hunting and outdoor market segments. The addition of the new Defender MAX family offers comfortable seating for up to six adults, unmatched versatility with its pick-up truck-inspired features and enhanced stability from its 115.5-in. (293.4 cm) long chassis.
The Can-Am Defender MAX side-by-side vehicle is available with either a 72-hp Rotax HD10 or a 50-hp Rotax HD8 heavy-duty engine. With either package, the rear-mounted engine is joined to a PRO-TORQ Transmission with an exclusive Quick Response System (QRS) that enhances low-speed riding and offers smooth engagement, as well as better belt life and true dependability with its optimized ventilation and electronic belt protection.
The Defender MAX vehicle has a 32.5-in. (82.5 cm) longer chassis (compared to the single bench seat Defender) with automotive-like technology and fabrication tolerances that are in line with the quality and strength found in modern pick-up trucks. An easy and cost-effective maintenance system requires no break-in maintenance and lets owners spend more time doing what they need to do – getting jobs done.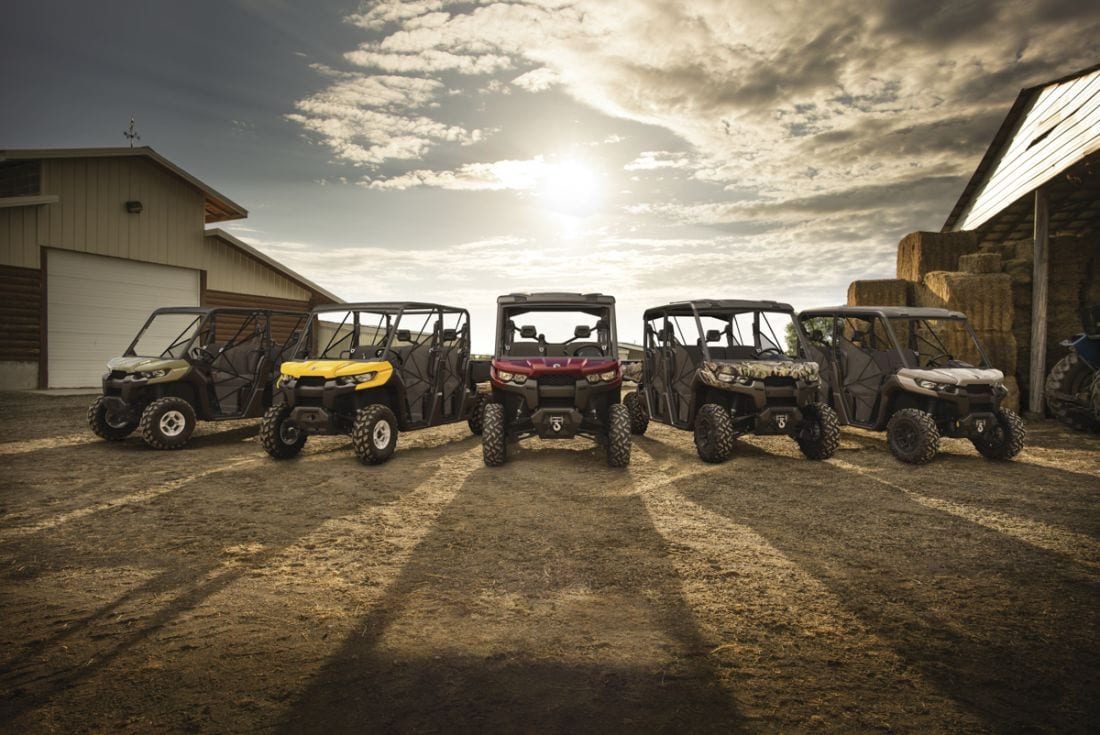 When it comes to hard work, the Defender MAX side-by-side vehicle impresses with its class-leading towing, hauling and payload capabilities. A Can-Am-exclusive TTA-HD rear suspension provides optimal comfort, drivability and durability, and has 10 inches (25.4 cm) of travel.
The Defender MAX vehicle is also laden with unmatched terrain competencies by way of its versatile 4-mode traction system, three selectable engine operating modes, superb tight turning radius and available, specific-tuned Dynamic Power Steering (DPS) system for enhanced maneuverability.
All Can-Am Defender vehicles are built with clever and adaptable solutions to work smarter. The versatile cargo box dumps easily and can haul up to 1,000 pounds (454 kg). Furthermore, it is compatible with the Can-Am LinQ quick-attach accessory system and is functionally designed for the workingman with multiple integrated recesses, cutouts, walls and tie-down points.
A roomy and intuitive cockpit features tilt steering, an A-pillar that has been configured to improve entry/exit and visibility, and dual VERSA-PRO bench seats with two 40/20/40 profiled benches that comfortably accommodates up to six adults. The industry's most versatile cockpit provides ample in-dash storage with an exclusive removable toolbox, available removable waterproof under-seat storage, cup holders and more. Owners can customize the Defender MAX side-by-side with numerous cabin options for work, recreational use and hunting.
Identifying Defender MAX Features vs. Defender
• Dual VERSA-PRO bench seats
• Seating for 6 adults (1 driver and 5 passengers)
• Folding passenger seats, both front and rear
• Rear lateral grab bar strategically positioned for a natural hold and footrests
• Central armrests, front and rear
• Six cup holders (2 in dash, 4 total in front and rear center armrests)
• 152.5 in. (387.5 cm) long; 32.5-in. (82.5 cm) longer chassis
• 1,750-lb. (793.8 kg) payload
• Four 220 mm disc brakes with hydraulic twin-piston calipers
• 26-in. (66 cm) tires (DPS)
• 10-in. (25.4 cm) ground clearance (DPS)
• 11.1-gal. (42.1 L) of storage (DPS)
• 16.9-gal. (63.9 L) of storage (XT)
• Full-length, hard roof (XT)
For information:
www.brp.com
www.can-am.brp.com
DEFENDER MAX FAMILY MODEL HIGHLIGHTS
DPS PACKAGE
• Two heavy-duty, high-torque V-Twin engine choices: 72-hp Rotax HD10 or 50-hp Rotax HD8
• PRO-TORQ transmission with Quick Response System, high airflow ventilation and Electronic Drive Belt Protection. Extra-L / H / N / R / P)
• 1-year maintenance free (1,865 miles / 3,000 km or 200 hours)
• Easy access to key maintenance components
• High-precision, HSLA chassis
• 4-mode traction system including a Turf Mode
• 10-inch (25.4 cm) ground clearance
• Double A-arm front suspension with twin tube gas charged shock (10-inch travel)
• TTA-HD rear suspension with external sway bar and twin tube gas charged shock (10-inch travel)
• Lightweight 26-inch Maxxis tires on 12-inch cast-aluminum wheels
• Four 220 mm brake discs
• 140-W lighting output and LED tail lights
• Dynamic Power Steering (DPS)
• Visco-Lok QE front differential
• Tight turn radius
• 2,000-pound (907.2 kg) tow rating
• 1,000-pound (454 kg) cargo box load (600-pound in California)
• 1,750-pound (793.8 kg) payload
• 2-inch rear hitch receiver
• 650W magneto
• Lighter-type DC outlet in console (20-A)
• 12-V (18 amp/h) battery
• Integrated front steel bumper
• Central skid plate
• Multifunction cargo box with sturdy tailgate that holds up to 250 pounds / 113 kg
• 11.1-gal. (42.1 L) of storage including a water-resistant removable toolbox and under-dash compartments
• Dual VERSA-PRO bench seats for six adults
• Roomy and intuitive cockpit
• Adjustable tilt steering wheel
• Centrally located multifunction digital gauge cluster with open storage area
• Optimized A-pillar placement for improved visibility and easy entry / exit
• Multiple cup holders
• Rugged ergonomically configured grab bar and three foot rests for passengers
• Profiled cage with flush mount for available Can-Am cabin accessories
• Colors: Green, Yellow; exclusive water-dipped Mossy Oak Break-Up Country Camo
XT PACKAGE ADDS
• 4,500-pound (1.81 kg) winch
• 27-inch Maxxis Bighorn 2.0 tires
• 14-inch black cast-aluminum wheels
• Full hard roof
• Enhanced dual VERSA-PRO bench seats with reinforced seat skin and adjustable driver's seat
• 16.9-gal. (63.9 L) of storage including a removable waterproof under seat storage
• Multifunction analog/digital gauge cluster with enclosed storage
• 3-driving modes Eco/Work/Normal
• Full skid plate
• Colors: Painted Intense Red, Painted Pure Magnesium Metallic, exclusive water-dipped Mossy Oak Break-Up Country Camo
GENUINE CAN-AM DEFENDER MAX ACCESSORIES
Can-Am accessories let owners add personal touches to their Can-Am vehicles by enhancing the functionality for work, play and everything in between. No matter which model, the ability to customize it to personal needs is a great way to enhance the driving experience. The diverse Can-Am accessories lineup now includes specific products for the Can-Am Defender MAX side-by-side vehicle. These accessories offer seamless integration because they were designed alongside the vehicle during development and testing. Many of the current Can-Am side-by-side vehicle accessories and Defender-specific accessories will carry over to the Defender MAX. Whether it's protection from the elements, cargo hauling or carrying key tools essential for the job, the Can-Am accessory offerings let people design a package that's perfect for their needs.
Items for the Cab
A full soft cab (715003032) offers cozy protection from the elements for the driver and passengers. Owners can customize the modular system to allow for a variety of seamless accessory configurations with doors, various windshield options, roofs and rear windows. Protective products include front (715002418) and rear bumpers (715002419), bumper plates, body side and front corner protectors and fender flares.
Work-Related
Can-Am work-ready accessories are designed to enhance the experience and make chores easier. The Defender MAX side-by-side vehicle uses the same innovative cargo box as the single bench-seat Defender. Owners can mount the Can-Am Bed Wall Extender (715002421) to the Can-Am Headache Rack (715002423) to improve the box volume capacity. The Bed Wall Extender is adjustable to various needs thanks to its removable, foldable topside panels and removable rear doors.
The LinQ Tool Holder (715003059), sold in pairs, is an ultra-versatile tool holder using a convenient swivel-latch that allows tools to be stored in any orientation. The holders can be used on the cargo bed, the Headache Rack or the Bed Wall Extender. LinQ Adaptor (715003058) is required for installation on the Headache Rack and on the Bed Wall Extender. Winches, hitches, Apache 360 LT track system (715003064) and Alpine Flex Plow Kit (715003108) can also be added to enhance the Defender MAX side-by-side vehicles' ability to work.
Hunting-Related
The Defender MAX side-by-side vehicle is designed to offer extreme versatility for work and recreational use. The lightweight-yet-durable anodized black aluminum Can-Am Gear Rail (715003391) is a universal mount for a wide variety of accessories when using the Gear Rail Mount (715001422). Hunters will appreciate the Gun Boot 6.0 Impact by Kolpin (715001419), which fits with the Gear Rail Mount and Gun Boot Mount (715001420), The Gear Rail, made from durable, heavy-duty 7-gauge anodized black aluminum, fits on the Headache Rack and accepts the Gun Boot. The Removable Winch Mounting Kit (715001652) is ideal for those in the field, as it allows them to quickly remove the winch when needed, and when used in conjunction with the Multimount Winch Harness (710005082) and Higher Front Receiver Hitch (715003109), to quickly and conveniently relocate a front-mounted winch to the rear of the vehicle.
Electronics
Can-Am electronic accessories for the Defender MAX vehicles are meant to make things simpler. A Powered Tilt-Bed (715000829) uses a strong actuator to electronically lift the tilt cargo box and includes a handy switch integrated in the unit's dashboard. The Can-Am exclusive Digitally Encoded Security System (D.E.S.S.) keys (715002458) offer anti-theft protection for your vehicle using encrypted chip technology that restricts access to a vehicle's electronic ignition system. The kit includes three programmable keys (Work, Standard and Performance). Thirteen available lighting kits are offered for the Defender family of utility-recreation side-by-side vehicles, including the Rear Cargo Light (715002422) that illuminates the cargo bed for chores at dusk and dawn.