Québec, February 8th 2016 – CKX is proud to launch the helmet that will create a total break with the traditional backcountry winter helmets. Available in Fall 2016, you'll hear about it for sure! The CKX TITAN will appeal to everyone and will leave no one indifferent … for the right reasons.
It's following a V.I.P. invitation for dealers and media of the snowmobile industry that CKX had the pleasure of unveiling the one-of-a-kind CKX TITAN backcountry helmet. Upon taking possession of the admission ticket to the V.I.P. launch, we were quickly faced with the fact that this new helmet will revolutionize the way we ride in the backcountry.
It read: "BE BRAVE. TAKE RISKS. NOTHING CAN SUBSTITUTE EXPERIENCE." A famous quote popularized by writer Paulo Coelho. He is also known for his quote: "There is only one thing that makes a dream impossible to achieve: the fear of not achieving it." A phrase that could also have been applied to the TITAN helmet.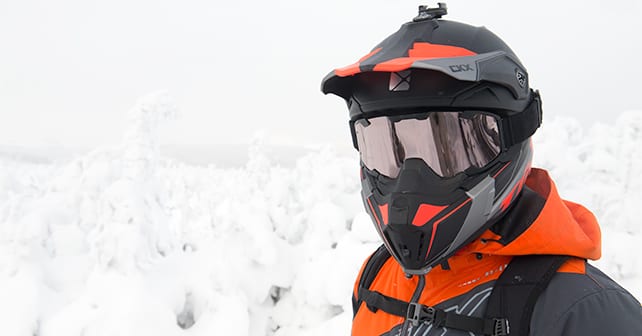 Even before the helmet was revealed and before the crowd found out how this backcountry helmet was so different, CKX knew that the TITAN story was off to a good start. CKX knew because earlier this winter, an agreement was signed with the 2012 Snocross Pro-Open class world champion and 6 time participant to the X-Games, Tim Tremblay. Tim will be the TITAN's bearer.
CKX and its tagline "Wear Your Passion" was looking for a meaningful name for this helmet that would inevitably ignite the passion to drive in complete freedom. Synonymous with magnificent and colossal, the name TITAN, inspiring confidence and encouraging the achievement of gigantic feats, was a perfect fit.
TITAN stands out from other backcountry helmets on several points, more specifically by:
Its fiber glass composite construction weighing only 1350g.
Its backcountry look with the features and benefits of a modular helmet
Thanks to its retractable and removable muzzle that allows the rider to control his way of breathing and to be able to speak more easily with others with the helmet on.
Its greatly improved field of view when using the CKX 210o goggle expressly developed for the TITAN.
Its aerodynamics optimized in 3 areas
New peak design equipped with fins to reduce wind resistance during high-speed riding,
Addition of an air diffuser under the peak to control the airflow,
Design of grooves on the side of the helmet to increase air circulation.
Its improved ventilation system
The first backcountry winter helmet with an adjustable front ventilation port.
Its removable Go-Pro© camera mount
ECE 22.05 certified and available for winter 2016-17, CKX TITAN backcountry helmet will be on many heads next season and on the podiums for sure!
About CKX
Created in 1983 in Quebec, the CKX brand has quickly become a reference in snowmobile helmets. Committed to continuously improving the experience of snowmobile riding, CKX also offers snowmobile apparel and all types of snowmobile helmets (Full-face, modular, off-road…). CKX brand is exclusively distributed by and a property of Kimpex. www.ckxgear.com www.kimpex.com