Due to my "Geekish" nature I always tend to keep up-to date with the latest tech savvy news regarding the latest gadgets introduced into marketplace. However I am also the type of consumer that when I find something that works for me, I tend to stick with it. I am sure this is a common trait shared by many consumers: if you had a good experience with version 1 of any said product, chances are you would upgrade to version 2 without even considering any other similar products. Although this mindset of "sticking with what you know" has always served me well, it was recently challenged when BRP (Can-Am) asked me to test the Cyclops Gear CGX2 Action Camera.
Cyclops Gear released the CGX2 in the extremely popular and competitive action camera market in late November/2015. With the introduction of the CGX2, Cyclops Gear wanted to offer consumers not only a quality action camera at an affordable price, but also everything they needed to record right out of the box.
For those of you wondering why I am using the words "Cyclops Gear CGX2" and "BRP" in association, let me expand on this. According to a press release published by BRP in September/2015, a mutual agreement by both companies was concluded whereby BRP's North American dealer network will distribute the Cyclops Gear CGX2 Action Camera.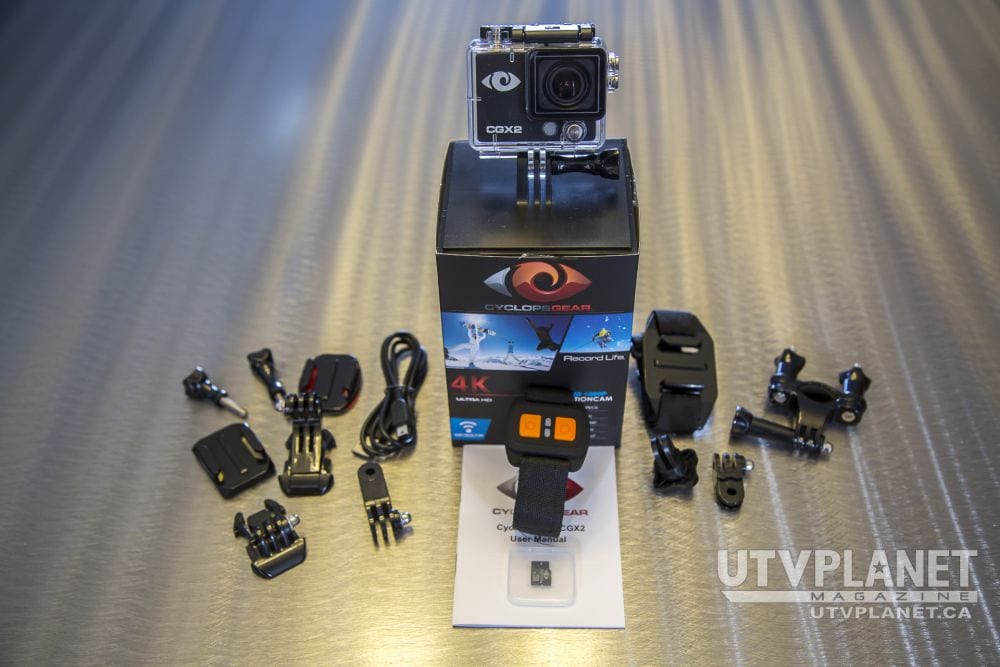 WHAT'S IN THE BOX
CGX2 4K WI-FI Action Camera
Class 10 32GB Micro SD Card
50m Waterproof Case
Removable Lithium Ion Battery
2.4 GHz Waterproof Remote Control Watch
8 Different Mounts
User's Manual
When you first handle the CGX2, you will immediately notice that the look and feel is familiar, as it resembles its GoPro counterpart. The CGX2 features a black body with a simplistic layout and similar to the GoPro the CGX2 camera is of high quality construction.
The front of the camera reveals the Wi-Fi indicator, Mode Button and the 160-degree lens. The back of the camera features a 2-inch LCD and the Working and Charging Indicator lights.
The left side of the camera is made up of the Up/Down buttons along with HMDI and USB Port. The right side consists of the TF Card slot where the 32GB Micro SD Card is inserted.
The top of the camera is made up of the Power/Shutter Button as well as the Camera's Speaker.
CAMERA FEATURES
Being able to control your camera remotely is no longer a "nice-to-have" feature, it's a must! Having the ability to mount your camera on different locations on your person, vehicle or wherever else inspires you and still retaining the ability to control the camera is an essential part in capturing unique footage.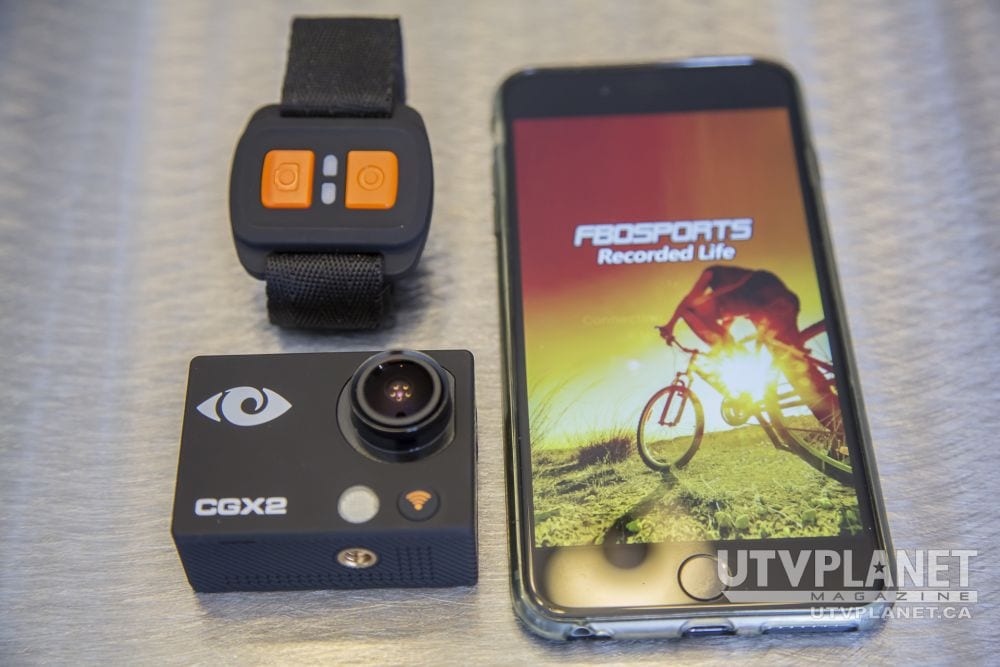 The CGX2 camera provides you with two ways to accomplish this: 
The CGX2 features built-in Wi-Fi, which lets you easily pair the camera with an IOS or Android smartphone via a free downloadable APP. This APP allows the end-user to control the camera remotely. Not only does the APP allows you to live view the camera video stream, it also allows you to control the camera various settings and of course its operation.
You can also control the Camera remotely via the Waterproof Remote Control Watch. Simply pair the Remote Control Watch to the Camera and now you can record or take photos from the push of a button.
The CGX2 also features various popular shooting modes: High-Speed Recording, Time Lapse, Photo Burst, Slow Motion, Motion Detect, Dive Mode, Invert and Seamless mode. You can easily select these options via the camera's System Menu or via the smartphone APP.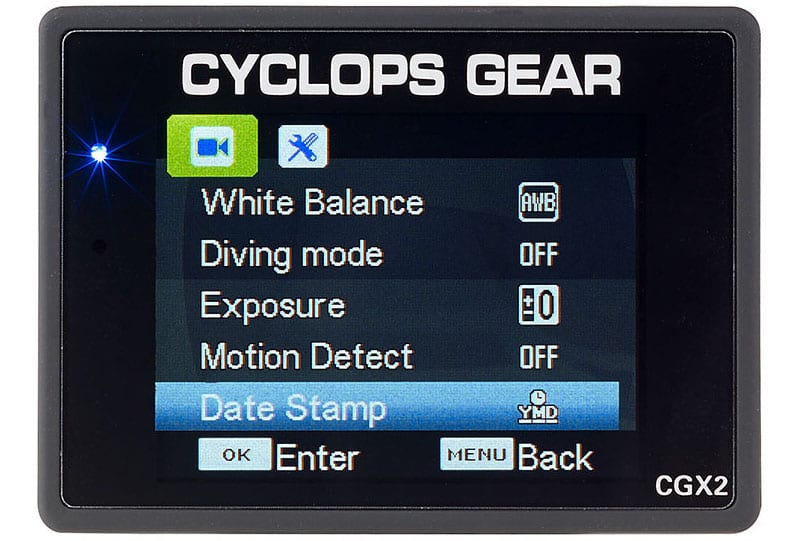 VIDEO RESOLUTIONS
Depending on the desired creative effect you wish to achieve, the CGX2 allows you to shoot video in various resolutions. Once again these options are modified and/or selectable via the camera's System Menu or via the smartphone APP.
| | |
| --- | --- |
| Video Resolution | FPS (frames per second) |
| 4K | 10 |
| 1440p | 30 |
| 1080p | 25/30/50/60 |
| 720p | 35/60/120 |
| 480p | 240 |
It should be noted that as per the camera's instruction manual, certain video features are restricted when shooting in 4K/10fps:
Loop Recording, Wi-Fi Zoom, Time Lapse and Capture Function.
STILL IMAGES
Still images can be captured with the CGX2 in the following resolutions: 12MP, 8MP, 5MP and 3MP. The CGX2 also permits you to capture imaginative stills with the photo burst, photo time-lapse and capture mode features.
Sample Stills – 12MP
It should be noted once again that these options are modified and/or selectable via the camera's System Menu or via the smartphone APP.
TESTING PHASE
One question that we did not want to answer during our testing phase is: How does the CGX2 action camera compare to its competition? Yes, there is no denying that the CGX2 is comparable in appearance to its GoPro counterpart. However, we did not want these similarities to influence our testing and recommendations. Our test needed to conclude that the CGX2 action camera lived up to the goals set by Cyclops Gear of providing consumers with a quality action camera at an affordable price.
Basically, we wanted to answer the question: Can the CGX2 action camera capture quality video/photo footage that will satisfy the off-road enthusiast? That's what it's all about isn't it? We play in diverse and sometimes-harsh environments and need an action camera that will not only capture our ride adventures but also our adrenaline-filled moments.
VIDEO SAMPLES
1080p/60fps – standard options
720p/60fps – standard options
720p/120fps – slow motion enabled
480p/240fps – slow motion enabled
We have performed some preliminary testing on the CGX2 and thus far we are very impressed by the footage captured. At this time it's too early in the game to comment on factors such as battery performance/longevity or how the camera performs in some of the harsher environments and conditions. However we have numerous adventures in store for 2016 so we will definitely report back on our findings as our test period extends throughout the year.
Also make sure to watch our social feeds, as we will share video excerpts from our adventures captured on our CGX2 action camera.
CONCLUSION 
Our first impressions of the CGX2 action camera are very positive, as the preliminary footage we captured thus far is quite impressive. We are also left with the impression that we will be working with a quality product that will enable us to capture exceptional footage as we pursue our trials throughout 2016.
As stated above, we didn't want to compare the CGX2 to its competition, however we are aware of the advanced functionalities of other cameras on the market. If you don't need or care for some of the advanced features being offered by other cameras than the CGX2 maybe for you. Ultimately it boils down to features vs. price as the CGX2 retails for $349.99 CAD.
If you are in the market for an affordable 4K action camera that has everything you need to record right out of the box, we recommend that you take a good look at the CGX2 action camera.
More information on the CGX2 action camera can be found at: http://www.cyclopsgear.com. The CGX2 action camera can be purchased via the Can-Am website or via your local BRP dealerships.
TECHNICAL SPECIFICATION
| | |
| --- | --- |
| Camera Size | 61*45*25mm (not including the lens) |
| Weight | 58g (not including the battery) |
| Sensor | 6G+IR F=2.0 f=2.8mm |
| Lens | 6G+IR F=2.0 f=2.8mm |
| View Angle | 160 degree |
| Resolution | 4k 10fps, 1920*1440p30fps, 1920*1080p60/50/30/25fps, 1280*720p120/60/50/30/25fps, 640*480p240fps |
| Image Size | 12M / 8M / 5M / 3M |
| File Formats | JPG/MOV H.264 |
| Memory card | 4GB to 32GB (Micro SD Card Class6 or above) |
| Audio | Built-In microphone / speaker |
| USB Port | USB 2.0 high-speed interface for charging and data transfer |
| Screen | HD 2″TFT 960×480 |
| Seamless Loop Recording | Optional 1 min / 3 min / 5 min |
| HDMI Output | Real-Time Transmission |
| White Balance | Supported |
| Exposure Compensation | Supported |
| Capture | Supported by CGX2 and Remote Control |
| Continuous | Supported |
| Time Lapse | Supported |
| Image Invert | Supported |
| Slow Motion | Supported |
| Wi-Fi Frequency | 2.4GHz-2.4835GHz |
| Wi-Fi support Phone System | IOS6.1 and above, Android 4.0 and above Image transmission, remote control, settings, sync and |
| Wi-Fi Function | Sharing albums |
| Wi-Fi Distance | 30m |
| Wireless transmission | IEEE 802.11b/g/n |
| Battery capacity | Lithium-Ion batteries can be changed.1050mAh, recording for over 2 hrs. Simplified Chinese / Traditional Chinese / English / Russian / French / |
| Language | Spanish / Italian / German / Thai |
| Waterproof | 50 meters |
| Remote Control Frequency | 2.4GHz |
| Remote Control Waterproof | IP65 |
| Remote Control Distance | 25m |