March 29, 2022 — MARKHAM, Ontario.
Midsize Pioneer 700 also returns for new model year
Today, Honda reveals the bulk of its Pioneer lineup, including the improved Pioneer 1000 rec/utility platform and the returning midsize Pioneer 700. Note: The Pioneer 520 was announced in November 2021.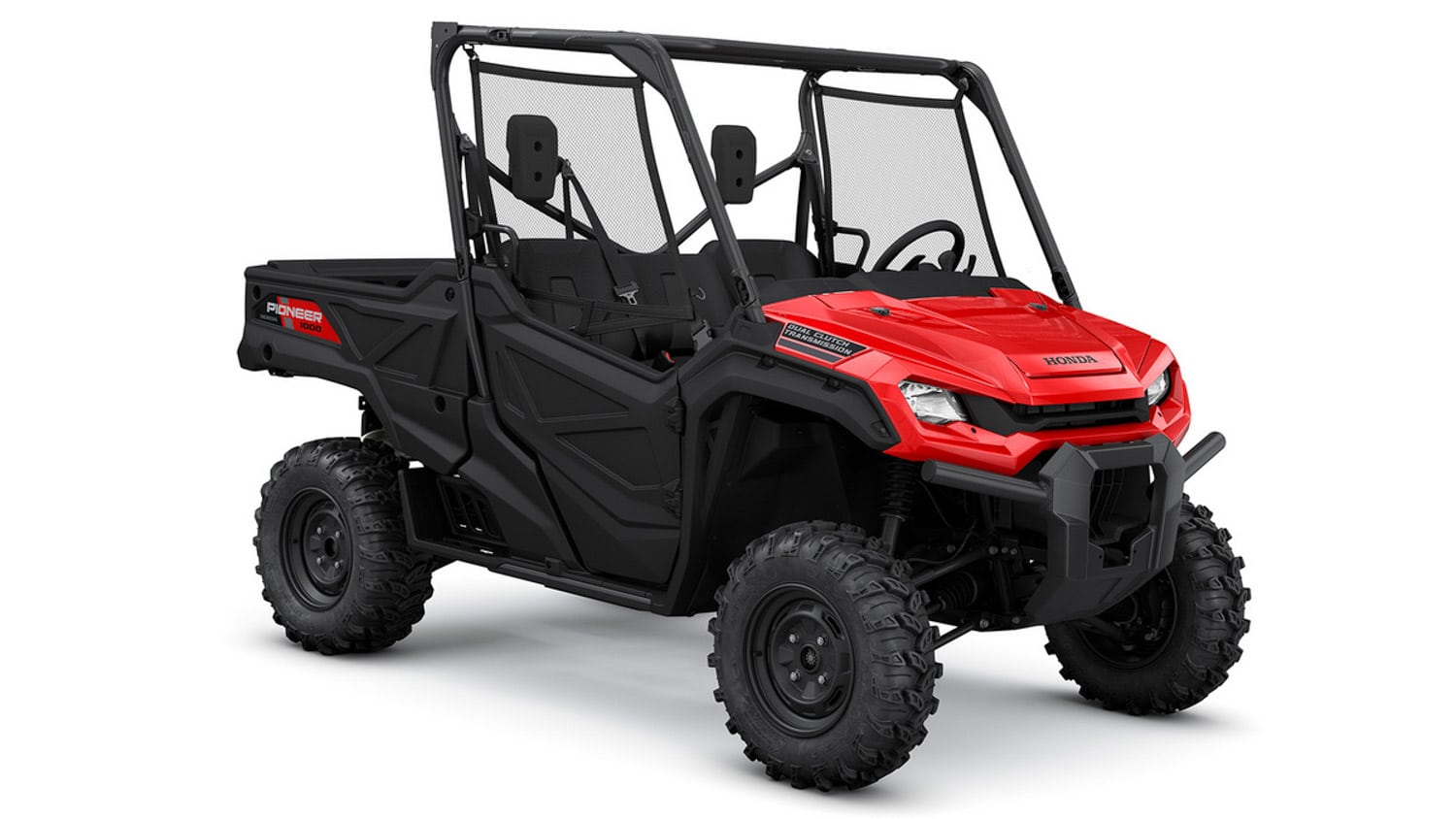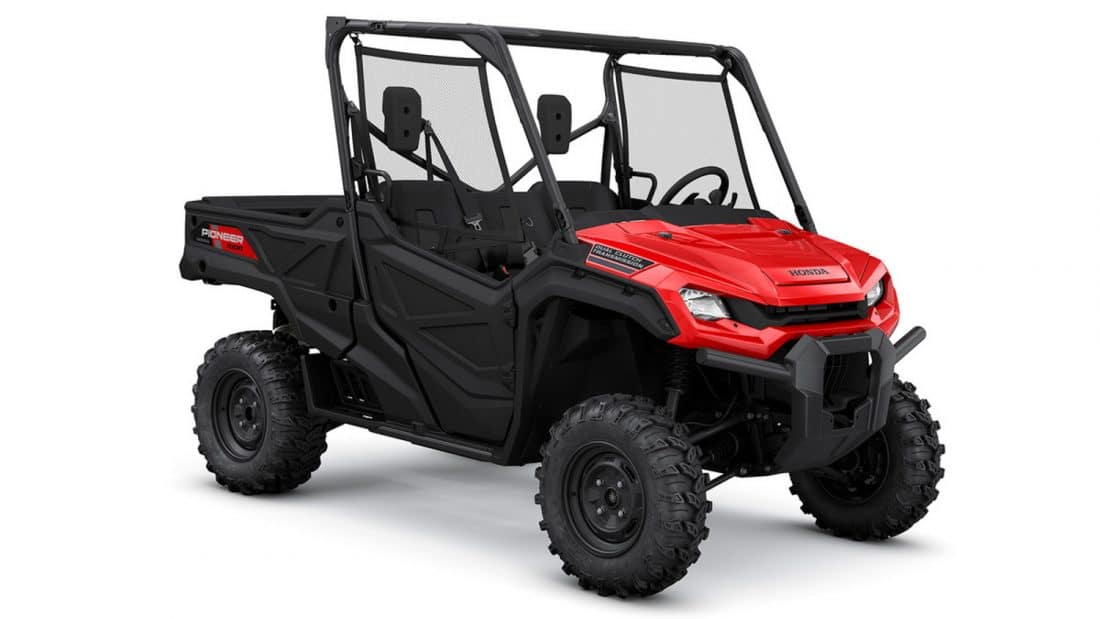 PIONEER 1000
The king of "works hard, plays hard," Honda's Pioneer 1000 has always been noted for its remarkable versatility, as it performs exceptionally for a diverse array of uses. That said, some customers have narrower concepts of what a rec/utility side-by-side should be, preferring a vehicle that is specialized for a certain type of driving experience. This is why Honda has refined the flagship lineup for the new model year, adding more focused trim levels that are tailored to specialized applications. For 2022, the new Pioneer 1000-5P Trail and Pioneer 1000-5P Forest deliver owners rewarding experiences in their specific intended applications.
For the new model year, Honda has made several upgrades to the already capable Pioneer 1000 platform:
Increased Power: Thanks to revised valve timing and an updated throttle-body plate setting, the Pioneer 1000 series benefits from increased power in the middle and upper rpm ranges, for improved acceleration and increased towing capacity. The size of the cooling fan has been correspondingly increased.
Transmission Updates: The Pioneer 1000 series received updated gear ratios to match the increased power output, and changes were made to improve shifting action, with reduced shock during gear changes.
Added Storage: On Pioneer Trail, Forest and Deluxe versions, the under-seat storage area has been enlarged at the opening, simplifying insertion and extraction of objects. In addition, a handy new storage area has been added below the dash, with contents secured via cargo nets.
Beverage Holders: The dash-positioned cup holders on all Pioneer 1000s have been redesigned to hold tumbler-size cups up to 30 ounces. In-door drink-bottle holders are also provided in all doors (including rear doors on five-seat versions).
New Door Nets: All Pioneer 1000s now have door nets with a simplified mounting structure and a finer mesh pattern for improved visibility.
Pre-wired Accessory Connector: For all Pioneer 1000s, a pre-wired panel is provided under the hood to simplify installation of Honda and aftermarket electronic accessories.
Dash Switch Panel: Also, to facilitate clean installation of electronic accessories, pre-wired switches are integrated in the dash on all Pioneer 1000s except the 3P EPS. On all trim levels including the 3P EPS, unwired blanks are integrated in the dash for additional accessories.
In-bed Outlet: The Pioneer 1000-5P Forest and Deluxe versions now have a handy 12-volt accessory receptacle in the bed, enabling use of electronic devices like coolers, work lights, food warmers, sprayers, air compressors and more.
Winch: The Pioneer 1000-5P Forest & Trail models come standard with a winch for removing obstacles and providing peace of mind in rugged conditions.
New Meter: All Pioneer 1000s now have a new dash meter with modernized styling. Added functions include clutch indicator and battery voltage.
Rear-view Mirror: The Pioneer 1000-5P Trail version comes standard with a rear-view mirror mounted on the rollover protection system. All other Pioneer 1000s have the mirror bracket pre-installed for simple accessory installation.
Bed/interior Lights: The Pioneer 1000-5P Trail and Forest now have a new interior light that illuminates the floor area. Note: The Pioneer 1000-5P Deluxe and 3P EPS have a punchout for easy accessory installation. For locating gear in low-light conditions – for example, selecting a fishing lure – the Pioneer 1000-5P Forest also comes with dual bed lights. Note: All other versions have a bed-light punchout.
Wheels: All versions now come with 14-inch wheels – aluminum cut-contrast on the Trail, black aluminum on the Forest and Deluxe, and steel on the 3P EPS. OTR Dirt Master tires are standard.
Sealed Cabin: On all Pioneer 1000s, a number of measures were taken to isolate the driver and passengers from engine heat, as well as external debris and moisture.
Styling: All Pioneer 1000s have a new grill and fascia, along with updated graphics. The Honda Powersports wing logo is now featured in the center of the steering wheel.

*** New features in red
PIONEER 1000-5P TRAIL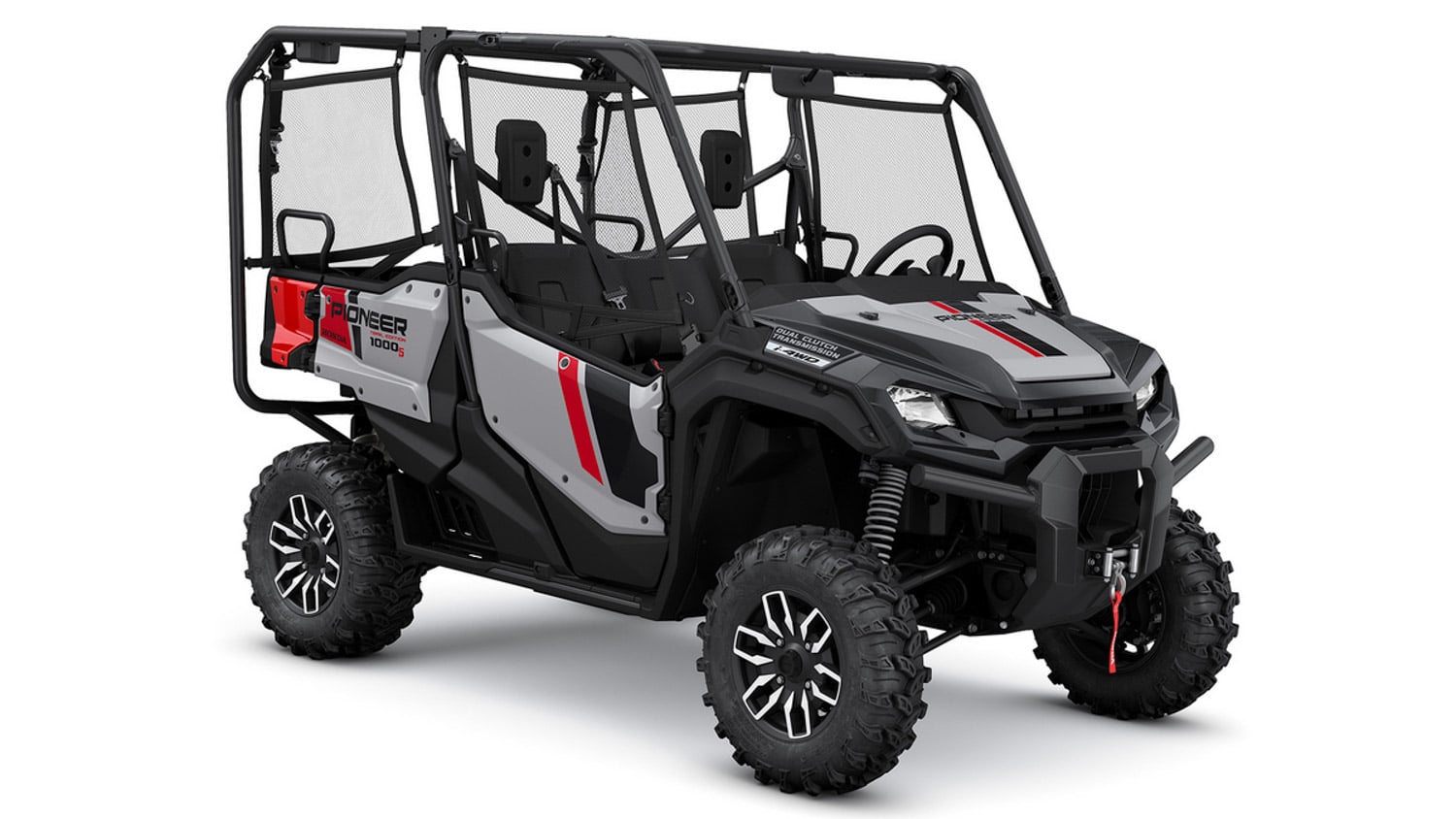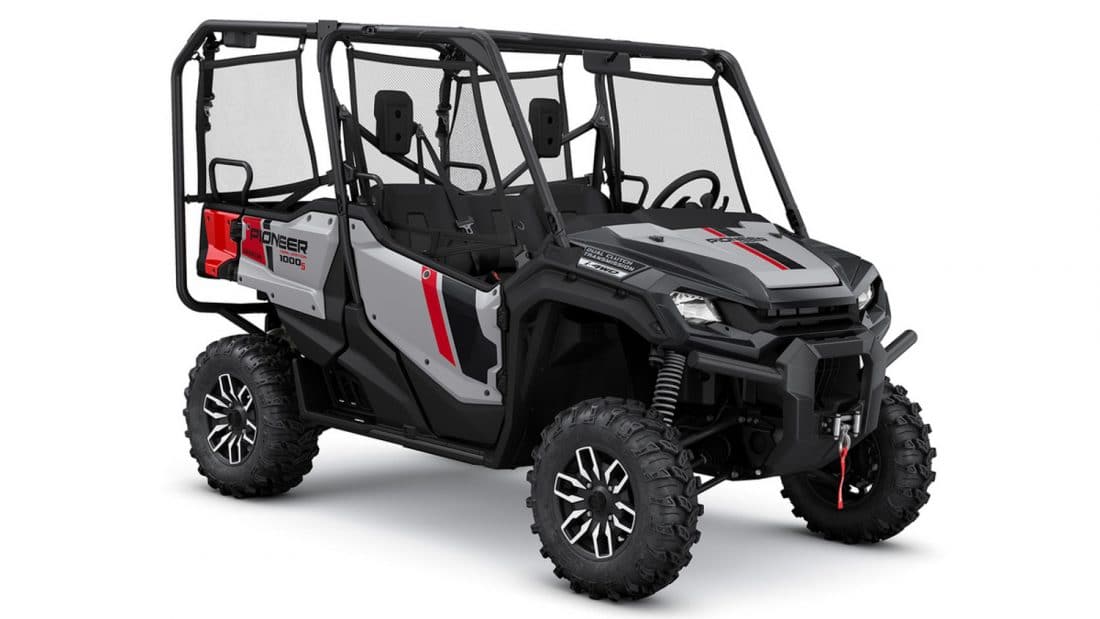 For rec/utility side-by-side enthusiasts who enjoy sporty experiences like tackling flowing sections of two-track or exploratory trips in the middle of nowhere, the Pioneer 1000-5P Trail fits the bill. The Trail prioritizes comfort and convenience via FOX QS3 shocks, aluminum cut-contrast wheels, amounted rear-view mirror for keeping track of other drivers, an in-bed accessory outlet and other features that deliver outdoor fun. Platform-wide Pioneer 1000 improvements include increased power, a smoother-shifting automatic Dual Clutch Transmission, added storage and beverage holders, better door nets, a new meter, easier accessory integration and more.
PIONEER 1000-5P FOREST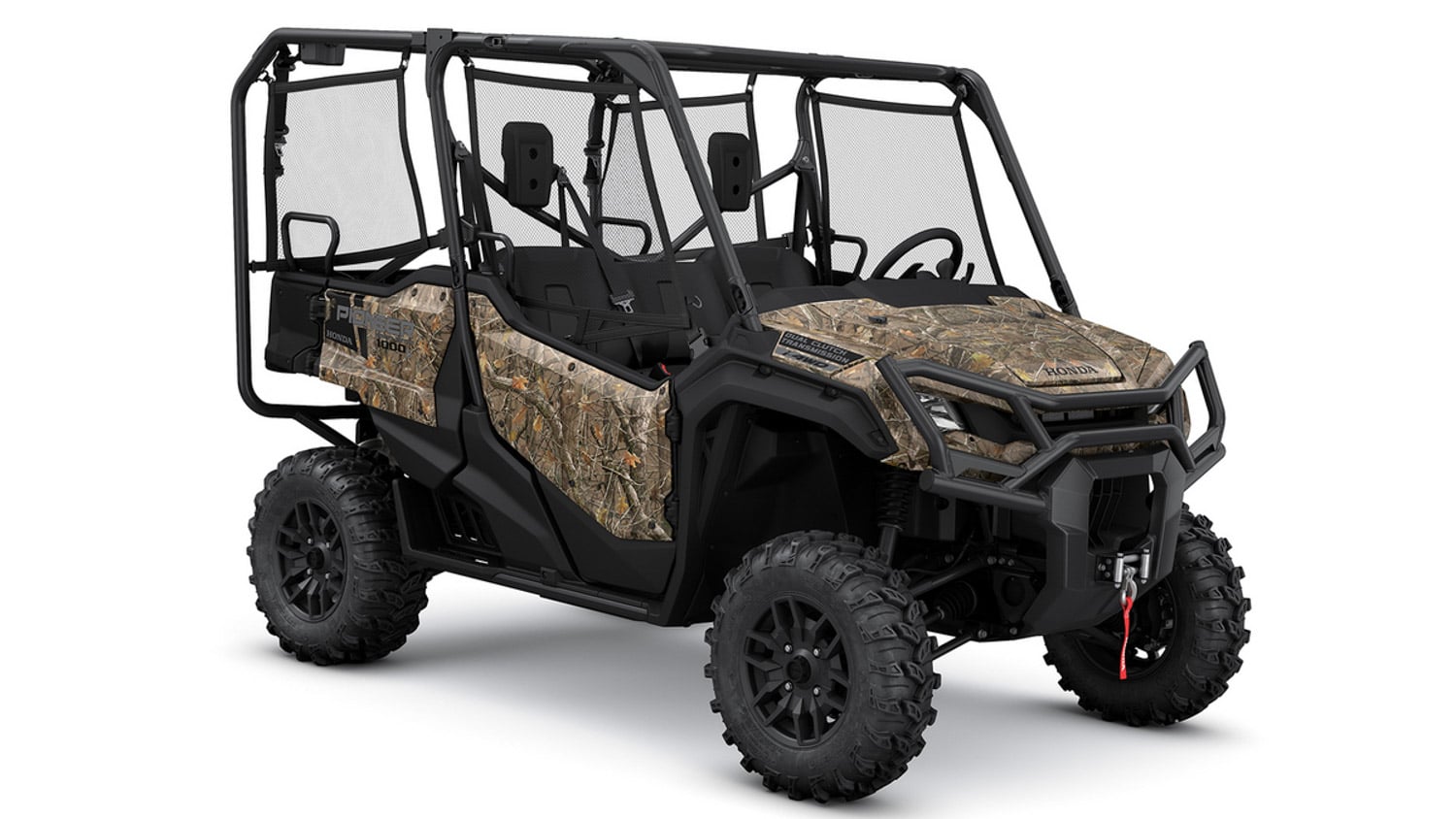 Some rec/utility side-by-side owners use their vehicles primarily as a means of pursuing other passions, such as taking buddies to a secret fishing spot in thick woods or pursuing an adventure in the rugged mountains. The Pioneer 1000 Forest is equipped with features like a winch, black-aluminum wheels, dual bed lights to facilitate finding gear in low-light conditions, and an in-bed accessory outlet to power electrical devices. Self-levelling rear suspension adjusts to varying cargo loads, like when an eight-point buck doubles the cargo weight for the drive back to the truck.
PIONEER 1000-5P DELUXE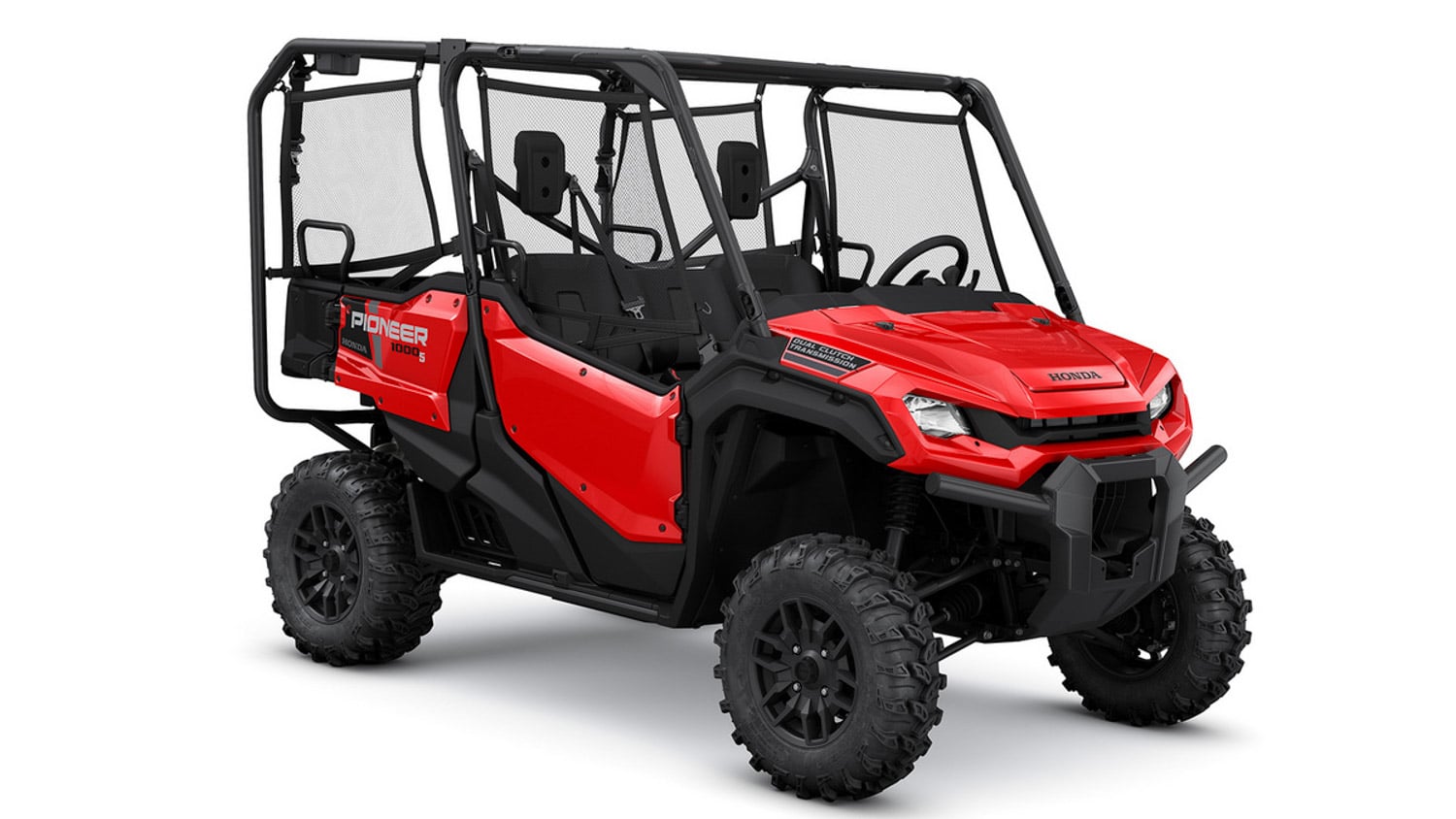 While some owners pursue specialization, others prioritize versatility, and Honda continues to embrace the "work hard, play hard" ethos that has always been integral to the Pioneer 1000 platform. Hence the adaptable Pioneer 1000-5P Deluxe, the do-it-all machine equipped with KYB shocks that have dual-rate front springs and triple-rate rear springs with self-levelling rear suspension.
PIONEER 1000-3P EPS 
When value is the top purchasing consideration, one need look no further than the three-seater Pioneer 1000-3P EPS. Benefitting from the platform-wide improvements like increased power, transmission updates, beverage holders, new meter, door nets and more, these vehicles are outfitted with steel 14-inch wheels.
PIONEER 700
PIONEER 700 DELUXE 
The midsize Pioneer 700 Deluxe is just right when it comes to striking a balance between scale and capability. Highly versatile, this 675 cc, single-cylinder four-stroke-powered side-by-side is designed for work or play. The Pioneer 700 Deluxe is offered in both two- and four-seat configurations and features painted plastic, aluminum wheels, Electric Power Steering (EPS), and colour-matched suspension springs. It also lets drivers switch between automatic and manual shifting.
About Honda Canada Powersports 
Honda Canada Inc. was established in 1969 and is the sole distributor of Honda motorcycles, scooters, ATVs and side-by-sides in Canada. Innovative technology has always been a Honda trademark, showcasing pioneering engine and chassis design that has set the standard in Powersports engineering for more than 60 years. Honda Canada's Powersports Division is responsible for sales, marketing, and operational activities for these products through authorized Honda dealers in Canada. For more information about Honda Canada motorcycles, ATVs and side-by-sides please visit: https://motorcycle.honda.ca/ or https://atvsxs.honda.ca/