Clinton, Tenn., Jan. 18, 2015 – ITP today announced the introduction of its new "Tornado" wheel for ATVs and side-by-side vehicles. The second wheel in the new STORM Series product line, the Tornado offers a custom appearance in a super-strong, lightweight wheel.
"Our second offering, the Tornado, in the expanding STORM Series wheel family is as tough as they come, yet offers a stylish finish that will help ATV and UTV owners stand apart from the masses," notes Rhett Turpin, Head of ITP Sales. "The wheel includes a stylish, eight-spoke center configuration with beveled edges as well as unmatched structural integrity for conquering challenging terrain."
The new STORM Series wheel offers instantaneous custom looks with its star-spoke matrix center with beveled edges and simulated rivets. But the package offers more than only good looks, according to Turpin. The Tornado wheels boasts a 1,200-pound load rating and utilizes the industry exclusive "Rock Armor" inner wheel lip to provide unequalled structural integrity. To further stand behind its products, ITP backs the wheel with its Lifetime Structural Warranty.
"We're thrilled to launch this new wheel to customers who seek an affordable product with exceptional reliability and an unmatched fit-and-finish," says Turpin."The black-with-beveled-edges finish certainly raises the bar in terms of appearance options."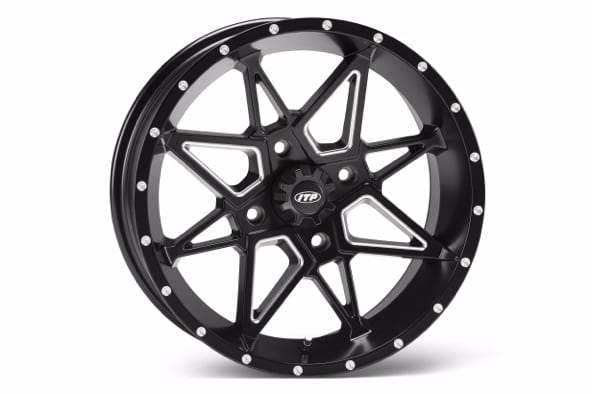 The new ITP STORM Series Tornado wheels are scheduled to arrive in dealerships in February, 2016. MSRP runs from $100 (14×7) to $149 (17×7) per wheel.
STORM Series Tornado Wheel Sizes (inches)
14×7 – 15×7 – 17×7

About ITP
In business for more than 35 years, ITP has become the world's #1 ATV/UTV aftermarket tire and wheel source. ITP utilizes its experienced staff of engineers, designers and technicians at its two American tire facilities in Clinton, Tenn., and Jackson, Tenn., to develop award-winning tire-and-wheel designs for virtually all ATVs and side-by-side vehicles. Numerous outlets distribute ITP tires across the United States and in more than 25 countries worldwide. For a full-color ITP catalog, call toll-free: 1-800-889-7367. Tech questions call: 1-909-390-1905 www.itptires.com
About The Carlstar Group
The Carlstar Group is headquartered in Franklin, Tennessee and is a global manufacturer of original equipment and aftermarket specialty tires and wheels for the agriculture, construction, outdoor power equipment, powersports, and high speed trailer markets. The diverse portfolio of solutions are offered under several leading brands including Carlisle® tires and wheels, ITP® tires and wheels, as well as Cragar®, Black Rock® and Unique® wheels. The Carlstar Group employs 4000 associates in 22 facilities located in 5 countries. Since 1917, a culture of converting great ideas into advanced products has created a legacy of excellence in product innovation, quality, and customer service. For more about The Carlstar Group, visit www.carlstargroup.com