Kawasaki has unleased even more capability and comfort with this latest release of 2021 (and 2022) vehicles.
The fourth iteration of the incredible Teryx KRX 1000, the eS, adds Kawasaki Electronic Control Suspension to a side‐by‐side for the first time ever.
The Teryx and Teryx4 family is bolstered by the introduction of the new Teryx S LE and Teryx4 S LE models, which feature all new suspension geometry for greater comfort and capability.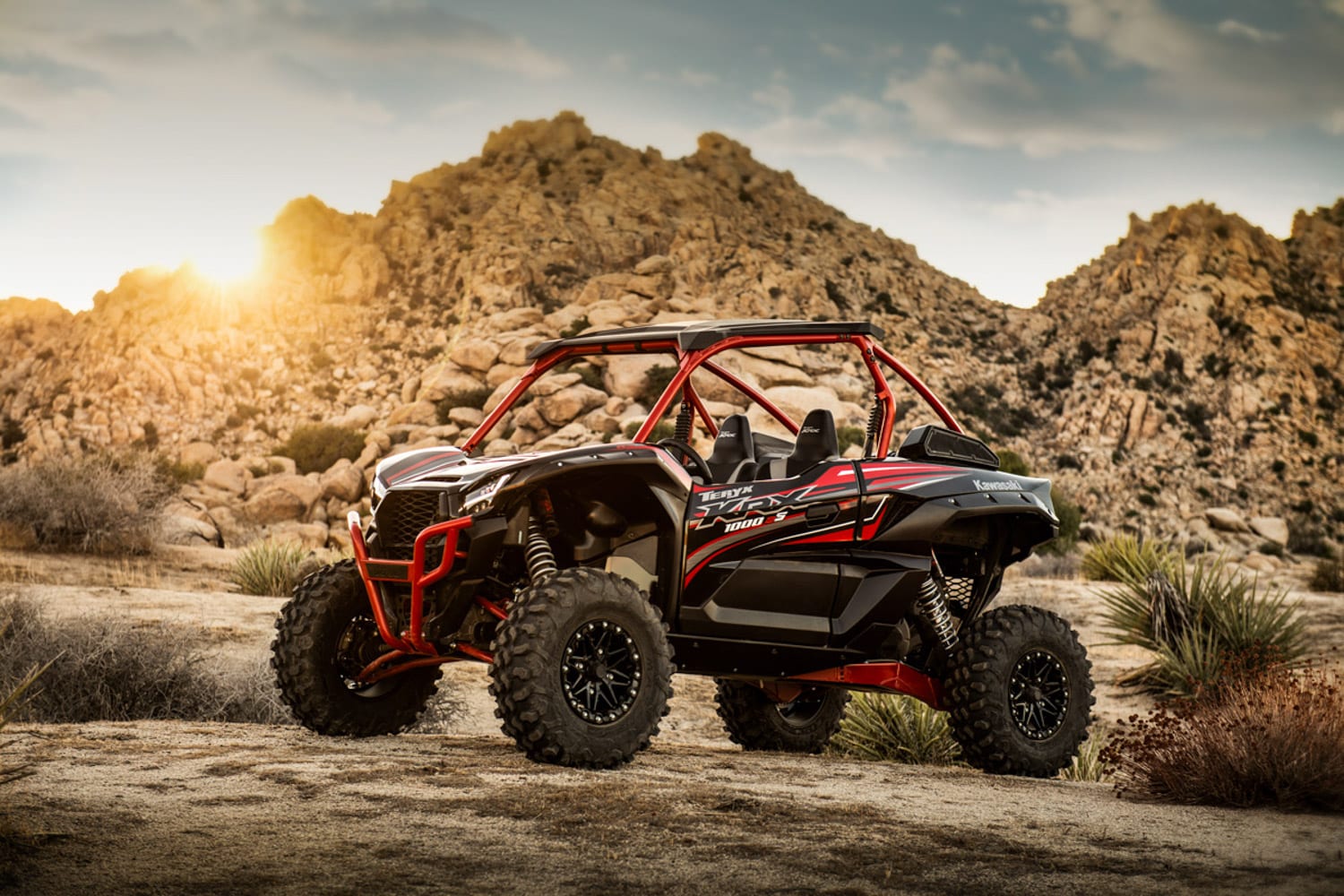 2021 Kawasaki Teryx KRX 1000 eS
First ever side by side with Kawasaki Electronic Control Suspension and a 7" TFT screen
What's new:
∙ Kawasaki Electronic Control Suspension (KECS) with FOX 2.5 Live Valve Internal Bypass shocks ∙ 7‐inch LCD TFT instrumentation screen
The new Teryx KRX 1000 eS is the fourth in the Teryx KRX 1000 line up, and the first‐ever side by side fitted with Kawasaki Electronic Control Suspension. KECS, paired with FOX 2.5 Live Valve Internal Bypass shocks provide unrivalled control and capability for side‐by‐side owners.
Using a switch mounted on the dashboard, drivers can select from three suspension modes to suit the terrain and vehicle speed: Normal, for a variety of riding conditions and good stability in corners; Firm, for higher‐speed trail runs (over 65 km/h), and Soft, which is ideal for more technical off‐road adventure like rock crawling and climbing. The eS features the same core chassis and engine as the highly regarded KRX 1000 and adds a Kawasaki Quick Release (KQR) sport roof and front bumper for additional protection, plus an aggressive new graphics package. A bright new, modern, and easy to read 7‐inch TFT colour dash keeps riders connected to their KRX like never before.
TFT Colour Instrumentation
For the first time ever on a Kawasaki side by side we see the inclusion of a large 7" high‐grade full‐colour TFT LCD screen. It transforms the KRX 1000 eS interior into a modern cockpit. Multiple selectable display modes offer information at a glance and provide a level of entertainment for passengers as they navigate their course.
Three selectable display modes (Digital, Analogue, Simple) allow drivers to select how they want to view their vehicle information. The screen background and brightness can be adjusted as well.
The instrument's large screen size makes it ideal for infotainment functions. Features like the Suspension Monitor, Audio rack display†, and Vehicle‐mounted cameras (up to two accessory cameras can be linked to the display) offer both informaƟon and entertainment value for riders. †When linked to an iOS‐type smartphone.
2021 Kawasaki Teryx4 S LE and Teryx S LE
Even greater comfort and capability for Teryx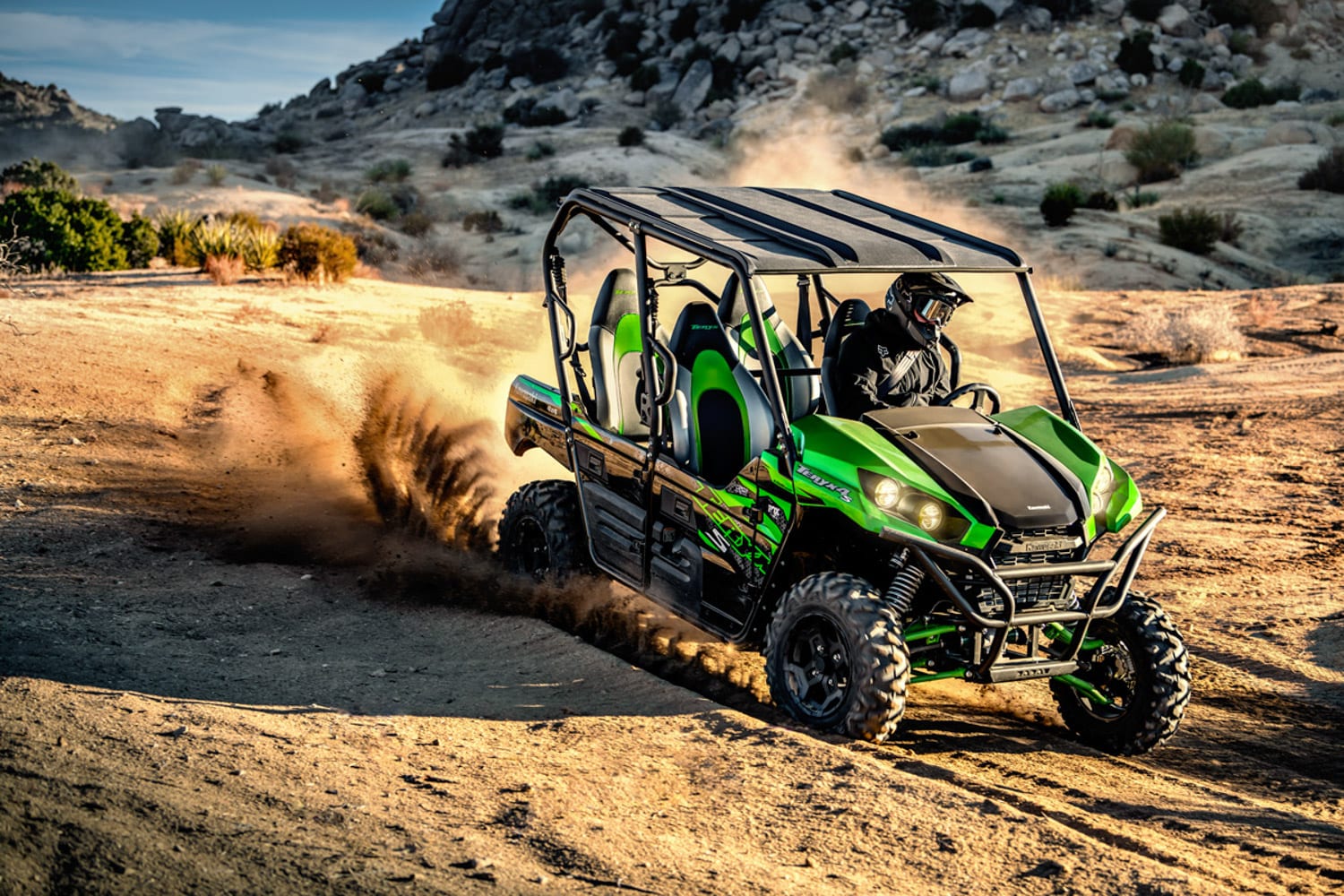 What's new:
∙ Wider track and longer wheelbase courtesy of revised A‐arms.
∙ High‐performance FOX 2.0 LSC Piggyback Shocks with longer travel and revised suspension settings
Kawasaki Teryx side by sides are built to dominate the most demanding trails with
the perfect combination of rugged sport performance and capability.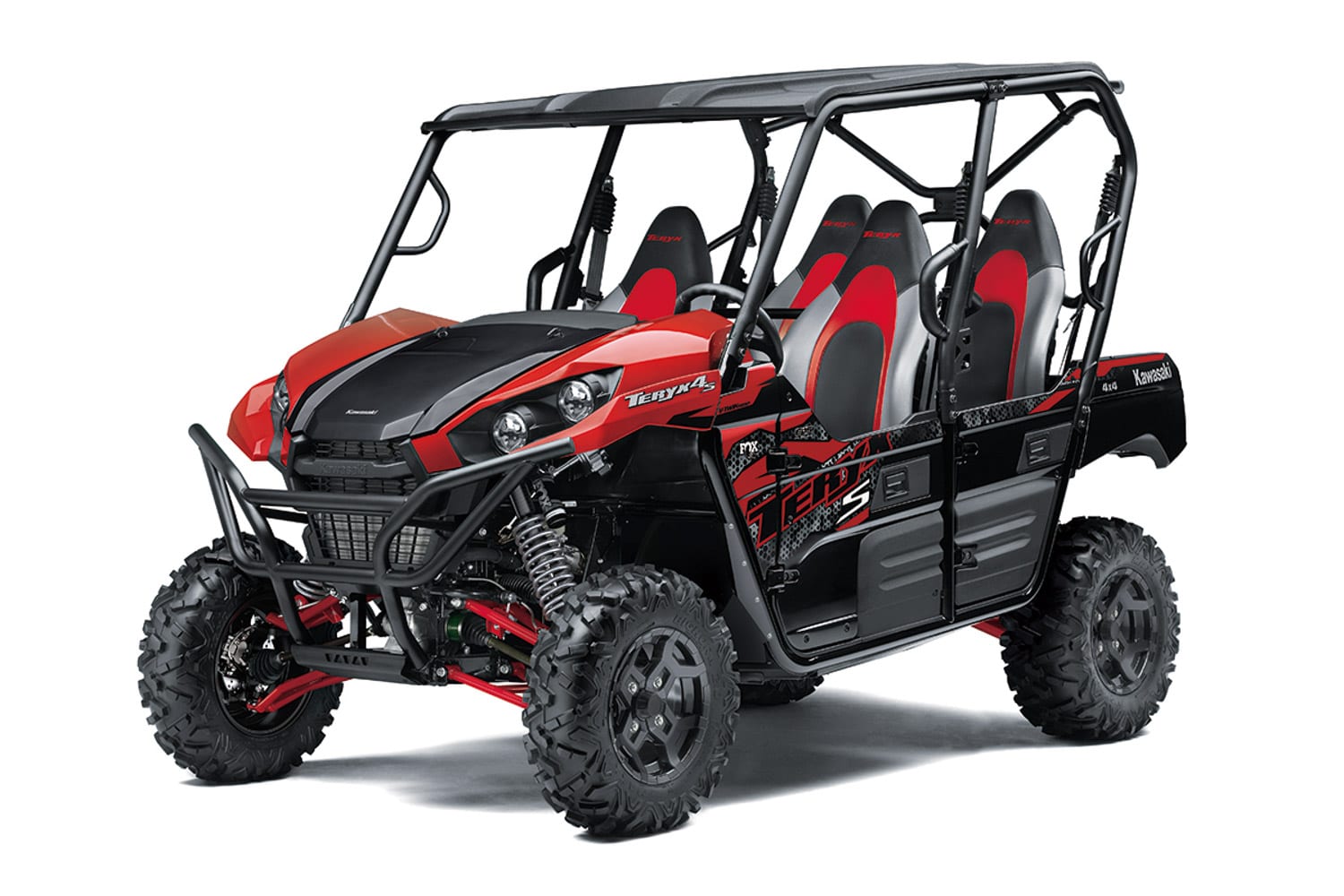 Building on the versatile Teryx lineup, the all‐new 2021 Teryx S LE / Teryx4 S LE models feature wider tread, longer wheelbase, and longer‐travel suspension to deliver even greater ride comfort and performance.
The Teryx S / Teryx4 S wheels are placed approximately two‐inches further apart than on other Teryx models, and wheelbase is increased by three‐inches.
Both the Teryx S LE and Teryx4 S LE are outfitted with quadruple LED headlights, 14" cast aluminium wheels, three‐tone seats, and sun top.
For complete details on all of Kawasaki's new vehicles, visit Kawasaki.ca. Let the Good Times Roll.
ABOUT KAWASAKI
Kawasaki Heavy Industries, Ltd. (KHI) started full‐scale production of motorcycles over a half century ago. The first Kawasaki motorcycle engine was designed based on technical know‐how garnered from the development and production of aircraft engines, and Kawasaki's entry into the motorcycle industry was driven by the company's constant effort to develop new technologies. Numerous new Kawasaki models introduced over the years have helped shape the market, and in the process have created enduring legends based on their unique engineering, power, design and riding pleasure. In the future, Kawasaki's commitment to maintaining and furthering these strengths will surely give birth to new legends.
Kawasaki's tagline, "Let the good times roll", is recognized worldwide. The Kawasaki brand is synonymous with powerful, stylish and category‐leading vehicles. Information about the complete line of Kawasaki powersports products can be found on the Internet at www.kawasaki.ca