It has been established for many years that Kimpex is the "go-to" company in Canada for all of the needs of recreational vehicle enthusiasts. Whether for parts, accessories, gear or maintenance and overall care for an ORV, Kimpex has more than 21,000 products to satisfy the most demanding enthusiast.
The company works constantly to develop and market products that provide performance and safety during your adventures at a fraction of the price of parts offered by vehicle manufacturers. Some products, like CVT belts, are good to have on hand while on the trail. This makes a company like Kimpex especially important for those among us who like to take longer rides into more remote areas.
One of the worst trailside issues to deal with is the dreaded flat tire. Sure there are patch kits, but what if you really damage the tire, like with a sidewall puncture? You'd be better off with a spare. This is what lead Kimpex to design an economical Spare Tire Carrier for your ORV.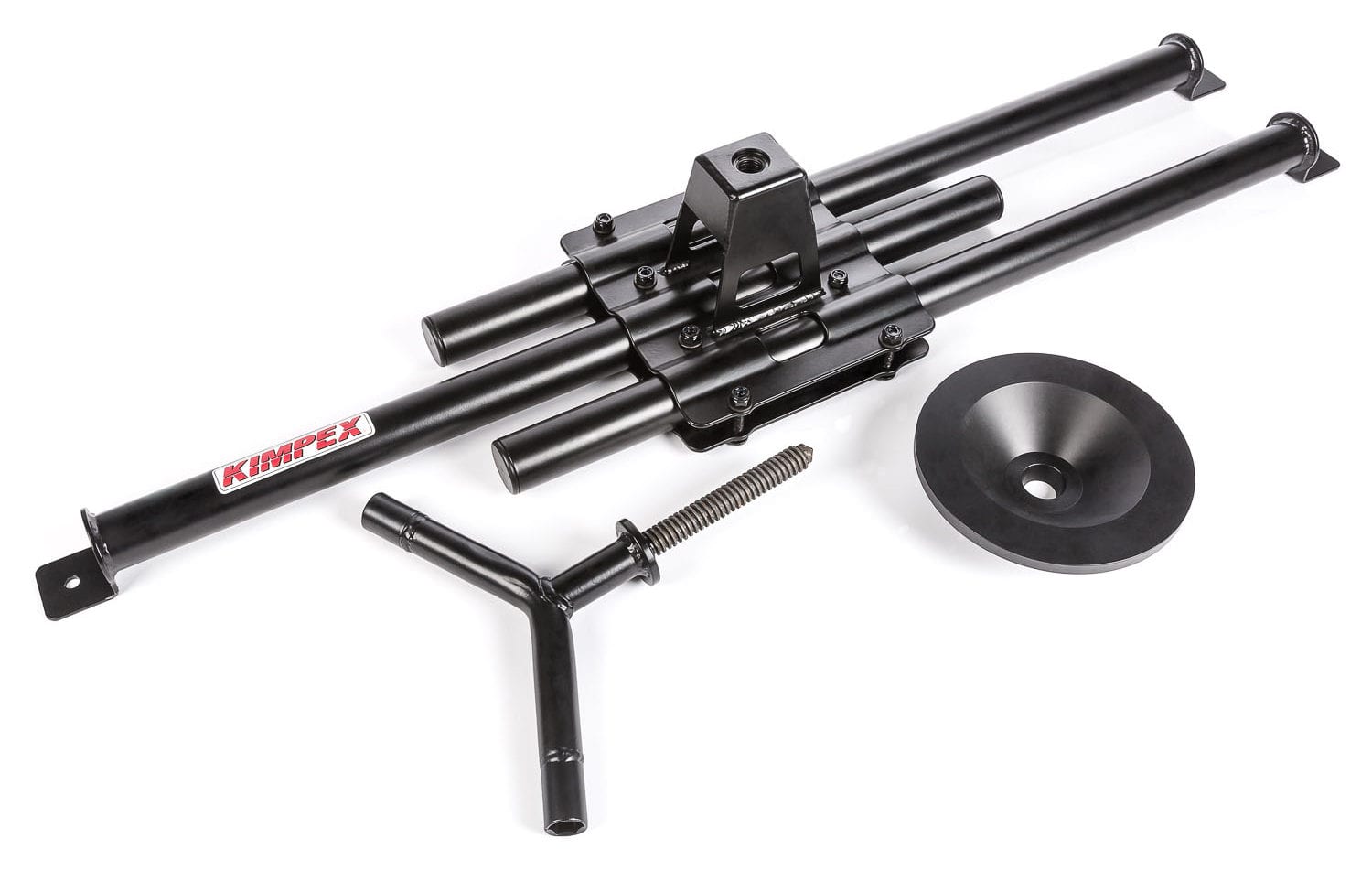 When the idea was first thought up, several aspects needed to be taken into account – it had to be useful, economical, robust, and have the ability to adapt universally to all types of UTVs on the market. This is no small task, yet it was one Kimpex was up to meeting.
Robust steel construction
Off-road vehicles are under constant stress and the components attached to them must be capable of taking the same amount of abuse and wear that gets placed on the rest of the vehicle.
The universal spare wheel carrier was created with to be solid and have long-term durability. These high quality steel parts are coated with a black matte electrostatic paint that look great and resist the wear caused by rust and grime. The paint is an industrial painting technique whereby an electrical charge propels the paint particles towards a conductive metal surface. The end result is an incredibly durable painted surface the resists environmental issues.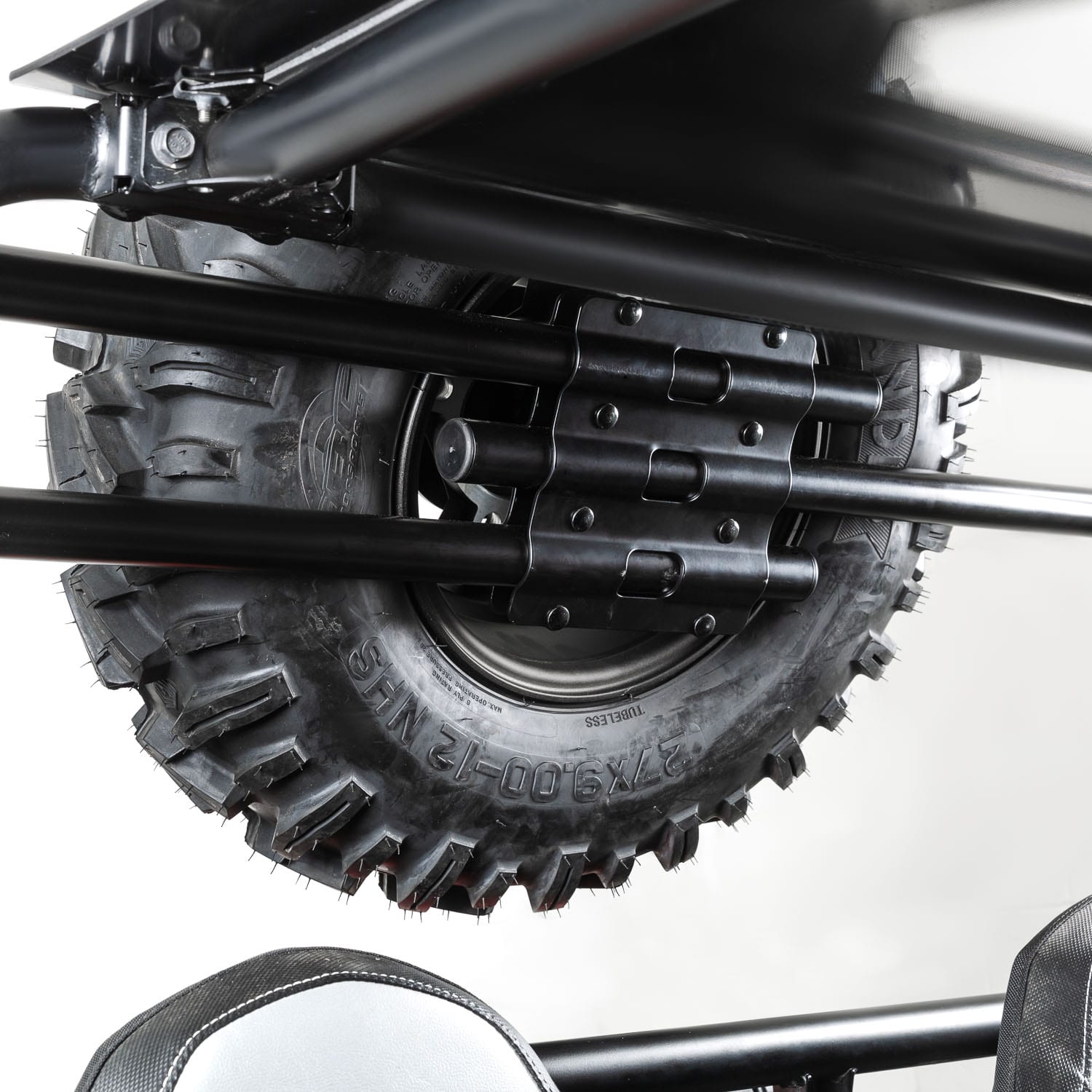 Practical tip
In a functional sense, the "Y" retaining bar of the spare wheel has two end-pieces that function as a lug wrench. Because of this, you don't have to carry a separate lug wrench with you to change the tire. This is well thought out and extremely handy.
Installation in minutes
It only takes a few minutes and basic skills to install the Spare Tire Carrier. Its universal installation allows it to adapt to any roll cage on a SxS. The grab bars are mounted in parallel for a perfect fit with three points of support. The brackets, sold separately according to the diameter of the cage, complete the installation in a short time without any drilling.
One of the main additional advantages of the spare wheel carrier is that it does not use any of the UTV's cargo space. This leaves the space completely clear for the rest of your gear and trailside necessities.
In conclusion, With the amazingly powerful machines we have today, and the ever increasing trail time we spend far away from the truck and trailer, the chances of getting a serious flat tire are increasing. Luckily, now you do not have to risk riding without a spare tire. Designed with style and performance, The Kimpex Spare Tire Carrier offers the possibility of a quick and easy repair. This is a benefit that will make the difference for a worry free ride and give you peace of mind.