Even though Rigid Industries makes a lot of different lighting products, the company is perhaps best known for making high-quality light bars and cubes for the off-road market. Whether it's a rock crawling buggy, desert racer, or a trail Jeep, Rigid's LED light bars and cubes have been illuminating remote trails in the backcountry for nearly a decade. Some people might also be familiar with the company's marine LED lighting products, which apply the company's revolutionary LED lighting technology to a variety of commercial and recreational marine applications. Now Rigid is taking things one-step further by breaking into yet another market, this time recreational vehicles, with their Scene Lighting. The newest product in the line is the compact and powerful 1×2 Scene Light, which is a great exterior lighting solution for trailers, toy haulers, and RVs.
Off-roading and camping go hand-in-hand, so RV products are a natural progression for Rigid. After all, what better place for off-roaders to turn for RV lighting upgrades than the same company they trust to light up the trail? The new Rigid 1×2 Scene Light is an easy upgrade for any camper or RV. The flush-mount design of the housing enables it to be mounted on any flat surface. It places the light at a 65-degree angle, so when the light is mounted approximately 10 ft. high on the wall of an RV or trailer, it projects a broad beam that covers about 25 square feet and has a lot of ambient spill light. If more light is needed, the 1×2 Scene Lights can be paired and evenly spaced along the wall of the RV to create even more light over a larger area. The flush-mount housings are available in white and black and give the lights an OE-quality finished look, while the LED lighting itself is offered in cool white or amber.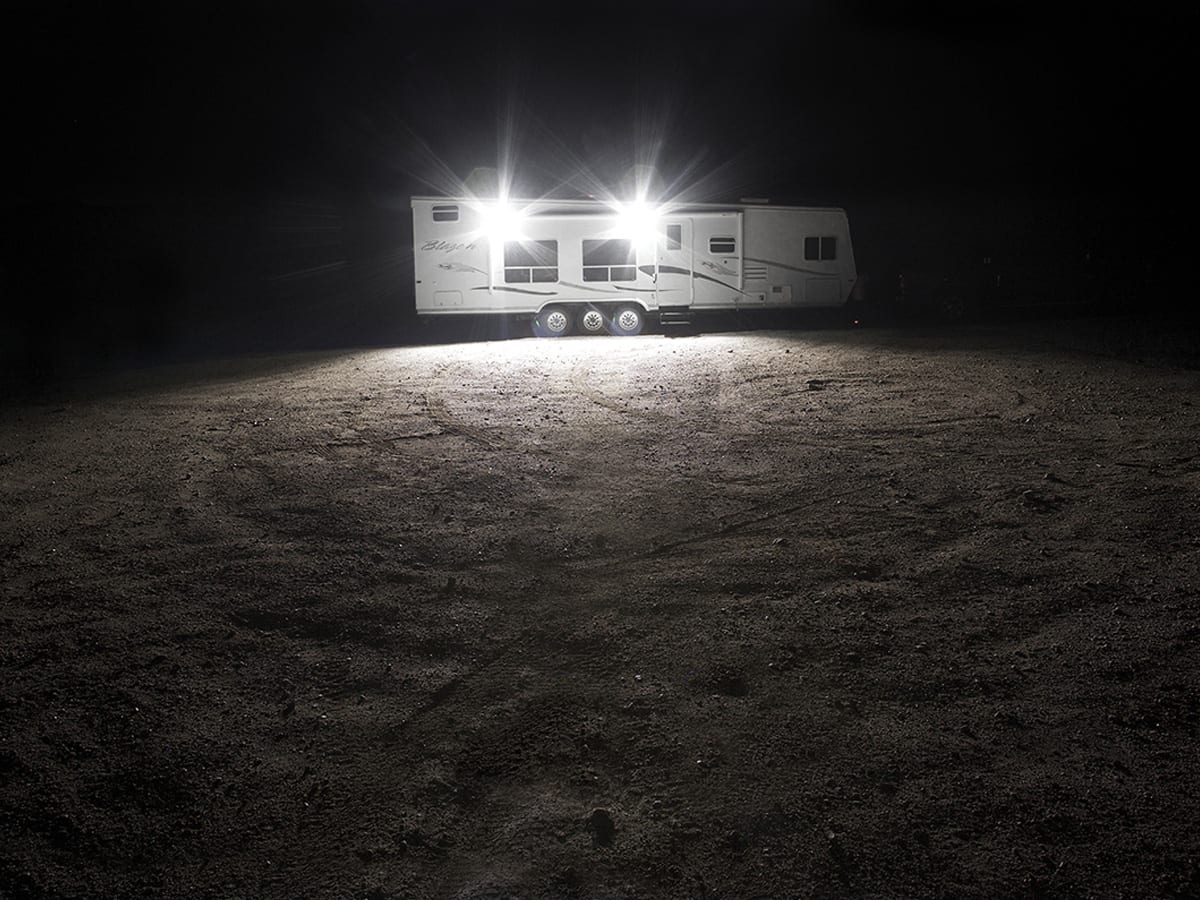 Power consumption is always a big concern for RV enthusiasts, and traditional lighting products tend to drain batteries quickly. This means RVers have had to keep close tabs on battery levels and run noisy generators longer just to keep up with power-hungry halogen and incandescent light fixtures. One of the biggest advantages of the 1×2 Scene Light is that it delivers 1100 raw lumens while consuming only 0.75 amps. There's no need to worry about leaving the Scene Lights on so you can find your way back to camp after a late-night trail ride, and they can illuminate the area around camp for hours without disturbing neighboring camps with a generator.
The unique reflectors and LED configurations in Rigid's Scene Lighting was originally developed for emergency and rescue crews. The flood pattern of these lights projects a broad beam over a large area, enabling crews to light up an entire scene quickly. This same technology is also handy for lighting up campsites, remote pits, or just about any situation where light is needed over a large area. A variety of different Scene Lights are available in addition to the 1×2 65° Scene Light. Large 2×10 and 4×4 units can be mounted on poles or permanently affixed to a location such as a fire truck, while the more compact 2×2 cubes are available and can be mounted to a trailer or the back of any work or service truck. Heavy-duty mounting brackets enable precise adjustable aiming, so the light goes where it's needed.
Aside from toy haulers and RVs, The 1×2 Scene Light is perfect for just about any application that requires a fixed, high-mounted light source. It can easily be adapted to non-RV applications, including tractor-trailers, heavy equipment or even the back of a Jeep. Customers have even used them for undercarriage and side marker lighting on trucks and 4x4s for safety lighting. The versatile and relatively low profile housing of the Scene Light makes it suitable for just about any flat mount surface.
Whether you're upgrading an older camper with newer LED lighting or simply adding additional light to a new RV, the new Rigid 1×2 Scene Light is a clean, simple, and easy-to-install option for the owner of any trailer, RV, or toy hauler.
More information on the Rigid Industries' "Scene Lights" can be found at: www.rigidindustries.com