I am sure that at some point in time, this situation has happened to you: you battled Mother Nature all day on the trails and you finally reach your destination soaked to the bone. All you want to do is get out of your wet gear, so you reach for your duffle bag or backpack to find that your change of clothes are as wet as the ones you have on your back! I can't even recount how many times this has happened to me.
We ride in such harsh conditions that even when Mother Nature does co-operate, dust and some level of muddy/wetland terrain are always on the menu. Your run-of-the-mill duffle bag or backpack may somewhat repel some of these elements, however your riding environment somehow always seem to find a way to infiltrate them.
I have tried many different solutions to not only protect my apparels from the various elements but also my electronics gear, without much success. I must admit however that I was being very selective. I was looking for some type of solution that was not only 100% element proof but also compact. Surprisingly enough that much anticipated "solution" presented itself to me during the Kimpex dealer show at the Oxford Products booth.
Oxford Products manufactures a luggage line-up which carries the "Aqua" branding. This luggage series is available in two formats: Backpack or Roll Bag. Both formats are offered in various colorations and sizes. Our review is based on the Oxford Aqua T-50 (50 liter) Roll Bag with a black/grey color theme.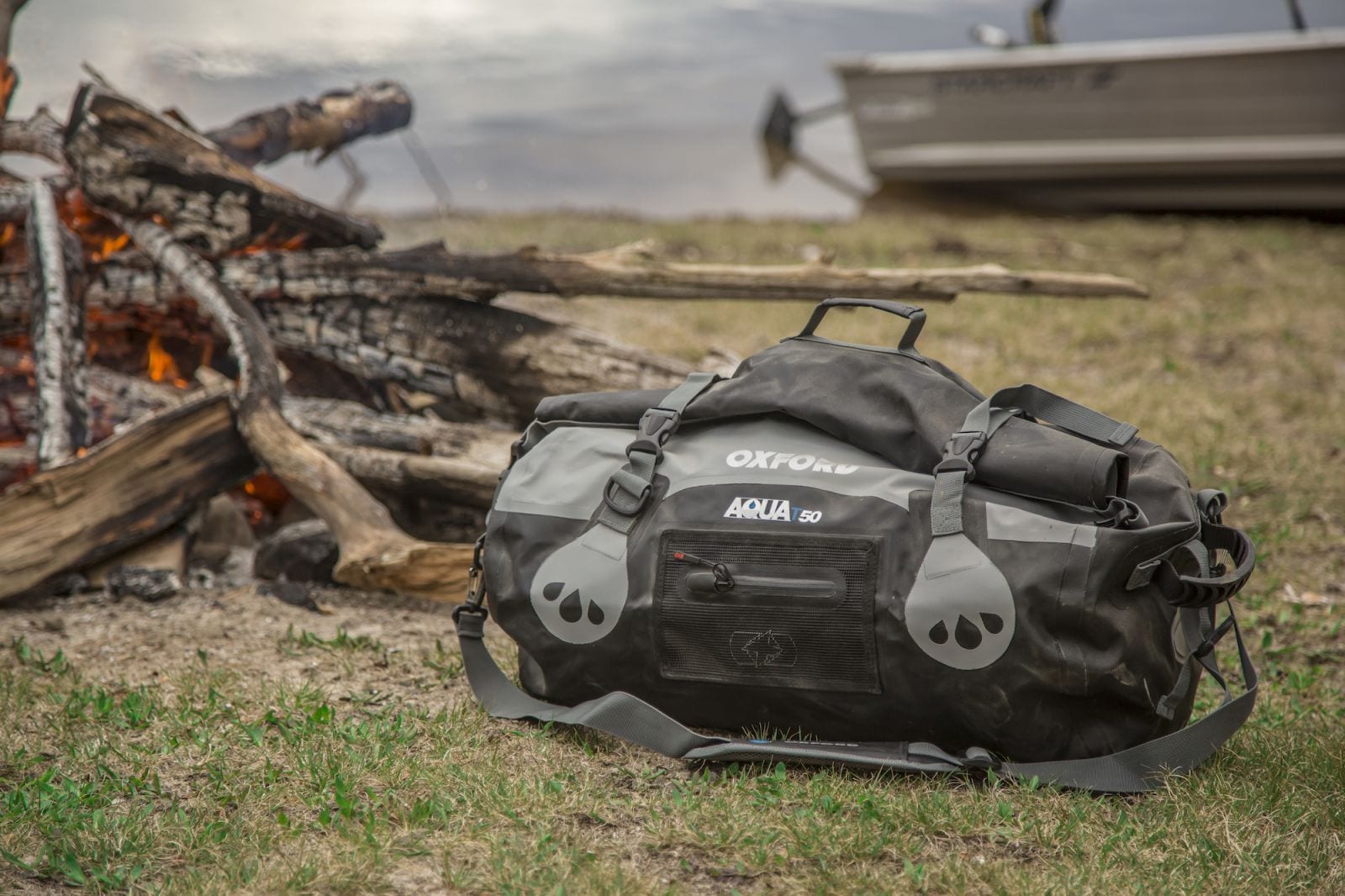 The first thing to note is that this luggage series is primarily produced and marketed for motorcycle use, however they are also ideal for off-roading applications. When you first handle the Aqua T-50 you will immediately notice the waterproof roll top closure and the overall waterproof construction with welded seams. The bag can also hold 50-liter of content and has an approximate size of: Height 33 cm (12.9") x Width 64 cm (25.1") x Depth 36 cm (14.1") when filled. For easy transport the bag has side and top handles along with a padded shoulder strap.
Since the bag was designed for motorcycle use, the bottom of the bag contains a Velcro strap that is used to secure the bag to the bike seat. To ensure that the bag is securely fastened to the motorcycle, Oxford also provides four double D-ring compression straps. However for off-road use, securing the bag in the bed with bungee straps works just fine.
The Good:
The Aqua T-50 is perfect for carrying your apparels, electronics gear or whatever gear you wish to protect from the elements. The bag is compact and yet can contain quite a large volume of content. After using the bag during several excursions I am very pleased with the Aqua T-50 thus far. The bag has shielded all my gear which where housed within not only from various trail condition but also from Mother Natures temperament.
The Bad:
The only negativity I can express towards the Aqua T-50 is the external mesh pocket. I am not sure what one would store or place here. The space itself is very cramped and whatever one would store here is not protected from the elements.
In Conclusion:
I'm very impressed by Aqua T-50! Even if the bag may have been originally designed for motorcycle use, it exceeded my expectation in off-road applications. Quality construction, compact in size, can hold a large volume of content and best of all 100% water and element proof.
For more information on the Aqua luggage series by Oxford, please visit www.oxfordproducts.com.