It was during one of our recent hunting expeditions that we got a chance to take our first ride with the Polaris Ranger XP 900 EPS Hunter Edition. First and foremost it is imperative not to confound our test unit with the Polaris Ranger XP 900 EPS Hunter Deluxe Edition as Polaris offers both models. There are significant differences between both models, for more information on the Polaris Ranger XP 900 EPS Hunter Deluxe Edition we invite you to visit the Polaris Website.
The Polaris Ranger XP 900 EPS Hunter Edition comes dressed in the Polaris Pursuit Camo thematic and comes standard with a factory-installed 4,500 lbs. winch and dual gun scabbards which are positioned above the cargo bed. During our initial vehicle walk around, it became quickly apparent why the Ranger XP 900 line-up with its wide range of models is one of the most sought after vehicles in the Polaris side-by-side family by recreational riders, hunters and farmers.
Esthetically speaking, the unit portrays a workhorse appearance with its aggressive posture; this portrayal alone seems to inspire the rider with self-assurance that the Polaris Ranger XP 900 will get you where you need to go. The overall fit and finish of the unit is superior quality, which we have grown to expect nothing less from Polaris. Entering and exiting the unit is made easy due to the seat position allowing for extra foot clearance, however this unit comes equipped with side-nets which I find to be very cumbersome. Fooling around with clip-on side-nets is really not my cup of tea, I wish this model would have came with half doors standard as Polaris offers on some of their other models.
Once seated in the unit you find that cockpit ergonomics are very well designed and that the controls and gauges are within reach and clearly legible. The unit also features many creature comforts: adjustable driver seat, tilt steering, dual cup holders and easy to access dash storage. The seats comfort level and positioning are more than adequate, something that I find to be imperative, especially on the long trail runs. In the rear of the unit, positioned above the cargo bed, you will find dual gun scabbards. The gun scabbards are a great feature, which allows you to securely transport firearms to your hunting destination. One small complaint with the dual gun scabbards is that they produced a lot of rattling noise when riding. This may have been caused by where they were installed on the rear frame, or simply poor installation from the dealer. However I wanted to point this out because after a long day on the trail it became quite bothersome.
A ProStar 900 Electronic Fuel Injected (EFI) engine powers the Polaris Ranger XP 900 EPS. The recalibrated, 68 horsepower ProStar 900 engine provides a 13 percent increase in power and keeps the vehicle as the class-leader in torque. Suspension wise, the Polaris Ranger XP 900 features a full 10″ (25.4 cm) of dual a-arm suspension travel up front and 10″ (25.4 cm) of independent rear suspension travel. To compliment the overall ride experience, the Polaris engineers designed the Ranger XP 900 with an ideal 81″ (206 cm) wheelbase paired with a full foot (30.5 cm) of ground clearance.
The Polaris Ranger XP 900 EPS Hunter Edition sits on a set of 12-in matte black steel wheels wrapped in 26-in PXT Tires. The 4-wheel hydraulic disc with dual-bore front and rear calipers provide for more than adequate stopping power.
So lets get the obvious out of the way now that we have completed our vehicle introduction. If you're reading this it is probably because you are a hunter and you want to know if this is the right unit for you, yes? You want to know if this unit has what it takes to get you and your hunting gear to your favorite hunting spot no matter what adverse trail condition may lie ahead, correct? Let me try and shed some light on this for you.
We were on a hunting expedition at the "Fer a Cheval" outfitters that is situated in the Parent area of Quebec. This would prove to be ideal testing grounds for the Polaris Ranger XP 900 EPS Hunter Edition. This area offers countless kilometers of trails to explore; each trail presents its own diverse conditions combined with its very own set of picturesque decors.
As most hunters, we had a large amount of hunting gear to haul, plus not to mention our camera equipment. Plus as all responsible hunters we wanted to securely transport our firearms over the diverse trail conditions we might face. The Polaris Ranger XP 900 EPS Hunter Edition didn't lets us down, it offered more than ample storage for all our gear, plus the dual gun scabbards allowed us to safely and securely transport our firearms as well.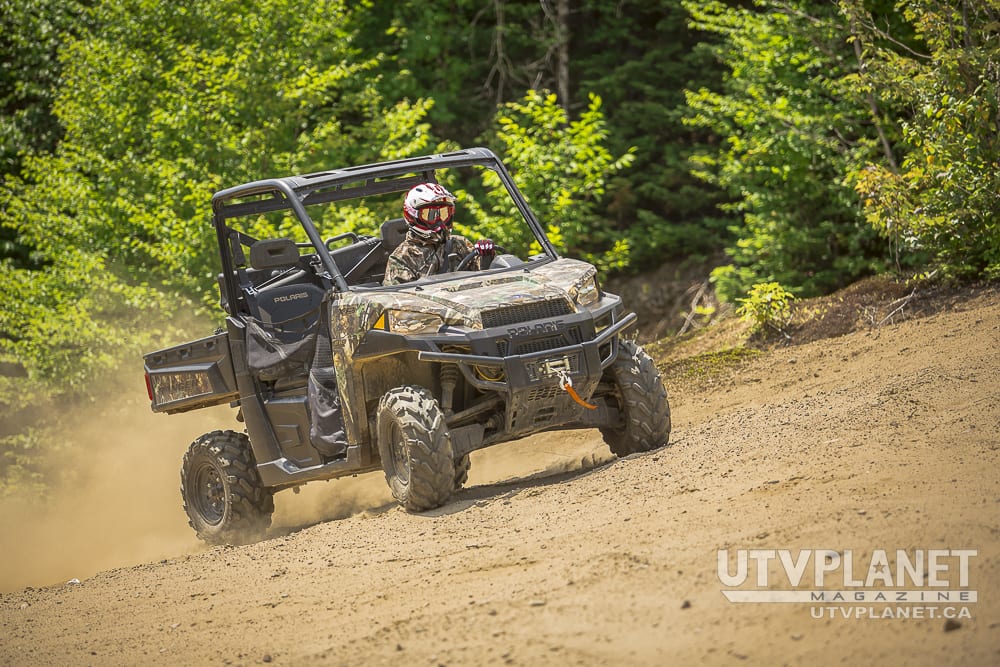 We had a long trail ride to get to our hunting location, which was a blessing of sorts because we wanted to get as much seat time as possible. We faced a wide variety of terrain, from old logging roads to narrow forested trails. In certain sections we encountered very step inclines immediately followed by vast rock gardens. Lets not forget the semi swamp areas and mud patches. At some point we decided to intentionally make our trail ride as adverse as possible, trying not to contour obstacles but instead to concur them. All this with a fully loaded unit, packed with hunting gear, supplies and camera equipment.
At no time during our journey over countless kilometers of diverse trails did the Polaris Ranger XP 900 EPS Hunter Edition ever disappoint. The unit always felt responsive and the 68 horsepower ProStar 900 engine had enough power on tap to help us concur the various terrain sets we faced. For those of you wondering, yes the EPS makes a huge difference in the handling of the unit, especially in tight narrow trails. The 12" (30.5 cm) of ground clearance and 10″ (25.4 cm) of suspension travel was a definite plus in the rock garden sections. Inside the cabin, we always felt comfortably seated and always in control of the unit.
Besides my total despise of side-nets and the rattling of the dual gun scabbards, I truly enjoyed my first ride experience with the Polaris Ranger XP 900 EPS Hunter Edition. If you are in the market for a hunting utility vehicle, this unit should definitely be on your list. The extreme hunter may also want to checkout the Polaris Ranger XP 900 EPS Hunter Deluxe Edition.
As always, I encourage you to visit your local Polaris dealer and take this high performance hunting machine out for a test-drive and judge for yourself if the Polaris Ranger XP 900 EPS Hunter Edition is right for you!