MSA Offroad Wheels recently release a brand new wheel technology that utilizes rotary forged engineering during the manufacturing process. So how does this help the powersports industry? Lighter, stronger and better performaing wheels for your ATV and UTV. MSA Offroad Wheels R-Forged series embodies all the same incredible styling and attitude you have grown to love with all MSA Offroad Wheels, but with all the added benefits of rotary forging at its core.
R-Forged wheels are manufactured using a state of the art, rotary forged process that transforms the wheel at a molecular level. The forging process creates the barrel of the wheel using extreme pressure and heat while the wheel center is spun at high speeds. Whether you are racing to the podium, crushing the rock gardens or simply want one of the strongest, lightest wheel on the market, R-Forged wheels are born to compete.
The F-Forged F1 beadlock is available in an exposed hub, 14×7 size for a variety of popular fitments. Exposing the hub sheds additional weight and depending on your bolt pattern and saves you pounds of unsprung weight. Each R-Forged F1 wheel comes with a matching semi-gloss black bolt-on (and interchangeable) center nameplate. The nameplate currently comes in red, blue, black and raw aluminum to match any vehicle theme. The beadlock ring of the F1 is manufactured using a carbon fiber composite material that can take a beating and hide scratches and scrapes, unlike most painted or powdercoated aluminum rings.
The R-Forged F1 is available online or via your local dealer so check for availability and pricing. Concerned about the warranty of any MSA Offroad Wheels product? Not to worry, they offer a full lifetime structural warranty on all of their wheels, including all R-Forged options. You bend it, break it or crack it, they replace it. Simple as that.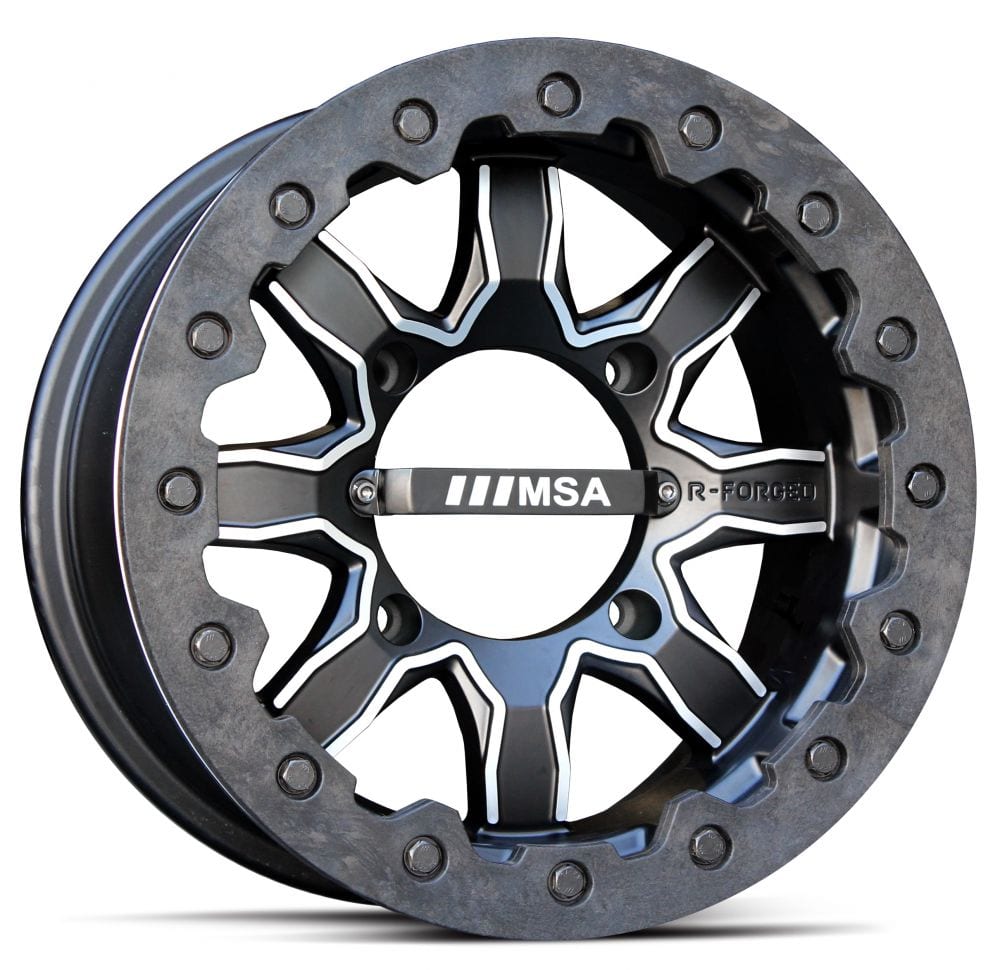 The F1 is available in the following sizes:
Semi-Gloss Black with Carbon Riber Composite Beadlock Ring:
14×7 with a +0mm offset (4+3)
Available Fitments:
4×110, 4×137, 4×156
MSRP: $205 USD
MSA Offroad Wheels: (800) 734-4890 or online: www.msawheels.com.