SSV Works is the premier manufacturer and originator of weatherproof audio systems for Side X Side Vehicles. In 2005 we displayed the first ever customized Yamaha Rhino seen at the SEMA show in Las Vegas, NV. Teaming up with other manufactures we outfitted our UTV with a host of aftermarket accessories from seats to long travel suspension and a customized audio system. The response was overwhelmingly popular allowing us to evolve our product offerings. In 2006 SSV Works began shipping its first products off the assembly lines to awaiting customers in a brand new market where UTVs had never existed before.

We set out to make audio installs easier and sound better. Quality is key and products repurposed from the marine or automotive industry weren't a good solution. With over 40 years of audio design, manufacturing and automotive experience servicing the aftermarket and OEM, we identified an opportunity to offer customers a better solution. SSV Works developed custom molded, vehicle specific speaker enclosures and subwoofer enclosures for Side by Side Vehicles, such as the Yamaha Rhino, Kawasaki Teryx, Polaris RZR and Ranger and Artic Cat Prowler. Customers could now properly install stereos in their vehicles and achieve the best possible sound quality and bass response by utilizing a sealed weatherproof marine-grade fiberglass enclosure for their speakers.
All SSV Works products are 100% fiberglass for the best sound quality and bass response. These enclosures are finished in black texture coat to match factory textures and can be custom painted or wrapped to match any color scheme. SSV Works pods include stainless mounting hardware and step-by-step instructions to offer an easy and complete installation.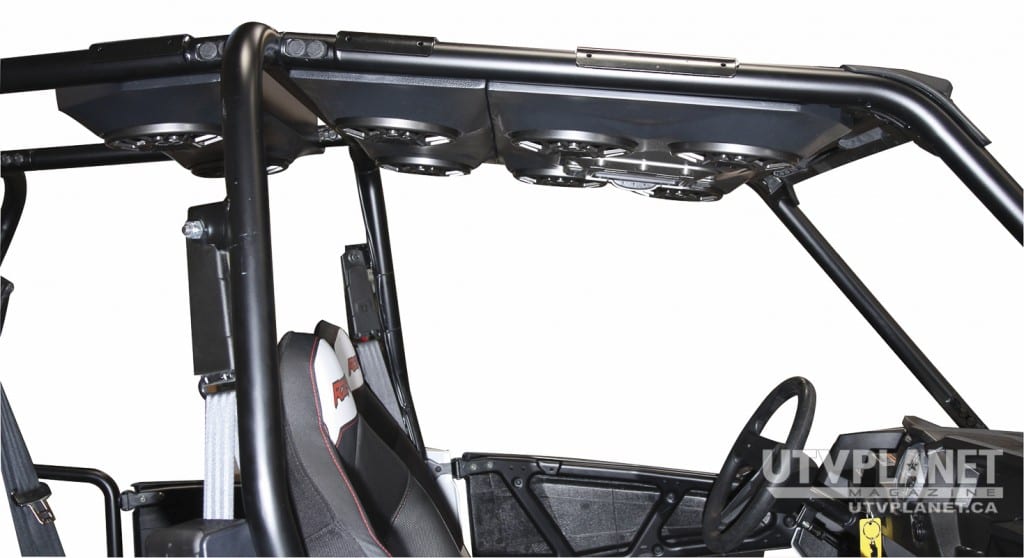 The desert, dunes and mud bogs are some of the harshest environments around and definitely not what car audio gear was meant to endure. Even with marine radio covers, we would routinely see CD players fail within 2 trips. There needed to be a better solution. SSV Works revolutionized the process again by developing the SSV Works 'no radio needed' kit that allowed customers to directly connect their iPod or MP3 players to a weatherproof input in the glove box. Volume was controlled via a dash mount volume knob and powered by an 800watt amplifier. Stereos were now loud and durable. We included marine grade speakers, vehicle specific wiring kits and easy step-by-step instructions, offering customers the first truly complete DIY audio systems.
After years of product testing, trail riding and customer feedback, we found that not all customers use their machines the same way. The trails in the West are dry, dusty and fast. The trails in the South are low, slow and muddy. We knew we need to design different systems for different customers. Sealed speaker pods are great, but don't work under water. The guys down South love high lifts, tall snorkels and big tires. We built a system that could be installed into the highest possible part of their UTV, the overhead roll cage. The SSV Works Weather Proof system is totally self-contained, protected from the elements, provides a secure place for your media player and installed in less than 20 minutes. The simplicity and sound quality of this system again revolutionized the Power Sports industry. As technology evolved, so has the SSV Works WP system featuring wireless Bluetooth audio, digital amplifiers, 6-8 speaker systems for 2 and 4 seat vehicles and are all designed around a simple to install true DIY weatherproof platform.
Stereo shops loved our products too as it made their installations quicker, easier, more durable and more affordable to their customers. More efficient installs mean stereo shops can complete customer cars in hours instead of days while providing a factory fit custom install.
SSV works is currently the only purpose built audio system designed to hold up to the rigors of all-weather off-road use. This is the reason our products are used by customers and shops around the world and why SSV Works is the first choice to provide OEM quality systems for Polaris Industries and Yamaha Motor Corporation.
SSV Works products are available for immediate delivery. For more information visit www.SSVworks.com or email sales@SSVworks.com.