From the makers of great Superclamp products, comes the revolutionary Superclamp ATV/UTV Tie Down System. No more struggling with various tangled tie downs or ratchet straps, cris crossing from tie point to tie point, possibly damaging or scratching your ATVs outer body panels when sucuring your ride. With the Superclamps ATV/UTV Tie Down System, just plug and play and your ATV/UTV is secured in seconds. This increditable tie down system secures your ride by the tires, at all four corners, the way the pros do it in the automotive industries. No more risky unreliable tie down straps.
Superclamp ATV/UTV Tie Down System is easy to use, letting your ATV and its suspension float, by clamping on to the tires and not compressing your suspension. Superclamps ATV/UTV tie down system gives you a stylish and impressive High Teck look maintaining a small foot printed area, while fully sucuring your investment. This awesome ATV/UTV tie down system, is made of Highly Engineered Materials. The front chocks are quickly removable and have highly visible adjustable tire restraint bars. The front chocks have only inside guides which let you easily align and place your ATVUTV just right every time. With no guides to the outer side of tire area, there is no loading interference and the smallest load foot print is achieved when placing your ATVs side by side.
At the rear tires, are stylish high strength, High Teck Injected Aluminum rear clamping devices, which clamp on each rear tire, snuggly engaging and securing all four corners of your ATV/UTV. The rear clamping system for each rear tire, easily slides onto a pre-installed deck bar, quickly sliding against the rear tire. With one firm downward push of the pistol grip lock down handle, you are on your way litterly in seconds. The Superclamps ATV/UTV system has a safety lock key to ensure your lock down handle does not open in transporting or with your own paddle lock, your Superclamp ATV/UTV becomes a great theft deterrent.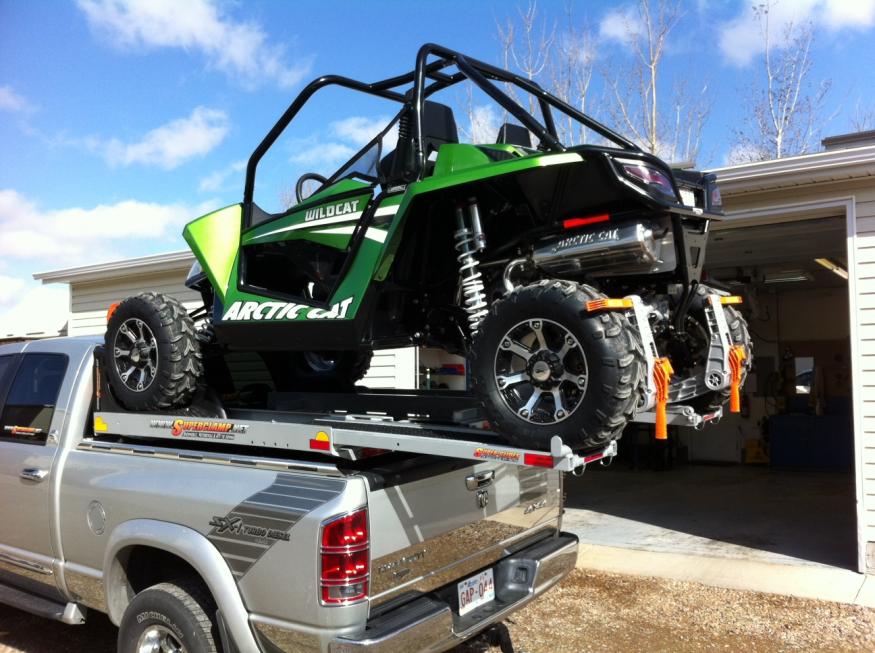 Superclamp ATV/UTV Tie Down System is designed and Made in North American, for people who appreciate quality, style and a high standard of performance. Superclamp ATV/UTV Tie Down System is the "ULTIMATE" ATV/UTV Tie Down System specifically designed for ATV's/UTV's and is Endorsed by Leading Truck Deck and Trailer Manufactures.
For more information on great Superclamp products: Visit our website www.superclamp.net or 1-403-203-2210