As I write this, there are new 2021 model UTVs being unveiled by the manufacturers, and if you look at the price tags on some of them, it is stunning how much one can spend on a UTV. I saw one that costs about the same as some new trucks! What is the average person to do? While there are some very expensive UTVs on the market, there are also some pretty sweet deals out there for UTV buyers looking for a capable machine that won't break the bank. We picked five of what we feel are the best UTVs on a budget that will work to fulfill your needs.
Polaris RZR S 900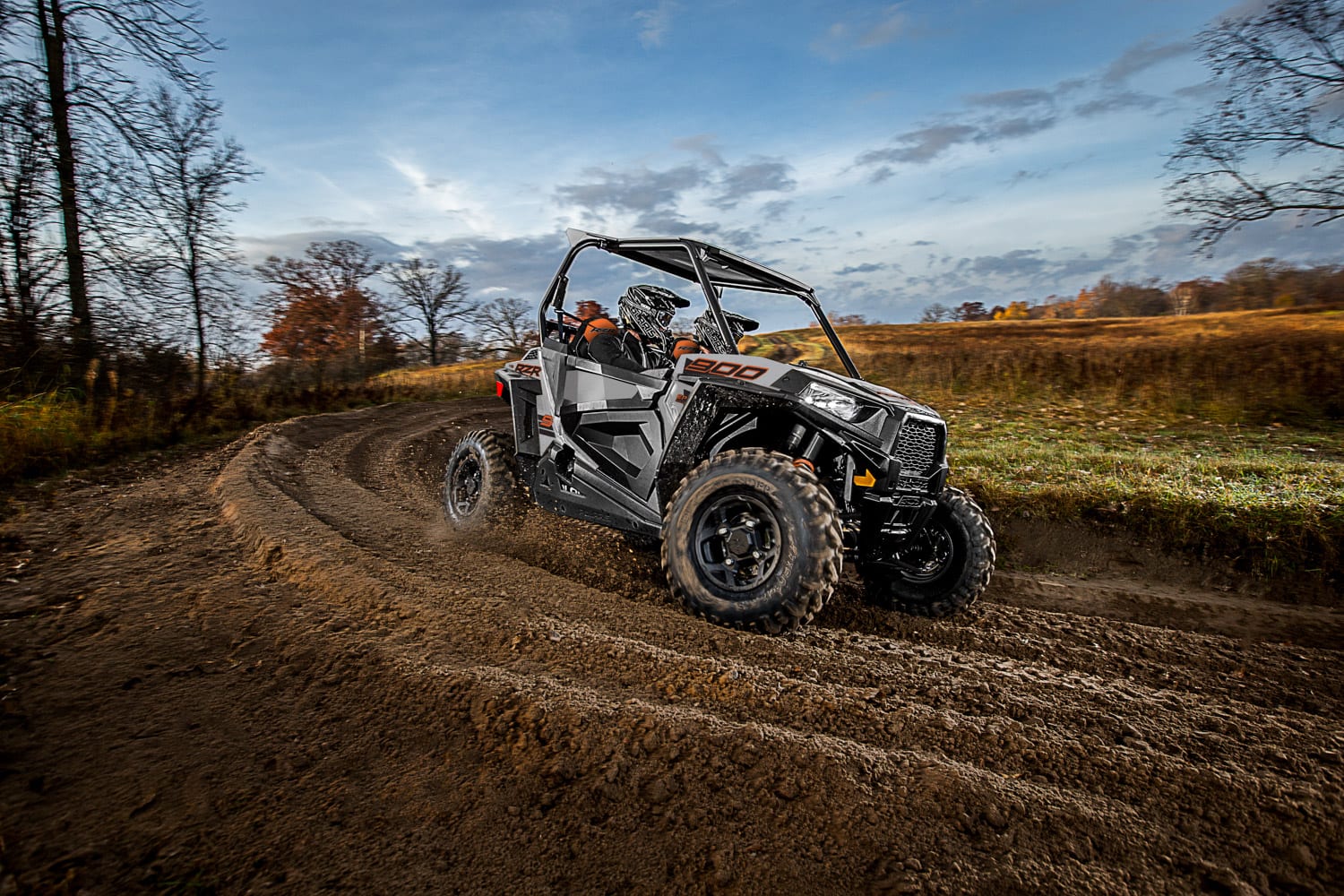 Who doesn't want a RZR? There's a reason the name is synonymous with sport UTVs. The cost of a RZR can be pretty intimidating to the buyer, however, there are some alternatives you should consider. One of our favorite machines around here is the RZR S 900. Yes, it's a little more money than the standard RZR 900, or it's baby brother, the RZR 570, but for just a little more cha-ching, you get a lot more pizzazz! The machine has more than enough power for a spirited trail ride thanks to the DOHC 875cc ProStar twin-cylinder engine that produces a pleasing 75 horsepower. The RZR 900 motor has been around for some time and has proven to be a reliable and fun power plant. It has electronic fuel injection and decent engine braking, a nice feature for a trail machine. It gets that power to the wheels through Polaris' PVT automatic transmission. Like just about every Polaris machine, the RZR S 900 has their True On-Demand AWD system to keep you rolling along. When in AWD, the machine senses wheel spin and transfers power to other wheels to keep you from getting stuck. This system doesn't use differential locks, leaving that to the machine to decide when drive axles need to be spinning. It works well and is something Polaris has been using for years.
The main reason we like the RZR S over the 50-inch model is the added width and stability. There's nothing wrong with the 50-inch machine. It's great for hitting the trails that have that width limitation, and it pretty much identical to the S. However, the added width of the 60-inch RZR S 900 gives you a lot more comfort, stability and confidence to carry speed through the corners. That's important because, let's face it, you buy a RZR to go fast. Other than that, you have decent suspension with dual A-arms all around and Fox 2.0 Podium shocks. It's really a great buy for the trail rider.
Honda Pioneer 700
The Pioneer 700 was Honda's second foray into UTVs. The first, the Big Red, didn't quite hit the mark, but we really like the Pioneer. At first glance, you may thing the Pioneer to be a strictly work UTV, and it does a great job at that, but it is also a truly fun trail machine, too. The standard model seats two and has a dumping cargo box. There are some things about this machine that are definitely Honda. The company doesn't do things the same way other companies do, but that's fine. Honda has a great reputation for dependability and durability, so they can keep doing what they do. We like it.
The Pioneer runs on a 675cc single-cylinder engine fed through electronic fuel injection. The transmission is definitely different, being a three-speed automotive-style automatic with a hydraulic torque converter. The deluxe models, which run a little more, give you paddle shifters and the option to run in manual shift mode, or automatic. The Pioneer operates in 2WD, 4WD and 4WD with Dif Lock. We can tell you that the combination of the transmission and the drivetrain makes this 700-class UTV pull like a MUCH bigger machine. If you're in the market for a trail and utility UTV, and want something a little different than the rest, the Pioneer 700 is a stellar option.
Yamaha Viking
The Viking? I can just about see the groan on your face. The Viking isn't very exciting, or so it would seem, but it actually is for several reasons. Sure, the Viking is a little long in the tooth, but it remains a great selling unit for Yamaha and we are reminded that we like it every time we drive one. For starters, you'd be hard pressed to find a more reliable machine out there. One of the many great characteristics of Yamaha is the solid construction. They rarely, if ever, break down. And then, it's often due to neglect on the owner's part. It is powered by a 686cc, SOHC single-cylinder engine mated to the best CVT transmission on the market. The Ultramatic V-belt tranny is oil-immersed and under constant tension, so there is very little belt wear.
The cab features three bucket seats with a 5-degree recline to the middle seat so everyone isn't rubbing shoulders together. The cargo bed is nicely sized, with a steel floor section for durability. The Viking is Yamaha's utility UTV, but it has really nice trail manners. Engine braking is really good on the machine and Yamaha has worked very hard to reduce noise in the cab to make the ride more enjoyable. You can pick one up for around the same as other brand's mid-size machine, giving you a full-size, capable trail and work machine at a great price.
CF Moto ZForce 500 LX
Probably the best deal going in a 50-inch trail machine is the ZForce 500 LX. You could save a few bucks going with the less-equipped non-LX model, but the added things in the LX or really necessary for the trails, and you will most likely end up adding all of them anyway. These are nice-looking machines with a 495cc engine producing 37.5 HP. It uses a CVTech belt transmission and our experiences with these machines have proven them to be reliable and dependable. They come with a five-year limited warranty, too. Nice touch! The driveline operates in 2WD, 4WD and has an electronic locking differential.
Other standard features we like include the 14-inch aluminum wheels and digital dashboard display. The ZForce also has LED headlights with turn signals, which are required on some trail systems. Side mirrors come standard too. The LX package adds power steering, which you'll find you want on rugged trails, especially one with rocks or tree roots. It also adds the all-important 3,000lb. winch to help get you out of trouble.
Can-Am Maverick Trail
One of our favorite trail machines since it's introduction, the Can-Am Maverick Trail is a stellar machine for having fun, and it can be picked up for a great price. We did some extensive driving in the mountains with this machine and appreciate the nimble handling and balance the machine has. It is powered by an 800-class, 799.9cc Rotax V-twin that pumps out a pleasing 51 horsepower.
This is a lower-priced machine aimed at the trail crowd, but the design benefited from developing the bigger, more powerful X3 machines in the Can-Am stable. The drive-by-wire iTC Intelligent Throttle Control and fuel injection system helps feed the motor in a predictable and performance-spirted way. The Quick-Response System CVT-belt transmission has an electronic belt protector and a high-flow air vent that came right off the X3. The iTC system gives you SPORT and ECO modes to give you more power when you want it, or better fuel economy for longer trail rides. There is an electronic engine braking system to help you descend bigger inclines, a feature we've put to the test repeatedly.
The big take away
There are many UTVs you can buy that will do pretty much everything you'd want, while not causing you to go into severe debt. What good is a shiny, new UTV if you don't have the money to put gas in it to go riding, right? Are there less expensive machine on the market? Sure, however, we went looking for ones we consider to be the best for your money. One major thing to keep in mind. One of the issues we often see with people looking for a UTV on a budget, is they will find machines with price tags too good to be true. You know what I'm talking about – brands you've never heard of before at prices too low to believe. Trust me, my friend – you don't want to go that route. You often can't find parts for these machines and breakdowns happen quite often. Spend a little more up front to save the headaches down the road. After all, you want to be out on the trails, not sitting at home waiting for the repair shop to call.