For a while, the UTV market was pretty cut and dry. The few machines on the market were all purpose driven for the utility segment. After all, the "U" in UTV stands for Utility. We had Rangers, Gators and Mules, all of which were focused on getting the job done. There was a hard line between recreation and utility, and these machines didn't really cross it. Some didn't even come close. That line blurred heavily when Yamaha released the Rhino, a utility machine that offered up some performance and some possibilities for fun. Polaris' RZR showed that UTVs could be made for fun and speed, and the entire sport changed pretty much overnight. What about the person wanting a performance machine that could have some utility function, too?
The Recreation segment is growing each model year. Currently, we have a wealth of machines with the Polaris General, Can-Am commander, Yamaha RMAX, Honda Pioneer, Kawasaki Teryx, CFMOTO Uforce 1000, and we'll include the Arctic Cat Prowler because they are fun machines. This gives us a lot of choices when it comes to machines that can work and play equally and are perfect for adventures and trail riding.
The Players
Polaris' General is a great example of how the development of this segment evolved. The idea started off with taking the suspension off a trail-ready RZR and putting it onto a Ranger. The frame was completely redone into its own machine. They added in a 100hp twin cylinder engine, added unique handling and gave it a shorter dumping cargo box. The result is a machine that handles amazingly well on the trails, is ridiculous fun to drive and can still be used for chores and other tasks. The new General XP lineup has expanded the performance side with bigger tires and features like Ride Command. Polaris took a major bite into the recreational market share with the General, and if you've ever been in one, you can see why.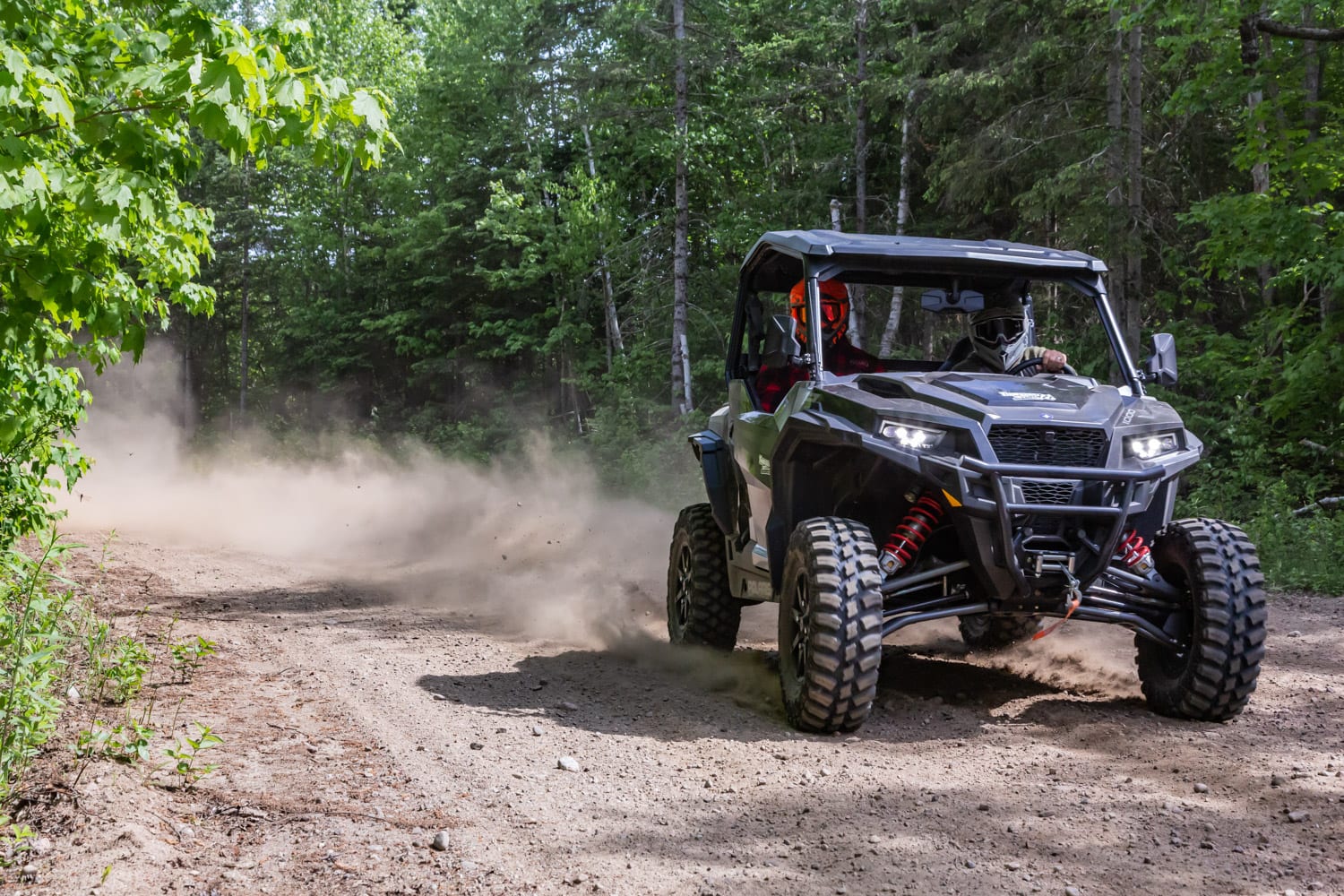 The Can-Am Commander has been completely revamped for 2021, with an all-new performance-minded platform that is shared with the Maverick Sport lineup. The original Commander was Can-Am's first foray into the UTV market, and that machine, which was very popular due to being more about recreation than vocation, can be seen on the trails all over. The new Commander is simply amazing, taking one of our favorite trail machines in the Maverick Sport and adding a dumping cargo box and other subtle changes that make it into a great machine. It has a 100hp 1,000cc Rotax twin motor and sport-tuned suspension that evens out the trails nicely.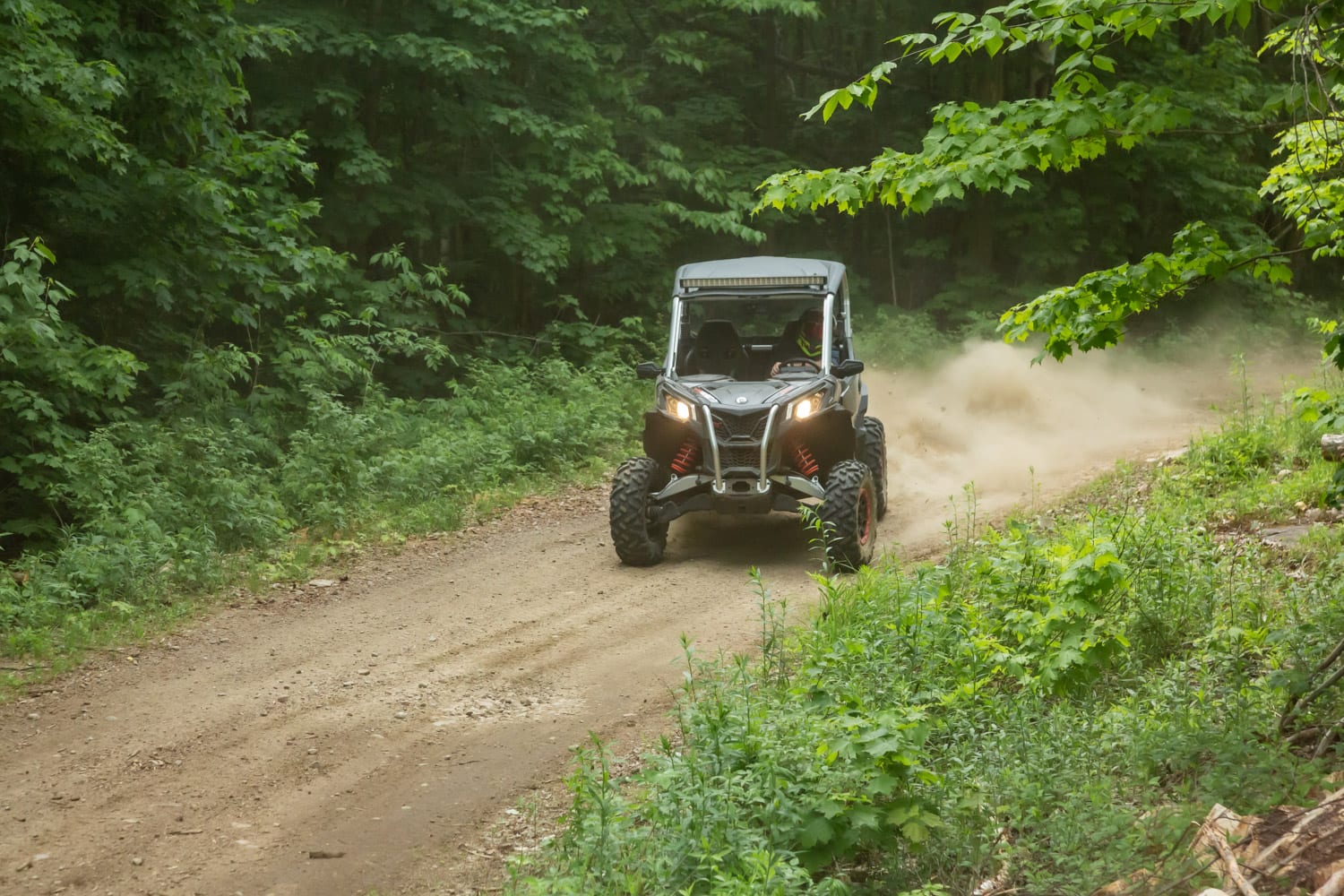 Yamaha has always gone their own way, and that is something we really appreciate. They are also one of, if not the most reliable machines on the trail. They helped create the recreation segment and their latest machine, the Wolverine RMAX is simply amazing. Available in 2- and 4-seat versions, with a couple special editions aimed at trail performance, the RMAX is powered by a 999cc parallel twin engine that benefits from Yamaha's ability to engineer quiet motors that have the power you need to get to where you want to go. It uses Yamaha's amazing Ultramatic CVT transmission that comes with the best belt drive system on the market. Handling, suspension and the brand's legendary reliability all combine to make the RMAX one of the best choices for an adventure UTV. If you're going to go somewhere others fear to tread, you're going to want to go in the RMAX.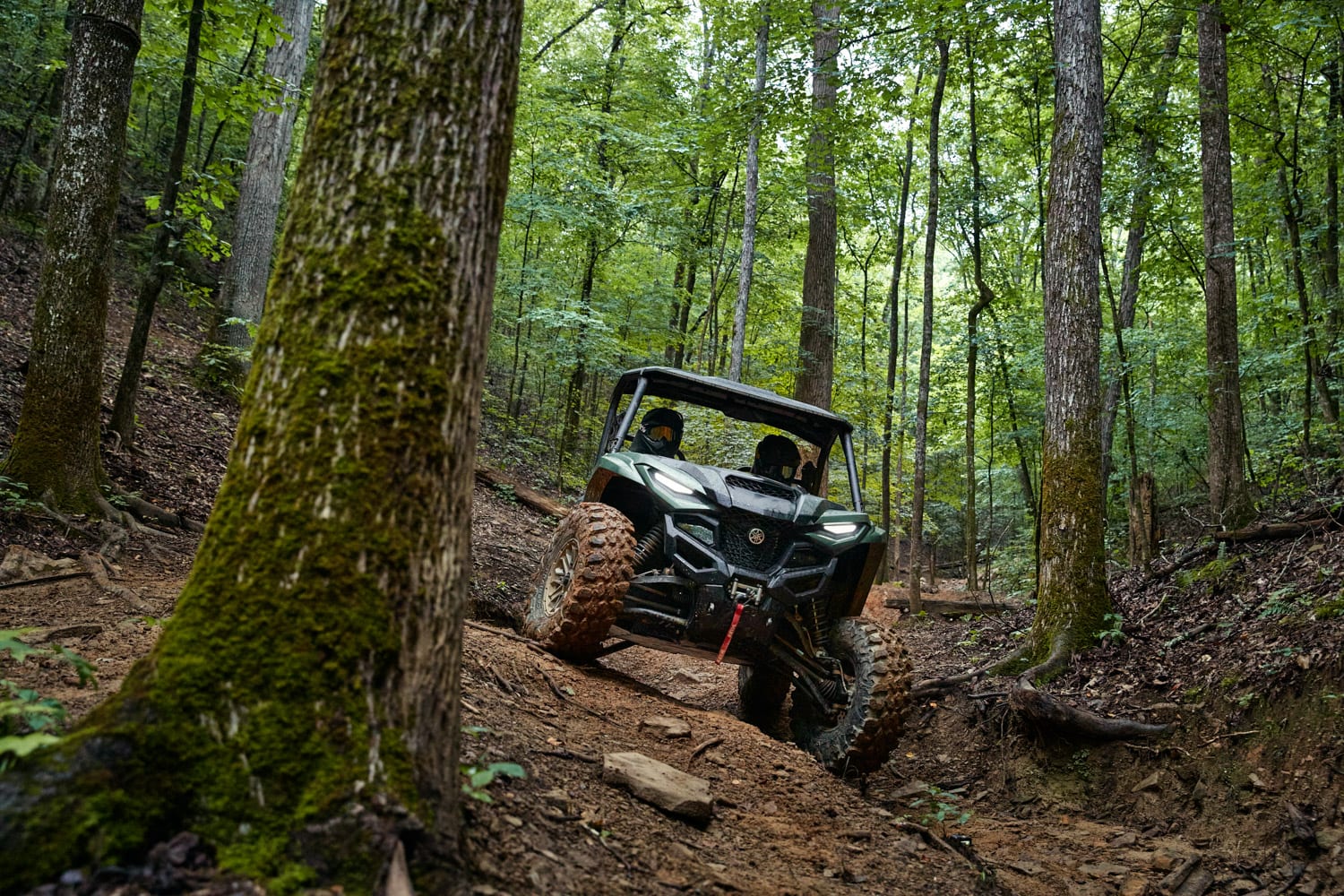 Honda is another manufacturer that does their own thing. With the Pioneer 1000, they have a machine, especially with the Deluxe trim models, that is extremely capable and very reliable. AT the heart of the Pioneer is a 999cc twin motor that is mated to Honda's DCT Dual Clutch Transmission system. They don't use a CVT belt, instead opting for an automotive-style transmission that shifts gears automatically, or manually using paddle shifters. We have to admit, the paddle shifters are a lot of fun to use. The best part of this system is that you have 6 gears to choose from in both high and low range. If you're trail riding, or towing a trailer, dropping the Pioneer into low-range, first gear, you can absolutely crawl with the best engine braking you'll ever find. If you get the deluxe version with 10-inch Fox QS3 shocks, you've got a great trail machine that can do some serious work, too.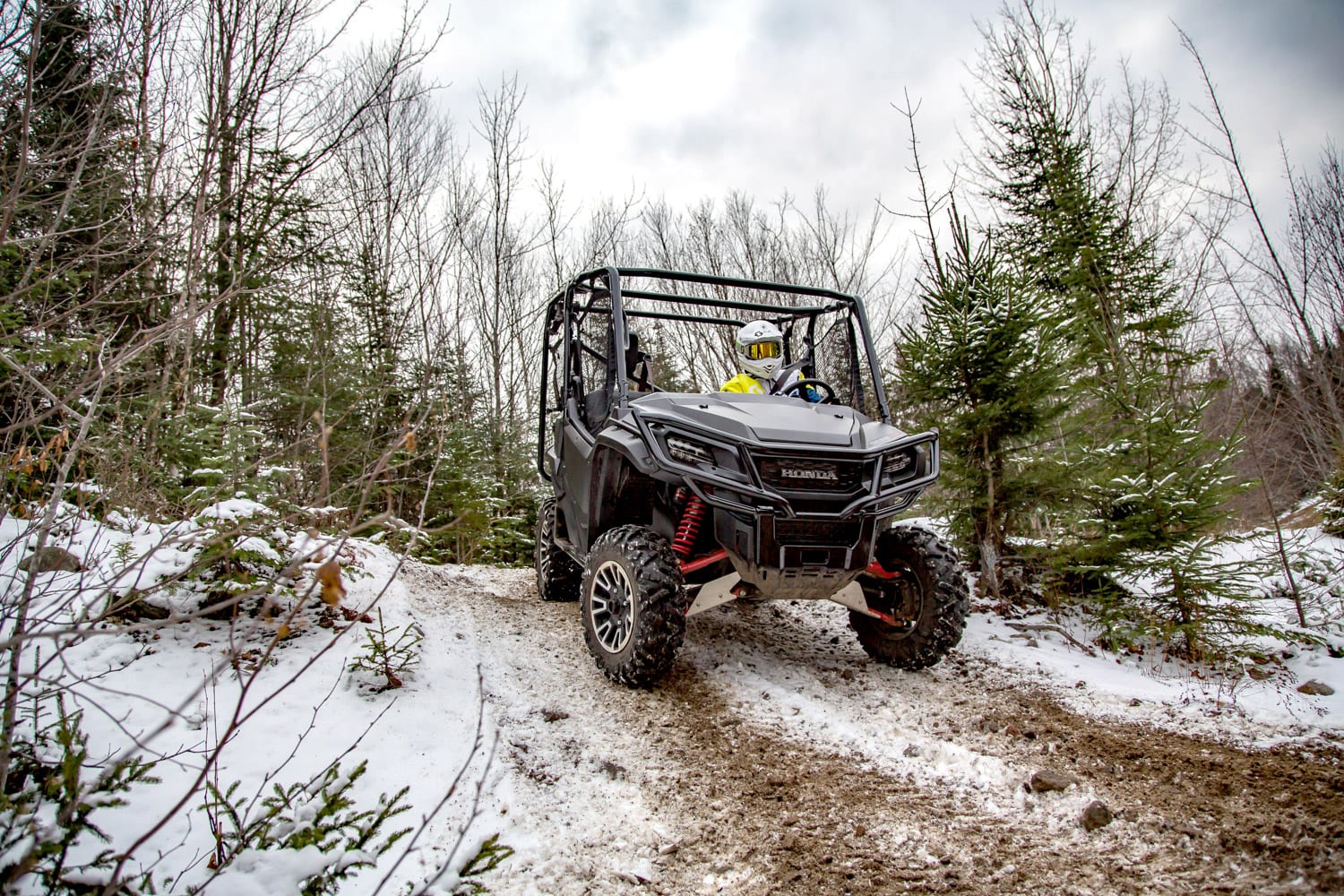 There were more than a few years where Kawasaki's Teryx was the lone machine available in the recreation segment. There are currently three Teryx models available, with the original Teryx models in 2- and 4-seat versions and then the performance-minded KRX. The original Teryx is currently powered by a 783cc V-twin motor that is mounted in the middle of the cross-section frame. This gives the machine really good balance and makes it a great option for rougher terrain. It's got Fox shocks and a fanatical fan base that only has eyes for the Teryx. For the serious adventurers, Kawasaki added the Teryx KRX, a monster of a machine that comes with a high-torque 999cc parallel motor, amazing ground clearance and long-travel Fox Podium shocks. While this machine is more toward the sport segment, it has DNA in the recreation area, too.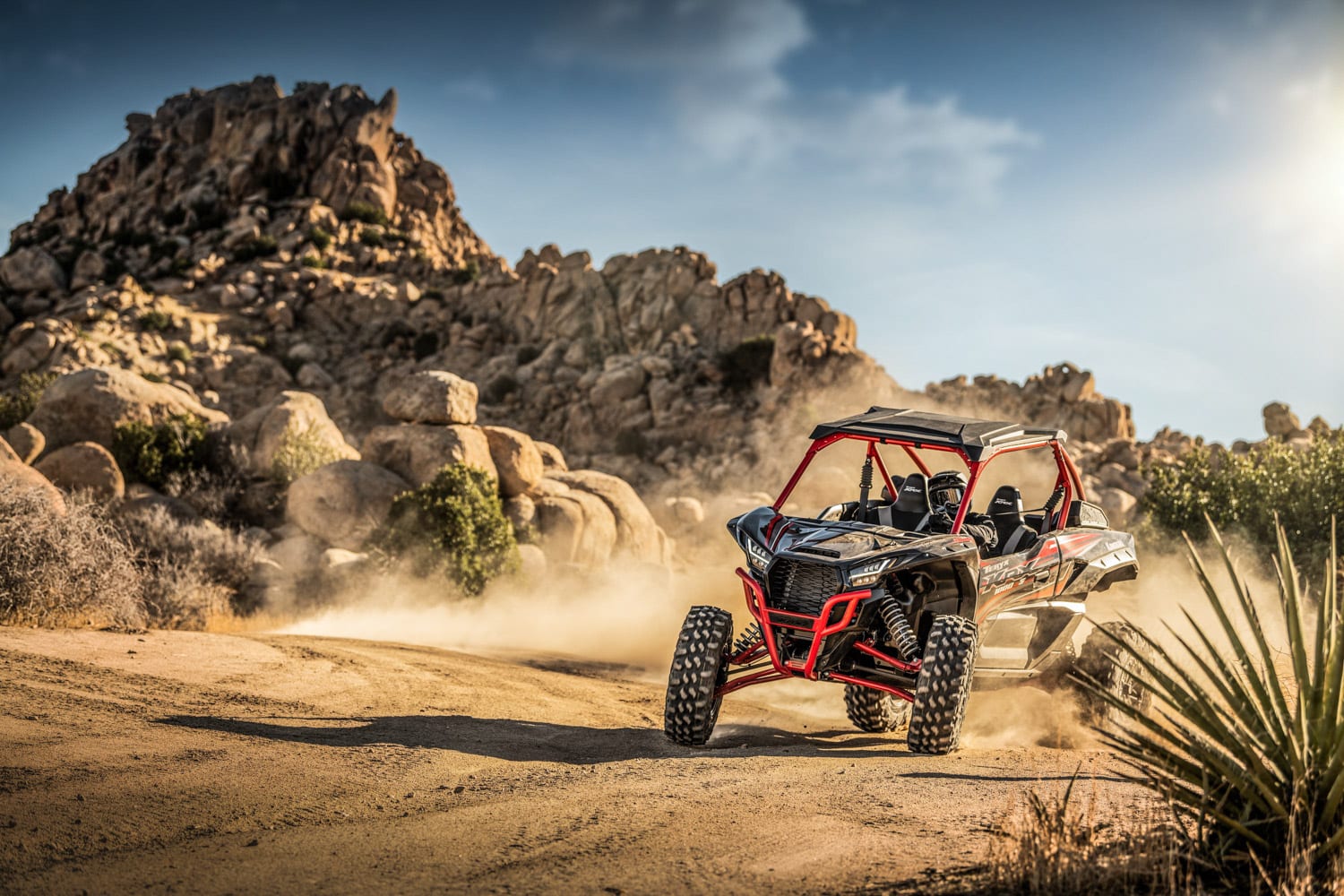 We were fully ready to say that the CFMoto UForce 1000 was another utility machine. And then we drove it on the trails. CFMoto has come a long way and they truly understand the market and what we want from our machinery. They have a growing dealer network in North America and the UForce is one of those machines that you should seriously consider. It has a 1,000cc V-twin motor that produces 79hp. The machine has large storage bins, and a big, dumping cargo box and is loaded with accessories that many add on, but with the CFMoto, they are standard equipment, another plus. You get a 4,500 lb. winch, aluminum wheels, a roof, rear-view mirrors, arched a-arms and more.
Arctic Cat is an interesting story. The iconic brand is well-known for sleds and ATVs but being well known isn't always enough. A few years ago, Textron bought Arctic Cat and rebranded the machines to the Textron badge. That decision didn't work out so well, and soon, they were rushing to bring back the Arctic Cat name. Developmentally, it was also a bit odd. Textron had designed their own machine prior to the Arctic cat buyout – the Stampede. When they merged the two brands, the Stampede remained over the Arctic Cat Prowler, but was rebranded as the Prowler. Both machines fit the recreational segment. Arctic Cat took elements of both and developed an all-new Prowler, the Prowler Pro – a machine that gives you both solid utility functionality, combined with a fun recreational attitude. It uses a 50hp 812cc three-cylinder motor that has been developed to be one of, if not the quietest engines you'll find in any UTV outside an electric one. Like the CFMoto, it comes with a heavy-duty front bumper, a 4,500 lb. winch and a hard roof. We've driven the Prowler Pro and enjoy its capability and the quiet motor. The cab is well laid out and comfortable, and the available Crew model offers a comfortable and spacious back seat.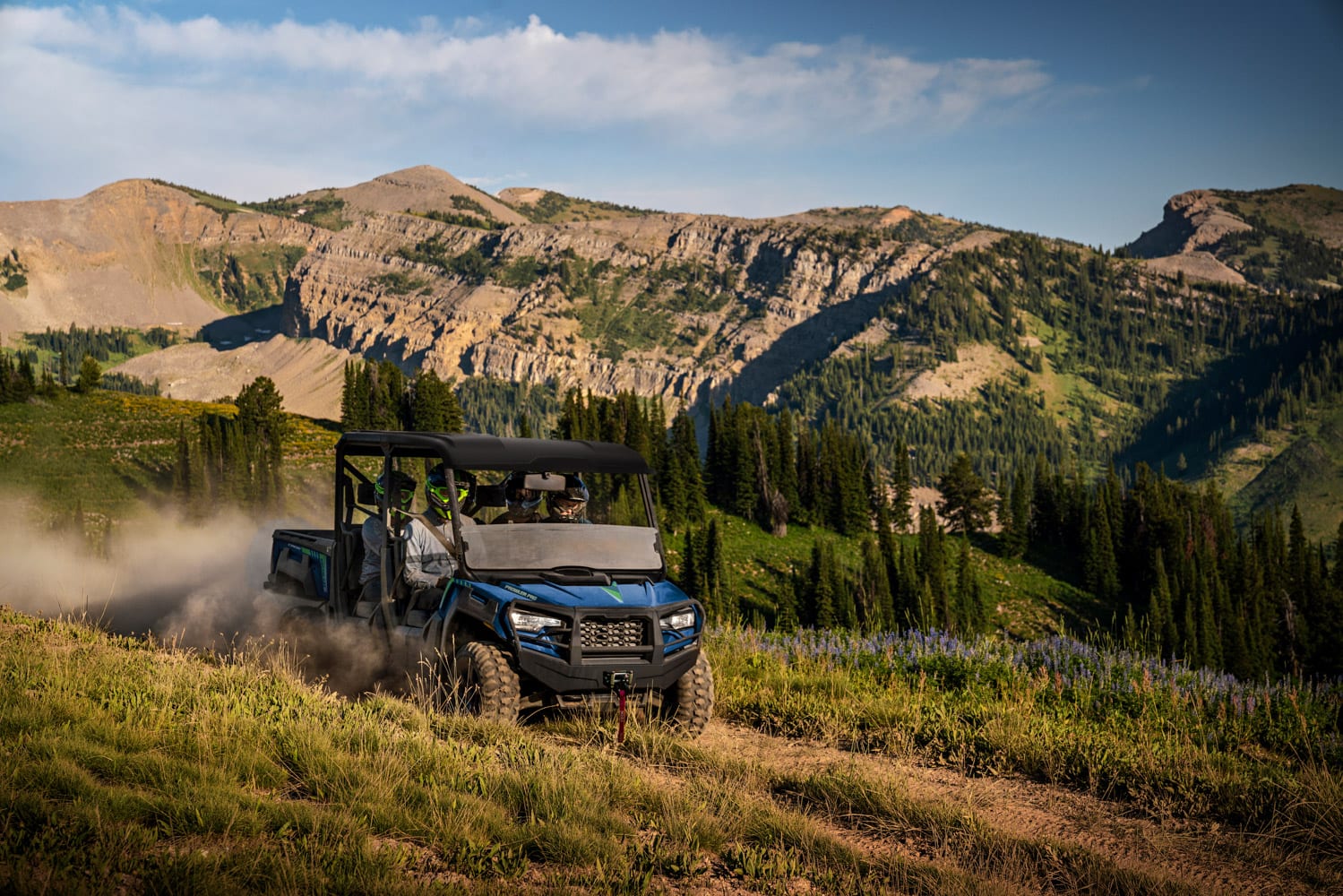 Choosing is hard
As you can see, there are quite a few options for a UTV that crosses over from utility to sport, creating the recreational segment of the market. These machines are perfect for those of us that want options when it comes to machines. The hardest part is picking the right one for you.
Of course, there are many who will pick which machine to go with based solely on brand loyalty. Studies have shown that if you have a machine from one manufacturer, you're more likely to buy another from the same brand. I get that, however, sometimes that brand loyalty is misplaced. Yes, you may want to buy the General, for example, because you really like your Polaris Ranger, but what you really want is a machine for conquering extremely rough, rugged terrain and a machine like the Yamaha Wolverine RMAX might just suit you better.
That brings us to our last bit of advice – Know what you really want the machine to be capable of doing. There are machines in this list that are closer to the utility side of the line, like the Arctic Cat and CFMoto, and there are machines closer to the sport side, like the General and RMAX. Like most choices, this one gets easier when you arm yourself with all the facts. We know which machines we would choose for us, but your choice is up to you. Any way you go, as long as you're happy in the end, you can't go wrong.