With the last binder anchored and our Yamaha Wolverine R-Spec firmly secured to our trailer, we could now begin our road trip towards our fishing destination, the "Fer à Cheval Inn & Outfitting Resort". This premium outfitter is located just 2.5 hours north of Mont-Laurier, Quebec and is situated on an exclusive territory spreading over 238 square kilometers.
This ultimate fishing destination consists of 32 lakes offering different species (Walleye, Pike, Trout and Lake trout). What is also uncommon and noteworthy, some lakes surrounding the lodge are home to 2 species not normally found together, the Brook Trout and Walleye.
Besides its 4 star inn, the outfitter also offers cabins surrounding the main lodge and rustic camps on the outskirts of various water bodies for the more adventurous. The outfitter offers many packages to choose from hunting, fishing, Quad and snowmobiling. For more information on "Fer à Cheval" outfitters, we invite you to visit: www.feracheval.ca.
We pulled in to the outfitter late afternoon, which gave us ample time to unload the trailer and settle in to our accommodations. After a good night's rest and a very hearty breakfast, it was time to head out on our first fishing excursion.
We loaded the Yamaha Wolverine R-Spec with all the gear we would need for our first day excursion. The Wolverine offered ample room for all our fishing gear and supplies. An interesting feature of the Wolverine is that the tailgate door can be easily removed from the cargo bed to facilitate loading the stuff. With the Wolverine now loaded and the gear firmly in place we setout towards the trailhead.
This area offers some great trail riding with all trails clearly indicated for easy navigation. The trail conditions are excellent, mostly hard packed surfaces, however certain areas still provided a challenge. Muddy swamp like patches, steep inclines, rock gardens are all on the menu in this area. The Wolverine R-Spec handled all these areas with great facility, easily concurring any obstacle and trail condition.
The Wolverine R-Spec was a pure pleasure to drive, nimble and responsive. We could easily work our way trough tight trails, the suspension felt good on the rough stuff and enough power on tap for the open straights. This unit will get you and your gear where you want to go, period! Plus let's not forget that this unit looks great and it offers more than adequate creature comforts.
After a picturesque trail ride experience, we arrived at our fishing destination. On the agenda for today: pike fishing, catch and release. We took a few moments to review the areas of the lake that our guide had indicated on the map as prime spots and then proceeded to load our 14-foot boat powered by a Yamaha 6hp 4-stroke outboard engine with all our gear.
For the size of the water body we were fishing on, the Yamaha 6hp 4-stroke outboard engine was more than sufficient to get us around. As most anglers know, Yamaha produces some of the best outboards on the market and this is the reason why Yamaha powers this outfitter.
If you have fished for pike at all you know that generally pikes are very easy to catch and they will hit just about any lure. We fished mostly with crank and jerk baits and the pike where all over them. Since this was a catch and release lake, it is rumored to have some monster within these waters. However for us, we caught and released many nice sized but no trophy fish.
After an excellent day out on the water, we made our way back to the shoreline and our Wolverine. We once again loaded our Wolverine and headed back towards the main lodge via the trails. After making ourselves presentable, we headed to the lodge for an excellent supper prior to turning in for the night.
Next morning was our final day in this fishing excursion and today we would try our hand at some trout, but not before we fueled up on another excellent breakfast. After loosening our belt buckles by a notch, it was time to once again hit the trails.
We found ourselves enjoying the ride experience of the Wolverine R-Spec. The more seat time we got with the unit the more we loved it. As we navigated the trail soaking in the surrounding vistas, we got to truly appreciate the suspension and handling which provided for a comfortable ride. While on the subject of comfort, the cab space, seats and driving position all enhance this experience.
That was a "mind clearing" trail ride… I am sure you know the kind of trail ride I am making reference to. You know, the type of trail ride that just seems to reset your mind, that clears all your thoughts and makes you whole again. That is the kind of ride we experienced getting to our fishing hole.
We exited the vehicle, gathered our gear and took a short walk through a forested pathway to the lake. Glancing at the small body of water we, immediately had the feeling that this would be a great fishing hole for trout. We armed our fishing poles with some "Lake Clear" spoons, grab a container of bait worms and setout onto the lake.
Our lines haven't hit the water yet, that the feeding frenzy had started. Each cast harvested a trout, the experience was unreal, nothing like I ever experienced before. In less than an hour into our adventure, we had filled our trout quota! Back on shore, still bewildered by what we just experienced, we quickly found ourselves back in the Wolverine heading back to the camp.
A soon as we got back at the resort, the outfitter graciously offered to clean and vacuum-pack our catch, so we took this opportunity to go explore the surrounding trails. The rest of the day was spent not only to enjoy the area but also to take pleasure with the Wolverine in this magnificent trail environment.
As all good things in life have a beginning they also unfortunately have an end. The next morning, after thanking our gracious hosts, we bid farewell to our friends at the "Fer à Cheval" outfitters and headed back to civilization.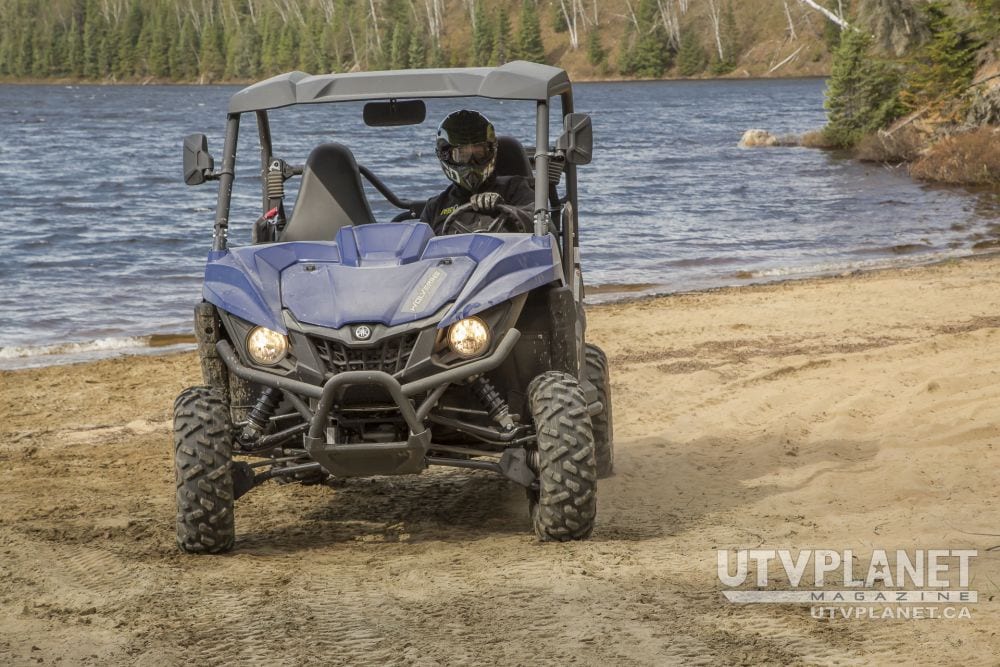 This was a great experience for us as we got to enjoy the Yamaha products at a consumer level. Meaning we weren't here to review the Yamaha products, we were here to go on a fishing excursion. The Wolverine got us where we needed to go in comfort and in confidence even in the roughest terrains. The Yamaha outboard is easy to start, highly efficient, maneuverable and convenient. This is all we cared about on this trip and we were extremely pleased that this excursion was powered by Yamaha!