It's a question we get asked all the time, almost as often as we're asked how people can get a job like ours. While publishing a UTV magazine may seem glamorous and such, it's a lot of hard work testing, evaluating, photographing and writing about various machines. No the question we get hit with a lot goes like this, "So Mario, which UTV is the best?" Most people generally don't like my answer, as I replay that it truly depends on what they want the machine to do, and how they intend to make it do it.
There is simply no single best UTV out there. I'm not trying to dodge the question in any way, or downplay anyone's personal brand preferences, which play a lot into what machines people think are the best. It did, however, really get me to thinking about a list of say, the five best UTVs available at the moment I write this. That I can do. Here are the five best UTVs available right now in no particular order, and what about them puts them on this list.
YAMAHA WOLVERINE X2 R-SPEC
With the introduction of the X4, it was only a matter of months before Yamaha unleashed the revised two-passenger version of the popular Wolverine. The X2 shares the engine and basic chassis of the X4. You get the same ultra-reliable transmission and 847cc parallel twin, fuel injected engine. The rear cargo area is now a full dumping cargo box, giving you more options when it comes time to use the Wolverine for chores. But the great outdoors and adventure is more to the X2's liking, and it comes pre-wired for Yamaha's new Adventure Pro GPS system. Like the previous model Wolverine's the R-SPEC adds piggyback KYB shocks at all four corners. These shocks give a plusher ride and are better equipped for serious adventuring. The R-SPEC models get sun tops and aluminum wheels.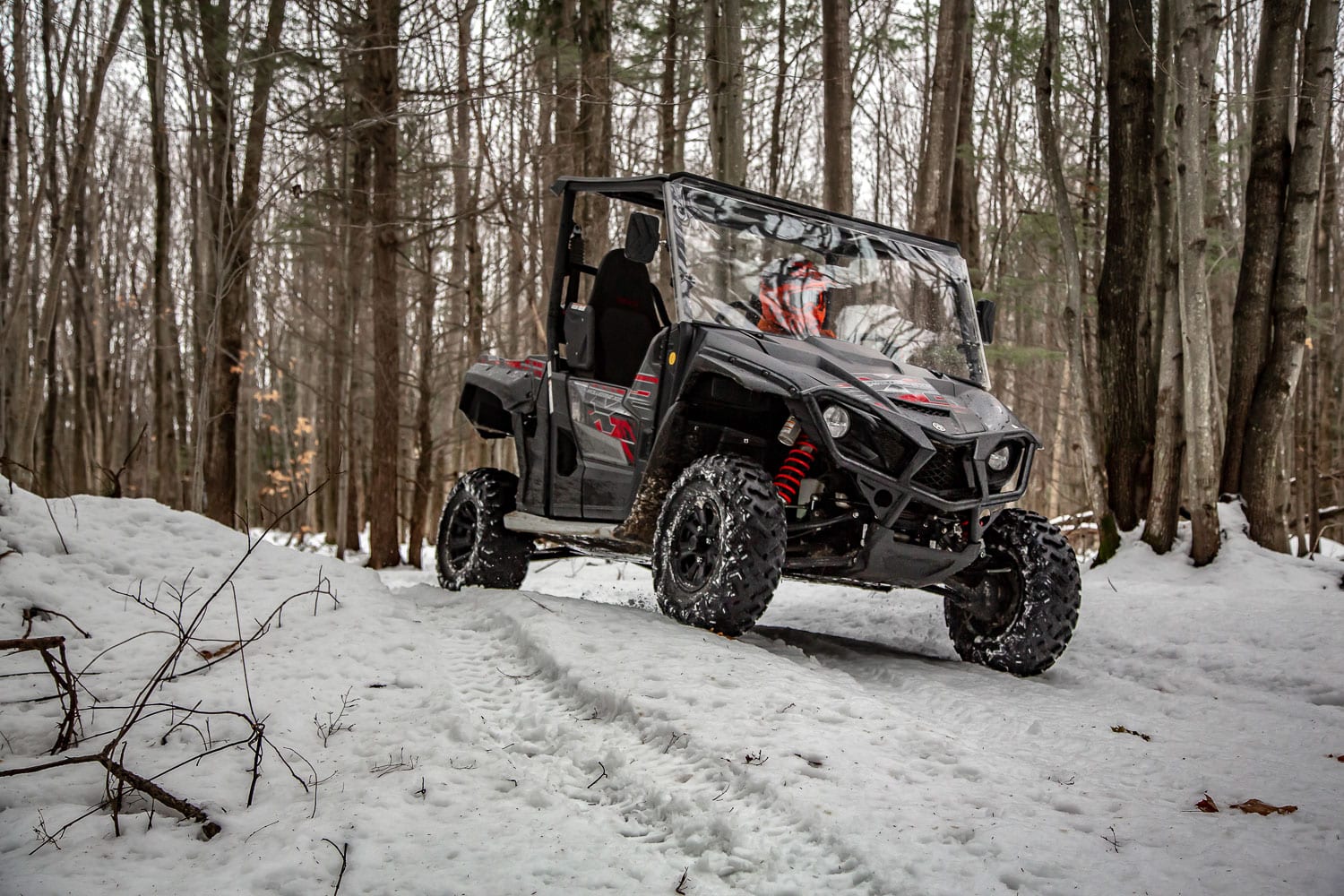 The Wolverine X2 is a seriously good handling machine with an engine that operates so quietly, you'll question whether it is really running at times. There are a few key areas that Yamaha rules the industry with. They have the best CVT transmission going, with tremendous belt life. The system shifts smoothly, never fails and you'd honestly have to try very hard to damage it. Yamaha was the first out with power steering, and that is evident with the handling of the X2. This is one of the best-handling adventure machines on the market. It's not a pure sport machine, but Yamaha isn't going after the RZR crowd with the Wolverine. If your idea of fun is getting back into country that is difficult to reach, or clawing your way up to the top of a nasty, rutted, wooded hillside, the Wolverine is calling your name.
Yamaha is a firm believer that their products produce the power you can use as opposed to the power you think you need. This is very evident with the X2's engine. While some bemoan the engine's power output and tout horsepower figures published by other brands, Yamaha likes to tell people to get behind the wheel and use the machine in the environment it was meant for and then see if the power output works. We can say with certainty that the Yamaha Wolverine X2 has plenty of power for doing what it was intended for and you'll be totally happy with it. Combine the aspects of power, superb handling and amazing reliability, and you can see how the X2 makes this list with ease.
TEXTRON WILDCAT XX
When a bunch of UTV magazine editors get together for an event, a lot of bench racing and story swapping takes place, often over a round or three of adult beverages. One of the topics that has come up recently revolved around the sport class of UTVs and where were see things shaping up. More than one editor stated that if he were to go out and buy a new pure-sport UTV, he'd pick the Textron Off-Road Wildcat XX hands down. That says something about this machine for sure.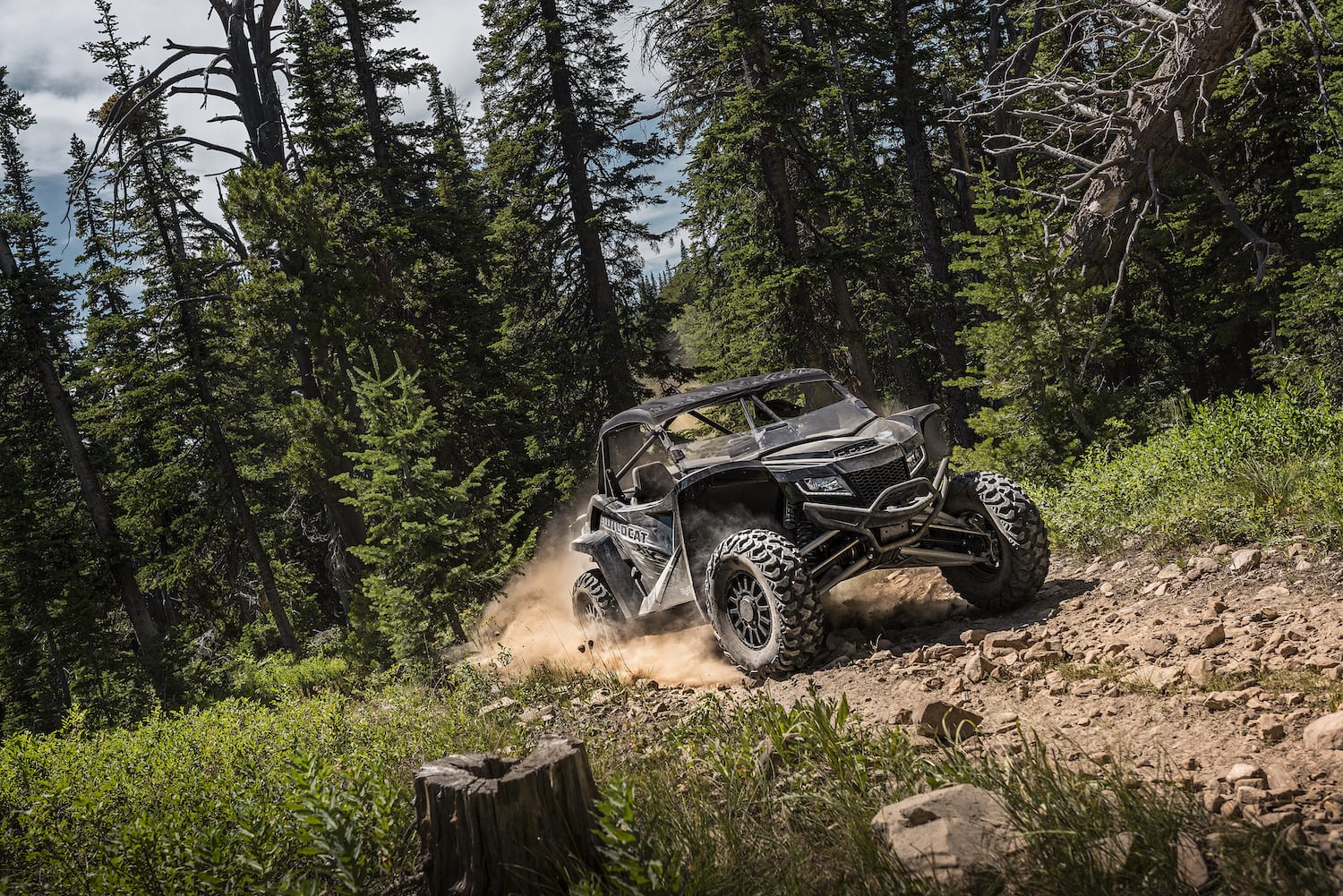 The XX is one of those machines we weren't sure we'd actually see hit production. We all knew it was in the works before the merging of Textron and Arctic Cat. We also knew that Textron was working on an extreme performance machine of their own. Luckily those two machines were merged as well and we got the XX. It is a very good, well-thought out machine, too. It is powered by a 998cc inline three-cylinder, four-stroke, naturally-aspirated motor that is very familiar to anyone who has driven a Yamaha YXZ. The motor is also used in Arctic Cat snowmobiles through a partnership with Yamaha. In the XX form, it produces 125 horsepower and feeds a CVT transmission with a TEAM Industries clutch and closed-loop electronic fuel injection. Is there a turbo option coming? Have we even spotted one somewhere? Maybe.
Through a partnership with Robby Gordon, the Wildcat XX features a trophy-truck inspired suspension system utilizing front A-Arms with unequal length top to bottom. The rear system uses a trailing arm setup that is directly inspired by the leading off-road racers. This combination reduces changes in the track width by up to 40-percent in the front and an astounding 80-percent in the rear when compared to what the competition is currently doing. This gives the XX unmatched stability and control, which we experienced firsthand. The shocks are FOX 2.5 Podium QS3 Shocks with Bottom-Out Control. These are an excellent choice for this machine with a solid feel throughout the full 18-inches of front and rear travel. We hammered it through some of the most serious whoops we've ever driven through and the action is as good as we've experienced. This is one of those machines that the harder you drive it, the more fun it is. That is more than enough reason to get this machine on our list of best UTVs.
CAN-AM MAVERICK SPORT 1000R
Can-Am has been working hard to impress the UTV world with some great new models. They turned the industry on its ear with the X3 lineup and the recent overhaul of the Maverick line with the Trail and the new Maverick Sport keeps things interesting for sure. The 100-horsepower Maverick Sport 1000R is about as much fun on the trails as you can have. It combines crisp power delivery with a comfortable cockpit and amazing suspension action into a machine that you're going to want to have in your garage, if only long enough to gas up so you can go at it again.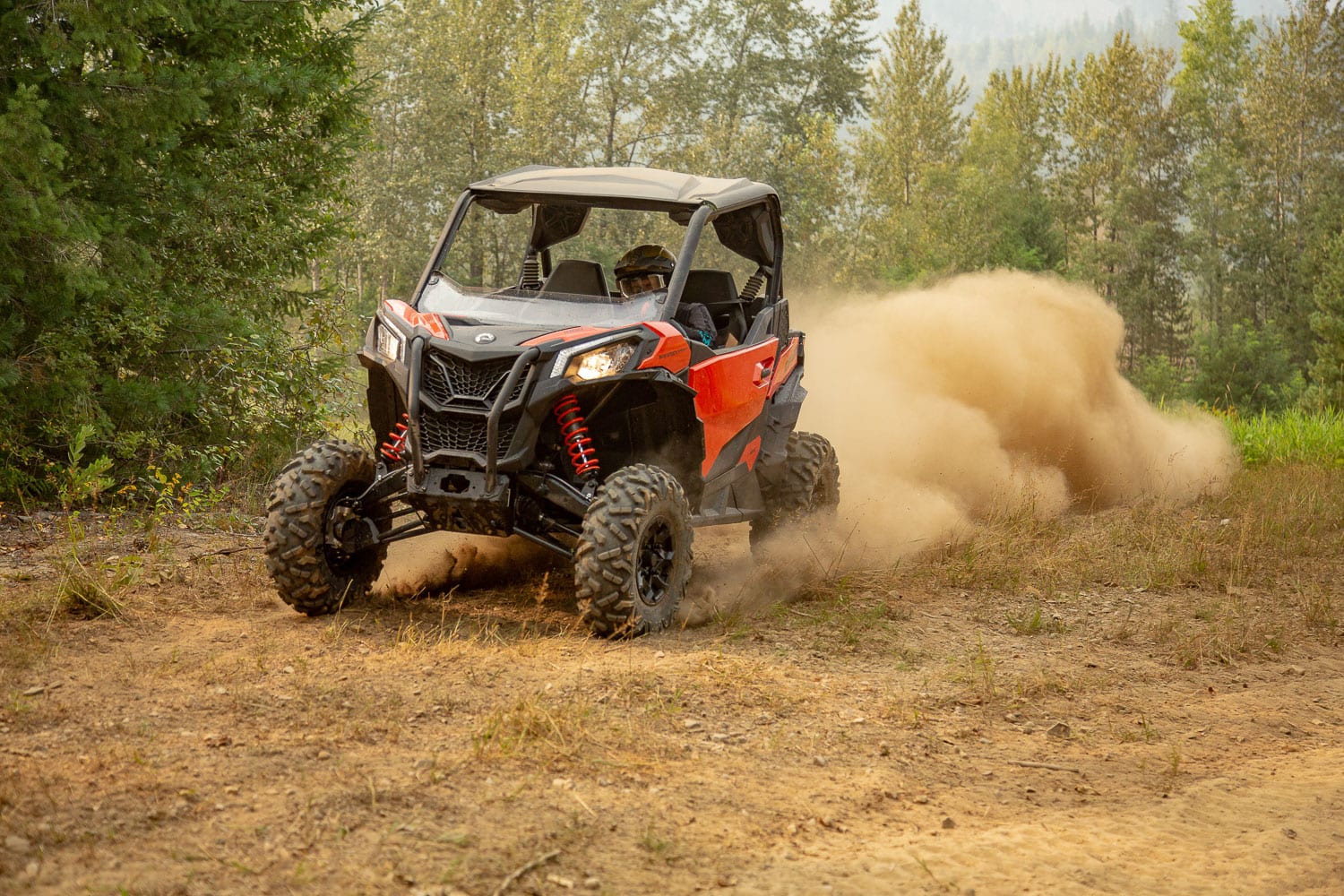 As you would expect from a Can-Am, the Sport is powered by a 976cc Rotax V-Twin engine. The 1000R produces an intense 100hp. It borrows from the X3 brother with large air intakes, oversized radiators and an oversized Donaldson airbox from the Maverick X3. It also gets a boost from a specialized high-performance exhaust line and muffler, an additional CVT intake and the same CVT driven pulley from the Maverick X3. It will get up and move with ease, pushing you back into your seat should you really stomp on it, and who wouldn't want to do that?
The Maverick Sport uses double A-Arm front suspension and Torsional Trailing Arm (TTA) rear suspension. FOX 2.0 Podium shocks provide the shock duties with the front having 11.5-inches of travel and the rear shocks offering 12-inches of travel. Like we saw with last year's Maverick Trail, the Sport geometry positions the shocks at the outermost corners of the machine. This design gives the chassis more stability and improves handling by reducing the load on the sway bars that are built into the front and rear systems. Add this to the longer 90.6-inch wheelbase of the Sport and you've got a great handling suspension system. One fact we really like about this machine is how well it tracks in rough terrain. While some machines in this class will start swapping at the rear end, the Sport doesn't. It manages to stay straighter long and with less driver input, letting you focus on the trail ahead a little more. There is a lot less pucker-factor when getting on the gas in harsh terrain. Dual sway bars help a lot, too. Combine this excellent power output, with great handling and suspension, as well as the comfortable Ergo-Lok cockpit, and you'll see why we added the Maverick Sport 1000R to this list.
POLARIS RANGER XP 1000 CREW
Polaris has been doing it right for a long time, and the newly redesigned Ranger XP 1000 Crew is no exception. Last year when they released the completely redesigned XP 1000 with over 100 consumer suggested improvements and refinements, we hoped they would pass those along to the Crew machine. They didn't disappoint us. Polaris redesigned the Crew from the frame up to be the class-leading, six passenger utility/recreation machine.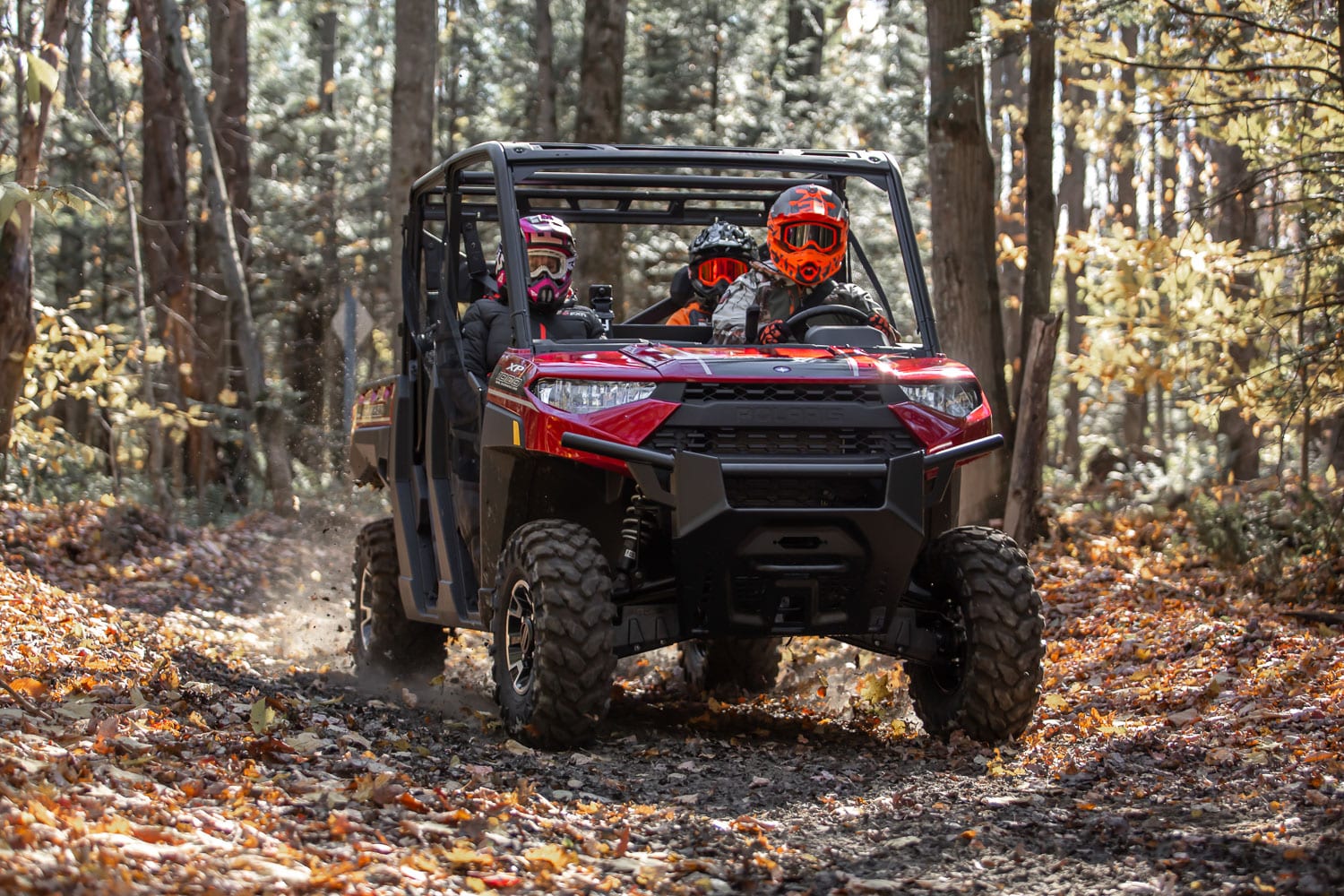 They started with a single-spar, one-piece mainframe that adds rigidity and capability to the machine. This bumped the towing capacity up to 2,500 pounds and overall payload capacity up to 1,750 pounds. You can tow more and carry more without overtaxing the machine. There is 11-inches of wheel travel at all four corners and 13-inches of ground clearance thanks to the revised suspension and the new 27-inch tires from Maxxis. They completely redesigned the looks of the machine to match the three-seat version, and most are either drawn to the sleeker appearance, or they hate it. We happen to like it. Polaris also redid the entire interior with thicker, plusher seating, a revised dash and driver-focused controls. There is an increase in interior storage and adding accessories is now easier than ever thanks to a redesigned electrical system that allows for essentially plug-and-play use. Installing a winch now takes 30 minutes as opposed to several hours.
The engine is a 999cc ProStar twin-cylinder, four-stroke that produces a rated 82 horsepower. Polaris took what was already the benchmark for a quiet running machine and made it smoother. You really notice it in the longer Crew version, too. This is a very capable machine for work and play, with strong trail manners and serious utility grunt for getting things done. It is a favorite of ours and an easy pick for this list.
CFMOTO ZFORCE 1000 EPS LX
Some people are shocked by the amount of nice things we have to say about the CFMOTO machines. They like to imply that it is driven by advertising dollars over credibility. We get it. There is always going to be that cloud hanging out there of questionable journalistic integrity. Let's go ahead and clear the air right now – We would never allow advertising to dictate what we say about a machine or product. There are two factors that get the CFMOTO ZFORCE 1000 on this list, and two factors alone. It is a quality machine that we have enjoyed driving a lot, and it is a machine that is selling very well throughout Canada. We're pretty confident that sales will increase in the U.S., too as the CFMOTO dealer base in that country grows.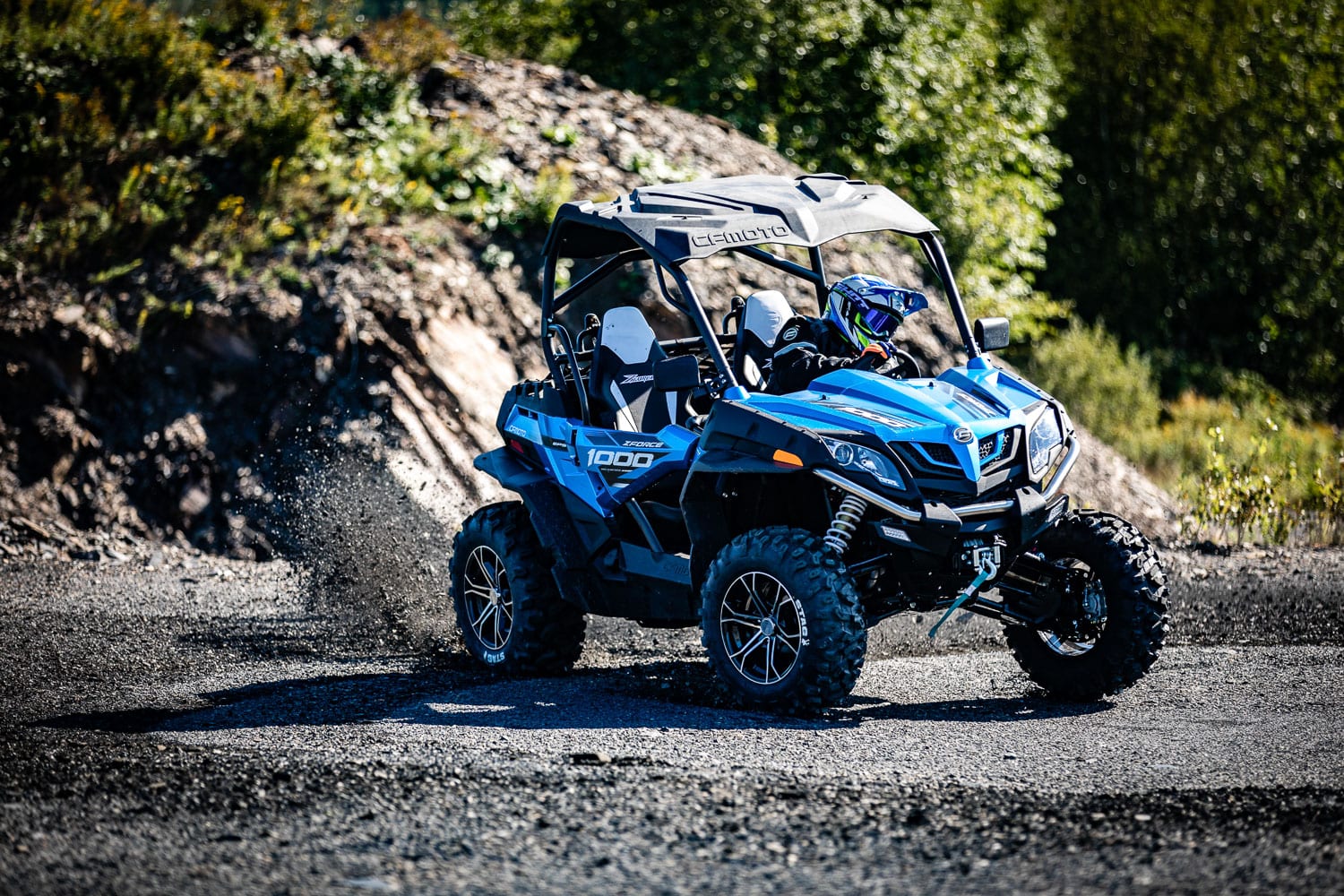 The CFMOTO ZFORCE 1000 EPS LX is powered by a 962.6cc V-twin, eight-valve, liquid-cooled, four-stroke motor with a 91x74mm bore and stroke and a 10.6:1 compression ratio. It has a a Bosch electronic fuel injection system and ignition. The CFMOTO motor is very torquey and fun to drive, producing 60.5 ft/lbs of torque at 6,200 rpm. It's especially noticeable when you're in some tighter terrain and you chop on the throttle. Horsepower is rated at 80hp. It's not tops in the 60-inch class, but its close and it's a fun machine to drive. We're all about having fun.
Suspension wise, the CFMOTO has dual wishbone setups front and back with gas-charged shocks that have independent rebound and compression adjustments. The front has 283mm of travel and the rear has 280mm. It's not the smoothest in the class, but it's not the worst by a long shot. CFMOTO adds stainless steel bumpers and exhaust. CFMOTO adds mirrors, turn signals and a horn, as well as a 3,000-pound rated winch to the front of the ZFORCE. It is nice to see these accessories come as standard equipment, as they are things they often get added at additional cost at the dealership. Competitive pricing, strong sales and a commitment to the market, along with being a fun machine to drive, make this machine an easy pick for our list. Drive one yourself and you'll see why.