Life is far too short to not seek out adventure and thrills. Sure, we all have to do the work thing and make a living, contribute to society, or what have you. But if you're not looking for the special moments that bring that certain joy to your world, what are you waiting for? There are a couple of things that bring a smile to my face and I know if I get to do them, it makes getting through the work week much easier. One, as you may guess, is blasting down the trail in a fast, agile sport side-by-side. Yeah, I know that that is part of my work, but at the same time, I really enjoy it. Hitting the trails or exploring the back country in a machine, even as part of my job, makes the no-so-fun parts, like stressing about deadlines, editing stories and video, or worrying about ad sales so much easier to get through. The other thing is fishing. Why not combine the two?
The more time I spend with a fishing rod in my hand, the more addicted I am to it. Whether we're chasing walleye on a clear, deep back country lake, or trying to fool a finicky rainbow trout into engulfing an artificial fly on a hidden stretch of river, I love it. Try being stressed out while listening to the water flow across the gravel and rocks as you twitch a hand-tied imitation of a bug across the surface. It just doesn't mesh. Those cares melt away, especially if you see that mouth coming up from the depths to meet your fly in that split second before your rod tip bends. It's the same thrill as stomping on the gas pedal in a Polaris RZR, cranking the wheel hard to the left and sending a spray of dirt from the rear as you blast off down a new trail. What if you had your fishing gear on your UTV, so that you could use your ride to get to those remote places to fish? Don't have a machine like a Ranger, or Defender? No worries, my friends, a RZR or Maverick with get you deep in country just as well, and you can haul plenty of gear for a fun day or fishing.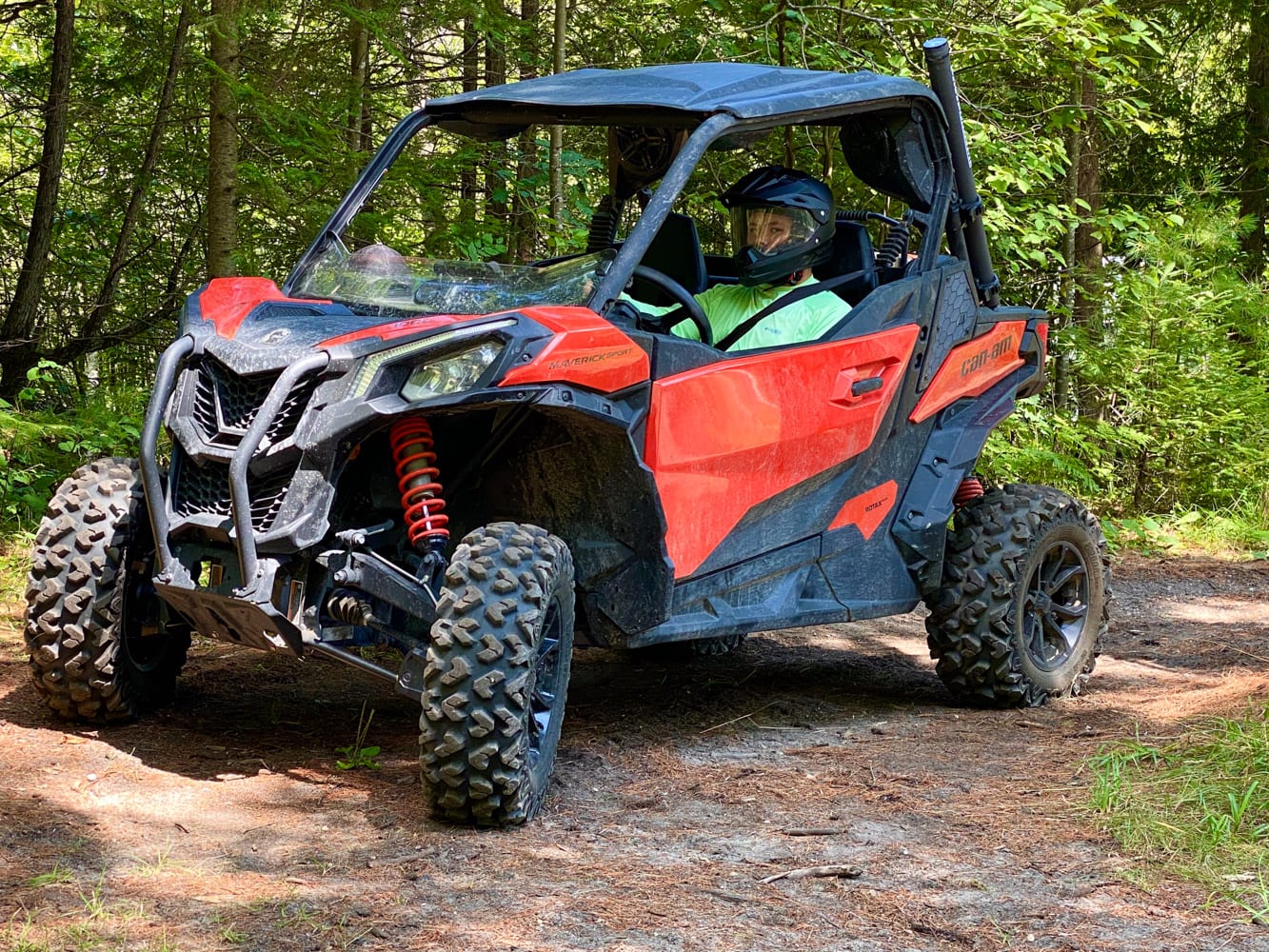 Where to go?
The easiest way to find those secret fishing spots is by looking at maps, either online, or in paper form. Don't laugh. I like looking at physical maps, probably more so than online. Of course, as I get older, my eyes like to be able to zoom in on the computer screen and see things close up, so it's a trade off. What you're looking for is the same – places where trails and waterways connect. You should cross reference the water with fishing regulations, so you're adventuring to some open and fishable waterways.
Finding your way to the water when on the trail is another adventure. If you're in a Polaris equipped with their awesome Ride Command system, then you have access to a GPS unit and navigation tool right on your machine. It works well, too, if you're planning on going with some buddies. The Ride Command lets you track each other, so if you're headed to one spot on the river, and your buddy is headed to a different spot, you can pin-point exactly where he or she goes. This is not only helpful, but also adds a level of safety. As someone who has fallen into a river before, I can attest that I am always happy that someone knows where I am when I'm adventuring. Your loved ones appreciate it, too.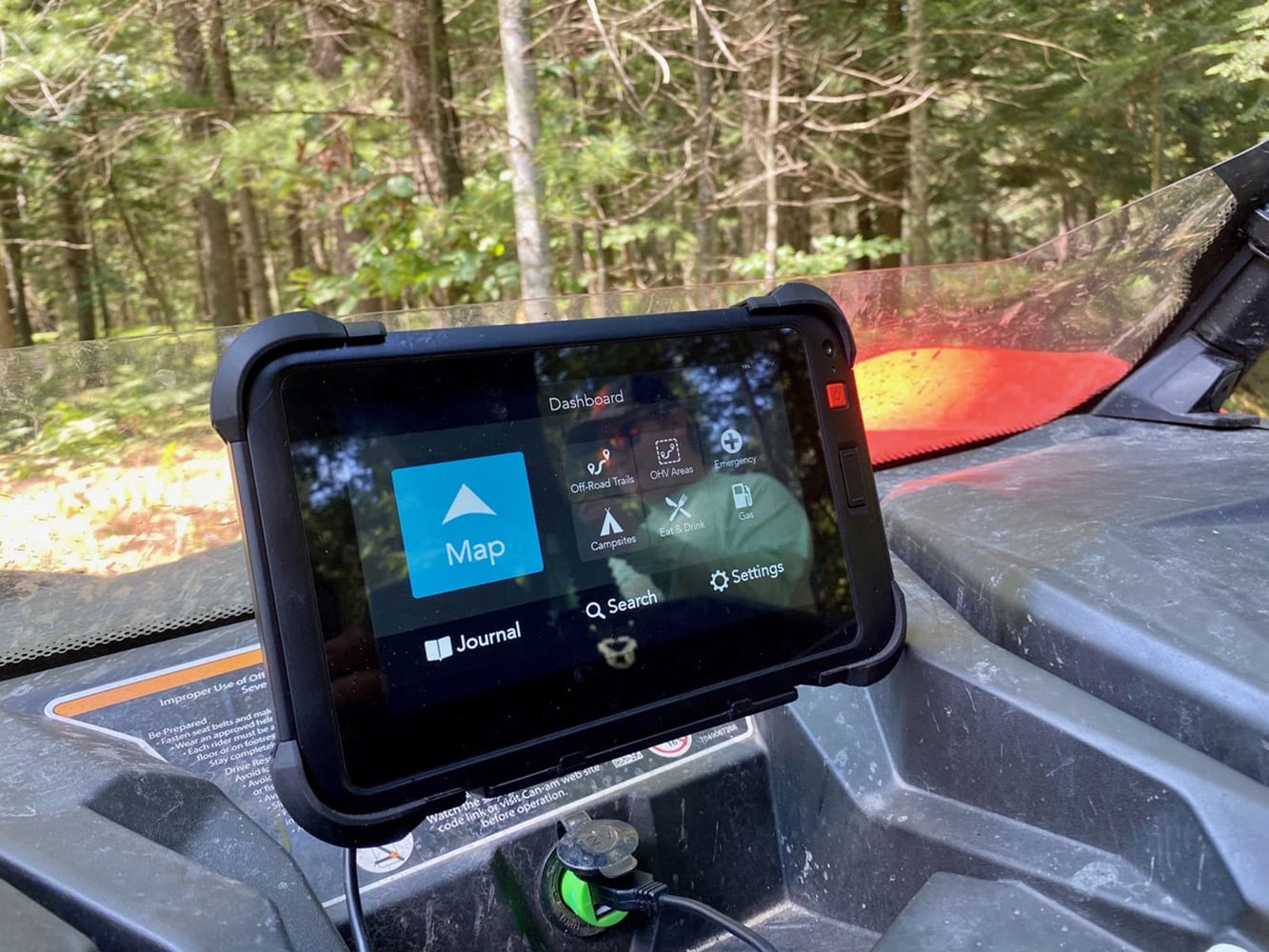 If you don't have Ride Command, fear not. One of the coolest tools we have used in other machines is the Magellan TRX7 Off-Road GPS system. This tablet GPS unit comes in a rugged case and can mount just about anywhere. It is a fully-functional off-road GPS with trails marked out across Canada and the United States. We've been using one for a while after a buddy suggested it to us. It's a sweet unit that we can tie to our social media accounts and have it post our locations and routes to our pages, so we can share with friends – or not. After all, who really wants to give up our favorite fishing hot spots? There're just some things a guy needs to keep private. Of course, the Magellan, like the Ride Command system, can take you back to your fishing hole time and time again.
Packing it in
Unlike a UTV that is more utility-based, there is limited cargo area on a sport machine. Luckily when it comes to fishing, you don't need to haul a ton of gear with you to get on the fish and have a great time. Even the fastest machine has enough cargo space to carry the essential gear. You can fit a small cooler, a rod, tackle and a few other things you'll need, and have room to spare. When we go after trout on a river or stream, we've found that the ROPS bars work well to strap a fly rod case onto, making even more room if we need it.
If you're heading into a lake, there are some other options, too. While the manufacturers may not readily approve, you can strap a kayak to the top of your ROPS cage. Kayak fishing is really catching on in popularity, and a sport UTV can easily handle getting your kayak to your fishing hole. Just like always wearing a helmet, never leave the shore without your life jacket on. No fish is worth your life. Period. Be safe, my friends.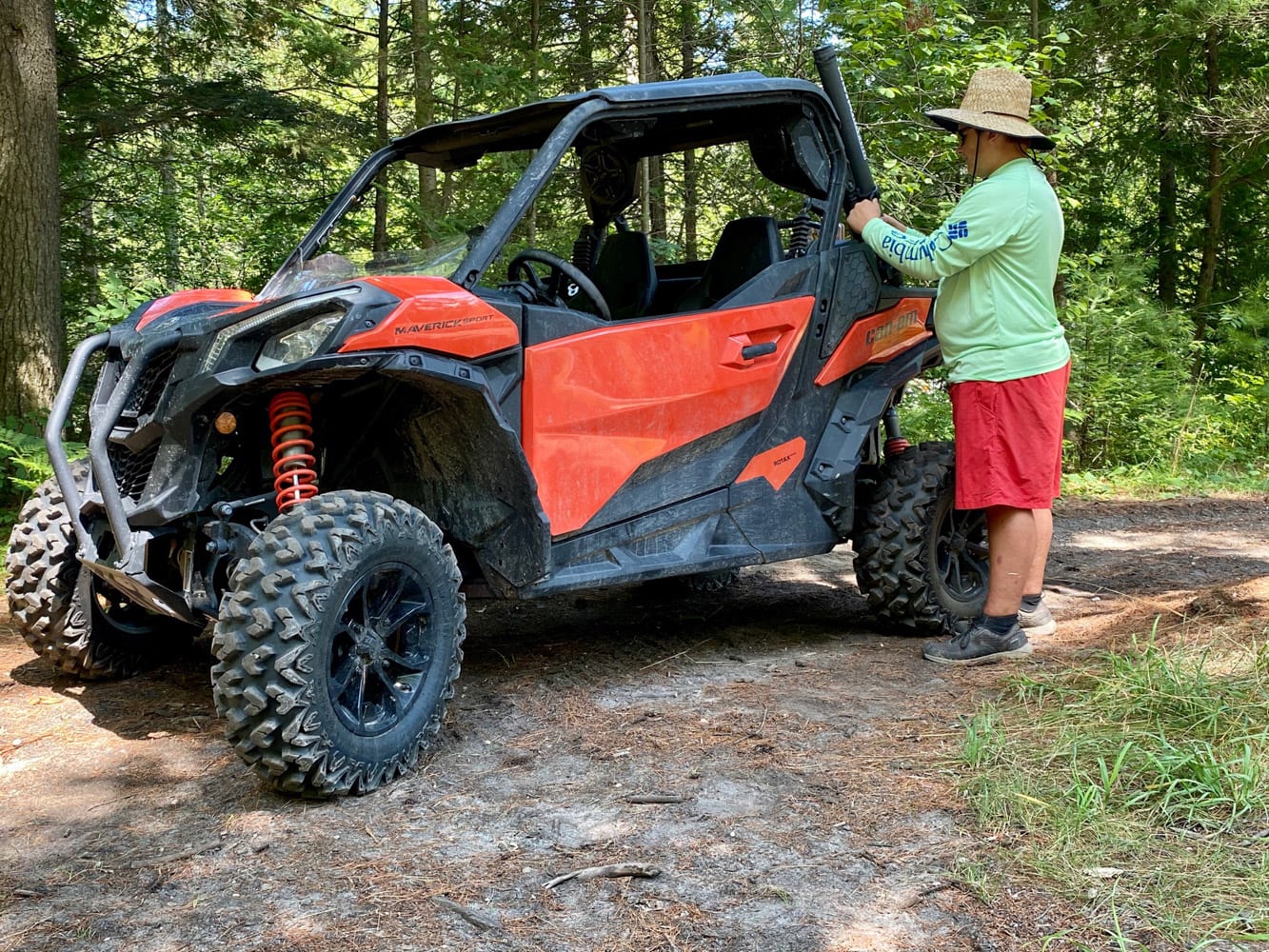 Advantages
There are actually some advantages to using a sport machine for a fishing adventure. The manufacturers don't market these types of machines at the fishing or hunting crowds, but actually they work amazingly well for this kind of activity. We recently took a Can-Am Maverick Sport back in search of a stream we kept hearing was loaded with trout. The Maverick has great ground clearance and suspension, making it a great choice to get you back into places where additional horsepower and ground clearance are an added advantage. The trail may get pretty rough with, especially the more remote of a location you're trying to get back into. `
Another advantage is very simple. They're fun and you already have one. Some people think that they have to sacrifice one activity for the sake of another. That's not true. Sport UTVs are a lot of fun to drive. Don't think for one moment that your choice to buy the fast, fun machine means you can't do some of the same things that the guy who bought the utility machine can. Granted, you may not want to use a RZR to move a load of dirt around the worksite, but you could probably still find a way to do it. The same goes for going on a fishing trip. Shoot, we have a friend in Michigan who uses a RZR Turbo to go deer hunting. Where there's a will, there's a way. And fishing is easy!
So, ask yourself a couple of questions. Do you own a sport UTV? Do you love to fish? If the answer is yes to both, what are you waiting for? Your sport machine is ready to open a whole new range of possibilities for fun and adventure. There are thousands of great, remote fishing locations like lakes, streams and rivers that are waiting for you to find them. Get in your machine and get to it. Who knows? Maybe we'll just meet you