If you have never heard of UTV Canada, then you will soon be in the minority!!  UTV Canada has been growing by leaps and bounds across the country, and chances are very high that their products are available at your local dealership!!  UTV Canada is this country's go-to supplier for cutting edge, unique and freakin' awesome UTV Accessories!!
UTV Canada touts itself as "Your Canadian Source for UTV Accessories" and although not very creative, the name truly says it all.  They are located in Leduc, a suburb of Edmonton, Alberta and they have a massive selection of accessories for you to "Define Your Ride"!!
UTV Canada's start up story is not much different than most other businesses – the founder saw a need and then set out to meet that need!  The founder is Reid Nehring and the need was this – the UTV market was about to explode and there was a demand for aftermarket products but it was very difficult to get the products into Canada.
Back in 2006 when some of the first sport UTV's hit the market, Reid was a partner and General Manager at a large local motorsports dealership.  Time and time again he would witness people walk into the showroom and see a UTV for the first time.  The customer's eyes would light up and their excitement would build as they pictured themselves behind the wheel!  Even though local industry icons scoffed that UTV's were just going to be merely a passing fad, Reid knew instantly that the UTV market was going to explode – and my goodness he was right!!!  For example – this article is being published in a (fantastic) magazine that is solely dedicated to the UTV enthusiast!!  And, UTV sales in North America are exceeding those of ATV sales!
The catalyst happened on a bus ride from a trade show with a bunch of other dealers.  Everyone was commenting on how there are such amazing UTV aftermarket manufacturers in the US but it was so challenging to get the product to Canada.   The shipping costs, customs and brokerage fees, importation documents, and dealing in the US dollar led to many issues!!  Once those hurdles were overcome, then it could take up to 3-4 weeks to get here!! (And the dealer would often be surprised at the total landed costs….)  Reid kept thinking, "I can take care of all those hassles for the dealers, and be able to get product to dealers across Canada in 1-3 days.  If I had the products here, people will see them and I know they would buy them."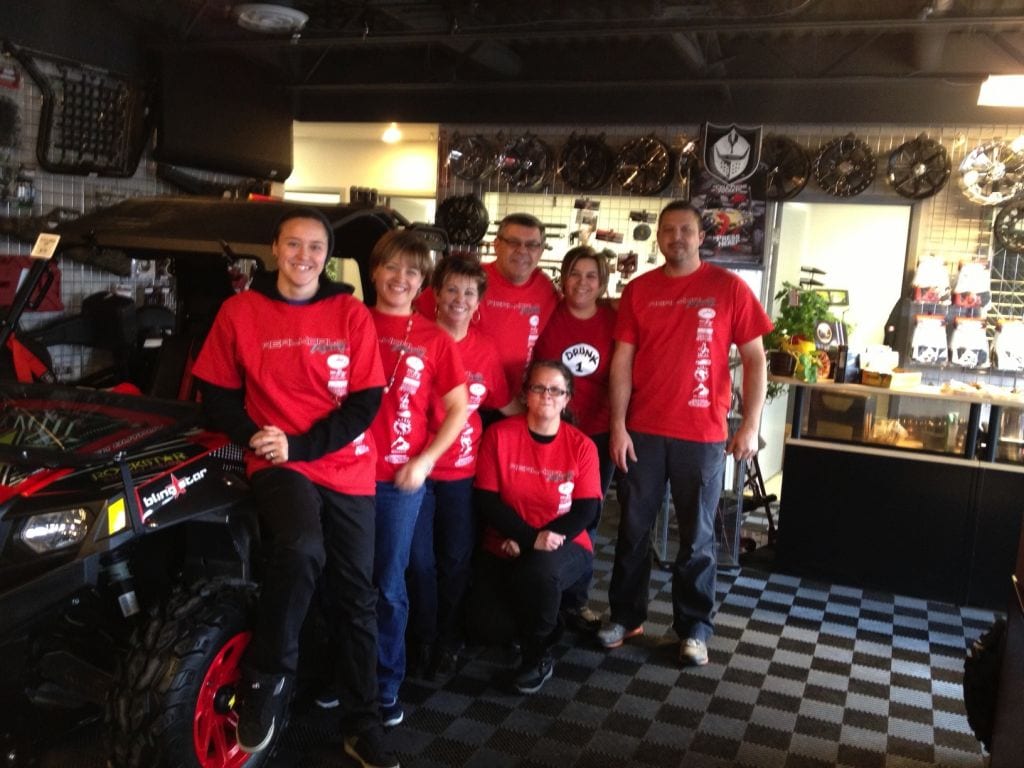 So backed by the hunch that UTV's were going to rock the Offroad Motorsports market and the need for badass, easily accessible accessories – UTV Canada was born.
"We began with one manufacturer, a small 400 sq. ft. rented mezzanine and working evenings and weekends," recalls Reid.  "Eventually I knew that if I really wanted to make a go of it, evenings and weekends would no longer cut it.  I needed to shit or get off the pot!"  In 2008, he took the leap of faith, cashed in his shares at the dealership and hasn't looked back since.
Before long, the one man show could no longer cut it and so Reid enlisted the help of his family.  Reid's wife, Cathy, and daughters, Stacy and Tara came to the rescue.  "The girls all started out on a part-time, fill the gap basis, but have now become partners and an integral part of this operation." Reid goes on to say, "working with my family has been at times challenging but also one of the most rewarding parts of this job.  Success is sweet, but even sweeter when you can share it with those you love and who believe in your dreams.  I am super proud of all my girls – this is not a 9-5 job.  None of us are afraid to dig down deep to grow this company."
Reid truly is a family man and his greatest aspiration for UTV Canada is to create a legacy for the next generation to come.  Having 5 grandchildren, ranging in age from 1-12 years old, he would love to see them work in the family business and eventually take it over.  In fact, you've heard of arranged marriages – well Reid believes in arranged careers!  He has already identified the future needs of the company and has chosen the post-secondary programs for each of grandkids in order to fulfill those needs!!
Today, UTV Canada has grown from that 1 lonely supplier to over 85 manufacturers with thousands of outstanding products exclusively for Side x Sides.   Some of their manufacturers are well know names like Pro Armor, Rigid Industries, and Warn.  However, they also have many smaller, less known manufacturers that produce equally amazing and often more truly unique stuff!  "Because we are not a large corporation, it allows us to be much more responsive to the market and to the end the consumer.  In an industry that is continually evolving, responsiveness is critical," remarks Nehring.
Having long outgrown the small mezzanine, UTV Canada now boasts a 9500sq. ft. building complete with a showroom, and have recently expanded into Eastern Canada with shared warehouse space in London, ON.  "We now have over 700 dealers all across Canada and a stellar team of people that keeps our business rolling.  I fully recognize that our people are our greatest asset and am thrilled with the team we have created!  The problem with a total of 13 staff now is that we are running out of room!  We are going to have start stacking desks and I am getting tired of having to wait in line to use the washroom"
 "As we continue on into 2014 and beyond, we look forward to continued growth in the industry and our company.  With the OEMs coming out with more new and exciting Side x Sides, it only proves that this market segment is here to stay!  So much for passing fads, eh?"
FACEBOOK COMMENTS