The Polaris General – "made for those who want to battle it all"! A bold statement used by Polaris to describe its latest offering in their 2016 side-by-side product line-up. This declaration, however bold, is reflected in the appearance of the Polaris General. The General clearly depicts a versatile unit that can work hard and play harder.
The General was conceived by Polaris to compete in the expanding recreational-utility market. If you looked at the Polaris line-up prior to the introduction on the General, it was evident that they were lacking a competitive model in this area. They needed a unit that could go head-to-head with competitors like: the Yamaha Wolverine, Can-Am Commander and Honda Pioneer 1000.
The Polaris General is a two-seater (recreational-utility) that slots in-between the Polaris RZR and Ranger line-ups. The General was engineered with class-leading features needed to tackle the trails and a work ethic to battle the tough jobs.
The General is available in three distinct versions: Base, Premium and Deluxe. Each version offers its own color, trim and included features. Our day of testing mostly revolved around the Polaris General Premium version, our first ride review is based on this model.
POWERPLANT
The General is powered by a 100 horsepower 999cc ProStar engine which delivers ample power and torque. The General shares the same engine and transmission as found on the Polaris RZR 1000 line-up. However, to increase the General's workhorse abilities, the engine and transmission have undergone tuning and gearing changes.
This precisely tuned powerplant delivers max torque throughout its RPM range resulting in increased haul and pull capabilities. The Polaris General will tow 1500-lbs. (660 kg) and can haul 600-lbs. (272 kg) in the cargo bed – total payload 1100-lbs. (498 kg).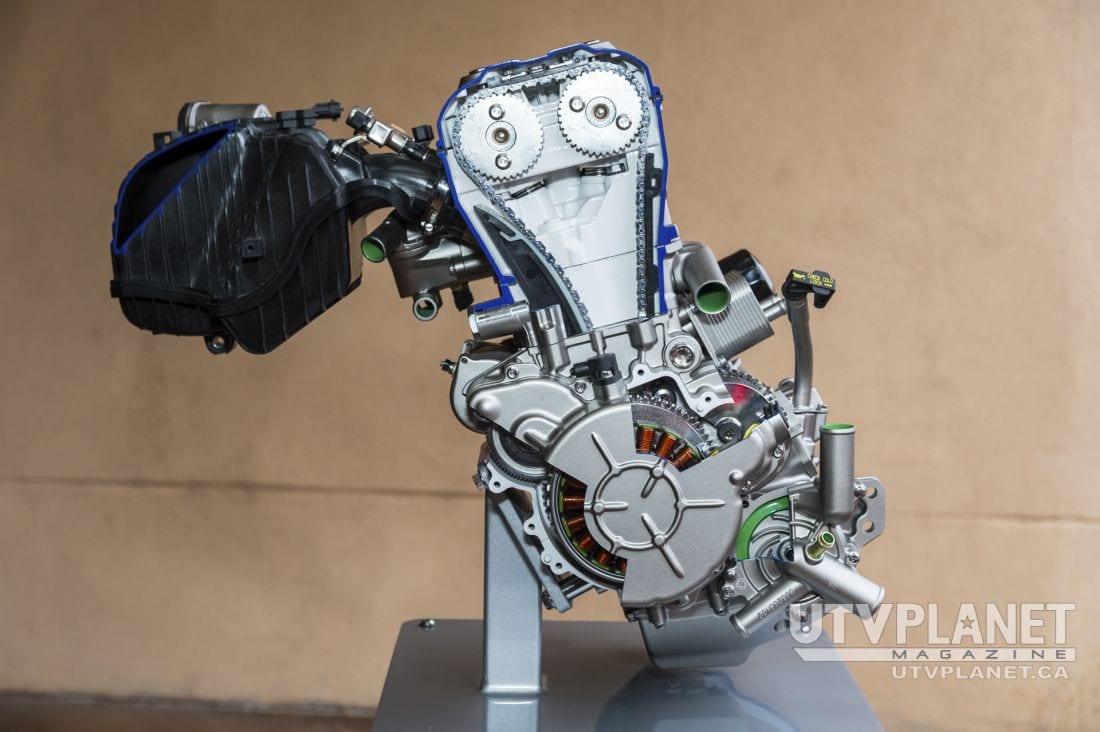 SUSPENSION
The Polaris General features a dual a-arm front/rear suspension with 12.25 inches (31.12 cm) of front suspension travel and 13.2 inches (33.53 cm) of rear travel. Standard front and rear sway bars keep the ride level and reduce body roll through aggressive cornering on trails. Ground clearance is also excellent, with 12 inches (30.48 cm) unloaded and 7.4 in (18.8 cm) when loaded with 600 lbs. (272 kg).
TIRES, WHEELS AND BRAKES
The Polaris General sits on a set of 27-inch (68.58 cm) GBC Dirt Commander Tires with 14-inch (35.56 cm) Matte Black cast aluminum wheels. Hydraulic Disc with Dual-Bore Front Calipers brings the unit to a stop.
COCKPIT AND ERGONOMICS
There is no doubt that the Polaris General looks magnificent, the perfect offspring between a RZR and Ranger union. Bold bodylines combined with its aggressive stance leaves enthusiast lusting at the opportunity of some seat-time.
Ingress and egress is made easy with the use of factory-installed half doors with armrests. Once seated you will notice that the newly designed bolstered bucket seats are not only comfortable but the driver's seat is also adjustable. Furthermore the thin-film technology under the seat cover provides a dry ride in wet conditions.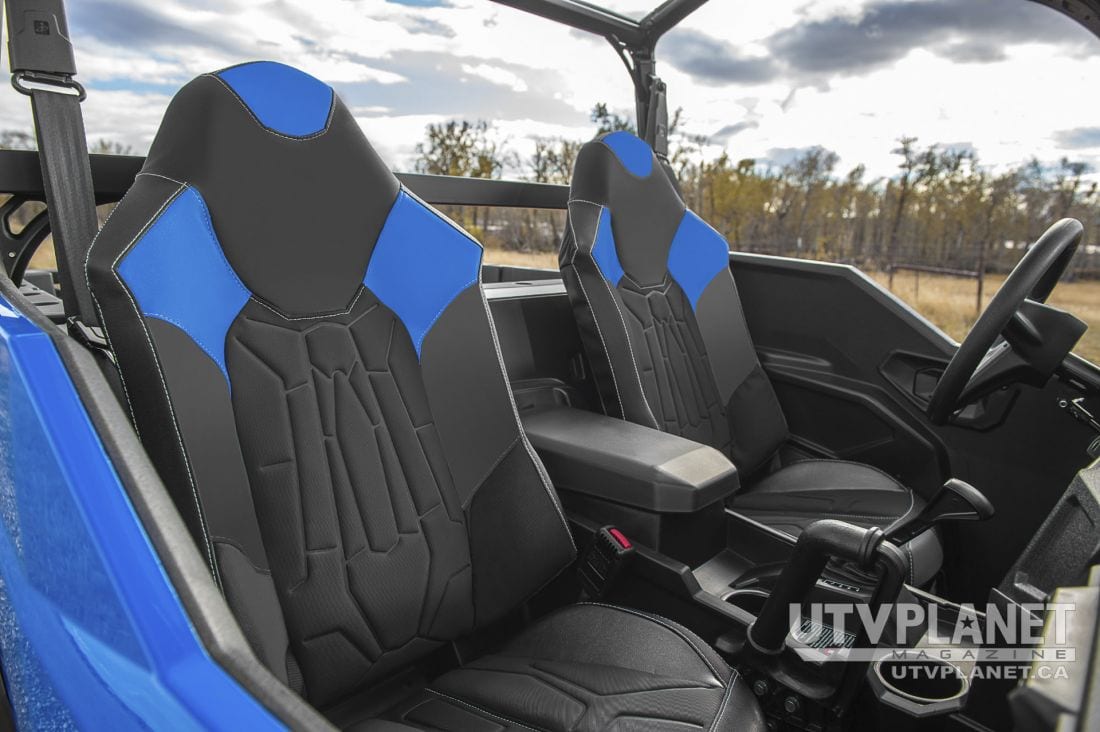 The new cabin design is exceptionally spacious with the best fit and finish we have seen from Polaris to date. The cockpit features an all-new customizable instrumentation cluster that tilts with the steering wheel and includes a combination of digital and analog gauges giving clear readings of vehicle speed, engine RPMs, and standard trip information.
As far as storage within the cab is concerned, the General offers 23 liters of storage, which is a combination of enclosed and in-dash storage. To further enhance creature comforts, the vehicle offers a very comfortable center console that also provides for more storage, 12V outlet and two cup holders.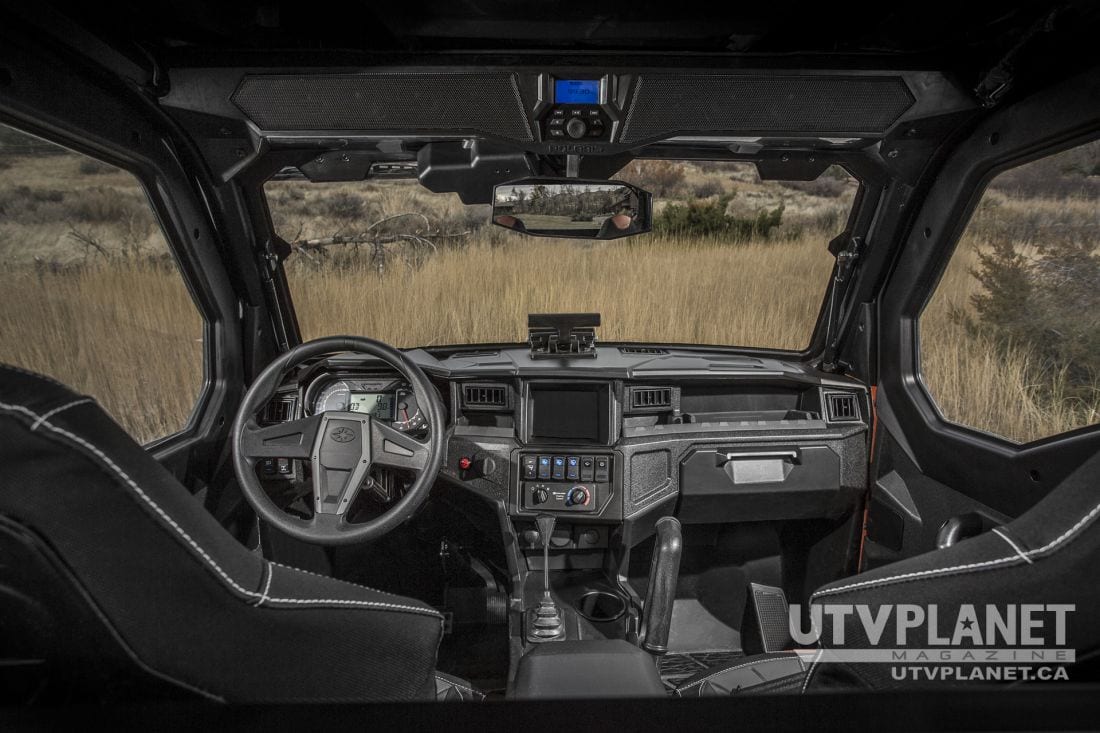 Lastly you will also find a newly designed passenger grad handle and dual removable floor drains that allow for easier clean out of the cabin.
This would also be a good time to mention that the Polaris General was launched with over 30 brand new Polaris Engineered accessories and 90 plus common fit items. In other words, an extensive selection of accessories to customize your Polaris General for work or play is available.
THE RIDE
We had the opportunity to take our first ride with the Polaris General in the mountains north of Santa Fe, New Mexico. Oddly enough we awoke to find a fresh coat of snow on the ground. It hadn't snowed at home yet; I guess we had to come to Santa Fe to experience our first snowfall of the year.
The trail sets we encountered during our test ride resembled logging roads, hard packed surfaces with no major obstacles, optimal trail conditions. However the cold temps and fresh snow fall did make things interesting.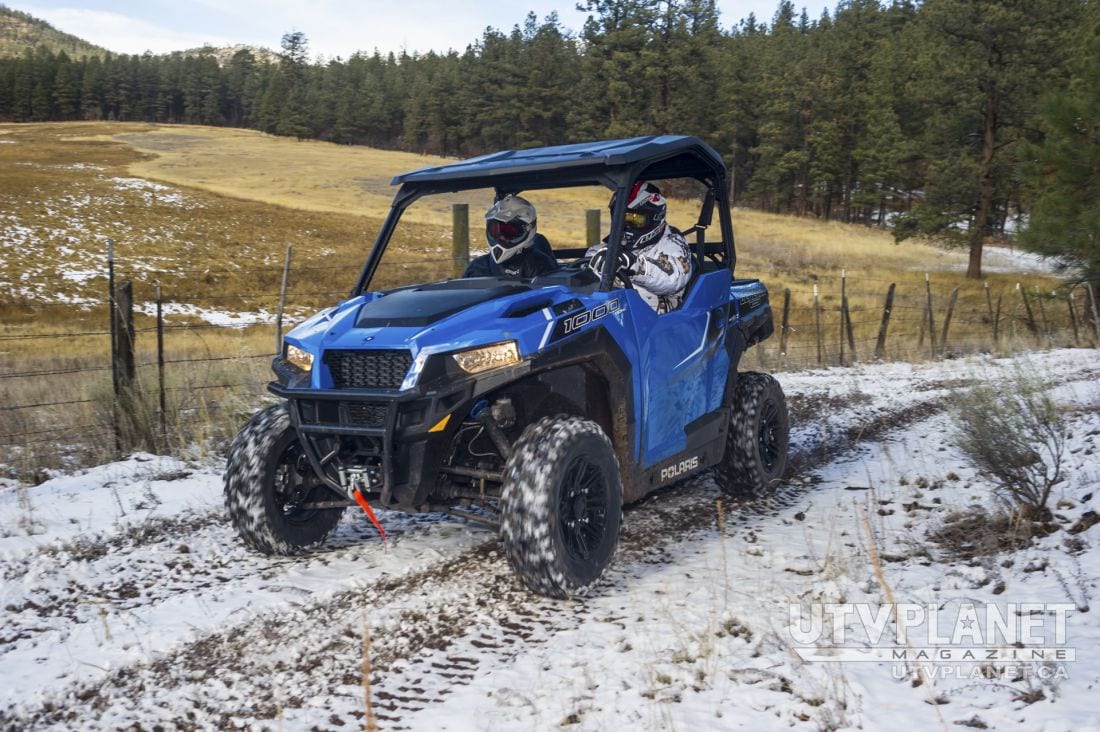 Performance wise, the Polaris General definitely delivers. There is plenty of power on tap to play hard on the trails. The General's AWD system also contributed for a more responsive ride during the various terrain conditions we faced.
We had ample seat time with the Polaris General and are extremely pleased with our first ride experience. The General has proved to be an exceptional trail-riding unit offering a stable and smooth ride that will allow you to easily navigate any trail.
SO DID WE LIKE IT?
Unquestionably yes! The Polaris General provides for an exceptional trail ride experience and yet is versatile enough to be used in many applications. After every model intro from Polaris, we always speculate in saying that their model line-up is now complete. However Polaris always seems to find a way to introduce a new model that was missing from the marketplace. Thumbs up Polaris, keep them coming!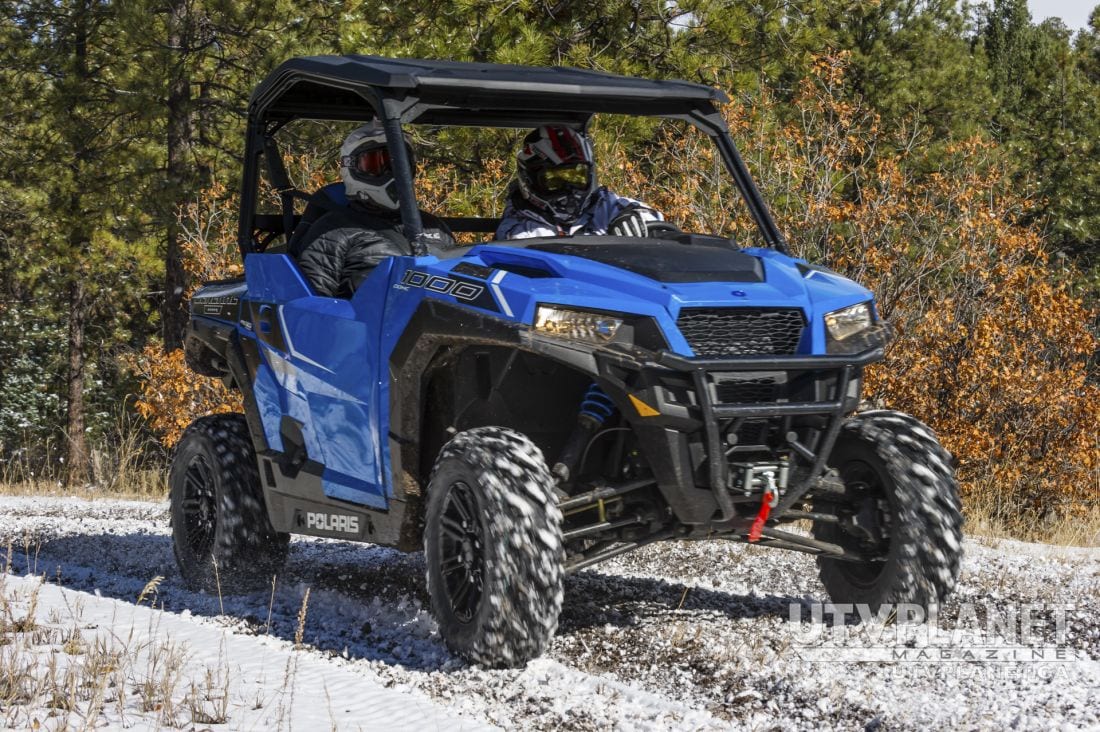 I am sure you noticed we didn't really expand on the work capabilities of the Polaris General. We will elaborate more on this in a future review as we have a unit on the way.
To find out if the Polaris General is for you, visit you local Polaris dealer and get some seat time in this unit. For a more information or for a complete list of Polaris Engineered accessories, please visit: www.polaris.com.
TECHNICAL SPECIFICATIONS
ENGINE & DRIVETRAIN
| | |
| --- | --- |
| Cooling | Liquid |
| Drive System Type | High Performance On-Demand AWD/2WD |
| Engine Braking System (EBS) | Standard |
| Fuel System | Electronic Fuel Injection |
| Transmission/Final Drive | Automatic PVT P/R/N/L/H; Shaft |
| Cylinders-Displacement (cc) | 999cc |
| Engine Type | 4-Stroke Twin Cylinder DOHC |
SUSPENSION
| | |
| --- | --- |
| Front Suspension | Dual A-Arm with Stabilizer Bar 12.25″ (31.1 cm) Travel |
| Rear Suspension | Dual A-Arm with Stabilizer Bar, IRS 13.2″ (33.5 cm) Travel |
BRAKES
| | |
| --- | --- |
| Front/Rear Brakes | 4-Wheel Hydraulic Disc with Dual-Bore Front Calipers |
| Parking Brake | Park In-Transmission |
TIRES / WHEELS
| | |
| --- | --- |
| Front Tires | 27 x 9-14; Dirt Commander (8-Ply) |
| Rear Tires | 27 x 11-14; Dirt Commander (8-Ply) |
| Wheels | Cast Aluminum |
DIMENSIONS
| | |
| --- | --- |
| Bed Box Dimensions (L x W x H) | 27.5 x 43.1 x 11.6 in. (69.8 x 109 x 29.5 cm) |
| Front/Rear Rack or Box Capacity | N.A./600 lb. (272 kg) |
| Fuel Capacity (Liters) | 9.5 gal (35.9 L) |
| Ground Clearance | 12 in. (30.5 cm) |
| Overall Vehicle Size (L x W x H) | 118.2 x 62.5 x 73.8 in. (300 x 158.7 x 187 cm) |
| Payload Capacity | 1,100 lb. (499 kg) |
| Person Capacity | 2 |
| Wheelbase | 81 in. (206 cm) |
| Estimated Dry Weight (pounds/kg) | 1,491 lb. (676 kg) |
FEATURES
| | |
| --- | --- |
| Adjustable Driver Seat | Standard |
| Cargo System | Lock&Ride® |
| Color / Graphics | Velocity Blue |
| Doors | Half Doors Standard |
| Electronic Power Steering | Standard |
| Hitch Towing Rating | 1,500 lb. (680 kg) |
| Hitch Type | Standard/2″ Receiver |
| Instrumentation | Digital Gauge, Speedometer, Odometer, Tachometer, Tripmeter, Clock, Hour Meter, Gear Indicator, Fuel Gauge, Hi-Temp, Coolant Temperature, Voltmeter, Service Indicator, Seat Belt Reminder, User selectable Blue/Red backlighting, Gear Indicator, DC Outlet (2) |
| Lighting | 55W low/ 60W high, LED Tail |
| Tilt Steering | Standard |
| Polaris® Lock&Ride® Pro Fit Cab Capable | Standard |
| Bodywork | Velocity Blue (Painted) |
| Special Features | Center Console w/ 12V DC Outlet, GENERAL® Sport Low Profile Front Bumper, Polaris® HD 4500 LB. Winch |