XP1K3 is nearly six minutes of full throttle, turbo powered, mind bending off-road UTV action! RJ Anderson fearlessly attacks massive jumps, high speed drifts, and treacherous man-made terrain in his custom 200 horsepower Polaris RZR XP Turbo. It was shot in the post apocalyptic dystopian decay of abandoned steel mills, old factories, and train yards and features an array of massive man-made obstacles spread out over six locations near Youngstown, Ohio – here in the United States. So how did we do it? How did we pull off the third chapter in the XP1K franchise?
The planning for the XP1K video series goes on all year long. We have a bible of sorts of stunts and tricks that we constantly add to, so that when it comes time to make these films, we pick our setting and then go about placing the stunts in the environment. This time around, we decided we wanted to put our UTVUnderground XP1K3 RZR's in a totally foreign environment. I don't know about you guys but whenever I see abandoned buildings, or warehouses, or scrap yards I think back to my old skateboard days and think how rad it would be to "session" them and make cool "lines" with RZRs just like we did on the streets with our skateboards. We did a massive search for abandoned steel mills and it turns out Ohio had quite a few. We found some near Youngstown and got in touch with their Film Commission – then paid a visit for a full scout, and immediately fell in love with what we saw.
Now let me say – it is sad to see so much of our American manufacturing sector in ruin and decay. We recognize completely that some of these locations used to provide jobs to the local economies and the last thing we wanted to do was mock or disrespect that. So from the onset we made it our goal to employ as many locals as possible for our shoot and pump as any dollars into the local Youngstown economy as possible. We spent a lot of money on travel, hotels, rental cars, food, supplies and local staff/crew. In the end it felt great to help Youngstown with this project.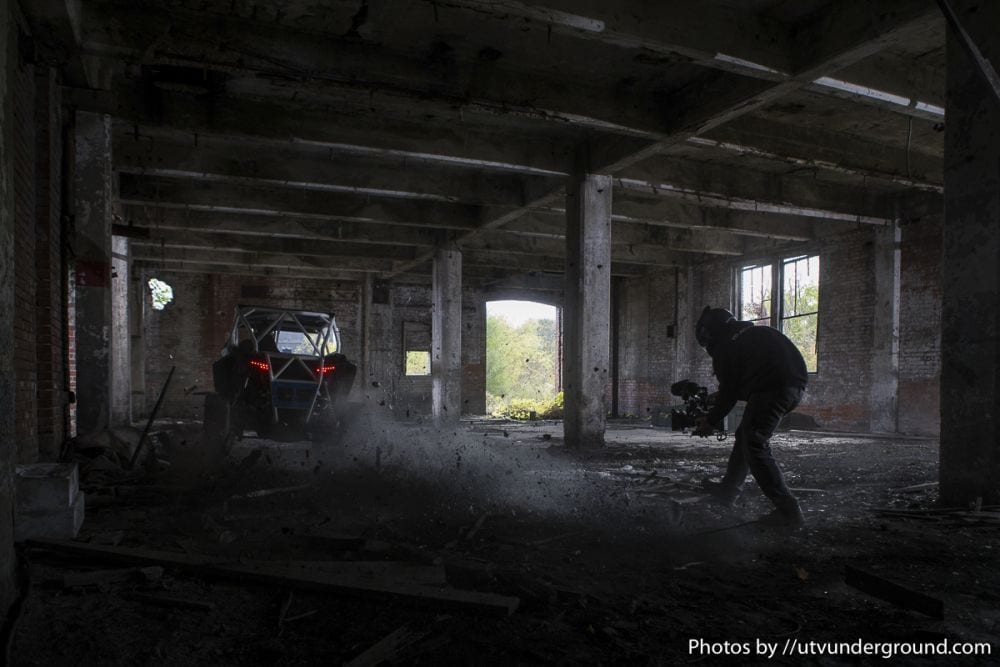 UTVUnderground oversaw and built two sister cars this year and a "test" car based on the 2016 Polaris RZR XP Turbo. Mark Holz at Holz Racing Products did all of the major fabrication including a HRP Chromoly Tig-Welded Race Cage & Bumpers, HRP Chromoly A-Arms (Front), Trailing Arms (Rear) & Radius Rods, HRP custom XP1K3 Hand Brake system, and HRP front and rear sway bars. For suspension we installed Walker Evans Racing 2.5" Velocity Series shocks, and ran 15" Walker Evans Racing Beadlock wheels wrapped in 30 X 9.50 X R15 BFGoodrich KR2 UTV Tires. Our engines were incredible. We pulled 200 horses using Muzzys Performance 1132cc Big Bore w/ K&T Performance RZR 1000 Turbo System! They were outfit with K&T Performance High Performance Intakes, and Muzzys Performance exhaust kits. That crazy custom dashboard, passenger door panel, interior trim and grill you've seen in all the photos? Next Level Motorsports – those guys are crazy talented. And the clutch was a STM Powersports Rage 8 Primary & Secondary Snowmobile Clutch w/ Fuel Customs Oversized Clutch Cover. ProLine handled our Mad Media designed wraps. There's a LOT more that went into the cars so for full specs head over to XP1K3.com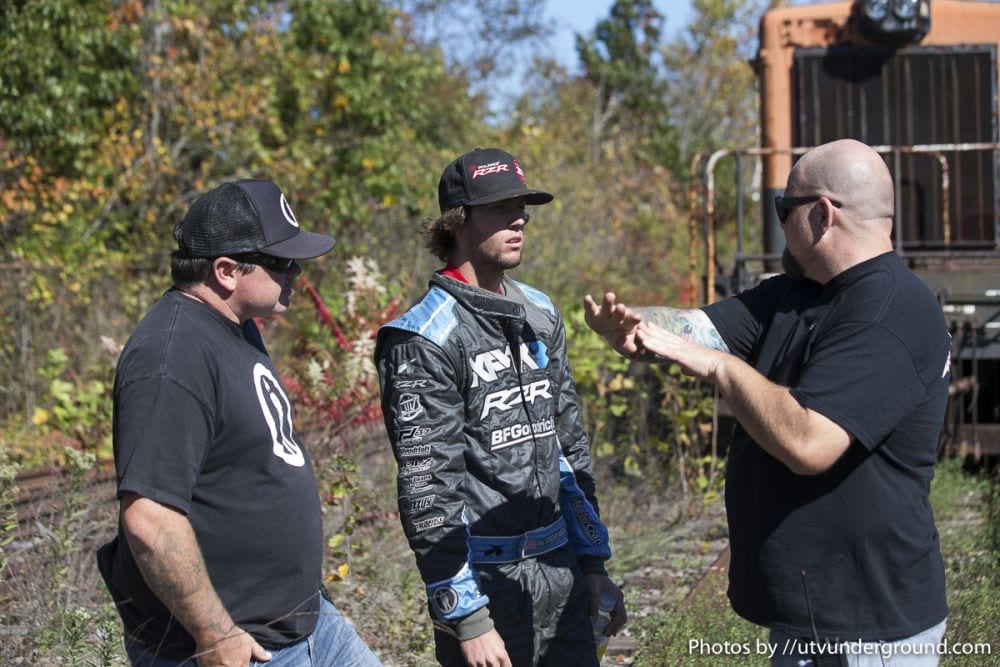 People ask us all the time how we dream this stuff up. Well the short answer is we take our ideas about what stunts we want to pull off, combine those with our ideas we develop while we scout locations, and between my brother Matt and I, our lead producer Lonnie Peralta, UTVUnderground founder and CEO Joey "D" DiGiovanni, our builder Tony Vanillo of Off-Road Management Group, and the man himself RJ Anderson – we figure out what is possible and safe enough to attempt. There are always changes once we start filming, but we go into it with a very organized game plan. That means weeks and weeks of talking to property owners, working out the builds, looking to see what the sun is doing, and thinking about how to "link" everything so the final product feels smooth. Something that may not occur to you – is that we have to consider what side of the car to film on for every stunt sequence. Right? Because it looks pretty funky to have the car drive left to right then right to left then right to left again… So there are all these considerations that we have to take into account.
There's not enough room to recount every day of filming here. I mean we shot for fourteen days with only one day off – and most of these were sixteen hour days! Up at 5am, wheels up by 6am, shoot till 6-7pm, dinner by 9pm… Then do it all over again. In the span of two weeks we wrecked and rebuilt both cars several times. RJ didn't sustain any serious injuries and we had medics on standby the whole time. But yea that train gap? We tested that jump for an entire afternoon with the ramps pulled forward so that we could get good data about speed and distance. Then we pushed them back so that the trains were between the ramps. On his first attempt RJ scrubbed a little too much speed on the takeoff and came up about a foot short of the lip of the landing ramp…and ripped the entire rear end of the car off, as well as the front left side of the car. It was a scary moment. Most guys would have said "That's it. No way." But RJ got in the second car (dubbed "Willie Nelson") and went for it again – and nailed it PERFECTLY. To those of you with little experience jumping ramp to ramp you can't simply "gas it" and go as fast as you want. If you over jump the landing you land to flat and break your back. The margin for error is less than one mile per hour. RJ hit it at 41 mph on take one, and 42 mph on take two. Had he gone 43mph he would have likely jumped way too far. It took nerves of steel for him to pull that off. Needless to say we all completely rushed him and high fived him. The entire shoot was like that. We'd nail a few stunts in a row and be on a high – and then run into issues and have to push through and get it all done. A rollercoaster for sure.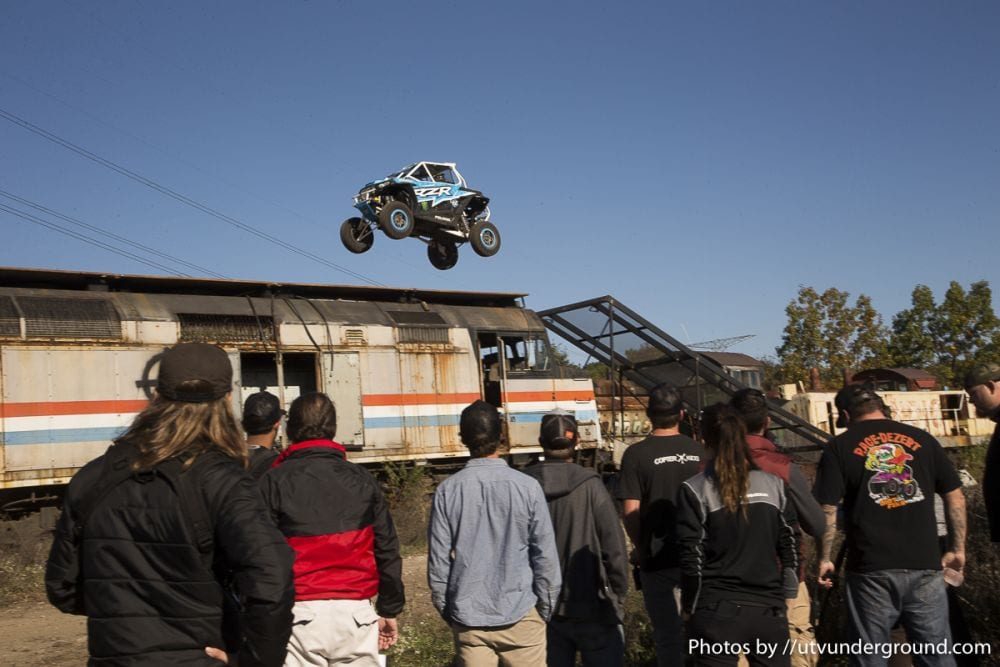 So our process for filming worked like this…. We planned several stunts per day – and tried to practice each stunt a few times to lock in our camera angles. Often times we would shoot a stunt with cameras on tripods – then move on to filming with RC helicopters or special camera rigs. That way we would have a good collection of shots for each stunt for editing later. We had a professional sound engineer with us, and about six microphones just on the car. All in all our crew was about forty people strong…and every one of them from the producer all the way down to the production assistants worked their asses off. We could not have made XP1K3 without the help of this entire crew of people and we're very very grateful to have had such a wonderful group to work with.
When we got back to California with all of our footage it took about six days to edit the video. I did the majority of the editing, but had some great help from our Director of Photography Milan Spasic and Mad Media cinematographer Caleb Norman. Milan helped dial in the color and Cedrick Courtois is the genius behind the sound design. We edit in Adobe Premiere and we made sure everything was shot in 4K or higher – which allowed us to upload a 4K version to YouTube. If you have a nice computer do yourself a favor and watch XP1K3 in 4K with headphones! It's a whole new experience versus your cell phone.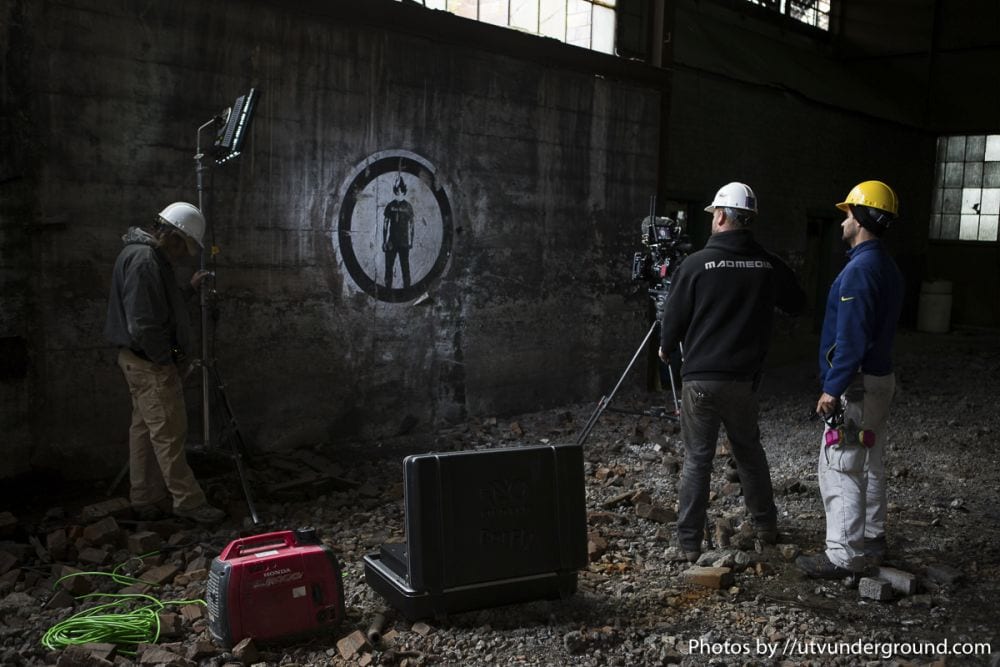 OK I want to take a moment to respond to a few comments we saw online when we released the video. First – that we somehow copied Ken Block's "Gymkhana" films. Yes the style is similar – know why? Because my brother and I directed the first three Gymkhana videos and I personally edited number one and number three! So no, we didn't copy Ken Block. We are one of a few production groups that started producing branded viral videos even before there was a YouTube. Second – "I can do that in my….". We see this a lot. People claiming they can do these types of stunts on their machines. Don't. Please. Do not try to copy what you see in these videos. RJ is a three-time off road champion and we had a full paramedic crew on standby the entire time. The reason RJ has this video series is because of what he has achieved in his RACING career. So if you want to get wild in your RZR – do it on a track!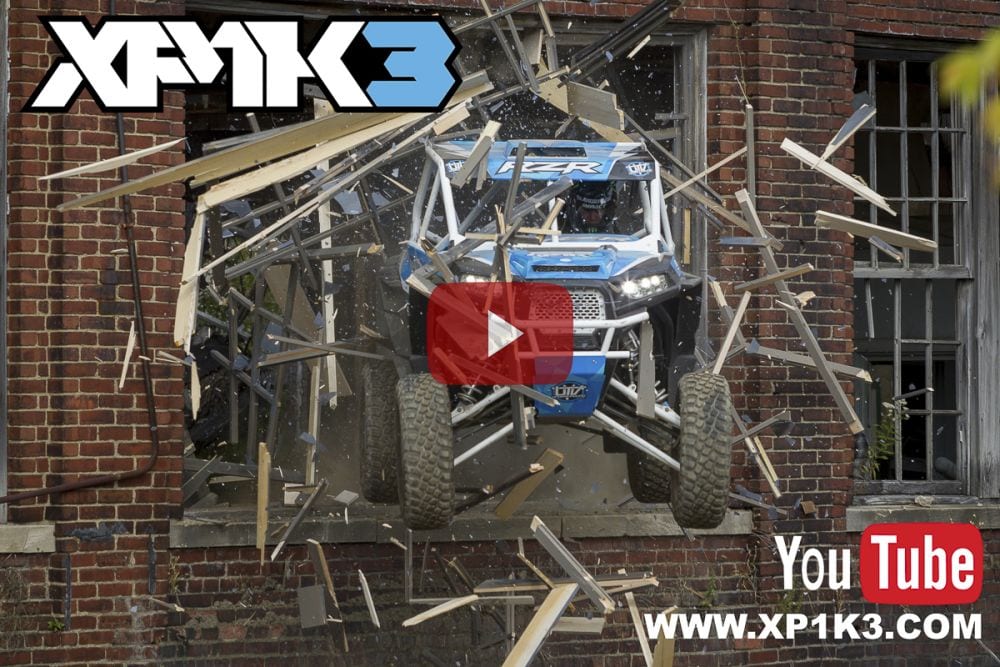 So what's next? Will there be a fourth video? Why didn't we show RJ jumping out of the "Wall of Death" from #2? Will other OEMs make similar videos and compete with us? All good questions but we're out of time! Do us a favor though please?! If you liked XP1K3 please post the YouTube link to your Facebook page and tag our friends here at UTV Planet! The more people that buy UTVs the bigger the market will get. And that's good for all of us. For racing, for videos like ours, for trail access. You get the idea. This sport and culture needs to grow. Thank-you to everyone involved in our project – especially Polaris who stepped up so huge to help us make this video. Thank you to BFGoodrich Tires and Monster Energy, Holz Racing Product, Walker Evans, and everyone else involved. And hey STAY TUNED. There's LOTS more XP1K3 video content coming. Wait till you see the Director's Cut!! Cheers!
2016 POLARIS XP1K3 RZR XP TURBO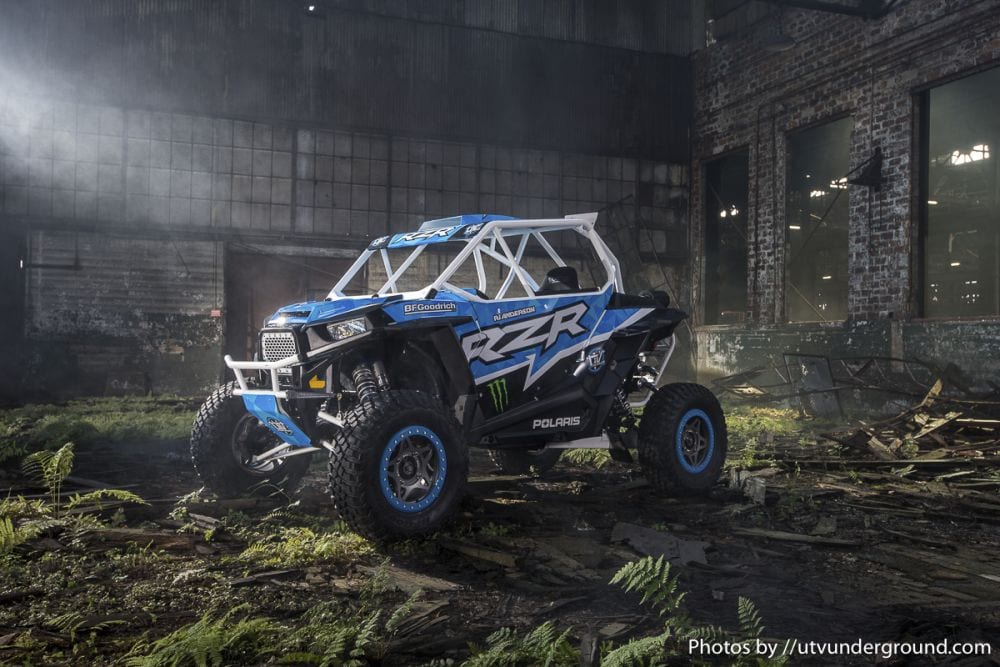 TECHNICAL SPECIFICATIONS
Chassis: 2016 Polaris RZR XP Turbo
Builder: UTVUnderground.com & Holz Racing Products
Cage: Holz Racing Products Chromoly Tig-Welded Race Cage & Bumpers
Dash | Pass Door Panel | Interior Trim: Next Level Motorsports
Suspension: Holz Racing Products Chromoly A-Arms (Front), Trailing Arms (Rear) & Radius Rods
Sway Bars: Holz Racing Products (Front & Rear)
Shocks: Walker Evans Racing 2.5" Velocity Series
Wheels: 15" Walker Evans Racing Bead Locks
Tires: 30 X 9.50 X R15 BFGoodrich KR2 UTV Tires
Safety: Mastercraft Safety 3" 5-Point Harnesses
Brakes: Factory Polaris Braking System w/ Holz Racing Products Custom XP1K3 Hand Brake System
Engine: 200 Horsepower Muzzys Performance 1132cc Big Bore w/ K&T Performance RZR 1000 Turbo System (Tuned by Redline Racing & K&T Performance)
Intake: K&T Performance High Performance Intake
Exhaust: Muzzys Performance
Dash Electronics: RacePak RZR Display & Data Acquisition | Power Commander DynoJet Pod 300 Display
Clutch: STM Powersports Rage 8 Primary & Secondary Snowmobile Clutch w/ Fuel Customs Oversized Clutch Cover
Holz Racing Products Accessories: Engine Mounts, Brake Pedal, Shifter Relocation Kit w/ Billet Shifter, Billet Front Differential Sprague Gear, Steering Mount Bracket, Steering Wheel Quick Disconnect
Engine Details:
Muzzys Performance 1132cc Billet Closed Deck Cylinder
Muzzys Spec Carillo Rods
Muzzys Big-Bore Turbo Pistons
Muzzys Ported & Polished Head w/ Big Valve Conversion
Muzzys Valve Springs
Muzzys Custom Turbo Camshafts
Benchmark Performance Turbo ECU,
Power Commander for Boost
DynoJet Auto-Tune
K&T Performance Turbo Kit Details:
304 Stainless Steel 1/8″ Tig Welded Exhaust Manifold w/ V Band Turbine Inlet & External Wastegate
Turbosmart Comp 40 Series Adjustable External Wastegate
Custom Air-to-Air Intercooler w/ Sheet-Metal Intakes & CNC Machined Bungs
Mandrel-Bent 16ga Aluminum Intercooler Piping w/ Bead Rolled Ends
Heavy Duty 4ply Silicone Couplers
Custom Air Intake Plenum Featuring CNC Machined O-Ring Base Eliminating The Need 
For Silicone & Clamps Thus Ensuring a Positive Fail Proof Seal
Billet Aluminum Intake Manifolds Before Throttle Body For Good Sealing For Boost
Fuel Customs Air Filter Set-Up
CNC Machined Aluminum Primary Fuel Rail w/ Threaded Ends
Mandrel Bent Single Piece 304 Stainless Steel 2.5″ Exhaust Downpipe w/ Muzzys 
Exhaust
Performance Teflon Lined Stainless Braided Oil Lines w/ AN Fittings
Aluminum Formed Turbo Heat Shield
Garrett GTX Turbo 28/67 w/ tial 8.6 V-Band Turbine Housing
Bosch Boost Referenced Fuel Regulator w/ Pressure Gauge
ID 1000cc Primary Injectors
XP1K3 is sponsored by: Polaris RZR, BFGoodrich Tires, Monster Energy, Walker Evans Racing Shocks and Wheels, Holz Racing Products, Muzzys Performance Products, K&T Performance, Mastercraft Safety, Impact Race Products, STM Motorsports, Proline Wraps, Benchmark Performance, Dyno Jet / Power Commander, Fuel Customs, Johnny K Powersports, Redline Racing, and Next Level Motorsports / Aluminum.
About UTVUnderground.com
UTVUnderground.com is the worlds fastest growing all­inclusive UTV website, that features content and articles by both enthusiasts and manufacturers alike. In a mere six years, it has become the go­to site for all the latest news and entertainment surrounding the UTV industry. Thousands of monthly visitors from over 100 different countries around the world go to UTVUnderground.com for their daily dose of UV news and information.
About Mad Media
Mad Media (www.madmedia.com) is a San Diego based marketing and creative agency, with in­house film and television production. We craft authentic, culturally engaging brand messages, and deliver them across print, web, photography, and film platforms. Mad Media has been leading the online content revolution since 1995 producing major commercial, television, online content and viral film projects such as The Gymkhana Series and XP1K Series.
About RJ Anderson
RJ Anderson is part of the new breed of off­road racers. Beginning his 4­wheel off­road racing career at the age of 14, RJ is well ahead of the curve. Fast­forward and now at age 22 RJ is a professional short­course racer, Pro UTV champion, Pro UTV Driver Of The Year, Pro UTV Baja 1000 race winner, Super­Lite Challenge Cup Winner, TORC series Rookie Of The Year, Pro­2 Rookie of the year and a Pro­Lite Champion. Racing is what RJ loves to do; working to be the best is a passion for him, and winning is his goal. There is no doubt that RJ Anderson is part of the bright future of off­road racing. See more at​ w​ww.RJ37.com